Restaurant SEO Services
Add Secret SEO Ingredient to Your Restaurant Business
Today, most consumers don't even look beyond the 1st page searching for a restaurant or bar. With this intense competition within the industry, your food business must have a strong online presence. Whether you are a restaurant, diner, or a provider of food products, effective restaurant SEO will help you:
Increase customer footfall and online orders

Improve your restaurant ranking for trending food keywords.

Appear in "near me searches" in GMB & get a feature in Google's local 3-pack.

Boost customer satisfaction & get positive reviews and ratings.
Schedule a free call today.
Restaurant SEO Agency: We Deliver Results For You
Let's Do A Quick Check
Ready to get your restaurant on the 1st page of Google search results?
Curious to discover what SEO can do for your restaurant?
Interested in a winning restaurant SEO strategy?
Today, a solid online presence for your restaurant business isn't optional anymore, and that's where a restaurant SEO agency helps you grow your brand. SEO is the key to success in any field, and it's not different for restaurants. With effective SEO, you can drive more customers to your restaurant without worrying about being overwhelmed by the competition. Now you might be wondering…
How Does SEO Really Work For Restaurants?
An advanced restaurant SEO service is not a one-time event but a continuous effort to keep your website outranking your competition. It may be a long-term play, but definitely, your restaurant will get significant benefits. Absolutely! It works… but only if you apply the proper SEO for restaurants. Remember, people search before deciding where to eat & if they don't see you online, you are losing a huge opportunity. Some top benefits of SEO for restaurants include:
1. Help Your Restaurant Rank Higher
Remember, your customers are online. If your SEO marketing plan doesn't include SEO for restaurants, you are missing out on new customers and revenue. What's worse, you cannot influence your reputation because you can't "own" the reviews written about you on other websites. An active SEO plan is necessary if you want to get a higher SERP ranking without competition stealing your top spot.
Restaurant SEO marketing agency experts are good at matching what your customers are looking for with your website. This means with a proper SEO strategy, your website can attract targeted audiences that have high-intent to order food from your site or reserve a table. To drive customers to your restaurant, a solid SEO approach ensures that your website dominates the most popular searches.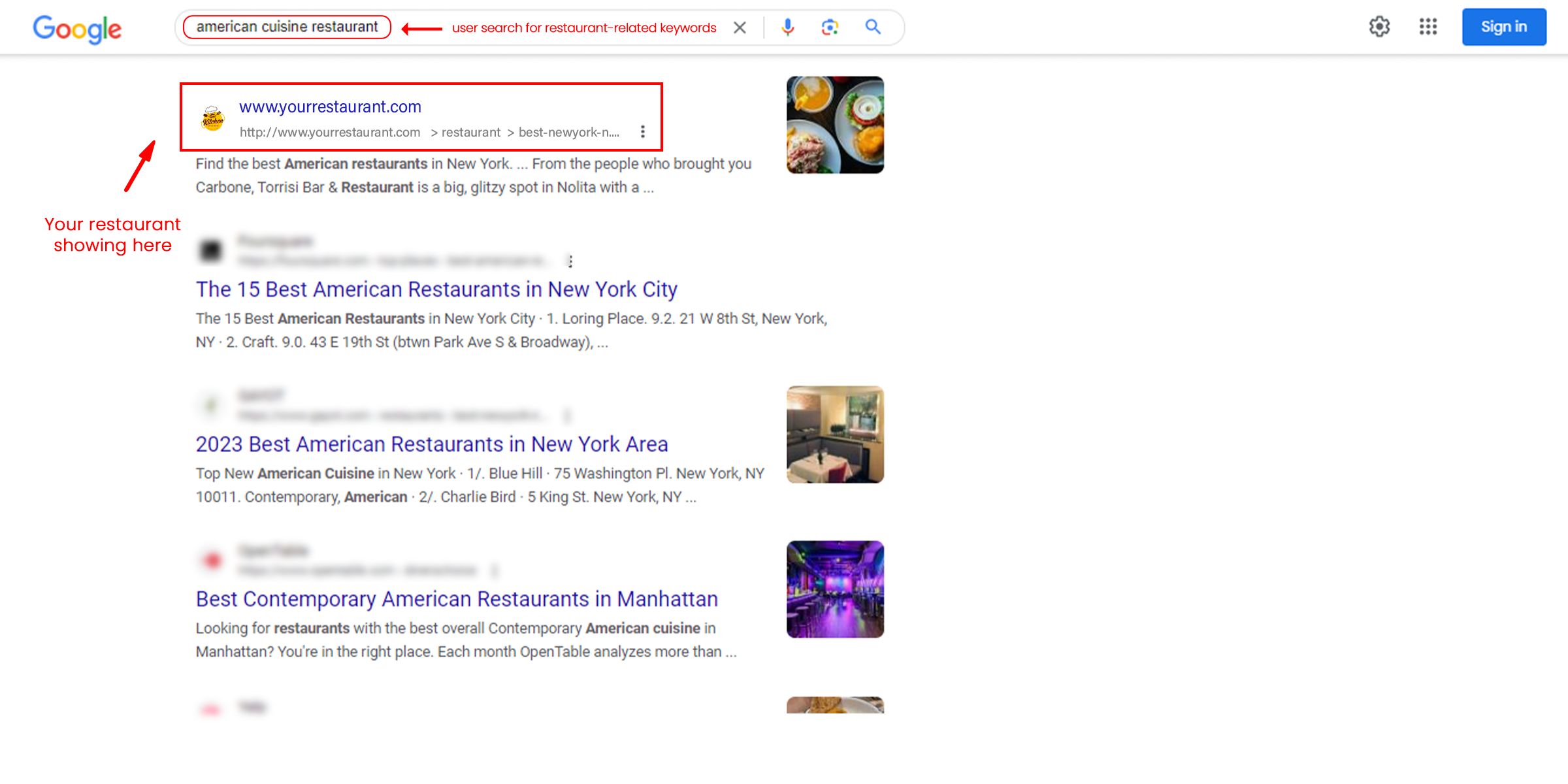 Caption: Website ranking for restaurant-related keywords
A beautiful website alone won't be enough to stand out from the competition. Your website can always be in the lead by staying up-to-date with Google's evolving SEO algorithm.
2. Appear In "Near Me Searches" In GMB
Most customers search for local restaurants online, and you can improve your restaurant's ranking with Google Business Profile or GMB optimization.
With the help of local restaurant SEO services, simple restaurant-related keywords can get your site in front of 1000s of people in your local area.
Not only can this bring you new customers, but local customers also tend to become regulars. See the result when we search "best restaurant near me" in our location.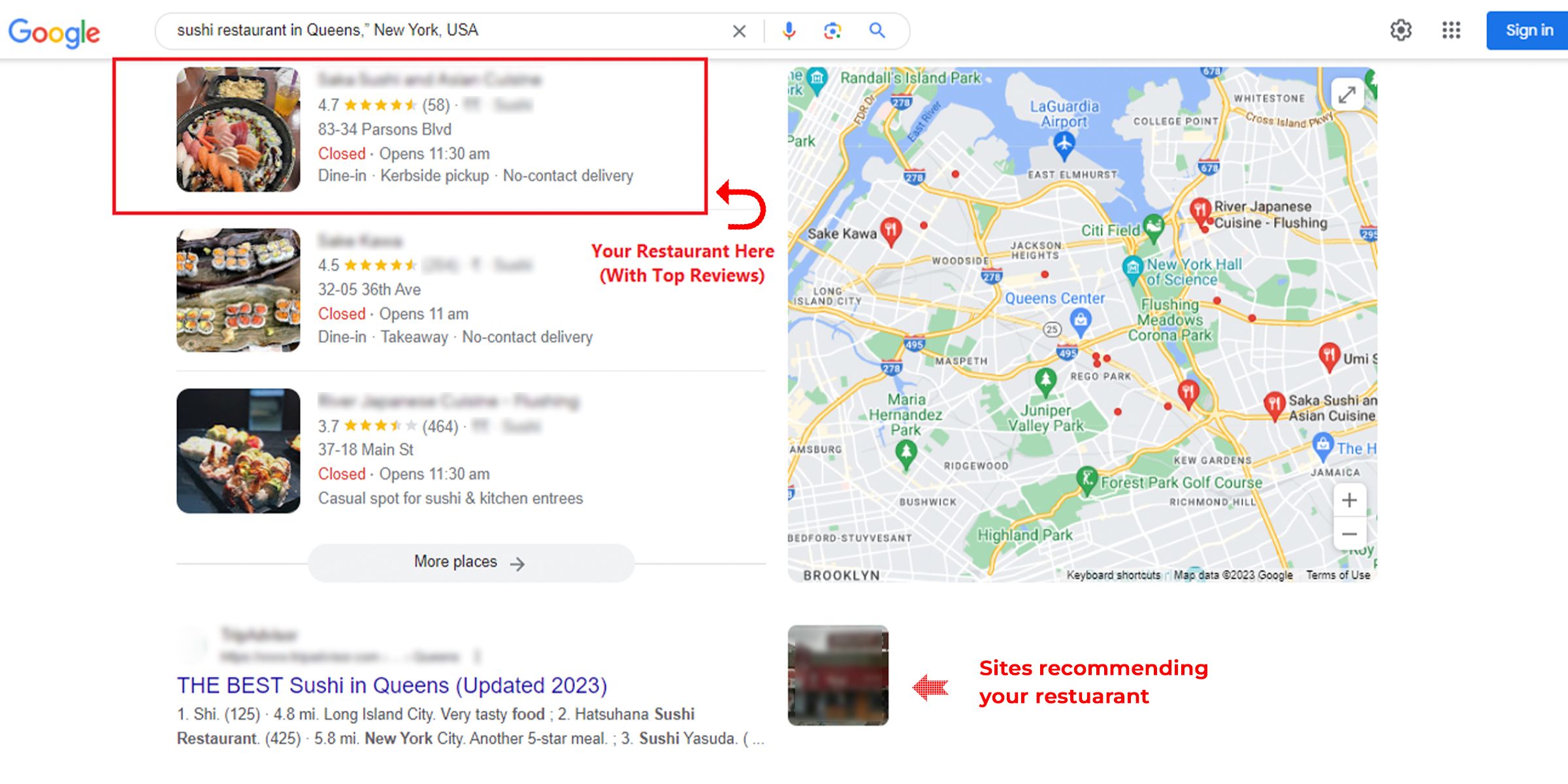 Caption: Restaurants Appear In "Near Me Searches"
Include location-based keywords in the SEO content on your website, from the copywriting on your homepage to the title tags of each page. With this, you'll be able to appear in "near me searches" & get a feature in Google's local 3-pack.
With conversion-driven optimization techniques, our restaurant SEO services ensure your business ranks highly in local search queries. We'll help your business expand its presence in its locality by managing its reputation through local restaurant SEO services. Contact our restaurant SEO experts now or visit our website to know more.
3. Increase Organic Traffic To Your Website
The aim of the SEO process is to get more quality traffic to your site. More traffic, more potential customers.
By implementing SEO strategies, your restaurants can significantly increase website traffic. Over 70% of clicks of potential customer traffic on Google searches go to results on the first page.
See how this glamorous restaurant of the USA, the rooftop of the Pendry West Hollywood (Merois, Los Angeles), is growing in terms of organic traffic.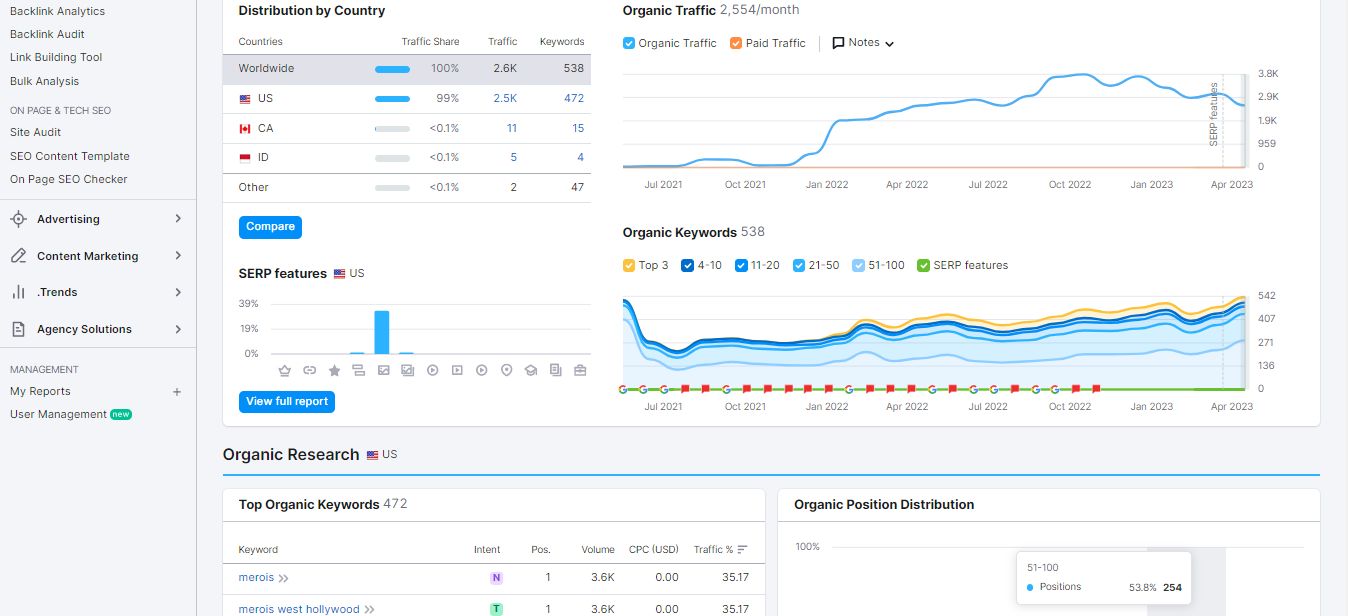 Caption: Increase Organic Traffic To The Website
Every restaurant that appears in the top search results has an incredibly high return on investment, while restaurants that do not are likely to lose an enormous amount of income.
We at Digital Guider, help you optimize your website for relevant keywords and improve your search engine rankings that can attract more organic traffic from search engines, leading to more potential customers visiting your restaurant site.
4. Boost Online Orders And Reservations
Restaurant SEO agency can help increase online orders and reservations. When your website is optimized for local search and includes important information such as menus, pricing, and reservation options, it becomes easier for customers to find and place orders or make reservations online.
For instance, by implementing a user-friendly online ordering system and integrating it with your website, customers can easily browse your restaurant menu, select their desired items, and complete the order process.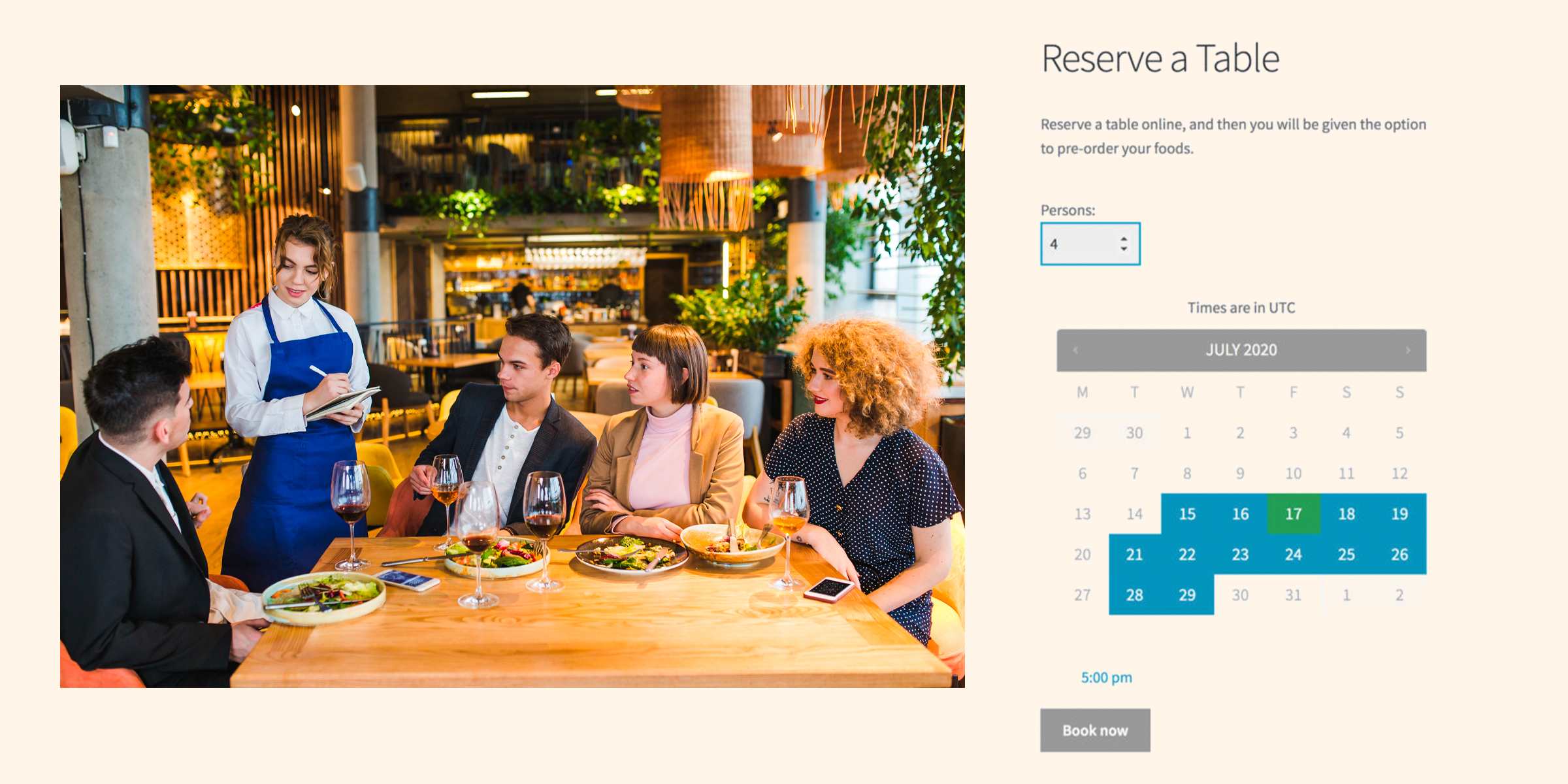 Caption: Boost Online Orders And Reservations
Similarly, by offering a simple and intuitive online reservation system, customers can quickly book a table at your restaurant with just a few clicks. Our restaurant SEO services help you identify & fix the website tech issues to drive more conversions and boost your restaurant revenue.
5. Growing Restaurant Brand Visibility & Positive Reviews
By appearing in top SERP results and utilizing local restaurant SEO services, such as optimizing GMB, your restaurant can increase its visibility among local customers. When someone searches for "sushi restaurant in Queens," New York, USA., your restaurant site appears on search engines.
Caption: Growing Restaurant Brand Visibility & Positive Reviews
Moreover, when people want to try a new place for dinner, they go online to look for recommendations or read reviews of local spots. Your restaurant has to use the Internet to promise a great meal and a pleasing environment.
This exposure helps establish your brand and attract new customers who may unaware of your brand's existence. Let online reputation management experts help you optimize your digital presence better so that you can only focus on your customer satisfaction & we take overall responsibility.
6. Increasing Customer Engagement
Effective SEO can increase restaurant customer engagement. By providing valuable & informative content on their website, such as business blog posts, recipes, or interactive features, restaurants can engage with their audience and build a loyal customer base. See the example of customer engagement & ratings for the top US restaurant.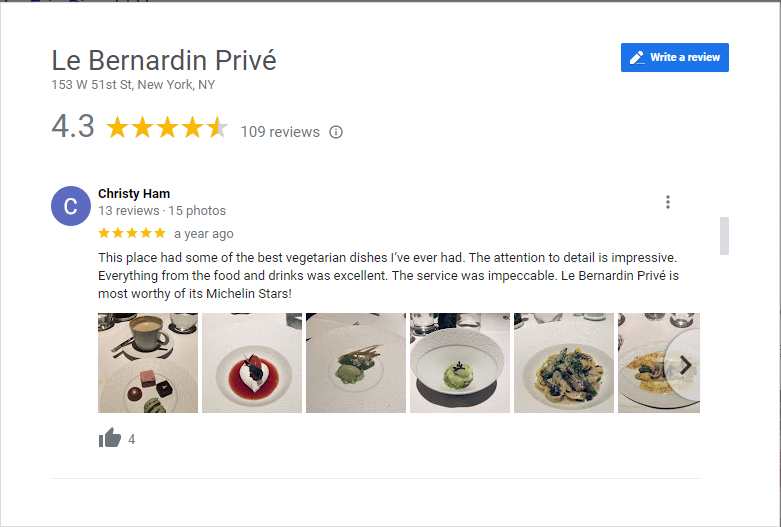 Caption: Positive reviews of the restaurant
Engaged customers are likelier to share their positive experiences, leave reviews, and recommend the restaurant to others.
7. Helping You Make More Money
Ultimately, restaurant SEO services can help you make more money. By increasing website traffic, driving online orders and reservations, and boosting customer engagement, your restaurants can experience significant growth in revenue. SEO efforts can increase conversion rates and a larger customer base, increasing profits and business success.
Digital Guider's smart restaurant SEO services employ multiple channels to drive traffic, make sales, increase demand for your restaurant, and enhance efficiency by increasing your brand visibility for your food, positioning your brand as the top choice in your field.
Need Help With Restaurant SEO?
SEO is a process, and when done efficiently, it can produce tremendous outcomes for restaurants like yours. For more information on how Digital Guider can help you create a proven, successful SEO strategy, don't hesitate to contact us! Our restaurant marketing agency experts will happily discuss your options for growing your restaurant business today. To get started, call us at +1-307-209-3608 or book a free consultation call now!
Don't Take Our Words For It Trust Our Customers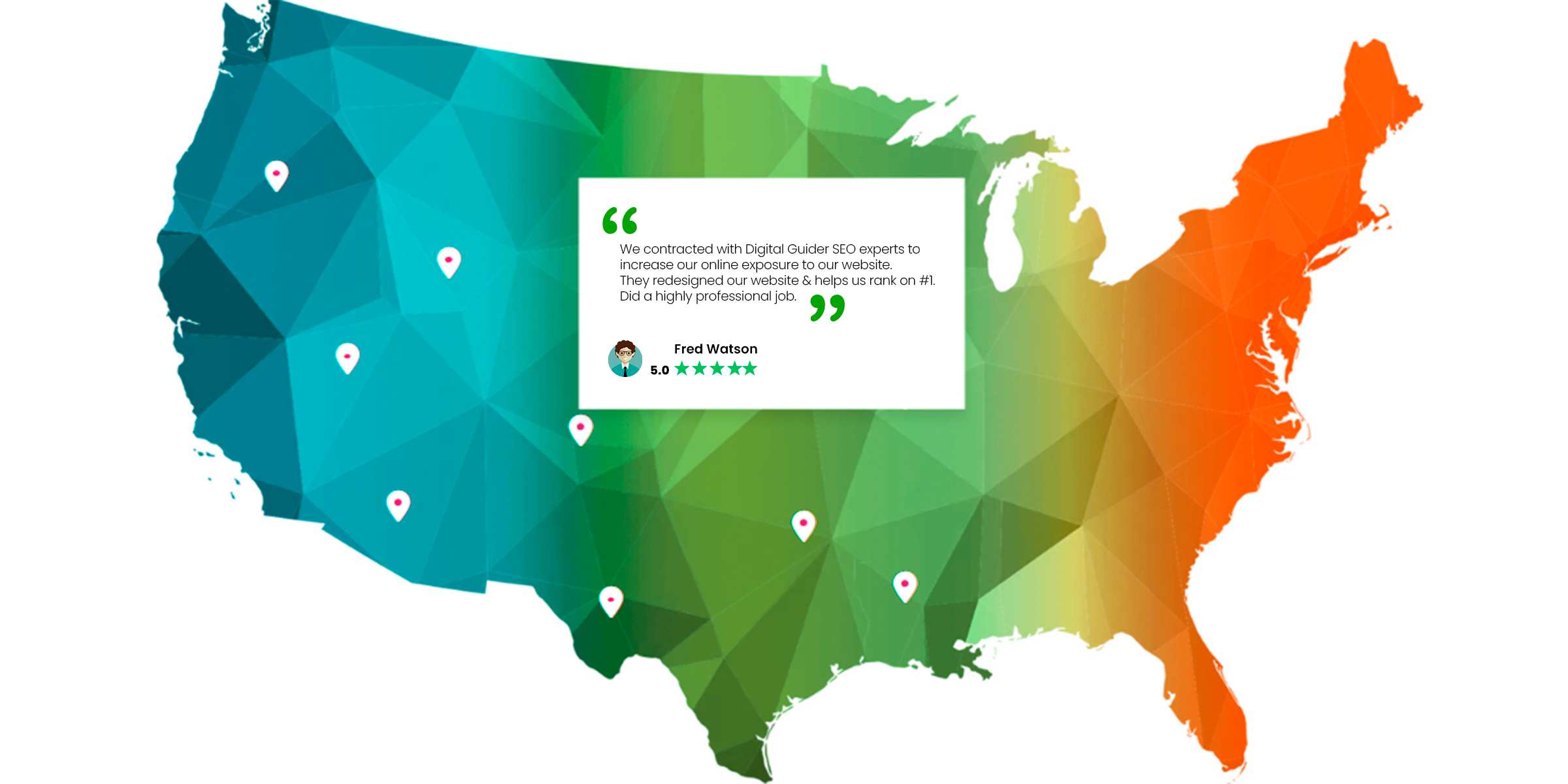 Optimize Your Website Today!
Let's face it. Whether you are new to the restaurant business or have been running it for many years, there are certain things you wish to have, like— Sales, Revenue, and Profit! And who brings these? CUSTOMERS & only CUSTOMERS! But if you're having trouble getting those ideal customers? Don't worry. Have Digital Guider on your side to…
BE THE NUMBER 1, BE ON NUMBER 1
And enjoy heavy footfalls in your business arena!