What Our Clients Say

I signed up with Digital Guider recently for my Bakery Startup in Germany. Dexter approached me for our website and Marketing of it. I hadn't tried the same and was kind of hesitant to try online marketing. But Dexter was really friendly over our Skype calls and helped me understand the basics of SEO.

Having a great experience with Digital Guider after only one month my website is experiencing revival.

Digital Guider provided me with support and guidance in creating a beautiful and easy to use the website.

I can't say enough about the customer service and the insight that they have provided is priceless. Digital Guider has proven to be #1.

Thank You to the team of Digital Guider and especially Dexter for helping me improve my website Sales. During this Covid-19, I had no visits to my showroom and can now do well with my online orders.

I have been associated with Digital guider since from last 8 months for my business website and I am really satisfied with there professional approach and effective work strategy.

I would really like to a say a special thank you to Digital Guiders for handling 8 different sites we currently have running and every site is ranking top 3 organically.

I had a good experience working with the Digital Guider web designing team. One of my friends recommended this agency as he had a remarkable experience as well.

Digital Guider knows their stuff! I've been working on my own SEO and being a new to SEO I missed out on a lot of important aspects. Not Digital Guider is taking care of it all for me! No more stress no more hours after hours on painful editing.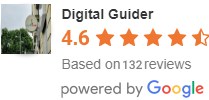 I have been associated with Digital guider since from last 8 months for my business website and I am really satisfied with there professional approach and effective work strategy. During... read more the initial days I had faced some problems but after couple months things went smooth and as promised they are delivering the results. The project manager are really helpful and are always available to assist. I strongly recommend Digital guider for any Web services. Keep it up, cheers!!

Rashmi


They do what they say they will! Digital Guider has earned my trust. In just 3 months, results from their SEO & SMO services are hugely evident. My project manager... read more is responsive (and thorough and gracious), explains well to this novice, gets my pre-approval for all postings so I keep control of my brand, his team produces, and all is done very timely.

Kathleen Harward


Great expertise, clear communication, quick and very well organized, I really appreciate working with them

Michael Gay


Excellent service! I have been working with Adam S. for 2 months and I am very happy with how things are going. He is very thorough and knowledgeable. I thought... read more it would take a lot longer to see the results that we are getting. I have had a very solid increase in traffic, and sales of items that have not been getting much visibility in the past. Adam is a joy to work with. He has been so patient and helpful!

Patrick Chavez


I get emails from companies all of the time claiming that they can improve your websites SEO and get me listed on the first page of Google. I didn't believe... read more this to be true until I meet Digital Guilder, Marketing Manager, Shubham. Shubham and his team have done an amazing job at not only improving my SEO, but my websites presence, reach and performance. I would highly recommend him and his Digital Guider Team. Lee Anthony Hard Money Global

Hard Money Guye


Very impressive results. Digital Guider's customer service and ongoing communication is excellent. I saw after a few months that a significantly higher volume of traffic was being driven to my... read more website, and the work we put into SEO tags and keywords was paying off. They helped me create a new Press page and blog that likewise got improved traffic and view time. I'm very happy that I selected them to help me with something so near and dear to my heart (and my business), and I'm very happy to recommend them.

Paul Falcone


Digital Guider has delivered everything they said they would. We are seeing much more foot traffic than before. Their SEO solution has been great for our business. We... read more would highly recommend Harsh and Elsa, what a great team.

Domenic Liuzzi


I began using Digital Guider in the March 2022 and although it has only been a few months, I am definitely seeing an increase in clicks and length of time... read more users are spending on my website. Leo answers all my questions and provides many suggestions to further boost my business success. I cannot wait to see future improvement and to begin getting new business from the website in the next year. I am very excited each month to see even move traffic and visibility on google and other search engines, It was very important to begin the SEO project after more than 2 years with very few clicks - mostly people I know already.

Nita Drakatos


Digital Guider was very helpful in teaching me about Search Engine Optimization (SEO). Ruchika was my Project Manager and she took great care to explain the SEO strategy along... read more with assisting me with setting up other social media and advertising platforms.

James Desir


Adam at digital guider has helped me with all my SEO work and has ranked me at the top of the page for all my keywords that i have requested.... read more I have also refereed my family and friends to him and they have also received great results. he has been working with me for 9 months and i have nothing but good things to say about Adam at digital guider. thanks everyone for your help.

Cracked MyPhone Cell phone Computer Repair (Cracked MyPhone)


My experience with Digital Guider was positive in every aspect! Twinkle Saini, the project manager of the team that handled my online business, provided such a great experience. She... read more is knowledgeable, prompt, courteous, and very professional and easy to work with. I am very appreciative! Patricia Sonnier Patricia's Passions Jewelry Boutique

Patricia Sonnier


Digital Guider helped my company to a new level. Noah is amazing. His report and communication was awesome. He was available whenever I needed to talk and ask question. He... read more is very professional and knows his job.

Sally Bashar