Imagine on a road trip; you suddenly crave cheesy pizza, you search for 'the delicious pizza place' and in an instant. 
Little pictures of pizza slices pop up all around the results. 
How does your phone know where the pizzas are? That's what we will learn– the exciting world of Google Maps Marketing!
Google Maps Marketing is a helpful strategy businesses use to tell you about their delicious pizzas, awesome clothes, or excellent services/products. 
They use it to make sure their store or place shows up when you're searching for things near you. 
It's like a sign saying, "Come check us out!"
If you've ever wanted to know how Google Maps finds the best places to go, you're in for a treat!
In this blog, we'll learn how businesses make their pins appear on the map, how they use pictures to catch your eye, and why reviews matter. 
We will look at how businesses use Google Maps Marketing to grab people's attention and make their trips even more impressive. 
What is Google Maps Marketing?
Google Maps marketing is the set of strategies you can use to increase the visibility of your local business listing in Google's map results. The objective is straightforward: improving your ranking in search results can significantly expand your business.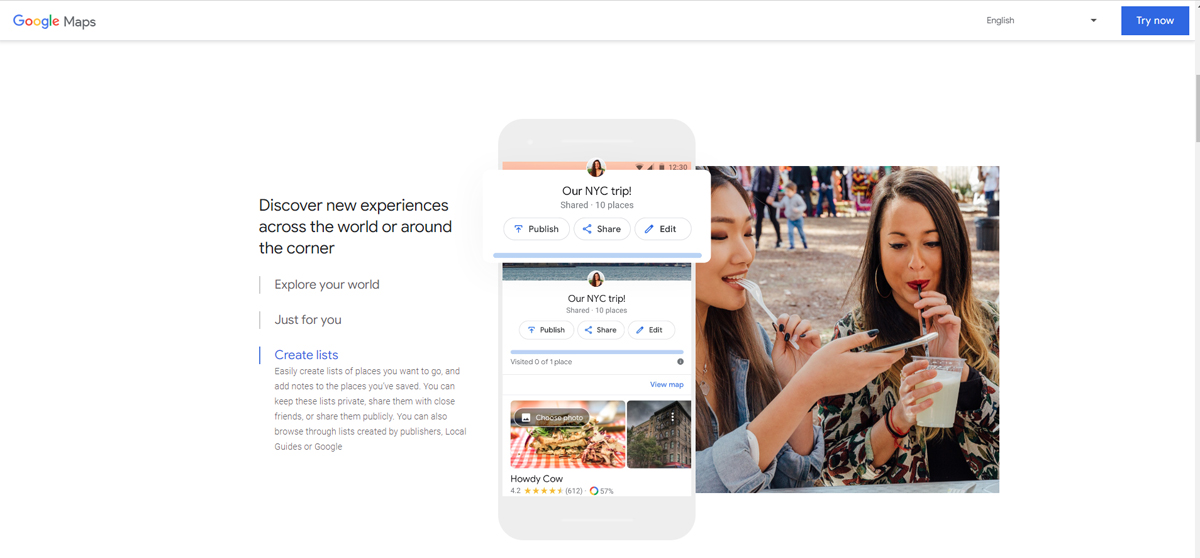 Whether you're a small or large business, Google Maps marketing is a great way to get your name out there and increase footfall & bottom line. These are the main places where your Google business listing (now known as Google Business Profile) can appear: 

Google Maps Website & App

– whenever someone searches for a restaurant,

cleaning service

, or any business. They get different businesses listed depending on their query, like below-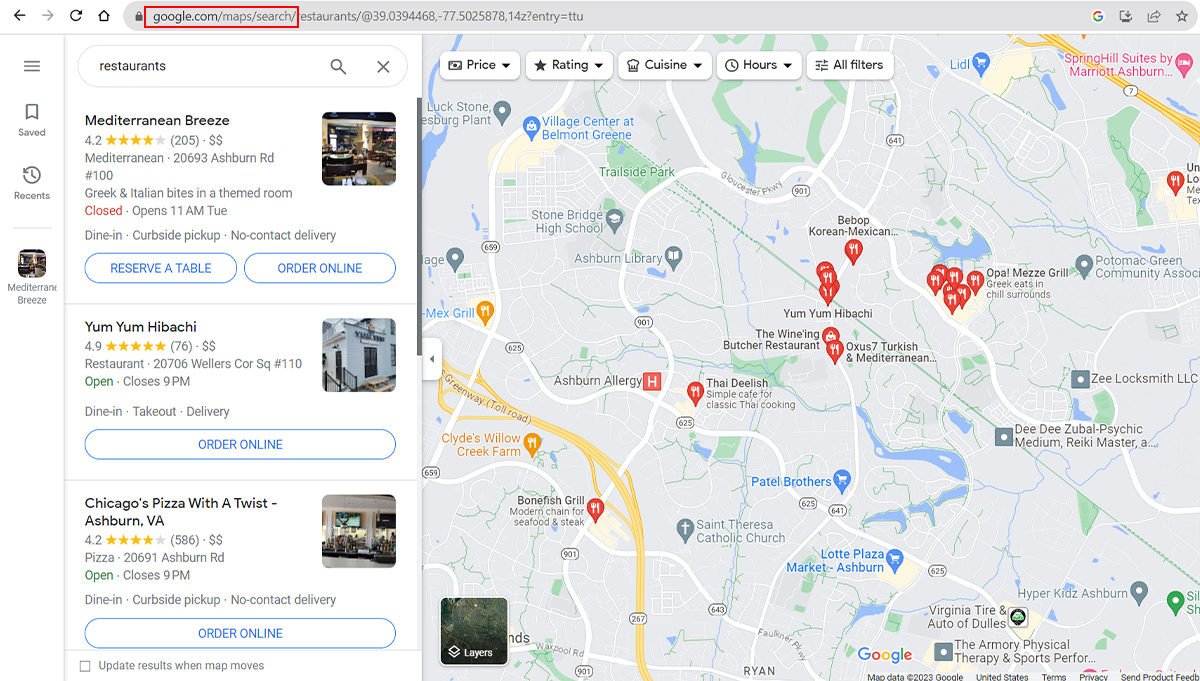 Local 3-pack

– When Google thinks you're looking for nearby or localized results, it'll show you this in the standard search results. It usually has three listings.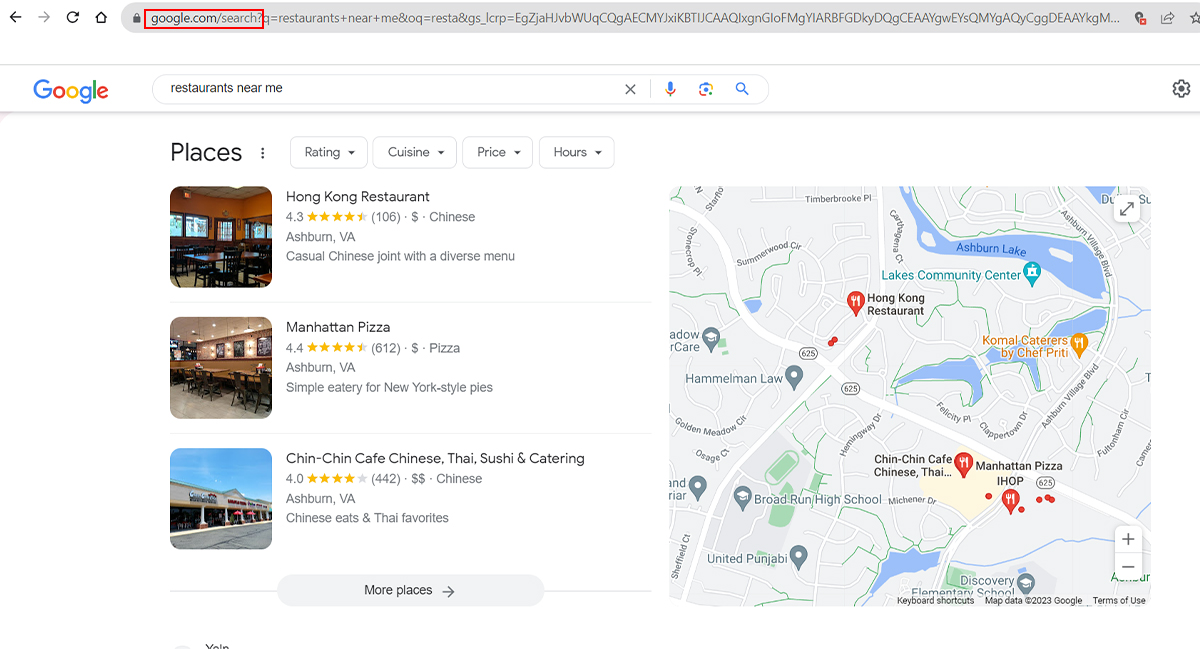 Local Finder –

This opens when the local pack is extended. The number of listings appearing varies depending on the query. If you want to use Google Maps to its fullest potential, you must create & optimize your Google Business profile. It's a free, personalized profile for businesses.
What Is The Difference Between Google Maps & Google My Business?
Let's understand the differences between the two platforms so you can determine where to focus your efforts.
Google My Business – Reach Millions Of Shoppers
Google My Business (now known as Google Business Profile) is a free platform by Google that enables businesses to manage their online presence and information across various Google services, including Google Maps and Google Search. 
GMB allows you to create and control how your business information appears to potential customers. This includes essential details like -business name, address, phone number, website, business hours, & photos.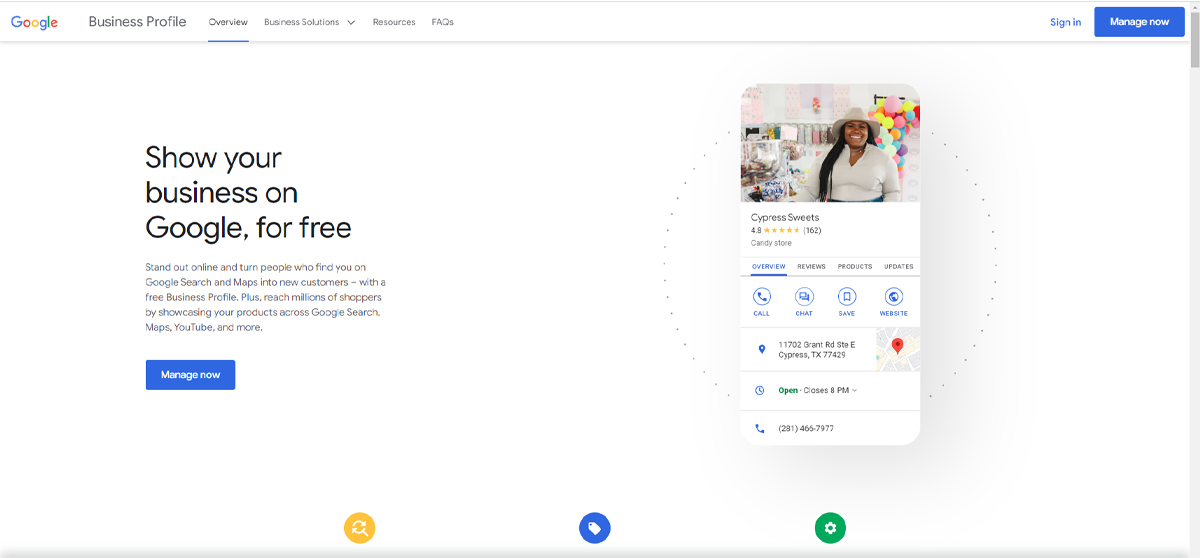 A perfectly optimized Google Business Profile helps you in – 
Showcasing your products/services.

Highlighting essential info about your business. 

Keeping your customers updated with the latest business news.
Google Maps is an internet-based navigation application by Google. As its name implies, Google Maps is concerned with maps and is a service that helps users navigate unfamiliar areas. It has made it easier to find new places, things to do, and even know where you are.
You can gain more customers if your business is placed prominently on Google Maps for your relevant category. The key is to optimize your Google Business Profile.
So, in a nutshell, 
Google Maps is a service that users use to navigate and explore locations, find directions, and view maps and street-level imagery.

Google Business Profile (GMB) is a platform businesses use to manage their online data, including business information, photos, reviews, and updates on Google Maps and Google Search.
While Google Maps is designed to help users locate places and businesses, the Google My Business feature allows businesses to display relevant and appealing information on Google Maps and other Google services.
Google Maps Marketing- 5 Strategies for More Local Prominence
Google Maps can direct thousands of prospective customers toward your business. As a result, Google Maps marketing has become the primary focus of local SEO efforts.
Here are 5 significant strategies to help your business position itself prominently in your local area. 
1. Start By Optimizing Your Google Business Profile
If you focus on optimizing your Google My Business profile, Google will give your business a boost by showing up in the 'Local 3-Pack' when people search for questions related to your business. 
This means more people will be able to find your business and be more likely to visit and purchase. It's a win-win situation for Google Maps marketing. Comprehensive and detailed business profiles are more likely to rank higher in Google's map results. 
This is due to Google's ability to understand the business better and compare it to relevant searches. Additionally, these profiles can benefit local businesses by aiding customers in making informed decisions. Your Business Profile is visible in Google Maps, Local Pack, and Local Finder. 
See how, on searching 'vets new york,' out of hundreds of clinics, only these 3 optimized business listings showed up.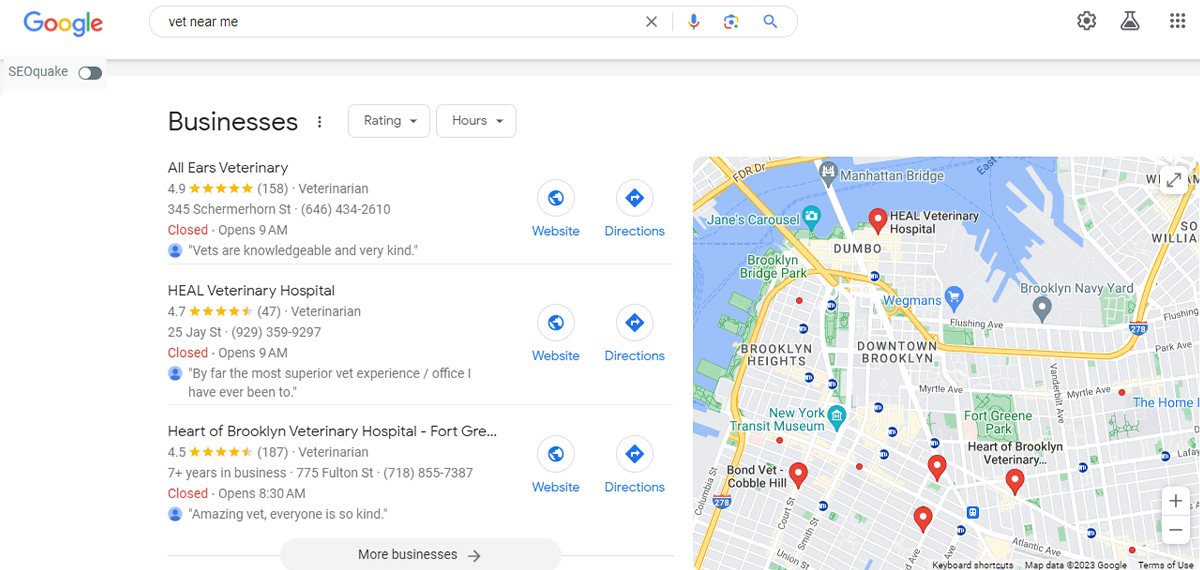 We are sure you would want the same for your business. Therefore, you can follow a checklist while optimizing your Google Business Profile; we have categorized these into 4 categories – basic information, business details, visual content, customer engagement & some additional information.

Verify Ownership

Accurate Business Name

Complete Address

Local Phone Number

Business Category
Business Hours

Website Link

Appointment URL (if applicable)

Services or Menu (if applicable)
Profile Photo

Cover Photo

Additional Photos (products, interior, team, etc.)

Videos (if available)
Encourage Reviews

Respond to Reviews

Q&A Section

Posts (regular updates)
Attributes (e.g., accessibility, outdoor seating)

Appointment Links (if applicable)

Geotag Images (for location reinforcement)

Messaging (if desired)
By following this checklist, you'll ensure your Google My Business profile is optimized for local search, which means you'll have accurate information whenever someone searches for your product/service. 
For a more in-depth guide, read – 15 Ways to Optimize Your Google Business Profile (GMB) to Rank Locally.
2. Gain Reviews Through Google Maps 
Think about it – what do you do when looking for a new place to grab a bite or get a service? 
You probably check out the reviews, right? Well, guess what? Other people do that, too! 
When your business racks up positive reviews on Google Maps, it's like putting a shiny gold star on your business's forehead. Those stars catch the eye of potential customers scrolling through Google Maps.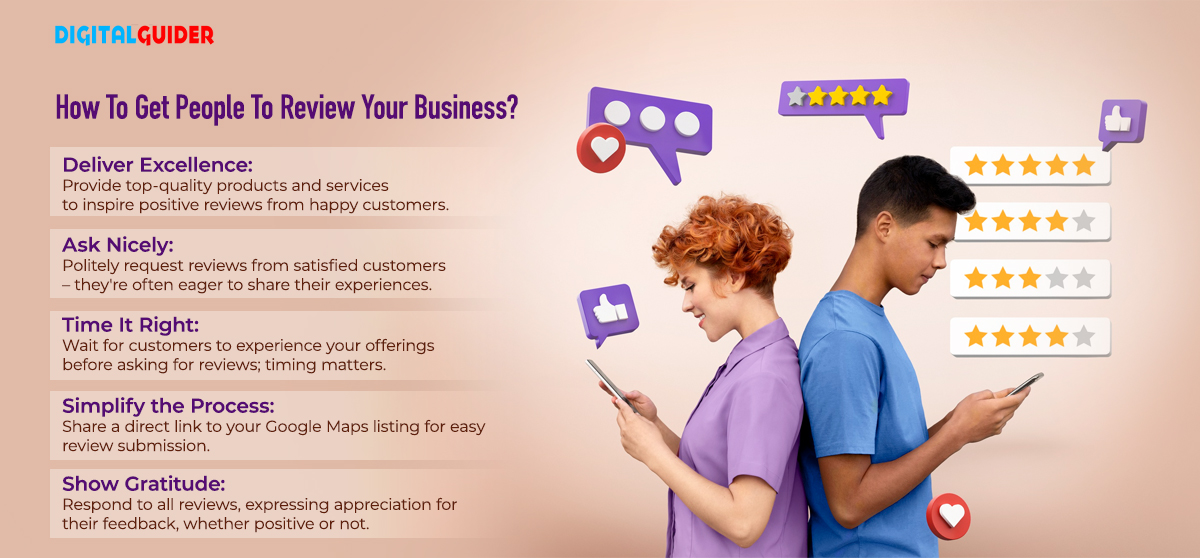 Reviews are like gold in the Google Maps marketing treasure chest. They enhance your credibility, build trust with potential customers, and boost local visibility. 
A single positive review can increase your business in search results, making it more likely to pop up when people search for products or services in your area. 
It's like having your business shout, "Hey, I'm awesome – check me out!"
Must Read: What is Hyperlocal Marketing Strategy – Boost Your Business Locally
3. Launch Google Maps Advertising Campaign
So, your business is set up on Google Maps. It's there, chillin', waiting to be discovered by local customers. But what if we told you there's a way to make your business more prominent? 
Google Maps Advertising Campaigns – the paid tool that can skyrocket your local visibility. It's not just about getting seen – it's about getting noticed by people actively looking for what you offer. 
Launching a Google Maps advertising campaign can enhance your local visibility, set you apart from the competition, and guide customers to your door. 
Remember, it's all about being where your customers are – and on Google Maps, they're just a tap away from discovering your fantastic offerings.
4. Take Advantage Of Google Maps Platform 
You can use the Google Maps platform to provide accurate navigation, enhance your business's online presence, and build customer trust. It offers interactive maps that guide users to their doorstep, making it easier for people to find them.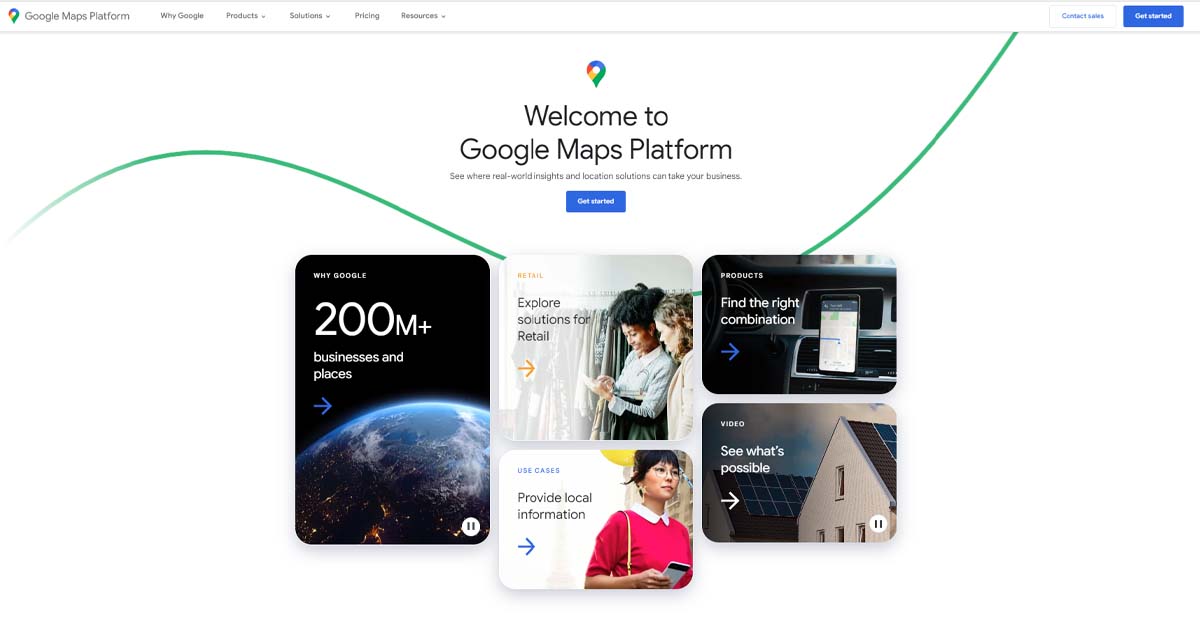 Plus, showcasing location information and customer reviews boost credibility. It's like a digital compass leading customers to their favorite businesses. 
Here are some features of the Google Maps platform that can benefit your Google Maps marketing strategy- 
Embeddable Maps

– With the Google Maps platform, you can embed dynamic maps on your website, allowing users to explore and navigate seamlessly.
Street View Integration

– Have you ever wanted to show customers around your business before they even enter the door? Street View integration allows you to do just that.
Geo-Targeted Content

– Deliver targeted promotions, messages, or special offers to users based on their geographic location.
Distance Matrix API

–  This API calculates travel distances and times between different locations. This is especially useful for businesses offering delivery services or planning events.
Interesting Read: What Is Geofencing Marketing?
5. Add USPS-Approved Addresses.
Imagine you are a restaurant owner and a hungry customer who opens Google Maps to find your burger joint. They're ready to chomp down on that juicy burger, but wait – they can't find your spot. Oh no! 
That's where having an accurate, USPS-approved address comes to the rescue. When your address is USPS-approved, Google Maps and navigation apps can guide your customers straight to your doorstep. No detours, no confusion – just a smooth journey to your business.
The USPS has a handy tool for finding standardized addresses. Use it to ensure your address is correctly formatted and verified.
Include your suite or unit number if your business is in a shared building. It's like telling Google Maps your exact floor in the grand address skyscraper. Keep your address consistent across all platforms – your website, social media, and every online corner you occupy. Google loves consistency.
Google wants real, physical addresses. So, ditch the P.O. Box and give 'em the real thing. Double-check for typos or misspellings. A small error can lead to big confusion for both Google Maps and your customers.
Ask a friend to search for your business using Google Maps to see if your address is accurate. If they find you with ease, you've nailed it. If not, it's time for some address tweaking.
How To Use Google Maps For Business- Wrapping Up!
As you begin your Google Maps marketing journey, remember that every click, every search, and every review can lead a curious traveler to your business. It's not just about the map; it's about crafting a memorable experience that keeps them returning for more. 
Google Maps isn't just about finding directions; it's a bustling marketplace where your business can steal the show. With accurate information, eye-catching images, and a touch of marketing magic, you can guide potential customers right to your doorstep.
If you're looking for a digital guide to this journey, you've come to the right place. At Digital Guider, we're here to guide you through the complex world of Google Maps marketing.
Contact us now to use Google Maps marketing strategy!