Have you ever searched for a restaurant or a store near you using Google? 
And the results include 3 business information with location markers and, under each marker, the store or restaurant name, address, and rating. 
It is called the Local 3-Pack and is generated by Google Business Profile, also known as Google My Business (GMB). 
Here is an example to showcase the same.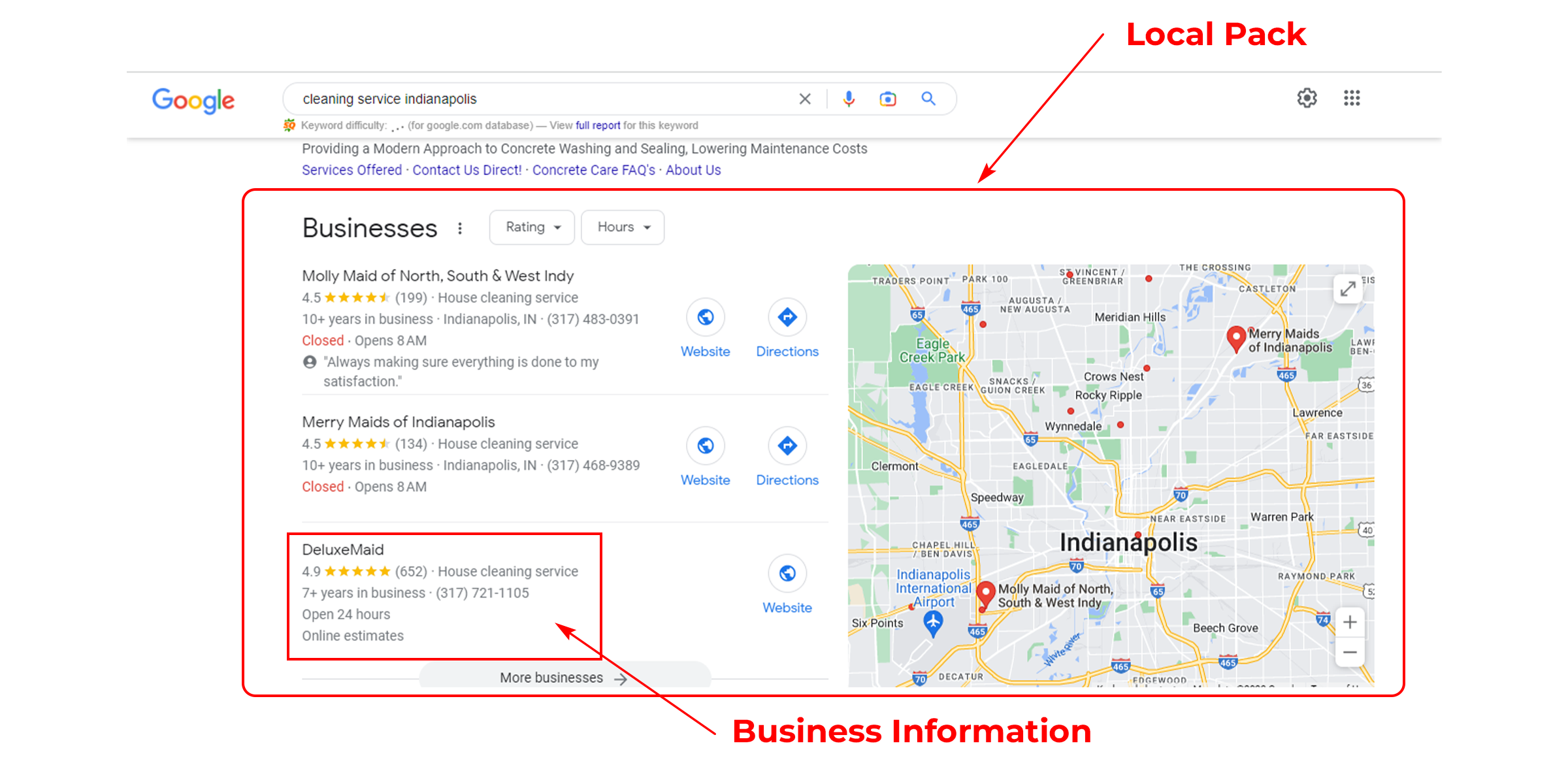 This blog will cover everything you need to know about GMB optimization and show you valuable ways to do the same.
What is Google Business Profile (GBP or GMB)?
Google My Business ( now Google Business Profile) is an easy-to-use, free business listing feature that lets you update your business's photos, location, services/products, and other relevant information. Creating a profile will make your business more visible and likely appear in Google Search, Maps, and other Google services. For creating a GMB profile, your business must have a physical location.
An optimized Google business profile indicates to Google that your business is legitimate, which increases your chance of appearing in Local 3-Pack. When you enter a query like "near me" or "near [Location]," Google will provide a list of businesses that match your search criteria. 
Why Is An Optimized Google Business Profile Important For Your Business?
When it comes to the online presence of a local business, a Google Business Profile is one of the most essential tools. An optimized Google Business Profile can help you reach a wider audience, improve your search engine rankings, and ultimately drive more customers to your business.
Let's see why an optimized Google Business Profile is essential for your business:
More and more people are coming in and out of Google search without clicking on any website, resulting in an increase in zero search results. That's why an optimized Google profile listing is a must. With an optimized profile, the chances of your business appearing in top results and also increase the online visibility of your business. 
Improve rankings on search engines
Google considers the information on your Google Business Profile to determine your business's relevance to a search query. Optimizing your profile gives Google more accurate and detailed information about your business, improving your rankings and making it easier for consumers to discover you online.
An optimized Google Business Profile provides a better user experience for potential customers. When someone searches for your business, they'll see helpful information like your hours of operation, phone number, address, reviews, photos, and more. This information can help them decide whether to visit your business without ever having to visit your website.
Gain valuable insights into how customers find and interact with your business, an optimized Google Business Profile can help you with this. You can see the geographical location of people viewing your profile, how many people click through to your website, and how many people call your business directly from the profile.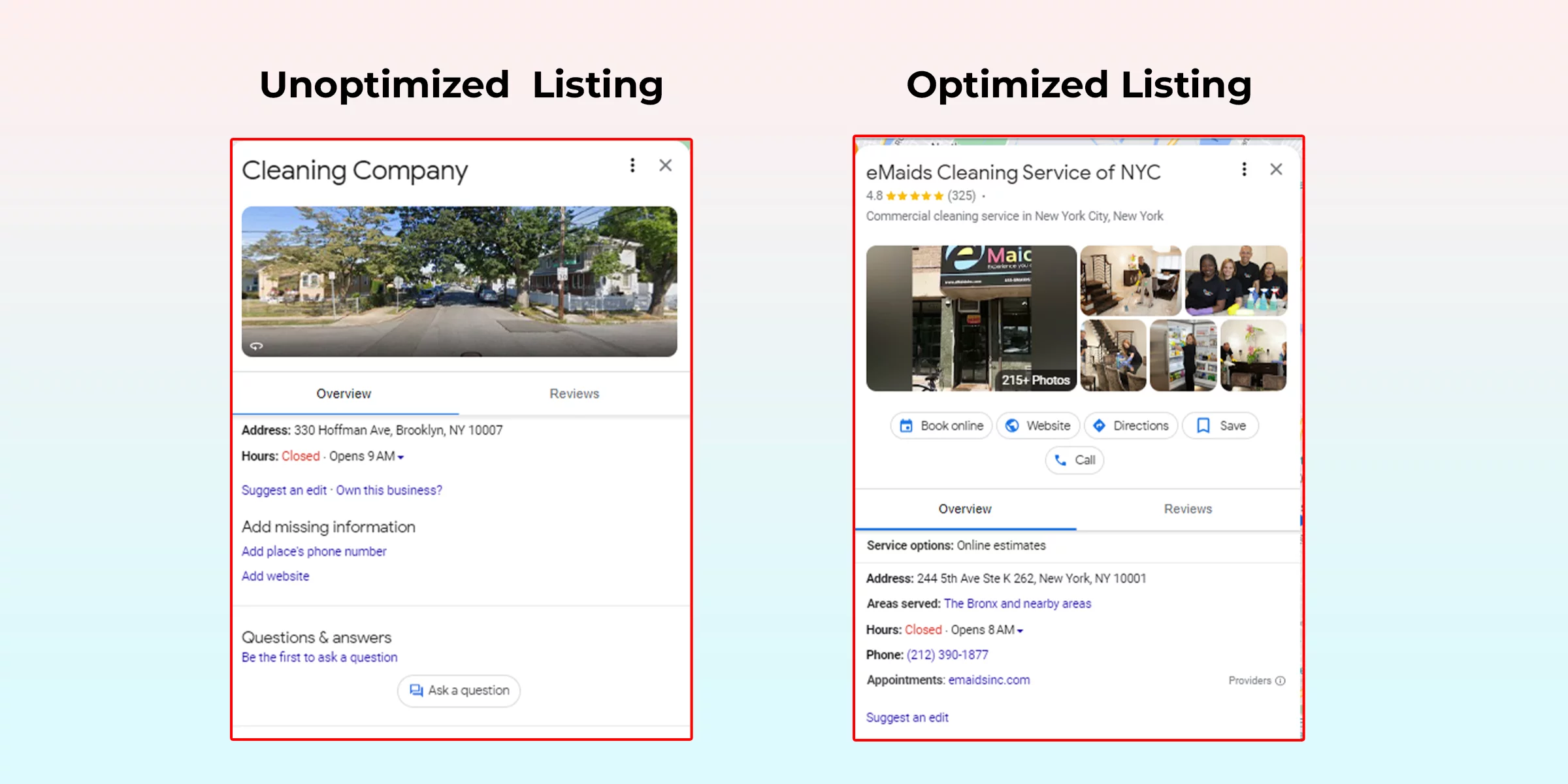 15 Best Practices For Google Business Profile Optimization 
An optimized Google Business Profile helps improve visibility and drive traffic to your website. However, simply creating a Google business profile isn't sufficient; you must learn how to optimize your business listing to leverage its potential fully. 
Let's see 15 ways you can optimize your Google Business Profile:
Complete Your Profile Information
The more complete your Google Business Profile is, the better Google will rank you in local search results and the more actions customers will take when they discover your profile. Provide detailed information about your business, such as your business hours, product or service offerings, and a brief business description. Include high-quality photos of your business, like pictures of your store, products, or people on your team, for a better understanding of what your business offers to potential customers.
Tip: Keep your profile up to date, and ensure that all the information provided is accurate and consistent across all online platforms.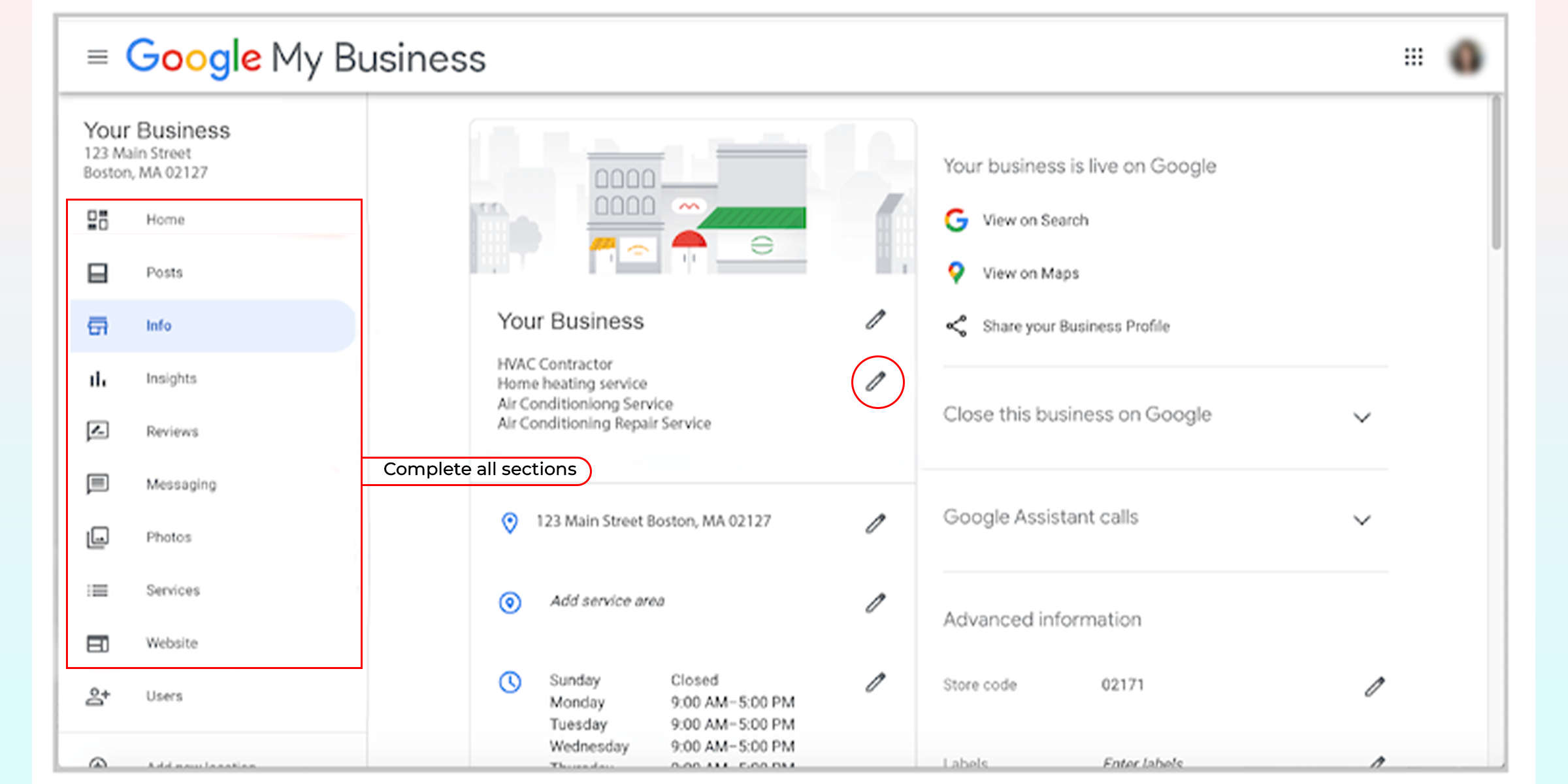 Choose an Appropriate Category
Google Business Profile has a wide range of categories to choose from. Select the most relevant category for your business, and make sure it accurately indicates what is your business about. Consider your primary product or service to select the most appropriate category for your business. While choosing the category of your business, be specific, and choose your secondary category relevant to your business. For example, if you own a restaurant, your primary category should be "Restaurant." However, there may be additional categories that are relevant to your business, such as "Caterer," "Bar," or "Takeout Restaurant."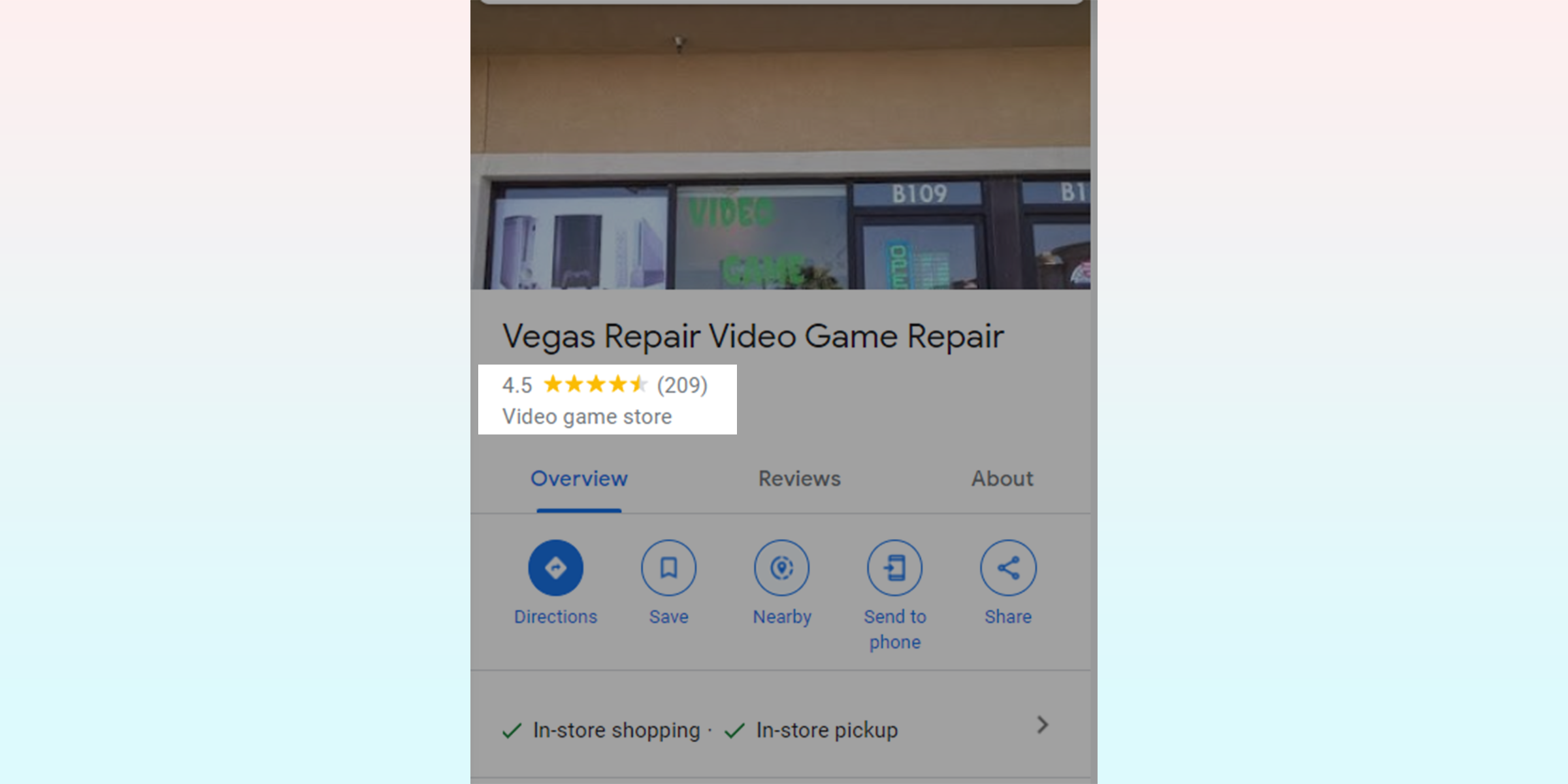 Tip: Don't try to game the system by selecting a category that doesn't accurately describe your business. This could result in your profile being suspended or removed.
Add Photos and Videos
Adding photos regularly tells Google that you're actively using your profile and that it's current, which helps your ranking. Look for high-quality images, and make sure you clearly describe the image. Google will grab a particular photo from your Business Profile and show it immediately in local search results if it matches what the searcher is looking for. If you have a hospitality business or restaurant, adding a photo of your interior or showcasing daily highlights can do wonders for your business engagement; it will help you attract more customers.  
Tip: Ensure the images are well-lit, focused, and showcase your business's best features.
Give a Virtual Tour 
If your business is in a physical location, consider adding a virtual tour to your profile to help potential customers better understand your offerings. During the virtual tour, emphasize key aspects of your business, such as your distinct selling points, customer testimonials, and other pertinent information that makes your business stand out. Additionally, use descriptive words and phrases throughout the virtual tour that align with your business's offerings. Finally, encourage viewers to leave a review or ask a question on your GMB listing to improve your overall ranking.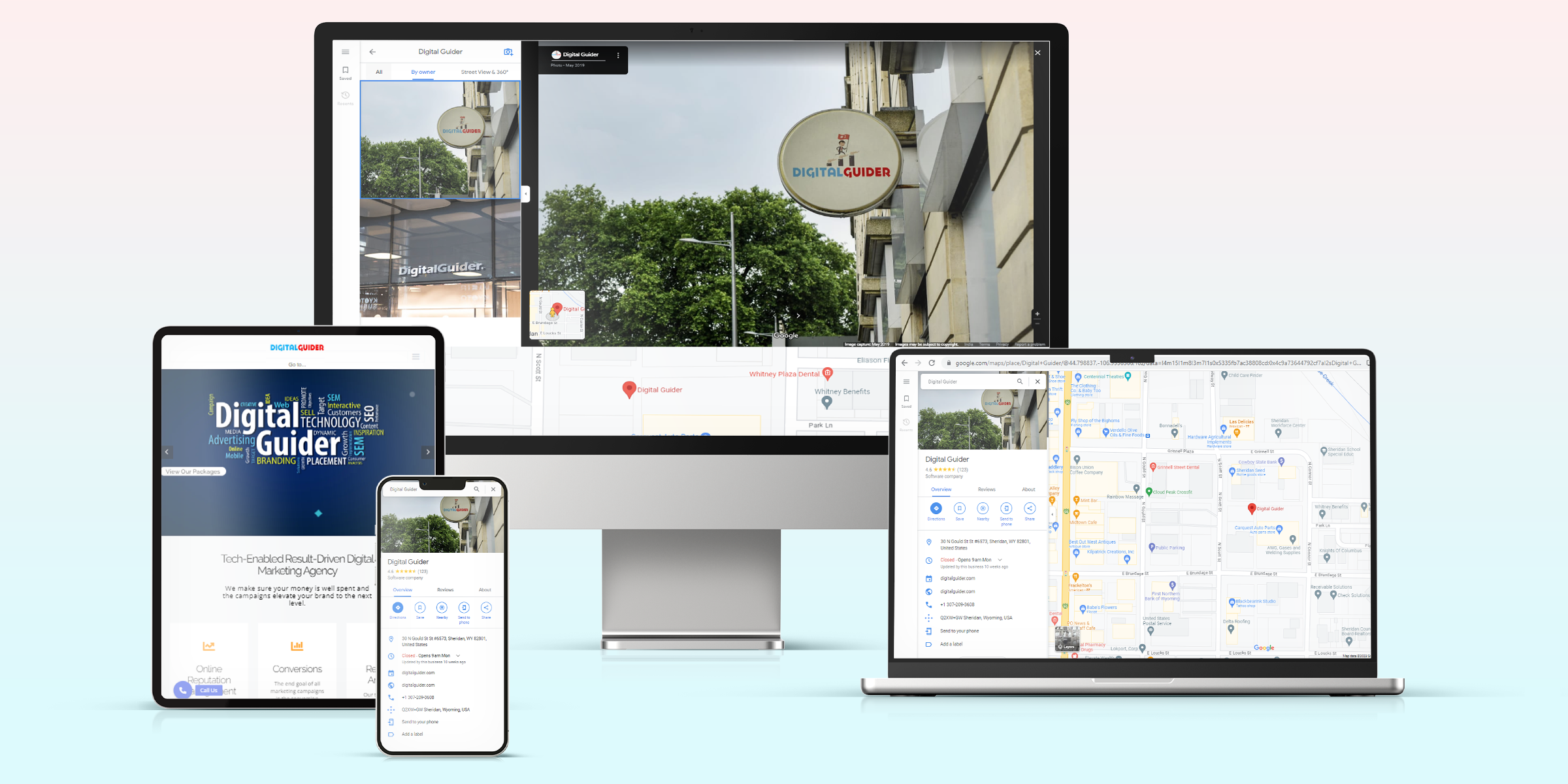 Tip: Ensure your virtual tour is smooth, easy to navigate, optimized for all devices, including mobile, and loads quickly.
Optimize Your Business Description With Keywords
Keep your business description short and to the point. Use this section to explain what your business does and what makes it different from other businesses. This way, you'll be able to explain to potential customers what you're offering and why they'll want to work with you.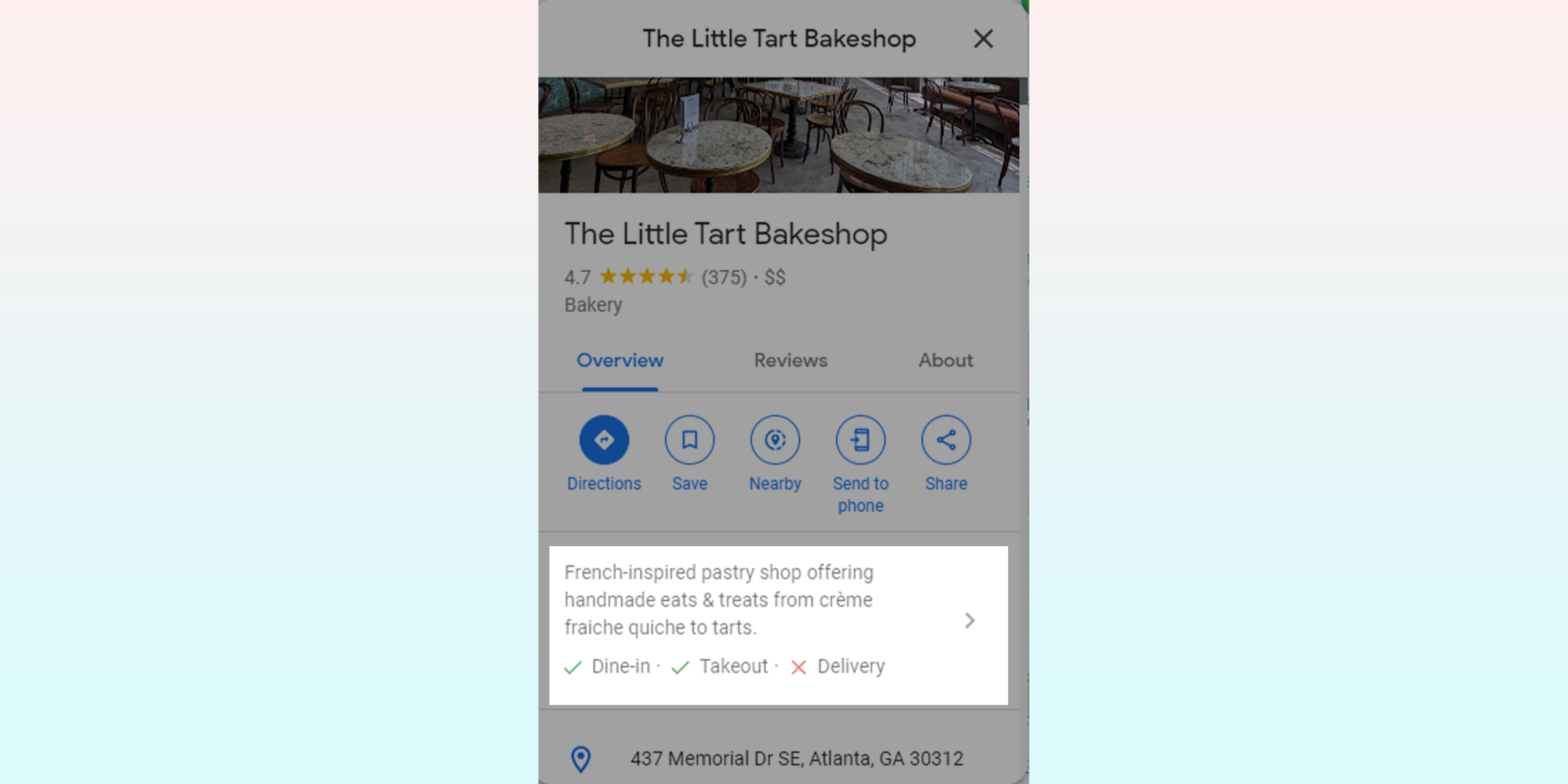 Tip: Don't stuff keywords unnaturally into your content. Use them in a way that reads naturally and makes sense.
Optimize for Local SEO
Improving your local SEO profile can help your business show up more easily for local search queries like "products/services near me." All you have to do is ensure your business's NAP (name, address, and phone number) information is correct and consistent across all your online channels. This includes your Google My Business (GMB) profile, website, social media accounts, and any directories and listings where your business appears. Consistent NAP information will inform Google that your business is legit and reliable, boosting your local search rankings.
Tip: Use local keywords in your content, such as neighborhood names or local landmarks.
Post Regularly
Create posts that are interesting, informative, and useful to your followers. You can mix and match different types of content, like photos, videos, and text. It's essential to include a CTA in your posts, like "Come check out our website" or "Book an appointment with us," to get people to take action. Post regularly to keep customers interested and updated with your latest products and services.
Tip: Share photos, promotions, and other updates to keep customers interested and engaged.
Use Google Posts
Google Posts is a fantastic tool that can be used to share your news, promotions, and events directly on your Google Business Page (GBP). It will definitely bring in new customers to your business and will help you stay in touch with your current customers. Keep your posts short and to the point for a copy. Use language that's easy to read and relevant to your audience. Encourage users to do something in your posts with calls to action (CTAs) like "Book now," "Learn more," and "Call us today."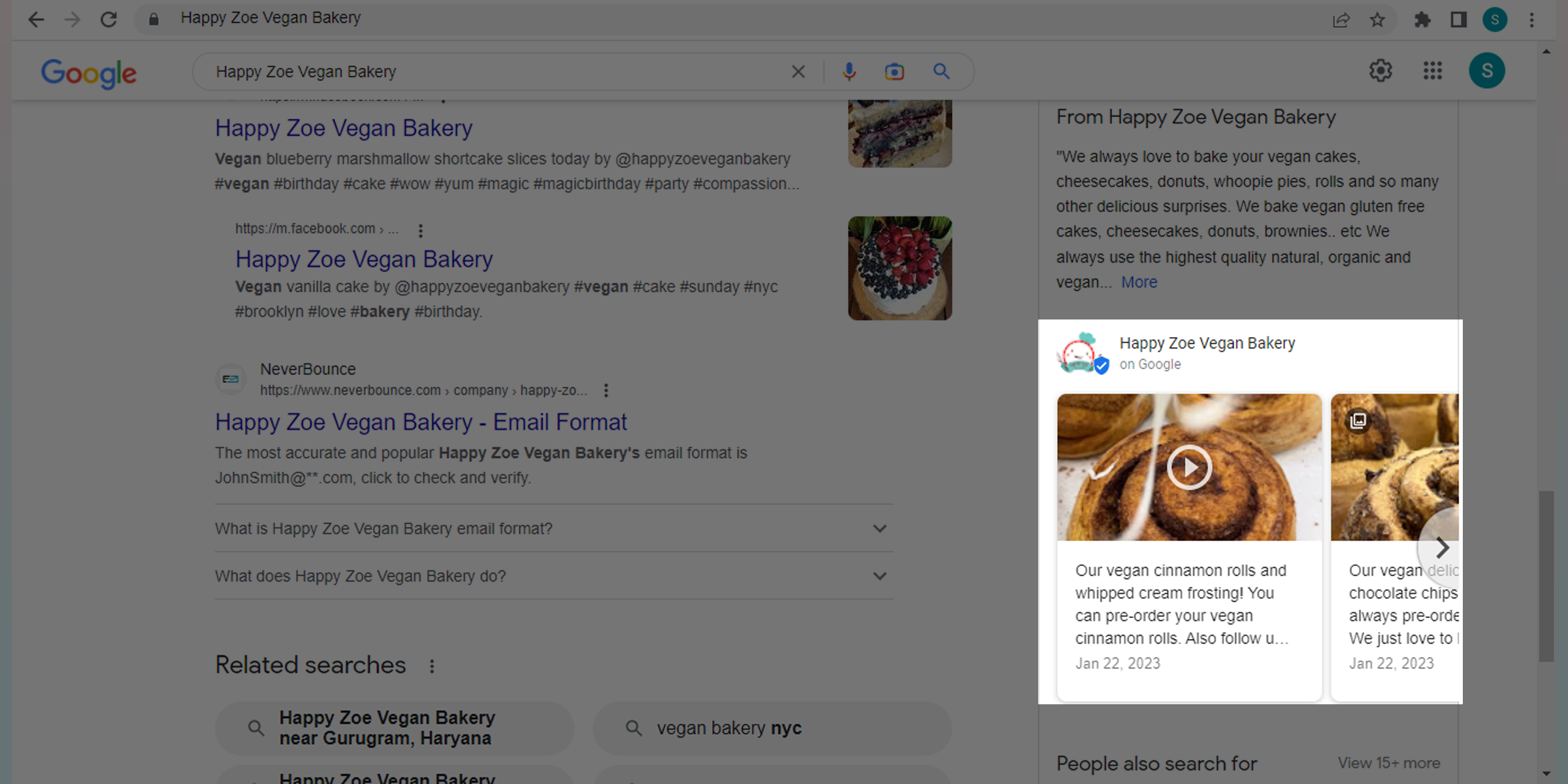 Tip: Use clear and concise language and include high-quality images to grab users' attention.
Include Products/ Services 
If you want to show what your business offers, adding products or services to your Google My Business profile is a good idea. This will help you stand out in search results and make your business more visible. When you add products and services, give them a detailed description and include some high-quality photos to show off your offer. To add products or services, log in to your GMB account and click the "Products" tab or "Services." You can add items individually or upload a CSV file showing all your products and services. You can add important information like pricing, availability, and extra features or benefits.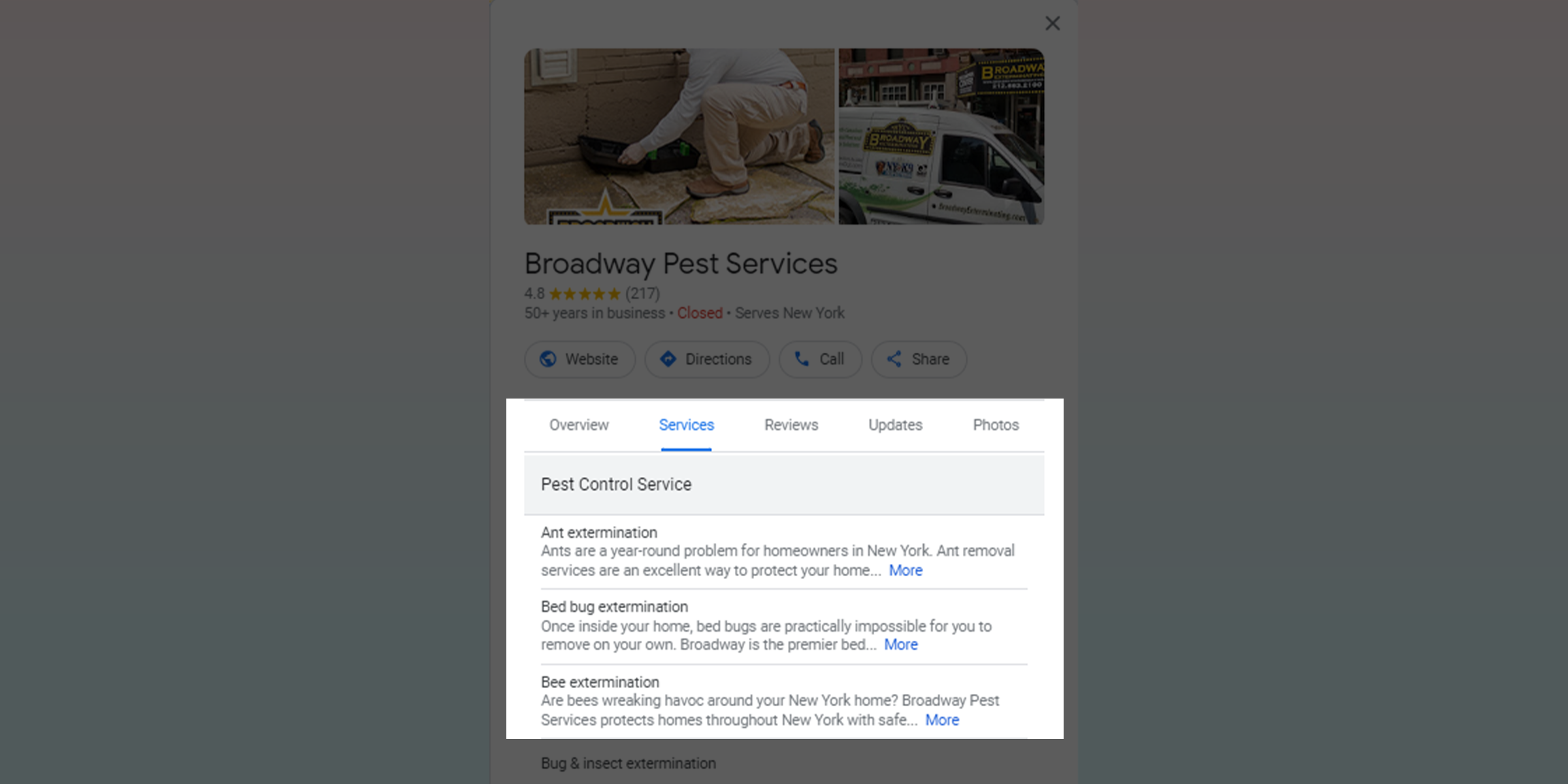 Tip: Use clear and concise language to describe your offerings, and include prices if applicable.
Use the Q&A feature
Q&A is a great way to connect with potential customers and answer their questions about your business. By answering questions on your GMB profile, you're establishing your expertise, building trust with your prospects, and increasing your search visibility. To make the most of Q&A, keep an eye out for new questions in your GMB profile and answer them with as much information as possible. Encourage customers to ask questions by including CTA's (Call-To-Action) in your GMB posts or engaging in conversations. This will help you to generate more leads, engagement, and valuable information for your prospects.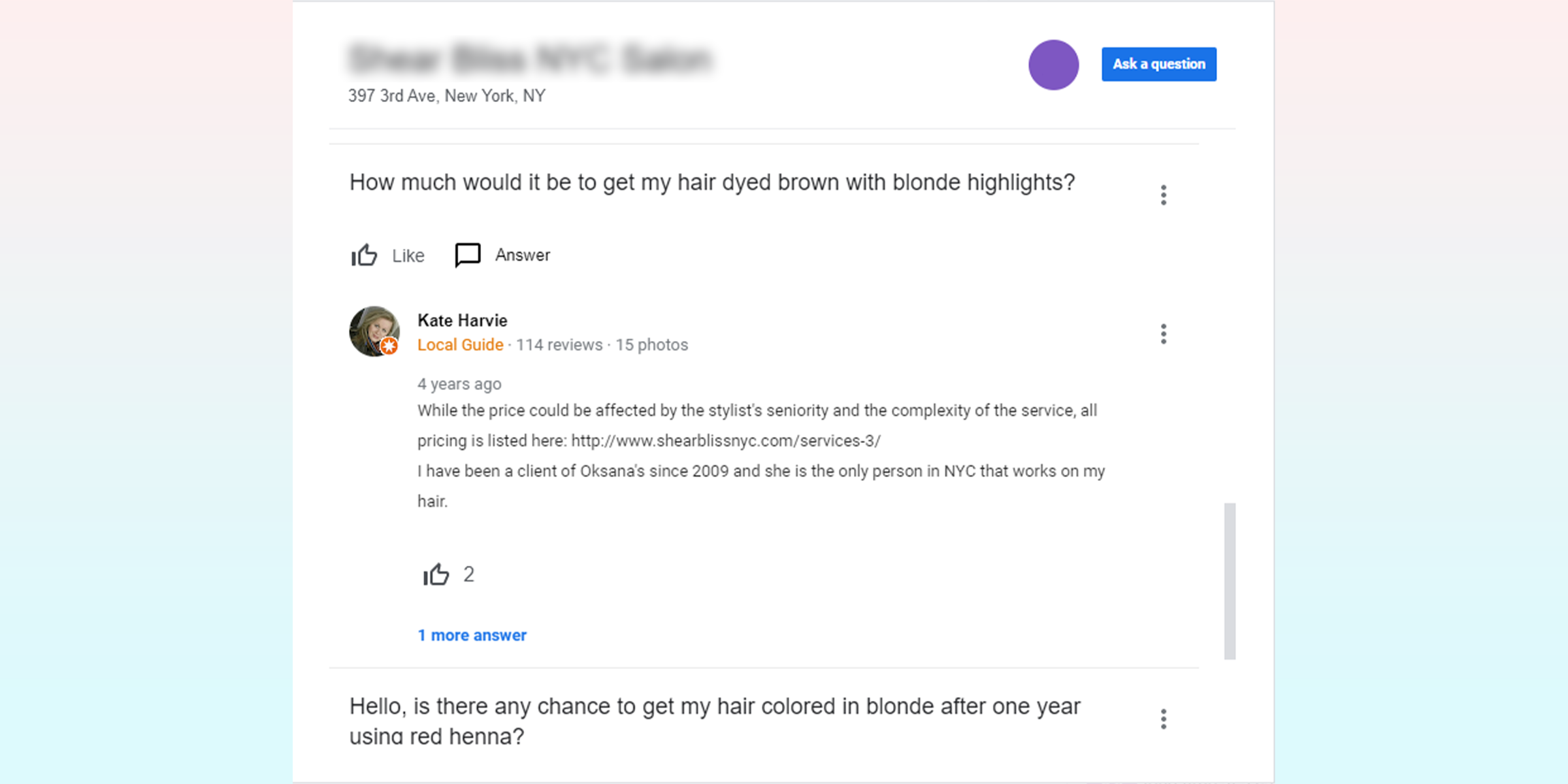 Tip: Be prompt and professional in your responses, and address all questions/ concerns of your customers. 
Include Attributes
If you want to differentiate your business from competitors, attributes are a great place to start.
Here's how to add attributes to your GBP profile:
Log into your account.

Go to the "Info" tab.

Select "Attributes."

Choose the most relevant attributes for your business.

If you don't see an option that works for your business, create custom attributes.
For example, if you're in a busy city center, highlight attributes like "convenient location" or "parking available."
Some common attributes include "wheelchair accessible," "outdoor seating," "free Wi-Fi," and "pet-friendly.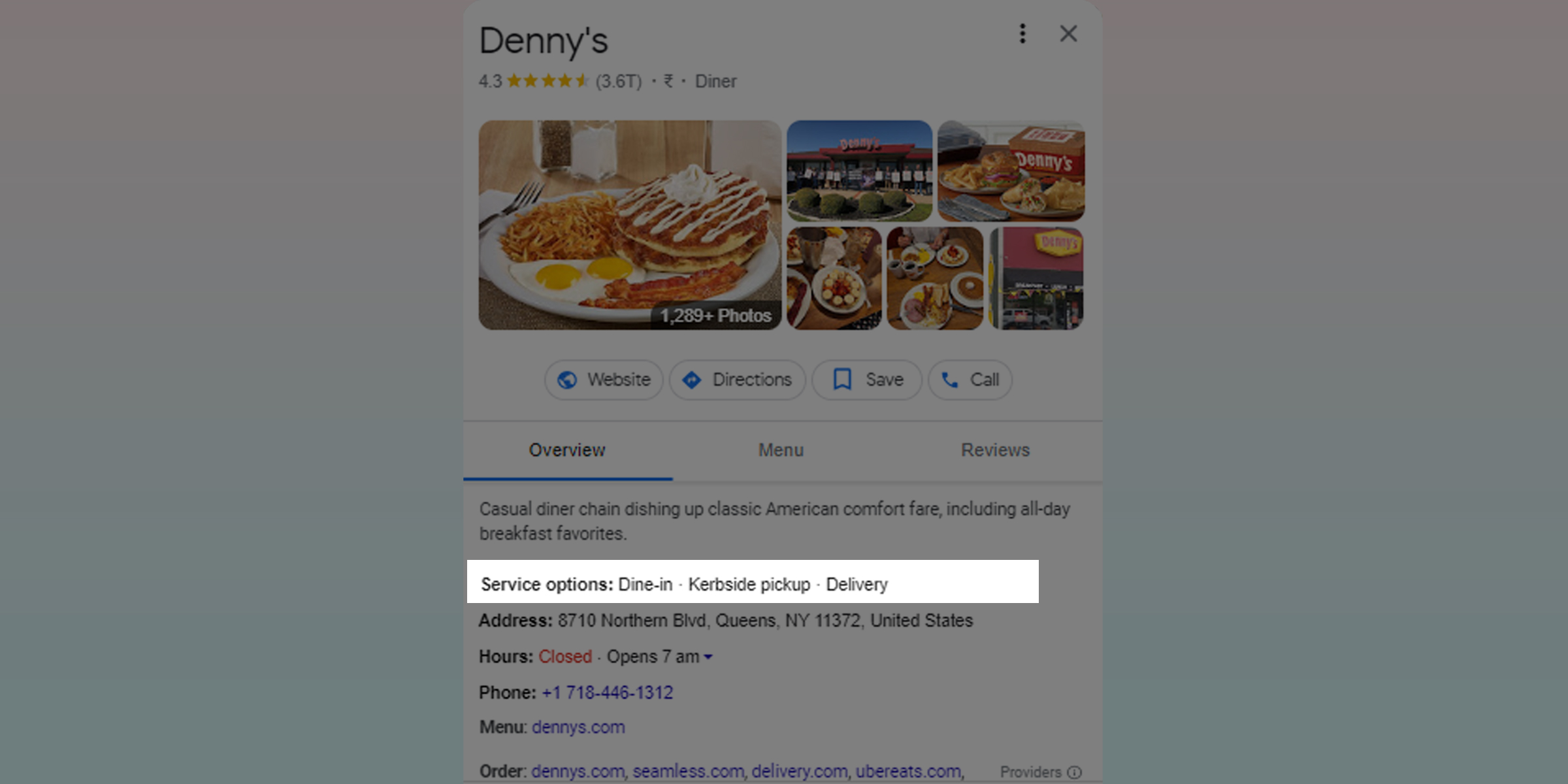 Tip: When selecting attributes, choose options that accurately describe your business and align with your brand.
Use Google Messaging
Google Messaging allows customers to contact you directly via your GBP profile. It's a great way for customers to ask you questions or get more info about your business. To use Google Messaging, you'll need to enable it in your profile settings. Once you do, you'll get notifications whenever someone sends you a message or asks you a question through your profile. All you have to do is answer the business queries you get from the GBP dashboard or Google My Business app.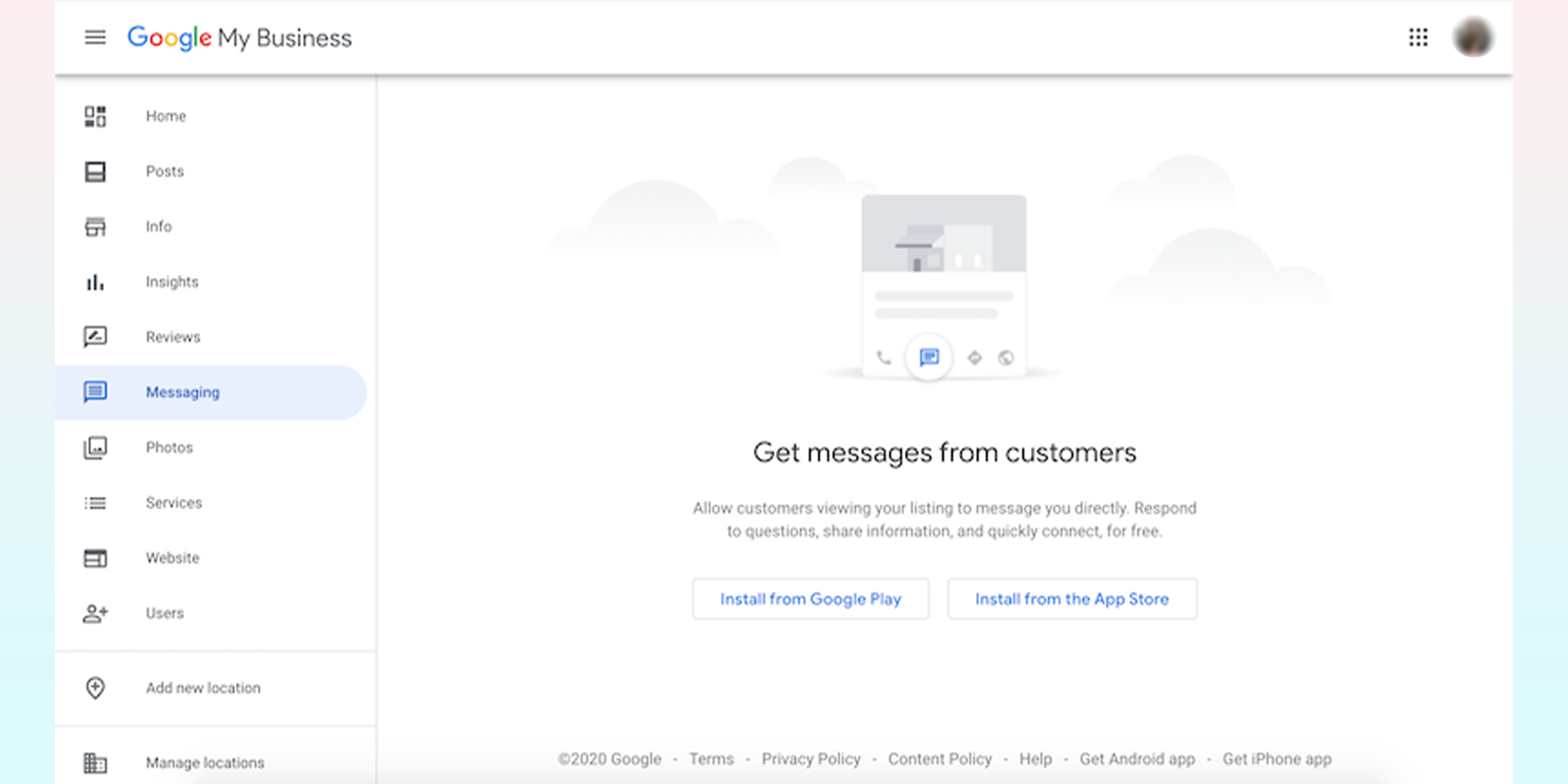 Tip: Be responsive and professional in your messaging, and respond promptly to inquiries.
Link to Your Website
You can easily add a link to your website if you want to get more people interested in your products or services and help them find what they're looking for. Just make sure the URL you add is right and working. That way, people can find the page they're looking for directly on your website. You can also track clicks and your link's performance using a tracking URL or UTM parameters.
Tip: Ensure your website is mobile-friendly and loads quickly.
Use Insights
GBP Insights provides valuable information about how customers interact with your business listing. For example, how many times have they viewed your listing? How did they discover it? How many clicks on your website and phone calls did they make? This information will help you make better decisions on how to improve your Google listing and how to attract more customers to your business.
If you see that most of your customers are finding your listing via organic search, you'll want to improve your search engine optimization (SEO) techniques to increase your ranking in search results. The same goes for your phone number. If you notice that customers are clicking on your phone more than on your website, make your phone number more prominent in search results and add CTAs to your listing to encourage call inquiries.
Tip: Pay attention to which posts and updates perform best and adjust your strategy accordingly.
Monitor Your Reviews
Reviews are a huge part of your online reputation, and they can make or break a customer's decision to buy from you. To keep track of your reviews, set up alerts to inform you when a new one is posted, and respond to all good and bad reviews immediately. Once you've responded to reviews, use them to get feedback on your business. Look for common problems or areas where people have had mostly good experiences. This can help you make changes to your business and serve your customers better in the future.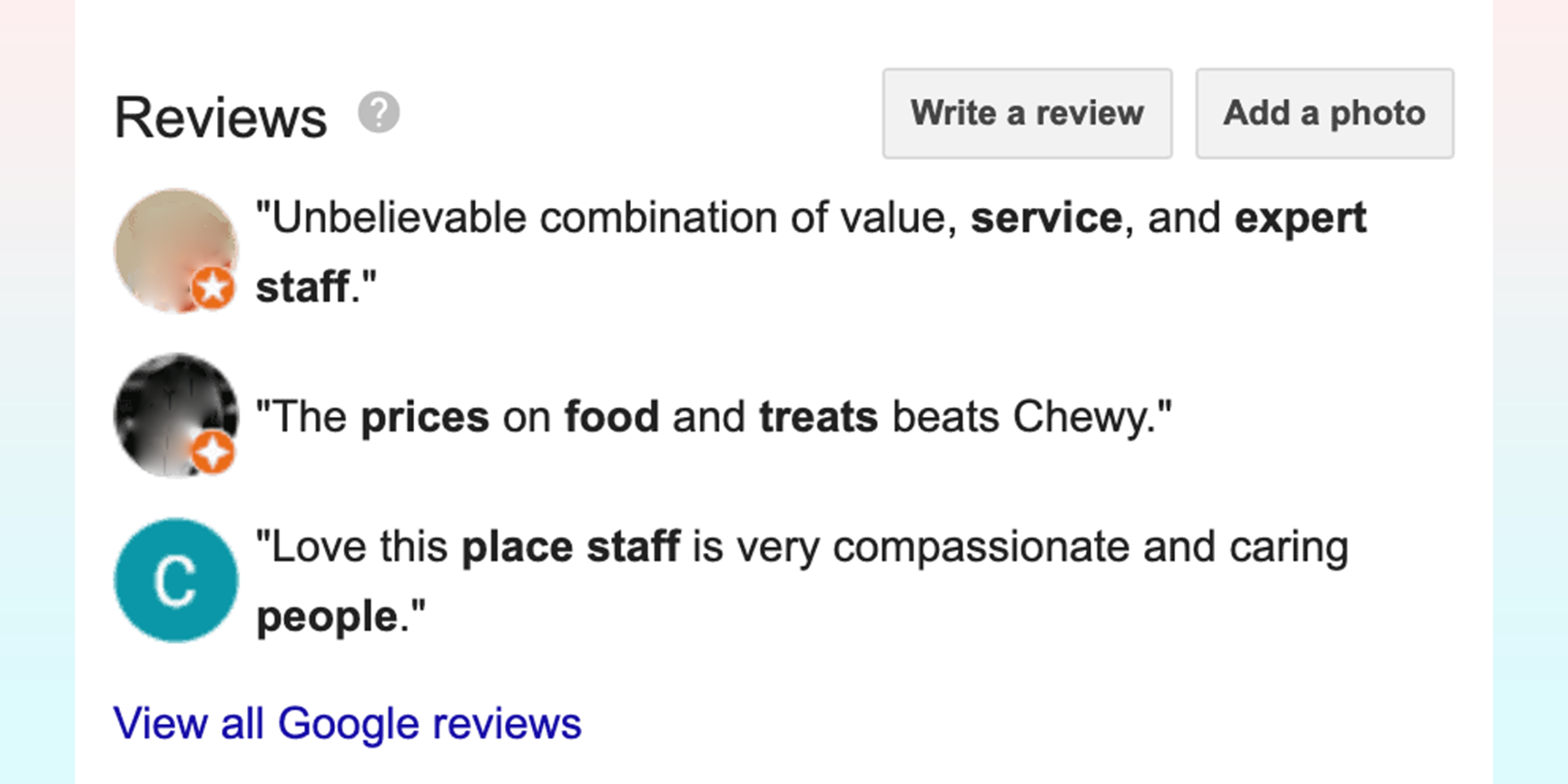 Tip: Respond promptly and professionally to negative reviews, and take steps to address any customer issues.
In Conclusion
Optimizing your Google My Business (GMB) profile is a must if you want to rank locally and attract more customers to your business. 
Our 15 best practices for google my business optimization, such as adding accurate information, posting regularly, and optimizing for local SEO, can help you improve your business's online visibility and get a place in a prominent local 3-pack. 
At Digital Guider, we help businesses optimize their GMB profile to get more call queries or store visits, whatever their end goal. If you also need help optimizing your GMB profile or other aspects of your online presence, please don't hesitate to contact us. We offer result-driven digital marketing services, including SEO, social media marketing such as Facebook, LinkedIn, etc., and website design to help your business succeed online. 
Contact us now, and let us help you dominate your local markets.
Google Business Profile FAQ