Tree Service SEO Company
Climb to the Top of Search Results
With more people building homes and businesses, tree service businesses are becoming huge in the US and have experienced steady growth. No matter how big or small your tree service business is, if your website is not appearing on the top results, you will miss out on many leads. The key benefits of partnering with tree service SEO company you'll get:
Secure top rankings for tree service keywords on Google Maps

Put your website on the first result of Google's organic search

Appear in "near me searches" & get more calls from local searchers.

Dominate the tree service market by staying ahead of your competitors

Increase your website traffic and multiply the leads you get online
Call +1-307-209-3608 now to speak directly with our tree service SEO expert.
Ever wondered how new customers are going to find you?
Referrals? Yellow pages?
It may or may not happen, but most people nowadays go on Google to search for "tree service near me." If you want a flourishing business & good stream of clients for your sales funnel, then you need to have a strategic tree service SEO plan for you to target keywords such as tree services in [your city], tree removal in [your city], and tree trimming in [your city].
In this guide, we will learn what tree service SEO is, its ultimate need & how you can implement the strategies for yourself.
What Is Tree Service SEO?
Tree service search engine optimization is a digital marketing technique that helps improve your tree service businesses' visibility on SERPs and gets found online easily when someone searches "certified tree arborist" or "tree care services."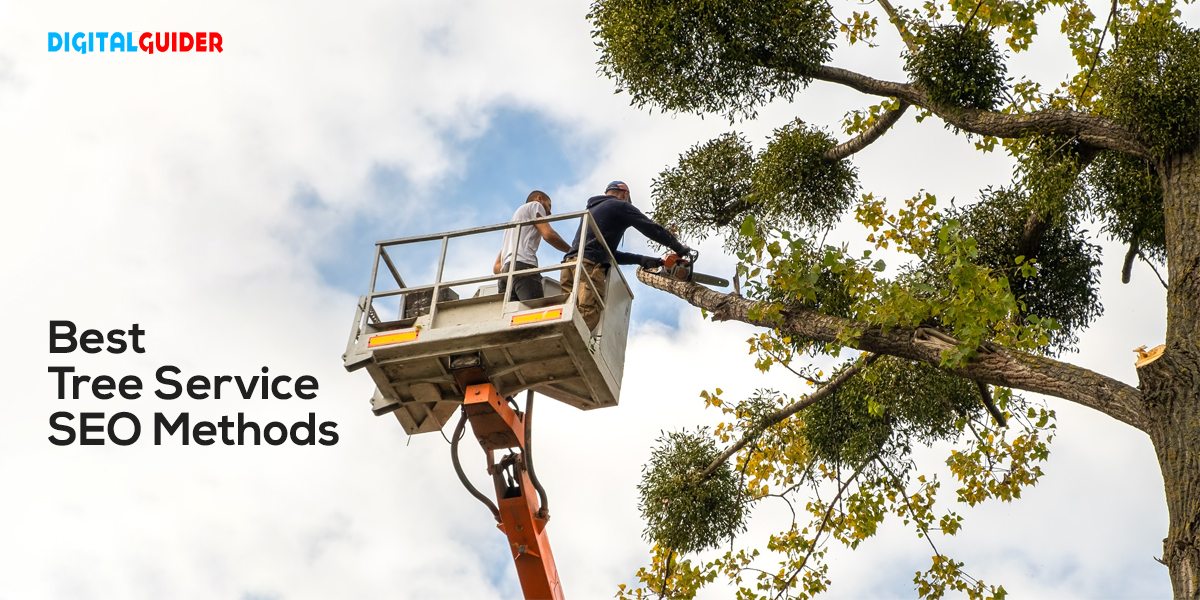 This optimization technique will bring in more tree service leads, increase your reach, brand value, rankings, and sales, & ultimately give more profitability in the business.
8 Best Tree Service SEO Methods
1. Local Tree Service SEO
When it comes to tree services, your local neighborhood and nearby areas are your bread and butter. Local SEO is like putting your business on the local map. It involves optimizing your online presence so that when someone in your town searches for "tree trimming near me," your business appears at the top of their search results.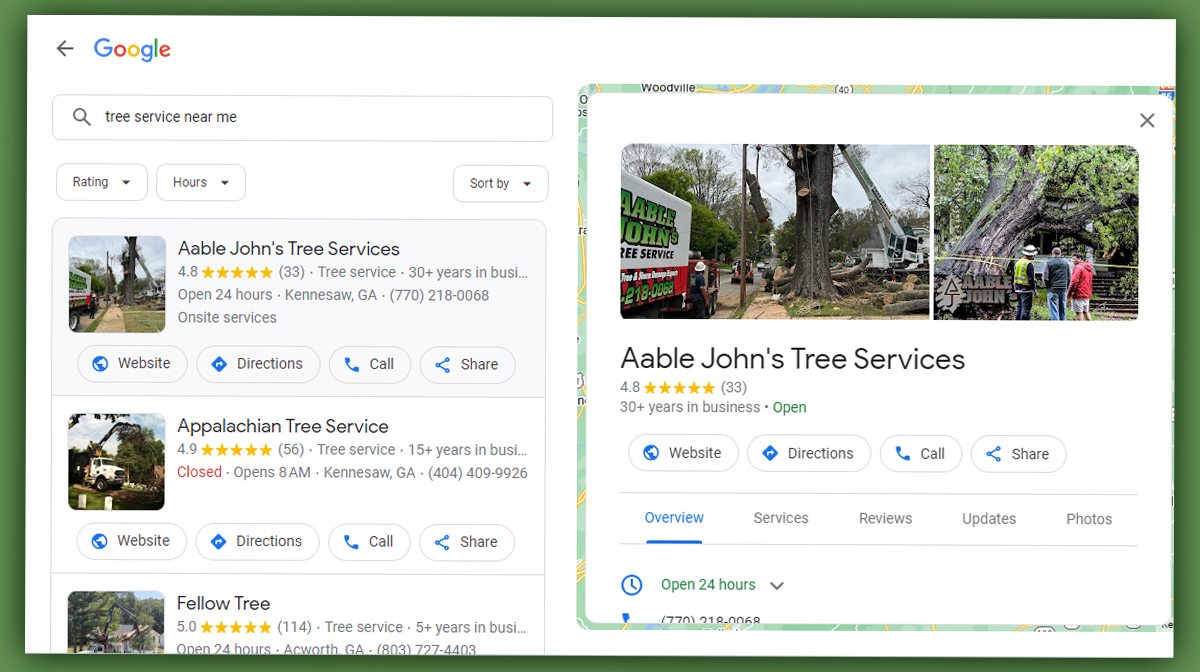 Make sure your website mentions your location prominently, and create a Google My Business profile. This way, when someone needs a local tree expert, they'll know who to call – you! Google loves a local business that serves its community. Utilize local content and create a local Google My Business listing for your local tree service.
2. Collect Customer Reviews
Ask your happy customers to leave reviews on Google, Yelp, and other platforms. An easy-to-complete text-based feedback survey will prompt customers to share their experiences with you. If you receive negative feedback, use this as an opportunity to resolve problems before customers post negative reviews online.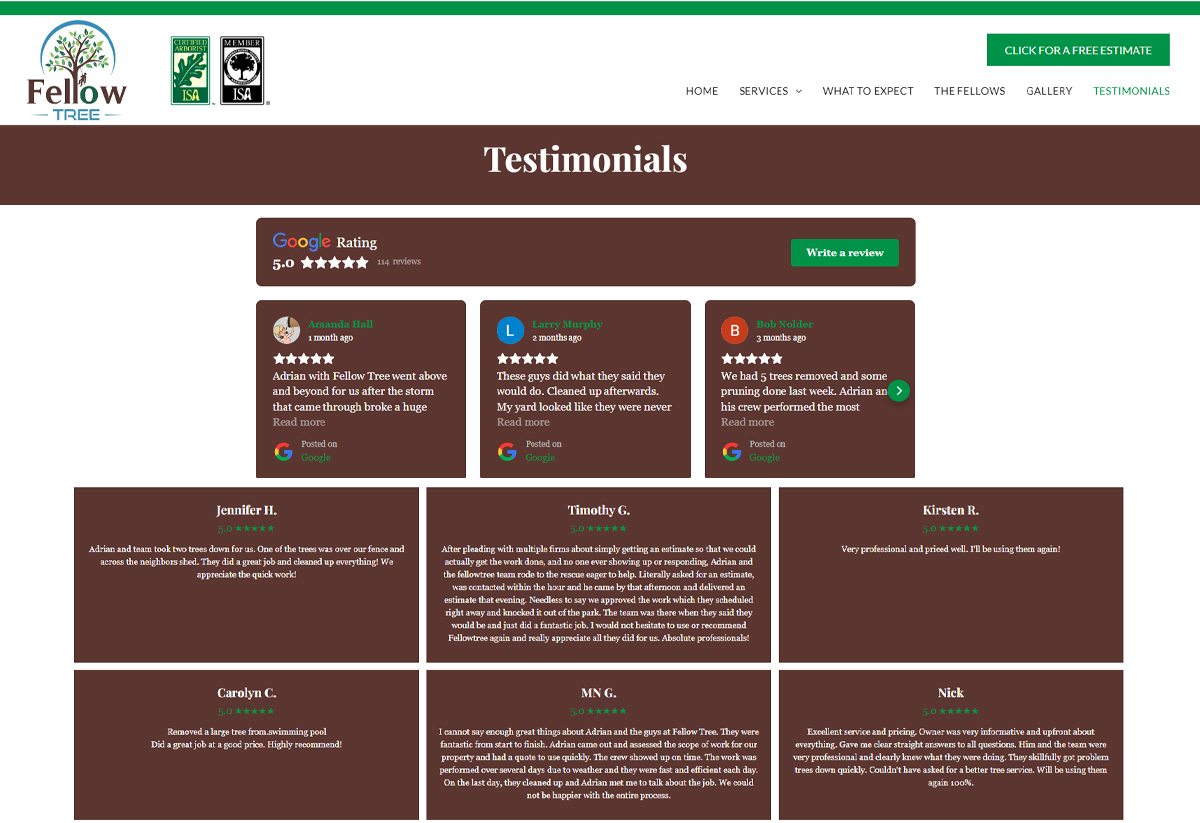 Don't stop with collecting reviews, however. Respond promptly to any online reviews, both positive and negative. As per Search Engine Journal, an estimated 99.9% of consumers read reviews before making buying decisions, and many people look for negative reviews in particular — so the more responsive you are, the better your online reputation, and more importantly, your tree service SEO campaign will perform better.
3. Tree Service SEO Keyword Research
Keyword research helps you identify keywords that potential customers might use to search for tree services in your area, for example, tree services in [your city], tree removal in [your city], and tree trimming in [your city], to name a few. Google Keyword Planner, Semrush, and Moz.com can help you find high-performing keywords such as tree removal, tree trimming, and "certified arborist."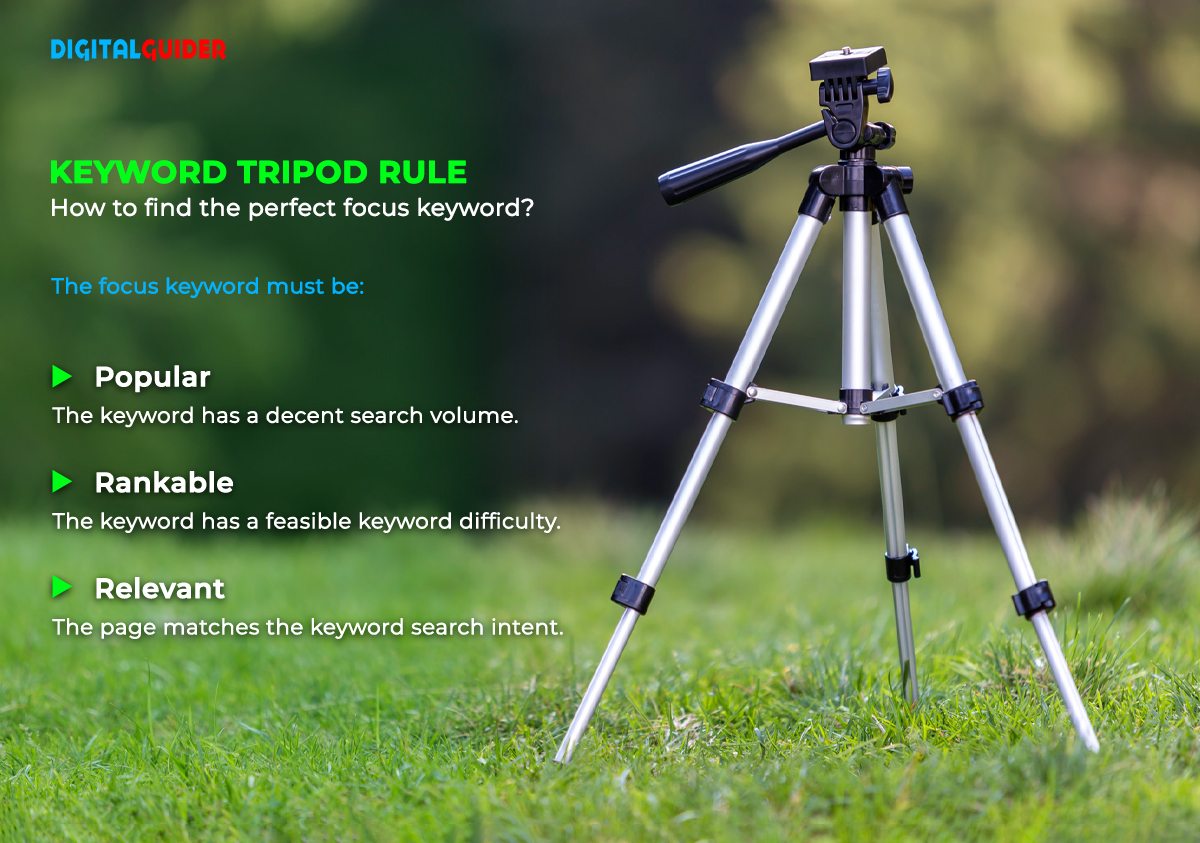 Follow the keyword tripod rule while searching for keywords for your tree service SEO plan. Ensure each keyword you choose must be
Popular-

to get website traffic.

Rankable-

for gaining clicks.

Relevant-

for attracting the right audience.
4. Optimize Your Website Content
Your website is like a tree's branches – it needs regular pruning. On-page SEO is the process of naturally including your target keywords in your website content. This includes everything from your meta titles and meta descriptions to your headers and alt tags for your images.
The key to successful SEO for tree service is ensuring your content is high-quality and engaging for visitors and search engines alike. Google wants to provide the most valuable and relevant content for searchers, so it's important to take the time to optimize your on-page content.
5. Update Business Listings
Keep your NAP (name, address, and telephone number) up to date and consistent throughout the web. Whether it's your Google Business Profile (GBP) or online directories, accurate, current business listings are key for local SEO. You can list on directories like Angle, Houzz, Yelp, etc.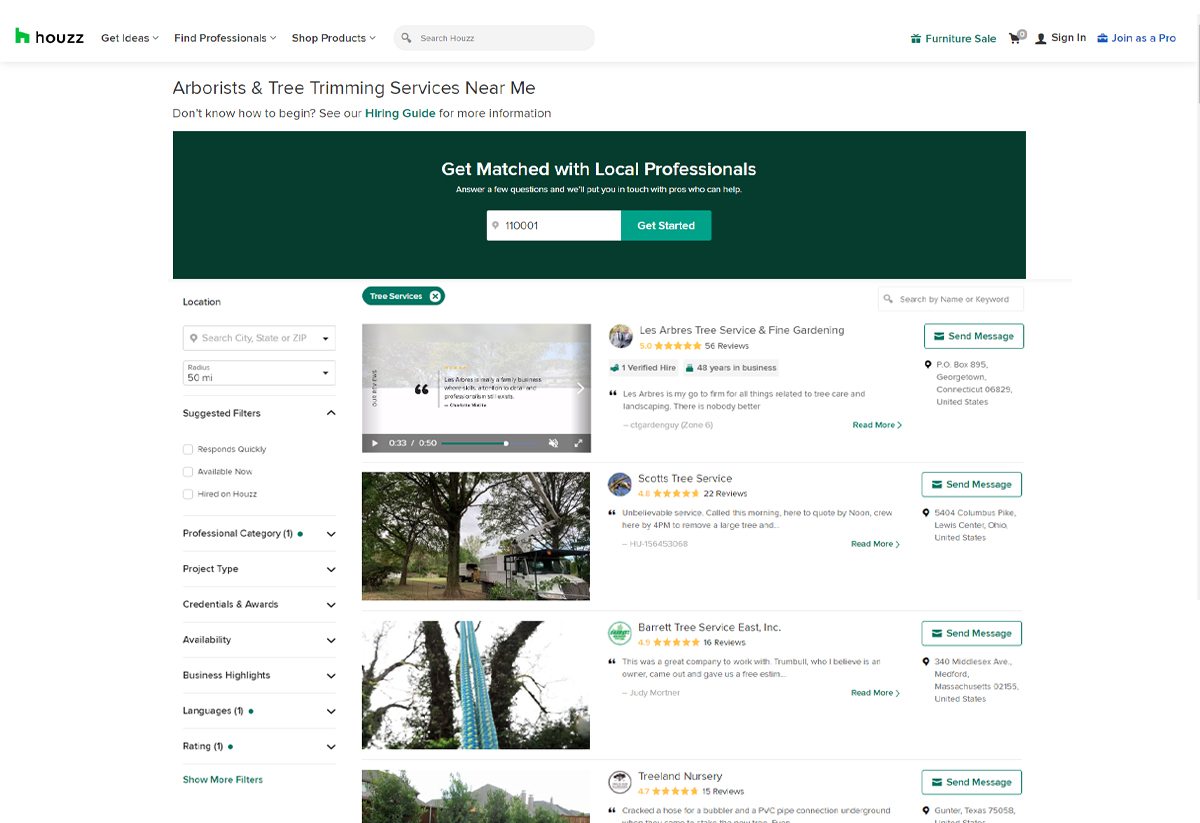 You can manually update your listings or use a tool provided by SEMrush, Moz, or other listings service providers. Make sure to update your own websites, social media accounts, and other locations where your NAP is available.
6. Obtain High-Quality Backlinks
Backlinks are links via anchor text from one website to another. Backlinks from reputable websites signal to search engine crawlers that your website is trustworthy, helping you build authority and relevance.
Focus on building high-quality backlinks through various means. Guest posting, collaborating with local businesses, posting quality content such as comprehensive guides, participating in community events, and other methods can all be effective in your tree service SEO strategy.
7. SEO-Friendly Website
Let's say a potential customer is searching for tree services on their smartphone, and your website takes forever to load. They're likely to bounce right off your page. A mobile-friendly, fast-loading website is crucial. Google also favors such websites in its rankings, so it's a win-win.
A responsive, mobile-friendly website is essential for both user experience and SEO. Additionally, a fast-loading website reduces bounce rates and improves search rankings. Regularly optimize images, enable browser caching, and minimize code to ensure your site loads quickly.
8. Post on Social Media
Engaging with your local community with local content on social media platforms can boost your online presence. Publish valuable local content that demonstrates your expertise in tree services. Create blog posts, guides, and informative videos featuring tree care tips, seasonal trends, and information on local regulations.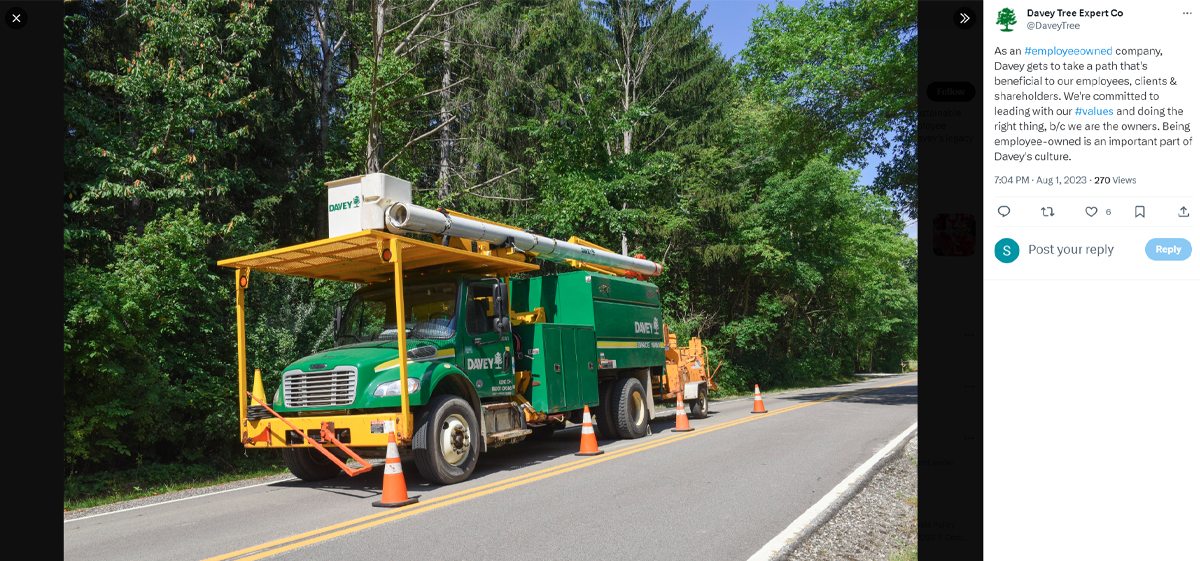 Great content attracts visitors and positions your business as a trusted authority. Share relevant content, respond to comments, and participate in local conversations. Consider sponsoring or participating in local events to further establish your brand in the community.
Grow Your Business With The Best Tree Service SEO Company!
If you want to keep growing your tree care business, you must invest in marketing strategies to get you new customers. SEO is a great way to get more people to your website and find people who are interested in your services.
We know you might not have the time or resources to execute tree service SEO marketing plans. That's why Digital Guider offers tailored tree service SEO packages for your businesses. Get more leads and increase your revenue with our tree service SEO team.
Write us to – info@digitalguider.com & start getting more leads, sales & revenue.
Aviation SEO Marketing FAQ