Are you starting a new business but worried about how to attract new and more online customers to your website will reach you, how you will increase sales, and ultimately how to drive website traffic? then this article will surely be helpful to you.
When you need your services or products to reach people, you should first introduce them to a platform where your services get noticeable quickly and build a meaningful impact on the targeted audience. If you own a business, especially in this digital era, you must have a website, so your target audience knows you, your services, and your location.
But, a significant concern is how to bring and attract online customers to your website, drive online traffic, appear in the top searches in the SERP (Search Engine Result Page), and get the maximum benefit from PPC and social media. To answer this, we have discussed several factors that play an essential role in driving traffic to the website, mainly in three sub-topics:
Through SEO
Through Paid Ads
Through Social Media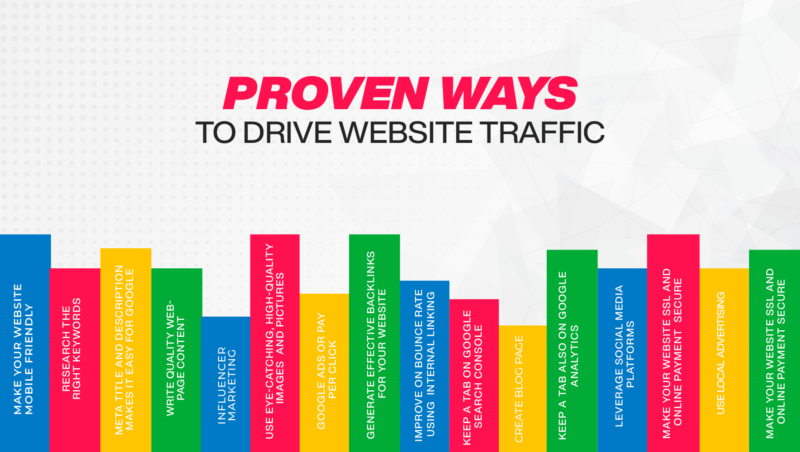 Attract New and More Online Customers to Your Website in An SEO Way:
1. Make your website mobile-friendly:
More than 50% of online customers come from mobile phones, as everybody is on mobile nowadays. As a business owner, providing a mobile-friendly interface is the most effective way of engaging visitors. It is important to run your website smoothly on mobile devices to attract new and more online customers.
2. Website should have SSL and online payment security:
Make sure your website is SSL secure with its online visibility. It enhances the customer's confidence in scrolling and shopping and is also a Google ranking factor. To make your website more secure, select a competent hosting provider, choose a suitable content management system (CMS), manage plugins and add-ons, and activate automatic backups. If you provide online payment facilities attached to different payment modes, establish a secure connection using different methods for secure online payment processing, such as Payment Tokenization, 3D Secure, etc.
3. Write quality web-page content:
Your website content must address the user's needs and complete information about products or services. Having a simple, clear intention on all pages will help the user interact with what you offer or what kind of products and services you sell. You can describe your expertise in the segment and how you differ from others. Why customers should choose you, provide in-depth information about your products and services through quality content on the website pages. A web page is essential in explaining the business description and addressing customer queries.
Do talk about sales and aftercare. Mention your contact number and other CTA (call to action).
Here is an ideal example of how your content should look like.
4. Eye-catching, high-quality images help attract customers to your website:
Images contribute to similar information and value as content. Customers react quickly to images. Images make web page content more interesting, helping customers understand your products and services better and increasing user engagement. Images add value to your content and SEO efforts. There are several SEO factors that you can apply to optimize image SEO on your website. Images are very important for your business.
Here is one example of how an image combined with the right content represents your work to your customers.
The way you present your products and services has a profound impact on your customers and ultimately business. And it's not just your website these images represent; images also contribute to your social media presence. Use high-quality images that describe your products and services in detail.
5. Reduce bounce rate using internal linking:
Creating internal links is the way from reaching one webpage to another webpage with the same domain. Any website can have more than one page linked through internal linking. Creating the internal linking for your website is the most crucial part of a successful SEO structure. It helps the reader navigate easily and prevents the website from bouncing.
6. Business blogging is another proven way to attract customers to your website:
Neil Patel, the co-founder of Crazy Egg and Hello Bar, who helps companies like NBC, GM, and HP grow their revenue, says, "Create content that teaches. You can't give up. You need to be consistently awesome."
Yes, business blogging is nothing but an expert piece of well-written content about your business to directly talk to the customers. One of the most significant benefits of a business blog is that the comment section in the blog helps you find a potential client for your business. The comments that keep getting published by readers upon going through the content play a big part as there's a higher probability you get the potential and long-lasting clients that trust your product/services.
For more information read: Top 10 Direct Benefits of a Business Blogging
7. Time to research the right keywords for your business:
Reading the user's mind is art, and you need to be a Picasso of that art. Google not only gives priority to good websites but also notices that the website pages contain the most searched topics and relevant content. You must ensure that your page targets a specific topic with particular keywords. The popularity of the keywords will be responsible for showing your webpage at the top of Google search results.
Google is continuously searching for something new on the web. The more relevant you make your website, the more easily you can make Google go through it. Whenever a user inserts any keyword, Google always tries to show up every time with the best out of hundreds. So make your page more updated
8. Write the meta for your pages:
Meta titles and descriptions make it easy for Google to find your pages. Keyword-targeted Meta titles & Meta descriptions are an important part of on-page SEO and an important ranking factor of Google.
Title tags and meta descriptions are limited words narrative to indicate the information displayed on the web page itself. Web browsers and search engines use this to figure out how to display page information in search results pages (SERPs).
9. Generate backlinks for your product/service web pages:
Backlinks are the inbound links from moving one website to another webpage on a different website. Backlinks are important for creating a trusted and valuable reference from one site to another. These are beneficial for improving the SEO matric, increasing the ranking, more search engine visibility, referral traffic, giving more brand awareness, and higher page & domain authority with improving credibility. Try to search for maximum referring domains to make multiple backlinks on a good DA (domain authority) website.
10. Get Google My Business (GMB) listing for your website:
In a post-pandemic world, it is very crucial for you to have a GMB profile. A GMB or Google MY Business Profile will help your customers to find your business when looking for your products and services in nearby areas using Google Maps. You can mention your contact number, business hours, holiday closures, COVID safety protocols, etc.
It looks like this:
Your prospective customers will simply Google your business name and check the information they need to contact you immediately. If you are not there, they might go elsewhere. Make sure to optimize your Google My Business profile from time to time.
11. Keep a tab on Google Search Console (GSC):
Google Search Console or Google Webmaster is a free platform to monitor website performance in the real world. It provides information on Google crawling, indexing, search queries made on mobile devices, the highest and lowest click-through rates of the pages, and many more. It talks about search performance and how your search traffic changes over time, where it's coming from, and what are most likely keywords to show your site. You can use all this to improve your audience targeting.
If any issue is found by Google on your site, you'll receive an email from Search Console alerting you. A search console is also used to check who links to your site.
12. Keep a tab also on Google Analytics (GA):
Google Analytics helps businesses evaluate how marketing, content, and products are performing, for example, if any
specific products or services are gaining customer's attention, how many visitors come in a day, week, or month,
and understanding of client behavior like what pages the client is staying on most, and what page is not performing well, you can even track consumer behavior individually — from the acquisition stage to retention. This can help you strategize on what kind of content to invest in and how you allocate your efforts accordingly.
Attract Customers to Your Website Through Paid Ads:
13. Google Ads or Pay Per Click (PPC):
Increasing your online exposure through paid search ads is another way to get your website to appear on Google. Google ads cost you, but they also give you the best reach and can even get your brand to appear on the top of Google search results. Google advertising is a way to highlight your brand, increase your business knowledge, reach out to more customers through Gmail, make healthy contact with your visitors, and measure your daily performance.
google ads
Attract Customers to Your Website Through Social Media:
Brand awareness is important to familiarize people with your business, products, and services. You can directly target your audience by showcasing your services to popular social media platforms like Facebook, Instagram, Twitter, WhatsApp, YouTube, Pinterest, LinkedIn, and many more.
Create engaging and interactive social media campaigns to establish a direct connection between the brand and the customer. To know more about how to engage social media audiences, post ideas, and drive traffic to your website, read this elaborative piece of content: Social Media Content & Post Ideas for Boosting Engagement.
14. Facebook Marketing:
You have to stand out in the cut-throat market competition. Facebook marketing may help you to drive traffic to your website and increase ROI. Facebook marketing is one of the most effective and affordable media currently, with huge potential to bring customers to your online store. There is a good chance of reaching the audience who are interested in your product & services and interacting directly with the customers.
15. Advertising on Twitter:
Twitter marketing is another way to boost visibility and elicit potential followers. You can also take the help of a digital marketing company providing Twitter marketing services to make things more viable and convenient for you. They will assist you with setting up a profile and optimizing it, have the right content, and let your audience know what you offer.
16. Twitter Polls:
Twitter is one place to get people's opinions about a service quickly. Everyone has something to say about something. As a business owner, you should know this and develop strategies to listen to your audience's opinion. A perfect strategy is creating polls. The poll could be about the terms of service, improvements, preferences, and feedback.
17. LinkedIn Marketing
LinkedIn marketing is a premium marketing service offered by LinkedIn. It may be a little expensive but worth a lot. It helps you with lead generation and connects you with more people, interacts with a new audience, gains credibility among your followers, and enhances B2B relations. You can also seek help from a LinkedIn marketing expert.
18. Instagram Marketing 
Like other social media platforms, Instagram marketing is another way to get more audience. Perfect, if you can do it on your own, or you can seek help from Instagram marketing service providers, which will help you with audience analysis, data tracking, video posting, and ad management. They will assist you with creating targeted campaigns and putting up relevant video posts around your business to fetch more relevant users.
19. Adding a YouTube channel to your website is a great way to attract customers to your website:
Over the past years, YouTube has effectively been a social and business interaction tool. The video concept has helped people and brands get out there, driving sales and growth. Although some brands focus on advertising, a good number consider providing their content to users so that they become more informed about their services.
Apart from following the techniques below, you also need to ensure that your Youtube channel & videos are optimized per Youtube guidelines to generate more views, audience, and subscribers and build stable brand awareness.
Some Bonus Points to Attract New Customers to Your Website:
An email newsletter is an online communicator that allows you to connect with your customers through emails, tips, news, and updates about your products and businesses. The user needs to join through their email addresses to receive that information. Creating an email letter will also be beneficial in converting your visitors to subscribers. You are increasing your potential customers and subscribers every day. Every email will have your website link, which will help to attract customers to your website.
21. Keep your website updated about the latest services and offers:
Whenever you add on or update any of your services, mention that regularly on your website. Also, update it monthly so it won't get outdated for Google. Keep everything updated, including your addresses, online –offline business, website, products, services, availability, and online delivery availability areas.
22. Use local advertising
As a business owner, you must be aware of the local media and modes of advertising within your locality. Try to reach out to the local people through local newspapers, radio stations, and news channels. Draft a creative storyline for your products and services and upcoming launches. This will ultimately contribute to an increase in website traffic.
23. Influencer marketing is a great tool to attract new customers to your website:
Reach out to the review websites and blog influencers that already rank high. Create healthy communication with the bloggers and website owners who have maintained large audience attention with their review websites and blogs. Invite them to review your products or services and talk about them. Invite them to promote your blog by creating a guest blog section on your recent blogs and get it noticed by their audience.
24. Take care of customers' reviews and feedback:
Make sure to have an eye on customers' feedback. Reply to them so that they establish a loyal relationship with your organization. Try to reply to your customer's query ASAP, as multiple users exit if they don't get an instant answer.
25. Products or service catalog helps to attract new customers to your website:
Create an effective catalog to showcase your products. Mention the essential product details, including product descriptions, features, pricing, color, availability, sizes, weight, customers review, and other necessary details.
Final words
Please go through the above strategies if you want to achieve your business goals by attracting customers to your website. Above, we have mentioned the crucial ways that help attract new & more online customers to your website and grow your business manyfold.
Some FAQ