You've probably heard talk about E-A-T guidelines by Google and maybe seen the updated EAT acronym: E-E-A-T, but what does E-E-A-T mean? Google E-E-A-T In SEO refers to Experience, Expertise, Authoritativeness, and Trustworthiness. Google 1st introduced E-A-T in its Search Quality Rater Guidelines in 2014, and the added extra E, Experience, to it in late 2022. 
It is a set of guidelines Google's search evaluators use to assess website credibility and content quality. Whether or not your website demonstrates E-E-A-T will affect your page quality score and ranking. In this comprehensive guide, we'll explain what measures you can take for Google E-E-A-T In SEO strategy and improve your chances of ranking well in Google Search. Let's dive in! 
What Is Google E-E-A-T — Deep Explanation With Example
Imagine you're searching online for healthcare advice, like tips for staying fit. Google uses a special way to choose which websites to show you first. It's called "E-E-A-T": Experience, Expertise, Authoritativeness, and Trustworthiness.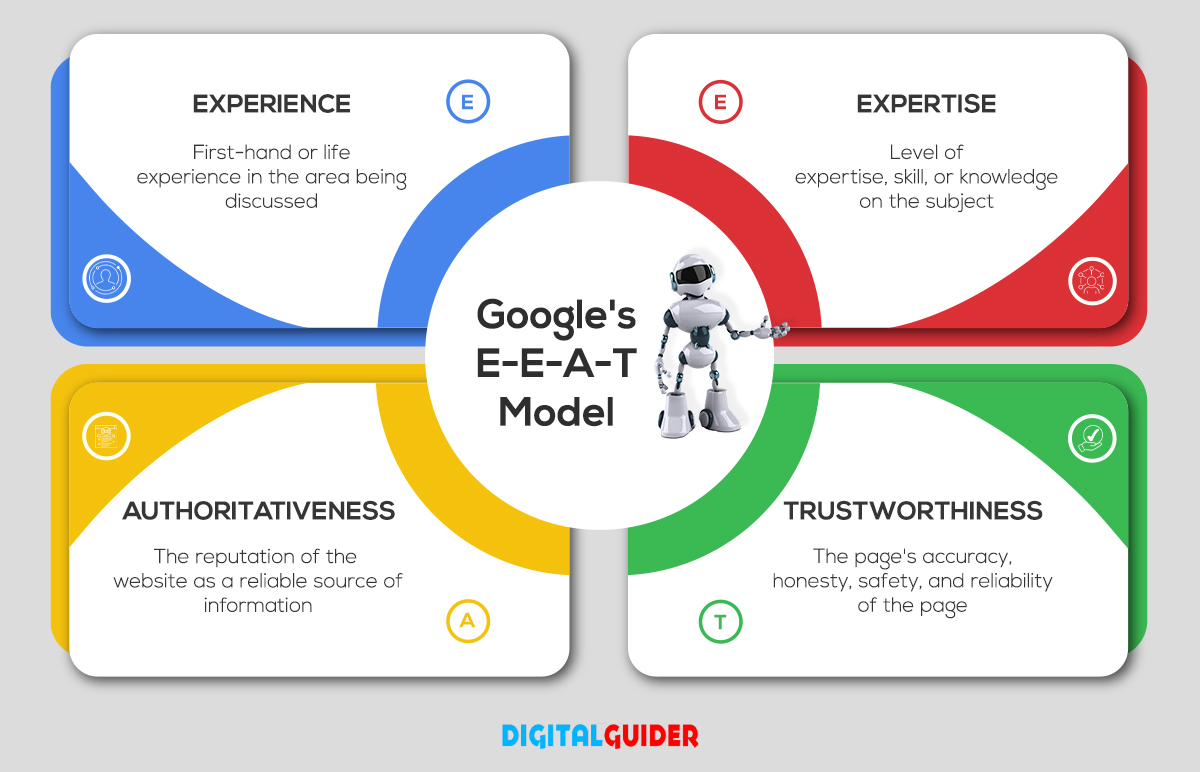 Experience (Real-Life Experiences):
Google prioritizes firsthand or real-life experiences. This is like listening to someone exercising for a long time or having real-life experience with a topic, product, or service. According to an example, Google prefers websites from people who know much about fitness because they've been doing it for years.
Expertise (In-Depth Knowledge):     
It's about having a depth of knowledge and experience in a particular topic. Think of getting cooking tips from a chef. Google looks for websites created by experts with deep knowledge about what they're talking about, like fitness trainers who understand exercise. You can also include things like awards, degrees, author bios, and certifications.
Authoritativeness (Credible Source Of Information):     
It's like getting advice from a respected gym or yoga coach or showing that you're a credible source of information. Google likes websites that are well-known and trusted in the fitness world. These sites have a strong reputation. To build authority, get links from other high-quality websites, list your credentials, and connect with others to guarantee your expertise. 
Trustworthiness (Websites With Proven Sources):     
Just as you trust an honest friend, Google also wants honest, transparent, and reliable websites. It looks for honest and proven sources to give correct information over time. You can build trust by disclosing any potential biases in your content, sponsored or paid links. So, when you search, Google finds websites with strong E-E-A-T. This way, you get solid advice from results/sources that really understand fitness (for example), are trusted, and have a good track record.
Google's Search Quality Rater Guidelines?     
The Search Quality Rater Guidelines is a handbook for Google's roughly 16,000 contractors from around the world who review live and experimental search results. These Quality Raters evaluate & score website and search engine results page (SERP) quality according to page quality in terms of Google E-E-A-T In SEO and how well it meets the needs of the user's query. See the image below where a user wonders whether to trust this website to buy an iPhone. This is where Search Quality Rater plays a major role in providing feedback regarding the site quality.
The feedback from these raters helps Google improve its algorithms and provide better user search results. It's important to note that quality raters have no direct impact on site rankings. Instead, their evaluations are used to provide feedback and insights that inform Google's ranking algorithms.
6 Reasons Why E-E-A-T is Important For SEO?
E-E-A-T is important for SEO for several reasons:
1-  Enhanced user experience:     
High E-E-A-T content in SEO ensures that users find relevant, accurate information, which improves their experience & hierarchical structure on your website. 
2-  Resistance to new algorithm updates:    
Websites with high E-E-A-T content are likelier to stand out with Google's algorithm updates & maintain their search result rankings as they consistently provide valuable and trustworthy information.
3-  Better search result rankings:     
Google prioritizes content with high E-E-A-T as it strives to provide users with the best & quality information. This can lead to higher SERP rankings & increased visibility.
4-  Long-term brand growth:     
Emphasizing E-E-A-T can help you create relevant, high-quality content that stays valuable and useful over time, leading to long-term powerful growth in traffic, visibility & customers. 
High E-E-A-T content in SEO shows that you are an expert in your field and your content is trustworthy. This can increase user engagement, as users will be more likely to visit your brand site and read your quality content.
6-  Leads to higher conversion rates:     
Having trustworthy content on your site can make people more likely to trust your brand, which will lead to more conversions & sales. Plus, if people find high E-E-A-T content in SEO on your site, they won't be as likely to leave quickly, which means fewer bounce rates and better search rankings.
Major E-E-A-T Guidelines     
According to Google's search quality rater guidelines, trust is earned by showing experience, expertise, and authoritativeness. E-E-A-T guidelines cover various aspects of a website evaluation, such as: 
Determining content author or

website domain ownership

.

Researching the E-E-A-T of content creators.

Rating the quality of pages and content.

Identifying high-quality and low-quality content.

Identifying high E-E-A-T requirements for specific types of domains/pages, such as YMYL (Your Money Your Life) sites.

Comparing

mobile and desktop experiences

.

Identifying potential user harm from page designs or usability issues.

Scoring domains and pages on a rating slider from "Fully Meets User Needs" to "Fails to Meet User Needs."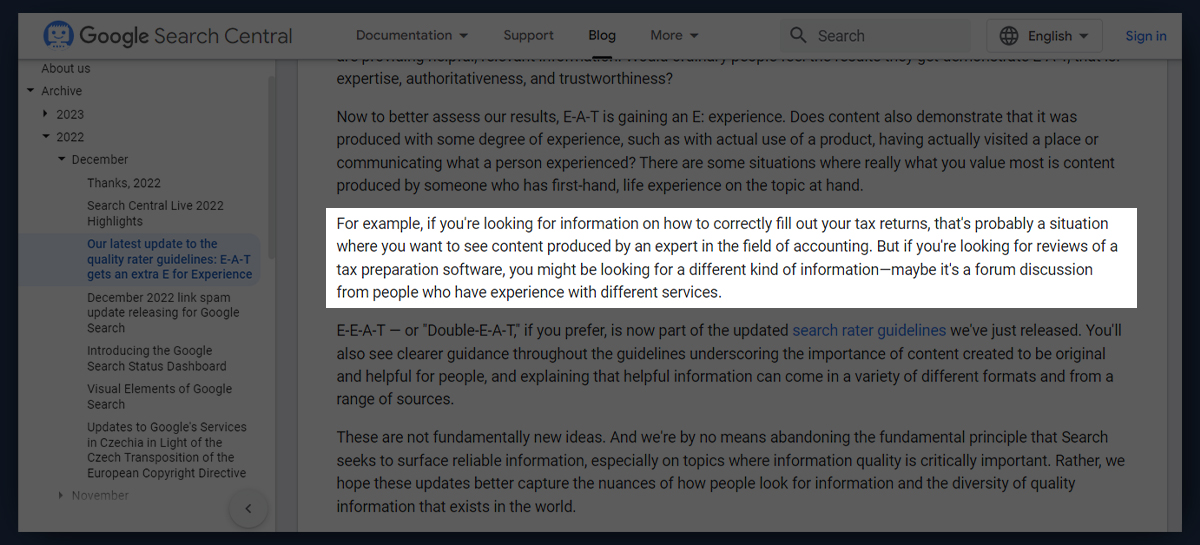 Google provides an excellent example of this in the Google Search Central Blog (image shown above), pointing out that if you want to find tax-related information, you'll want to see content produced by an accounting expert. Similarly, if you want any exact details regarding real estate, you would like to refer to a real estate expert website that can provide trendy, authentic, and relevant information. 
7 Proven Tips For Achieving Google's E-E-A-T Success In SEO  
Using your new knowledge of Google's E-E-A-T model, here are some simple steps to ensure your website performs strongly:
1-   Target user's search queries     
Targeting the query calls for keyword research to determine words and phrases people use when searching. An approximate monthly volume of the searches & the level of competition for the phrase. 
Incorporate relevant keywords, phrases, and topics on which users frequently seek information. Enhance E-E-A-T content in SEO with accurate and up-to-date information from reputable sources and experts in the field. 
2-   Keep your content up to date    
Google loves updated, original & high-quality main content on websites. Google content should be satisfying for people visiting the page. If you do nothing else, ensure you have a strategy for frequently creating new E-E-A-T content in SEO and updating existing content for your site.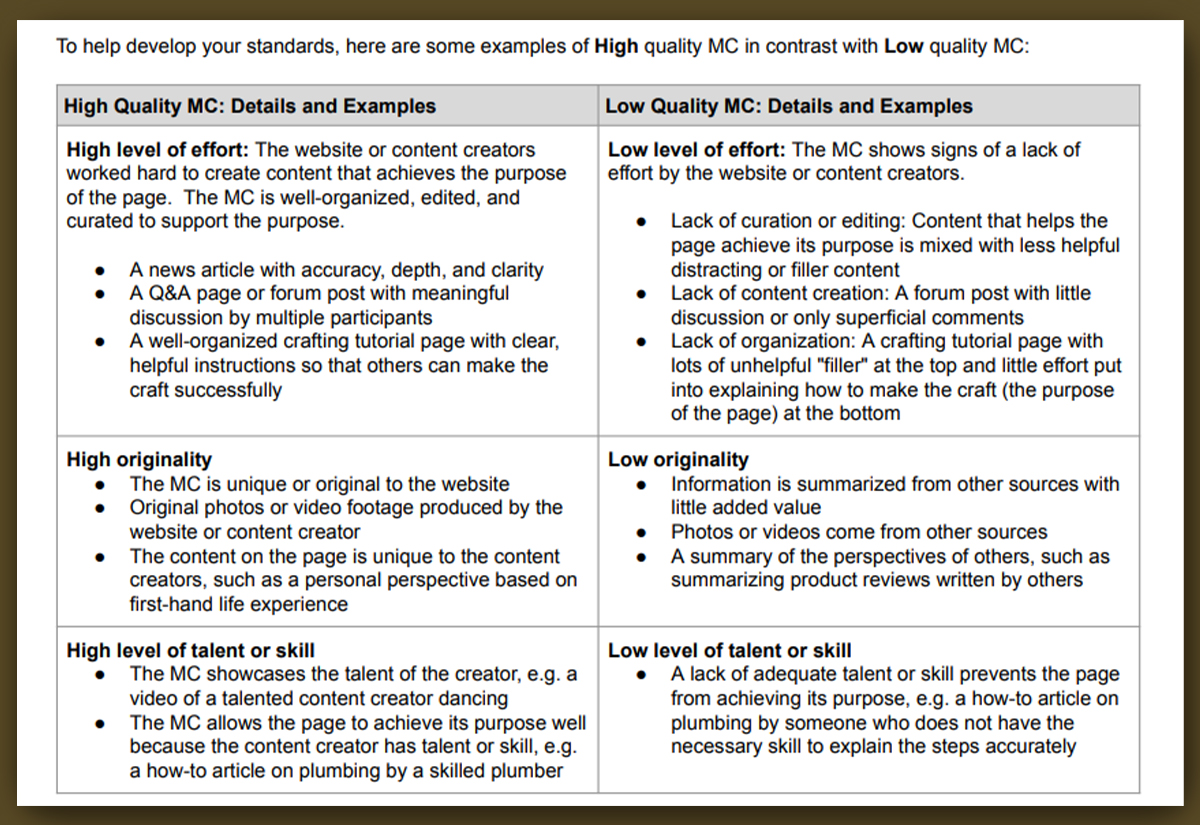 High-Quality Main E-E-A-T content in SEO shows evidence of effort, originality, talent, or skill. If you aren't sure whether the content is high quality, try finding other niche pages to help calibrate your assessment: "typical" and "average" pages on a topic generally have Medium quality MC.

Must Read: Content Amplification: Improve Your Content's Reach and Engagement
3-   User intent (and behavior)   
Your goal goes beyond presenting keywords; focus on providing your visitor with the most satisfying FAQ answers and the best possible experience. 
Remember: Query Meanings Can Change Over Time 👇
Google tallies how visitors behave on your page and factors it into search results. Do they bounce? Do they spend time there? Do they go to additional pages? You need to identify what intent your visitors are following. See the other example by Search Quality Rater, where they mention other forms of queries and their intent changes.
4-   E-E-A-T For YMYL Topics    
E-E-A-T plays a major role in YMYL "Your Money or Your Life" pages. YMYL covers topics that can potentially impact a person's future happiness, health, financial stability, or safety. Different types of pages can be created on specific YMYL topics. For example, if a page is created on a specific YMYL topic to provide information or advice, you may need a high level of knowledge to make the page credible.
The bottom line regarding YMYL is simple: Ensure that any content on your site will benefit, not hurt, the people who consume it. So if you are a healthcare & financial company, you need to be extra careful with the content on your website. 
5-   About Us Page   
According to the search quality rater guidelines, who is responsible for your website should be clear. In other words, who owns and runs the site?
An About Us page is a great way to demonstrate this. On the page, answer these questions:
Who runs the business and/or website?

What experience and qualifications do they have?

What is your brand story?

Why are you trustworthy – have you won awards, for example?
Make sure you include the right info about yourself and your business so that your customers and search engines can easily trust you.
6-   Include On-Site Reviews
Do you display user reviews on your website? This can help build trust with both users & search engine algo. Alternatively, you can pull in reviews from third-party sites like Trustpilot.
Reviews are crucial to the ecommerce journey. For SaaS and service-based sites, case studies can add additional depth. If you don't have a strategy for obtaining client reviews, now is the time to put one in place and actively pursue new recommendations.
7-   Get high-quality backlinks
Do you link to the original source when mentioning a statistic or fact on your website? By this, we mean the primary source, not second-hand reporting. This helps users feel confident that your information is accurate and fact-checked. Link to your website from another website with high organic traffic owned by a company that shares your client base. Spend time on a project to place a high-quality blog on its website with a link to yours & disavow toxic backlinks. 
Focus on the content things you can positively influence, and leave the technical SEO heavy lifting to someone who has built their reputation in this.
Additional Reading: What is Cross-Linking in SEO & How It Improves Your Ranking?
Final Thoughts: Level Up Your Website's E-E-A-T Score 
E-E-A-T isn't something marketers, and business owners can ignore. If you want to succeed in your search, it's crucial that you meet best practices, especially for YMYL (Your Money Your Life) topics. A strong E-E-A-T score is critical for your website's success in today's competitive digital landscape. Following the above-mentioned tactics in this guide, you can start taking steps to improve your website's ranking. 
If you're overwhelmed by the prospect of optimizing your site's E-E-A-T, partner with Digital Guider SEO experts who have a suite of SEO strategies, including quality content writing, local SEO, technical SEO, and ORM to help you establish and maintain a robust E-E-A-T presence.