Fireproofing SEO Services
Protect Your Business from the Online Competition
People are looking for fire protection companies like yours online. If you are not their search results, then it can be sure the reason for your decreasing sales. We ensure your business listing/website appears on a higher rank when someone searches for " fire suppression in my area." Our SEO service for fire protection companies will help you in:
Selling more fire detection and suppression pieces of equipment.

Establishing yourself as an industry leader.

Getting a featured position in the local pack

Improving your lead-to-sale ratio.

Increasing organic traffic on your website.

Saving more lives with positive online reviews.
Let us help you rank higher in search engine results. 
If you are not ranking well on Google, you are missing hundreds of people interested in your fire safety product or service. Include SEO in your marketing strategy to get all those potential customers.
To be a top fire protection company, you must know how to plan fire protection SEO strategy to enhance your online presence for more leads, sales & revenue. Let's learn more about this.
What is SEO for Fire Protection Companies?
Search engine optimization is a digital approach to improve a website's visibility and ranking on SERPs. SEO involves improving the website's content, structure, and technical elements to attract more relevant traffic from Google.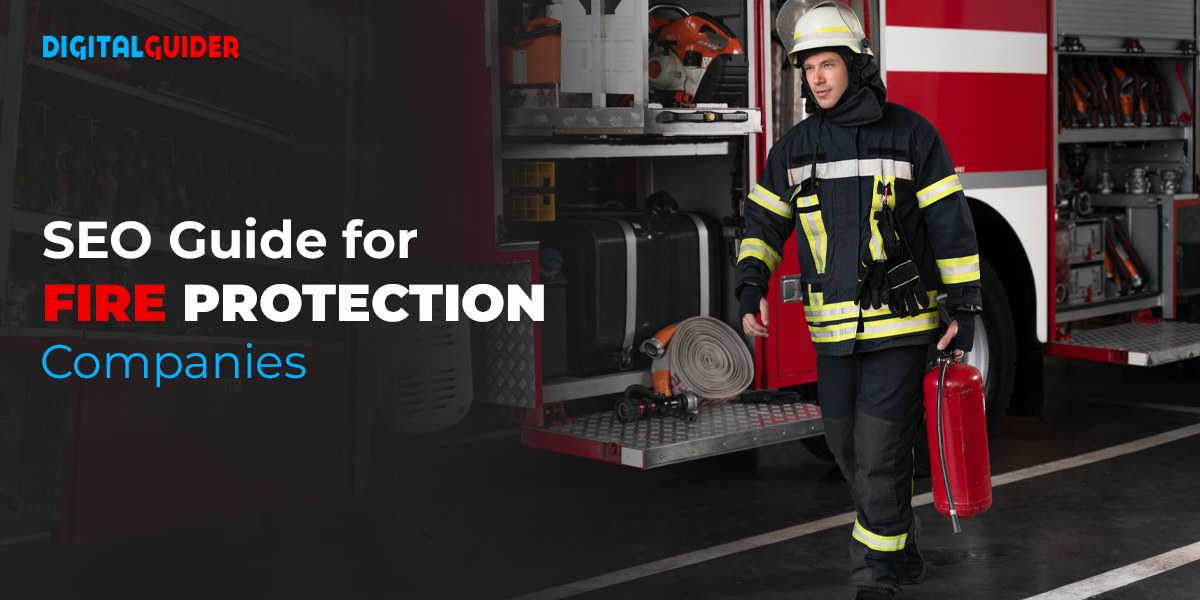 The primary purpose of SEO for a fire protection company is to rank higher in search engine results when people or businesses search for products, services, or information about fire safety. This helps fire protection companies improve their online presence, attract more targeted traffic, and ultimately generate more leads and conversions.
Why Is Fire Protection SEO Beneficial?
|  Expand Online Reach | High-Quality Traffic |
| --- | --- |
| SEO for fire protection services can help you improve your online visibility. With more online visibility, your business will be seen by more people interested in your services, providing you a better chance of turning them into customers. | SEO helps determine which keywords and phrases people search for fire protection services. When you optimize your website, you attract people already looking for fire safety solutions, which means more leads and conversions. |
| Build Credibility and Trust | Dominate the Local Market |
| Users trust search engines, so ranking higher on SERPs helps your business establish itself as a reputable & trusted service provider. This increased trust impacts your potential customer's decision-making process, making them more likely to choose you over your competitors. | Local SEO allows you to attract customers in your local area efficiently. You can position yourself as your community's leading fire safety provider by listing your business with consistent NAP details in online directories and increasing your local customer base. |
How To Plan SEO Strategy for Fire Protection Companies?
To rank your business, you must satisfy the different Google ranking algorithms that influence how things appear in search results. Although Google does not disclose the specifics of its ranking algorithms, there are a few known ways to rank your content for them.
1. Keyword Research & Implementation
When you include relevant keywords in your content, you tell Google what searches your content is meant to rank for. Research the best keywords for your website's content for a successful fire protection SEO strategy.
Think about the keyword/phrase that your potential customers will be searching for, such as "fire extinguisher installation," "fire alarm systems," "fire safety training," or "fire inspection services." Use semantic keywords or 'LSI Graph' to enrich your content and improve relevancy.
2. Website Content Optimization
Content optimization makes a huge difference in the performance of your fire protection SEO campaign and helps you achieve your marketing objectives. Create informative, high-quality content that covers common fire safety issues, rules, and best practices.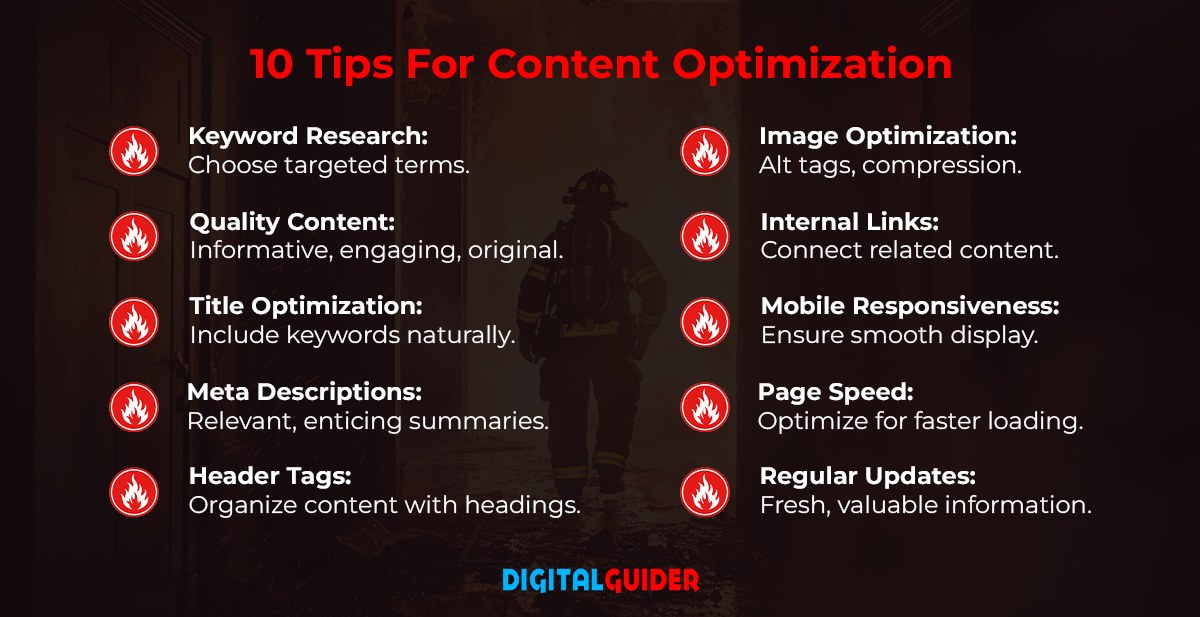 If your content provides value to your consumer, then SEO campaign for your fire protection company will surely be successful. It will also help your content amplification efforts. So ensure that your target keywords are spread naturally in your content, meta descriptions & title.
3. Local SEO Strategy
Google uses 3 main factors for its local search algorithm- relevance, distance & prominence. Focus on local keywords like "fire protection in [city]" and "fire extinguisher maintain [location]" if your fire protection company is based in a specific region or city.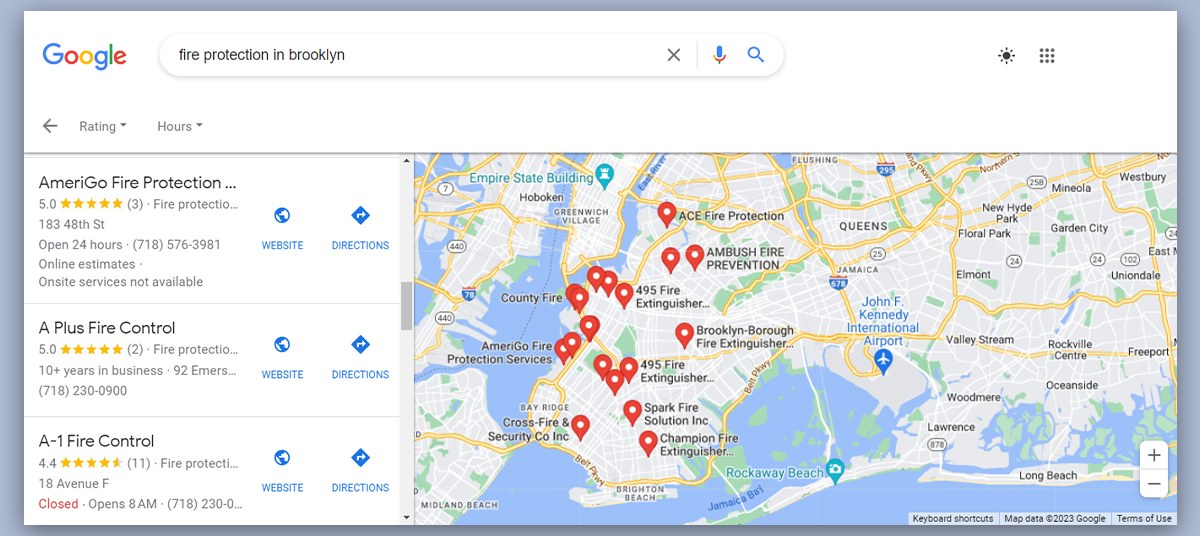 According to Google, optimizing your Google business profile is one of the most critical local SEO tasks one should perform. Also, consistent NAP citations for your business help Google gain more confidence that your business is legitimate and trustworthy.
4. Video Marketing
Videos explain complex ideas, present your knowledge, and build trust with potential customers in a visually appealing & engaging way, resulting in longer user sessions on your site. Google ranks websites based on user engagement metrics like how long users spend on a page. This can positively affect the SEO strategy of fire protection company.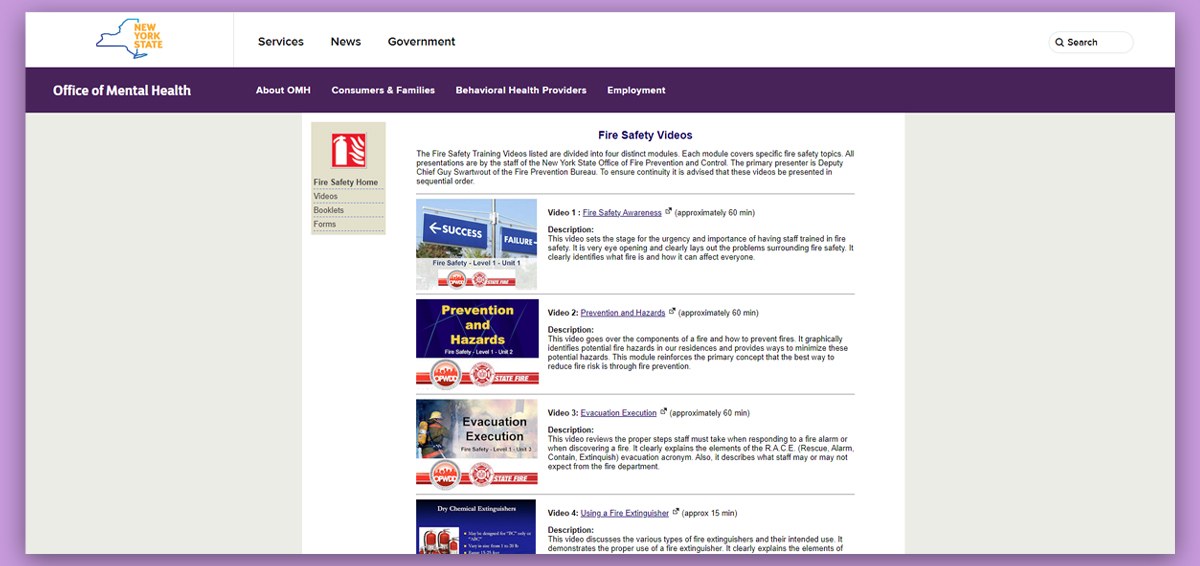 As your video content gains popularity, it attracts backlinks from trusted sources & signals crawlers about the relevance and authority of your website.
5. Implement Schema Markup
If you want to get the most out of your fire protection SEO campaign, use the correct Schema markup. Schema markup is a language that search engines can understand, giving you more info about your website. It helps you get more people to your site. It also gives you a better idea of what's on your site and shows you rich snippets for relevant searches.
These snippets include your business's contact info, hours, customer feedback, and what kind of fire protection services you offer. Determine which schema types are most relevant for your fire protection services – like LocalBusiness or Service. Remember, accuracy is key – all the info you give should match the content on your website.
6. Get User Reviews & Testimonials
Genuine user reviews are a great way to build trust and credibility with potential customers. When potential clients see positive reviews, they're more likely to take your company as a reliable source, making them more likely to convert. Reviews directly affect rankings since Google prioritizes businesses with many positive reviews for local pack features.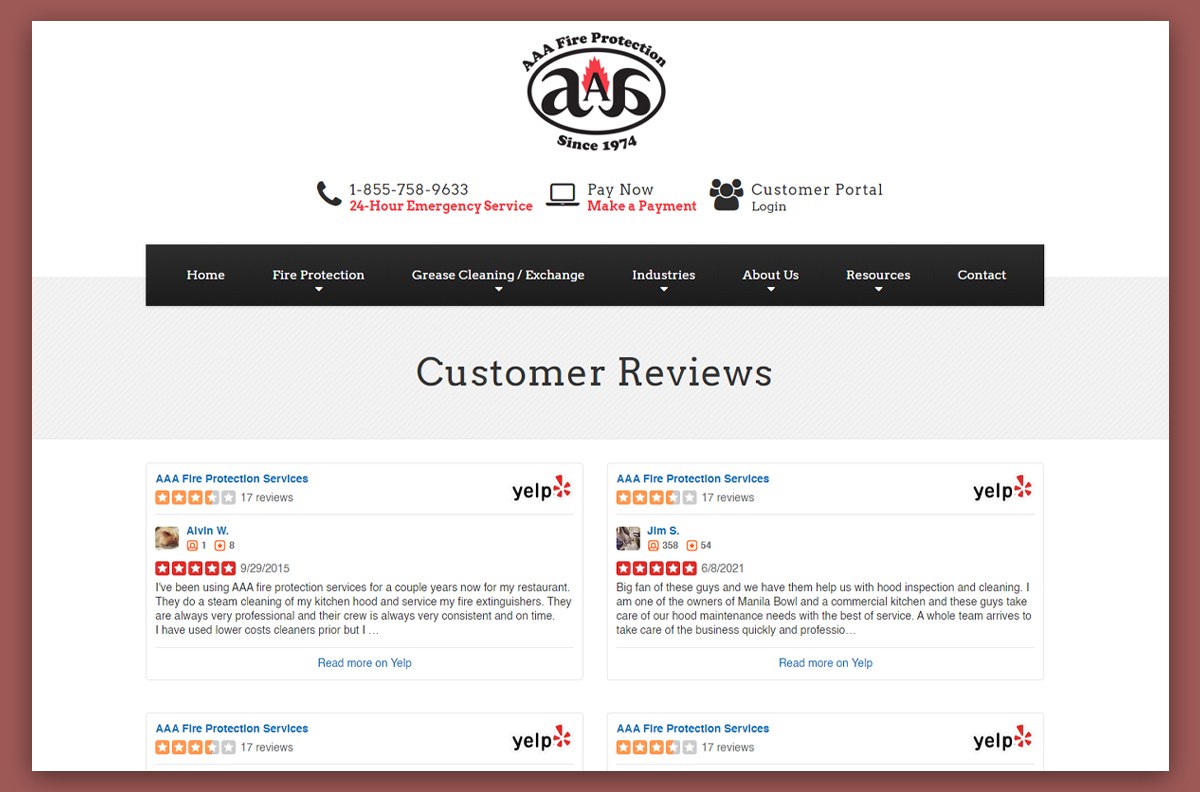 You can integrate user reviews into your website and other online channels to improve your overall UX. It will make evaluating your fire protection services' quality easier for potential clients.
7. Thematic Link Building
Try to acquire backlinks from quality websites that have high D.A. When crawlers & people interested in fire protection services see that your website links to reliable and relevant sources, it establishes you as an experienced and authoritative figure in the industry. For effective campaigns –
Seek backlinks from websites that share a thematic connection with the fire protection industry.
Focus on obtaining links from authoritative websites with a strong online presence.
Focus on obtaining links from authoritative websites with a strong online presence.
Regularly audit and monitor the link profile to identify and disavow any harmful or spammy links.
Reach out to industry peers, suppliers, and partners to explore opportunities for link exchanges and collaborations.
Thematic link campaign will help you achieve higher search engine rankings, increased visibility, and, ultimately, a boost in organic traffic.
Get SEO For Fire Protection Services Now!
Let us help rank you higher in search engines so businesses can easily locate you when looking for a local fire protection company. At Digital Guider, we've helped hundreds of fire protection and life safety businesses grow their online presence, drive web traffic, generate leads, and increase sales.
Our SEO experts will strategize a comprehensive digital marketing plan across multiple digital channels, making sure your prospects know you're a leading fire protection company in your area.
Contact us @ +1-307-209-3608 or write us at info@digitalguider.com to learn more about fire protection SEO agency.