If you've always wondered – how to learn SEO online for free, just by yourself, then you don't need to look any further. This SEO tutorial for beginners is just for you then! After reading this in-depth SEO tutorial for beginners and understanding the key concepts you will be able to use SEO techniques to improve the discoverability of any website. Read on to know more:
The very first part of any SEO tutorial for beginners is knowing first about Google itself and why SEO becomes so critical for organic online marketing.
Why Google is So Important?
According to Oberlo, a dropshipping app for Shopify that helps you find trending products to add to your store, the following Google facts will amaze you:
Google is the most visited website. Every day, billions of users rely on Google to carry out their daily searches.
Google dominates the search engine market with 91.9 percent of the market share.
Google processes over 99,000 searches every single second approximately.
Approximately 63 percent of Google's US organic search traffic originated from mobile devices.
Users on tablets or smartphones are more likely to conduct location-based local searches.
Google is also a starting point for almost half of product searches.
90 percent of people are most likely to click on the first page results of SERP.
Approximately 60 percent of mobile users are likely to click on the first two or three search results they see.
Why SEO Becomes So Important For Online Visibility?
The second part of this SEO tutorial for beginners is knowing why SEO becomes so important for online marketing and businesses.
The main reason, why SEO is so important, is organic traffic. Organic traffic simply means how many visitors are visiting your website on monthly basis. Organic traffic comes from organic results which come from SEO. Organic traffic is targeted which is a result of providing a solution to a specific keyword typed by the searcher.
Search Engine Optimization improves a website's visibility and ultimately increases organic search (non-paid) traffic on Google. Your brand gets a high ranking in SERP (Search Engine Result Page) by doing certain things on your website as prescribed by the SEO rule book.
Since 90 percent of searchers are likely to click on the results of the first page, even if it is assumed that if people don't find desired results on the first page, they end up changing the keyword, instead of looking at the second page. Higher ranking increases visibility to users and this lays emphasis on the fact of why SEO is important.
Google has also introduced many new components to the normal search results such as
Featured Snippets: Featured Snippets are short snippets of text that appear at the top of Google's search results in order to quickly answer a searcher's query.
Knowledge Panel: The Google Knowledge Panel appears on the right side of the search results when you search for people, locations, places, objects, brands, events, history, etc.
People Also Ask Boxes: This feature dig further into their original query by showing them further questions that might be relevant to them.
What are the Benefits of SEO?
The third part of this SEO tutorial for beginners is knowing the benefits to invest in SEO for business.
1.   It Improves a Website's Discoverability and Generates More Traffic:
One of the things SEO guarantees is a site's organic discoverability. It is the sole reason it exists in the first place, which ultimately means generating more website traffic. SEO is a consumer-intensive tool, which means you have to develop the best strategy for your business to reach the ideal target audience through search queries.
And by the best strategy, you shouldn't use click baits or anything that would selfishly entice visitors to your website. It has to be original for organic visibility and high-quality traffic.
2.   It Builds a Brand's Reputation:
Another thing you can always rely on for SEO to deliver is to build a website's reputation. There are millions of websites on the internet, and it is impossible to rank each one on the first page of a search engine. However, those who get lucky will attest that this tool has helped them build credibility and trust with users (or searchers).
When a searcher finds a website on the first page of Google, such a person is bound to believe that such a platform is legit and reliable. Google ranks these websites based on content quality, mobile compatibility and usability, and loading time (or speed). In short, searchers trust this algorithm and go for the brands or websites they see.
3.   It Offers a Good Return On Investment:
SEO is a business move, and most people don't realize that – hence, they don't consider it very often. It is one of the best investments you can make in your business, especially if you have a website to back it up. And for every investment, there is an expected return.
SEO has a good ROI as long as the right strategies specific to the business are applied. Ideally, you get a close rate of over 14% from leads which is more than the regular marketing approach. Likewise, Google listing gets 33% of the total search traffic, which is lesser than what you would expect from the latter.
4.   It Helps In Reaching Every Target Audience:
Contrary to the popular opinion that SEO only targets a company's specific target audience, it doesn't. This optimization tool works for companies with different target audiences, providing similar high-quality services. Indeed, it doesn't choose a specific set of people over the other.
For instance, a hotel company offers business owners and casual users services. These are two different audiences – one needs the hotel for corporate purposes; the other does it for leisure. SEO ensures that leads reach these two sets of people with the right use of keywords. In this case, keyword research phrases could be "hotel for corporate events" and "hotel for lodging."
5.   It is a Perfect Marketing Strategy:
With everything listed about SEO above, it is, without a doubt, an excellent marketing strategy. First, SEO improves a company's visibility without spending too much on traditional marketing. Next, it is a good investment guaranteeing a good ROI. Lastly, it allows brands to reach various target audiences simultaneously with just one lead.
However, these are not benefits you will see all at once; they take time, and with compounded effort, the marketing benefits will be seen in business.
Additionally, you have to consider developing the perfect SEO strategy, including creating good content and ensuring an optimized page for the best results.
6.   It Aids User Experience:
The best part of SEO is that it optimizes every user's experience. It is a vital aspect of this tool because it determines the ranking. Google understudies every customer's experience on a website and uses it as a yardstick to determine success, which would be converted into rankings. If there are more negative experiences than positive ones, it would be almost impossible to find the site on the first page.
And when it comes to experience, factors such as query answer, speed, and mobile friendliness are considered. If a website has a low bounce rate, that means high rankings; if contrary (i.e., high bounce rate), it means low rankings.
Understand The Concepts of Crawling, Indexing, and Ranking:
The fourth part of this SEO tutorial for beginners is knowing SEO's operation mechanism based on three significant concepts – crawling, indexing, and ranking.
Crawling:

It is searching the internet for information (or content) and going through a specific parameter, such as the URL. Here, a search engine platform utilizes specialized robots or crawlers to find old and new content alongside their URLs.

Indexing:

It is the storing and organizing of the content (or information). That means an indexed page will likely show up on a SERP because there is an established database for such content.

Ranking:

It is the placement of a website's content with competitors. The results are placed in descending order – from high-ranked to least-ranked.
Using this SEO tutorial to learn SEO online, you first need to understand the above principles, and how Google algorithm works in the favor of a website. It is almost impossible to have your website ranked on search engines without knowing these principles.
How To Do SEO?
Now comes the fifth and most awaited part of this SEO tutorial for beginners. When it comes to learning and doing SEO all by yourself, what do you do exactly? Well, there are 5 key steps to follow, and they include:
Keyword Research & Keyword Targeting
On-Site Optimization
Content Creation
Backlinking and Link Building
Local SEO
1. Keyword Research & Keyword Targeting
The first phase of SEO is finding out what your brand or website stands for and why it needs optimization. With this detail, you may develop the idea in terms of keywords, which would then be used to rank your website on any search engine platform.
For instance, if you run a home electric appliance store, you would want to consider keywords around "electric appliances," "buy home appliances," and so on. However, it isn't always easy because other factors come into play to determine the target keywords for such a business or site. These factors are Search Volume, Relevance, and Competition.
Search Volume determines the total number of people currently searching for a specific keyword. The more the number, the higher the target reach, and vice-versa. On the other hand, Relevance determines the coordination of such a keyword with the goal of your business. The competition considers other rival websites or brands to understand success and rankings.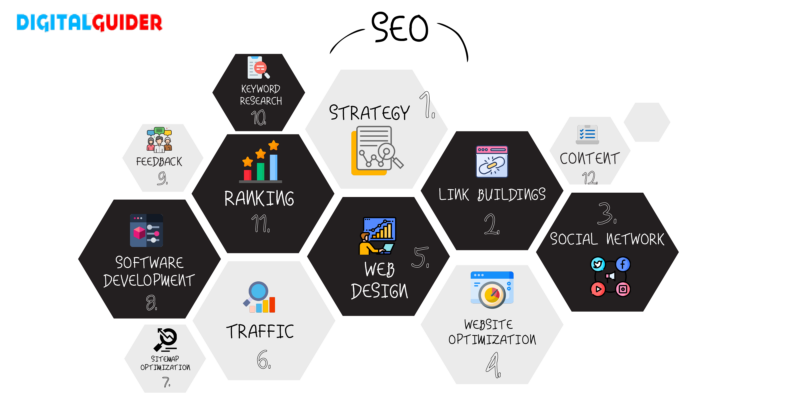 2. On-Site Optimization
The next part determines the entire framework of the website to ensure the maximum visibility of published content to a target audience. On-site Optimization involves inserting keyword elements in certain parts of the content while covering design and user experience.
The keyword elements are consequential because their placement influences more traffic to your brand's site. Here are the vital elements of SEO.
Title Tag
The title tag is the actual title of the page or content and must contain strong keywords. It is the most crucial part and is often at the top. However, a title tag is not the same as the primary headline (usually H1). Sometimes, meta titles may be introduced to explain the title further and insert the keyword more naturally.
Meta Description
After the title tag is the meta description that fully describes what an article or content will be about. It shouldn't be too long because search engines like Google will have to display that information on page results. Therefore, it needs to be short and compelling.
Body
The body of a content article is where there is comprehensive information about the subject topic. For such a website to be recognized, the content has to be thick, original, and contain keywords in major paragraphs or sections.
Additionally, this body handles engagement and the metrics of understanding user experience. The coherence of the subject topic with the body content plays a significant role as searchers may decide to keep reading or leave. More importantly, few or no design elements should be considered to ensure a fast page load.
Alt Attributes
Alt Attributes determine the power of images. You can get an amount of traffic from an image search generated by your site. This parameter also gives search engine platforms a better insight into what your site entails.
Schema & Markup
With the basic on-page elements integrated into your content, the last thing you should consider is schema & markup. It isn't that special but it can improve the quality of your content in search results.
3. Content Creation
The next part is crafting content for the website. Content creation and marketing are important for SEO because it relays the information you want searchers or visitors to know. And as often said, content is power. Powerful content will attract more visitors, automatically creating an indexed page on search engines.
Now, if you have to create content, you must decide which approach to use depending on your brand's services. Generally, content comes in the form of blog posts, videos, podcasts, infographics, tutorials and guides, reviews, and so on. However, you must invest in the type that meets your business's objectives. You cannot create a podcast for a real estate website – videos, articles, and infographics will do, instead.
And while you are on content assets, ensure to integrate them with the specific keywords you've identified above. Overall, the plan is to compel searchers with these details to use your services.
4. Backlinking and Link Building
Backlinking and link building (or off-site optimization) is a step further to creating a good SEO page.
Generally, Google has an algorithm that consists of several links related to a subject topic or article. Some links are high-quality (also called Authority sites) and are often important in driving traffic to your website. In fact, websites without links to other sites or pages on the website may never appear on listings.
A perfect for ensuring proper backlinking is to focus on sustainable marketing, i.e., promoting content with information on specific words from another site. This strategy will not only help promote your business but guarantees its ranking.
Technical SEO
Technical SEO is the latter part and often involves other areas that the basics cannot cover. Most times, you only take this step if you face certain SEO issues that prevent Google or other search engine platforms from processing your content. It is also the perfect solution for complex sites, i.e., those with redirects, slow load speed, poor mobile-friendly capability, security, and duplicated content.