Kitchen SEO Services
Renovate Your Kitchen Business, Renovate Your Digital Footprint
Are you also struggling to attract more customers to your kitchen renovation business? Look no further than our professional Kitchen SEO services. We provide kitchen remodeling companies with top-notch SEO solutions through our all-inclusive SEO service package. The key benefits of Kitchen SEO services:
Be found in top kitchen renovation-related keyword searches.

Appear in "near me searches" & get more calls from local searchers.

Convert a high percentage of leads and inquiries into actual sales.

Maximize the number of projects & revenue and profit margins
Contact us today for a free consultation.
What is Kitchen Remodeling SEO?
SEO for kitchen remodeling companies is a marketing strategy to improve your kitchen remodeling brand's visibility on search engines and help you get found online easily. Appearing at the top of the SERP page helps to generate more quality traffic to your site & allows you to connect with targeted customers actively looking for kitchen remodeling services.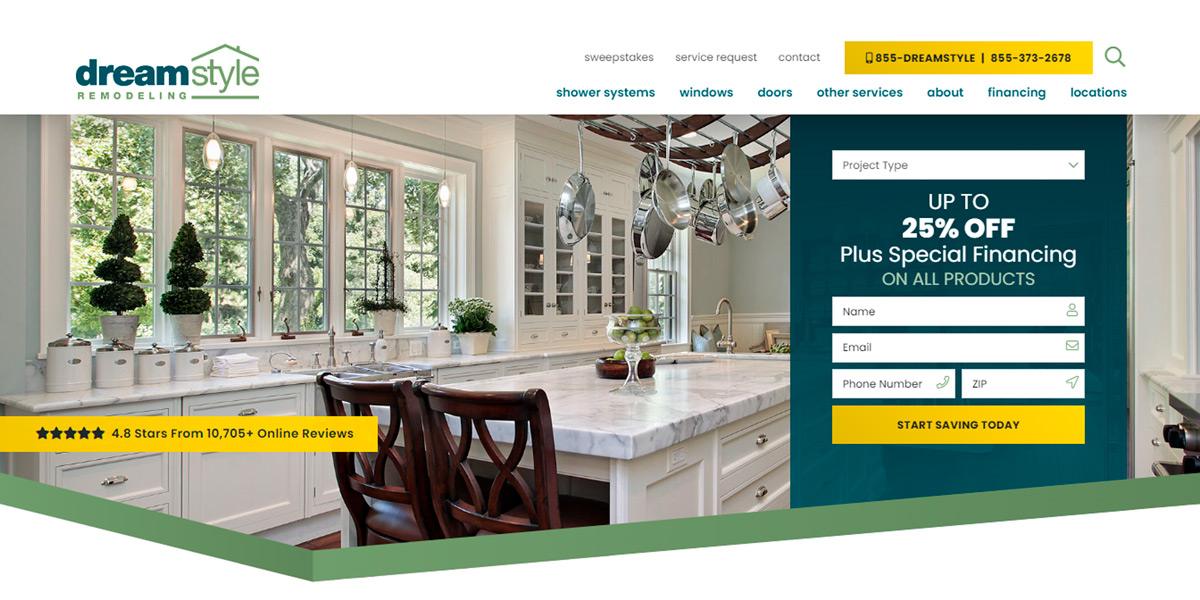 This online marketing strategy – SEO for kitchen companies – is extremely effective because customers seek real-time kitchen remodeling services. It's similar to these customers walking into your office when they need your service- priceless!
Key Kitchen Remodeling SEO Techniques You Can Follow To Boost Your Revenue & Profit Margins
Rank Higher To Attract High-Quality Leads
More online users search for information about a kitchen remodeler before scheduling a consultation. A high page rank helps potential customers easily find your website & know more about your kitchen remodeling services. A high rank on Google will place your brand ahead of the competition. As most searchers never pass the 1st page of an online search, you must aim to be on the first page. We at Digital Guider, provide high-quality SEO for kitchen designers to streamline the best approach. We use the best AI tools and manual research processes to find the best-ranking keywords and combine the competitor analysis to rank your site higher.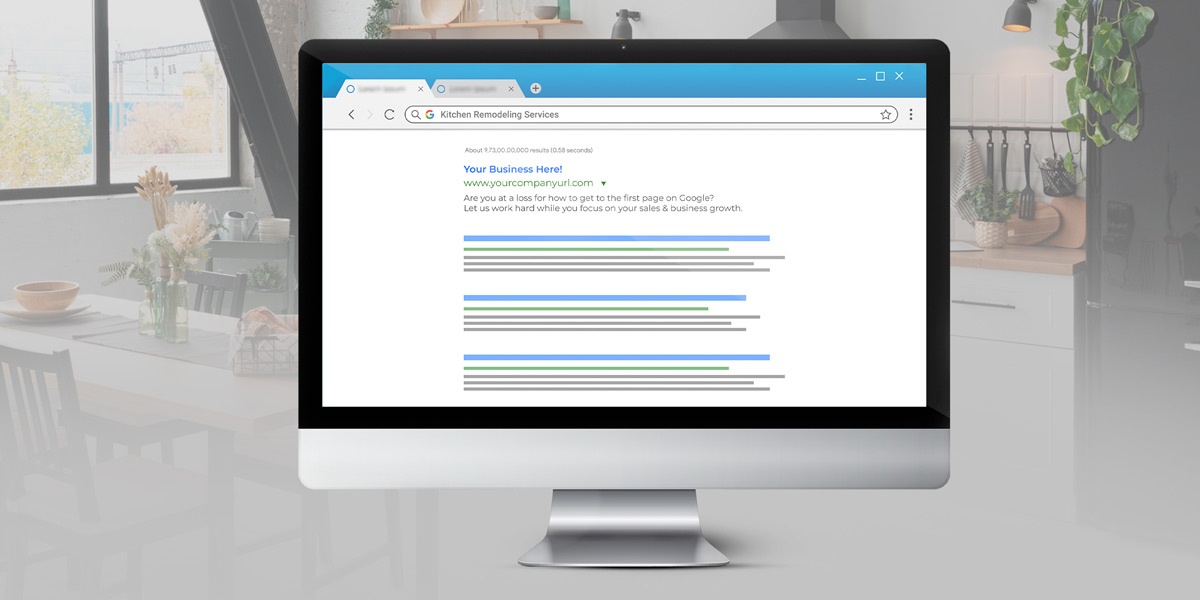 Easy-to-use Navigation for the Kitchen Remodeling Customer's Journey
Your kitchen remodeler's website must have a navigation that is built to provide a fluid customer journey. Navigation is how visitors find their way around your website, and it's crucial to make it easy to find the information they are looking for. A well-organized and intuitive navigation structure can improve the overall user experience and help your customers (and potential customers) quickly and easily find the content they want.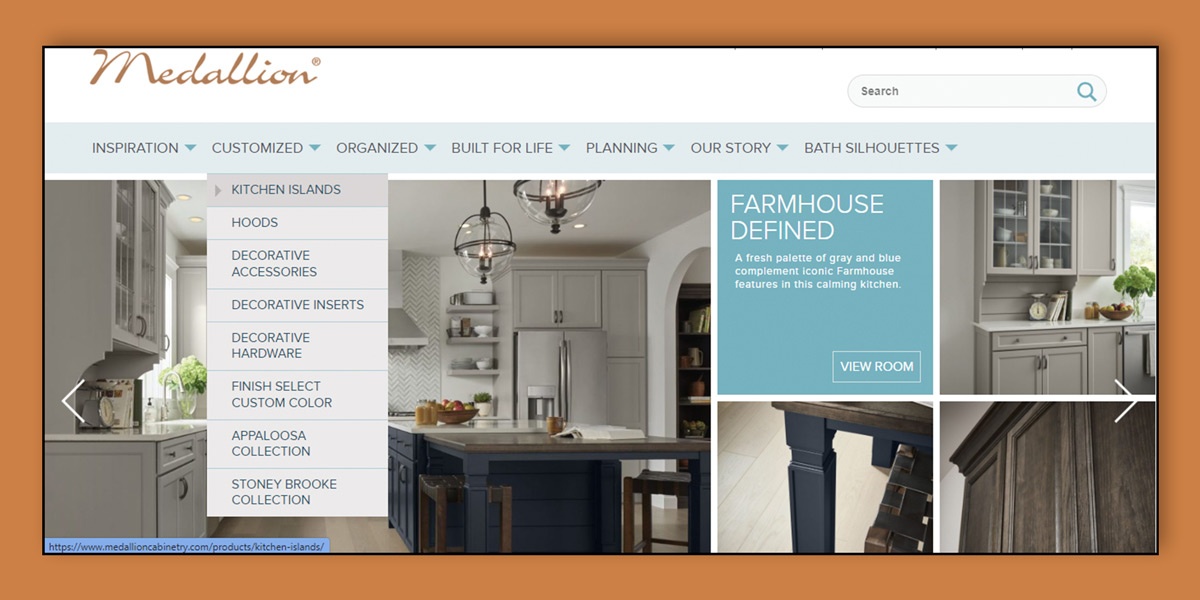 Key Kitchen Remodeling Pages to Have on Your Website
Several important pages should be included on a kitchen remodeling website to provide potential customers with the information they need and help establish the business as reputable and professional. Some key pages include
Homepage:

A clear and well-designed homepage overviews the kitchen remodeling business and its services.

About Your Kitchen Remodeling Team:

A page that provides information about the kitchen remodeler's team, the business, and its history, along with the qualifications and certifications.

Kitchen Remodeling Services Provided:

A page listing the business's kitchen remodeling services and detailed information about each service.

Portfolio:

A page that showcases the kitchen remodeler's past work, including before-and-after photos of completed projects.

Kitchen Remodeling Testimonials:

A page that features customer reviews and testimonials from past kitchen remodeling projects, which can help to build trust & credibility with potential customers.

Contact Us:

A page that provides the contact information for the kitchen remodeling business, including email, phone number, and physical address, & a contact form to allow customers to get in touch easily.

FAQs:

A page that answers common kitchen remodeler questions customers may have about the business and its services.

Blog:

A page that provides helpful tips and advice on kitchen remodeling-related issues and can help the website rank higher on search engines.

Emergency Kitchen Remodeling Services:

A page that provides information about the kitchen remodeler's emergency services and how to contact them in an emergency.
Well Placed Call-to-Actions (CTA)
Kitchen Remodeling websites should be designed to inspire action from your visitors – and the key to that is carefully crafted call-to-actions (CTAs). By strategically placing CTAs throughout the site, you can encourage people to take desired actions and ultimately increase conversions.
Example > Headline: Kitchen Remodeling Specialists in [Your Location]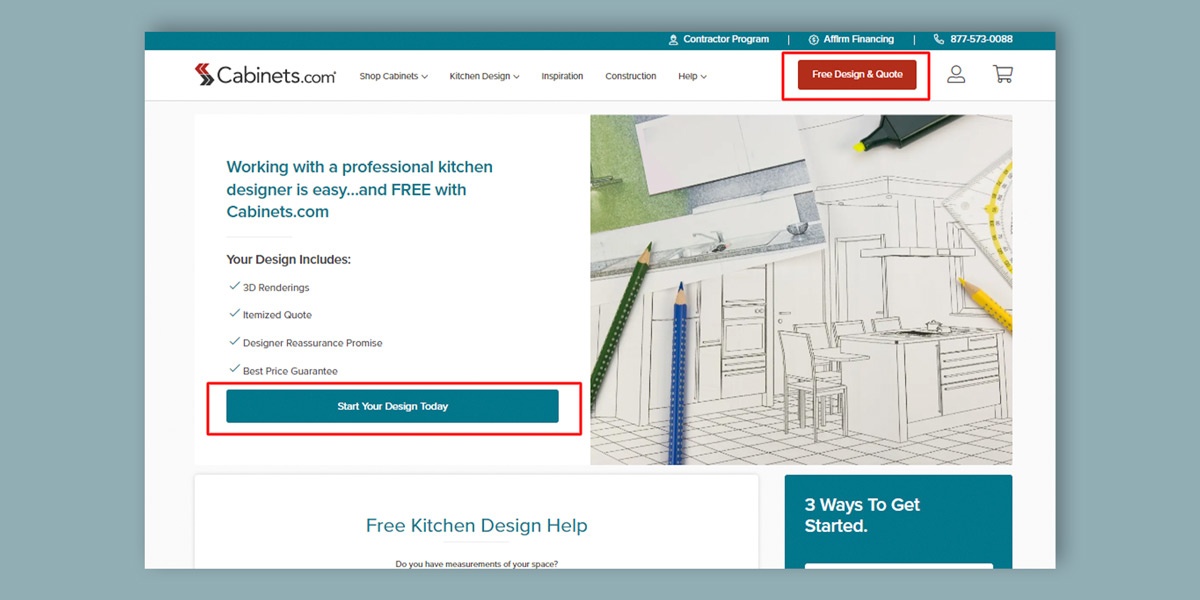 Having well-placed CTAs on your website will help:
It guides users to take a desired action, like scheduling a kitchen remodeling easy calling with just a simple click.

Increases conversions & improves the UX, which Google wants to see!

It helps track the success of kitchen remodeling marketing and advertising efforts by providing insight into which marketing channels drive the most conversions by tracking where clicks on the CTA come from.
Without effective CTAs & kitchen SEO services, your website may miss out on a vast opportunity to engage and convert visitors. Ensure that yours is strategically placed – it could make all the difference!
Off-Page SEO Activities
Off-page SEO services for kitchen remodelers (the most difficult type) refer to the practice of building authority and backlinks to your website to improve its visibility in search engine results. Building high-quality inbound links grows the authority of your site, which is what Google analyzes when determining where kitchen remodeling sites should rank in their search engine.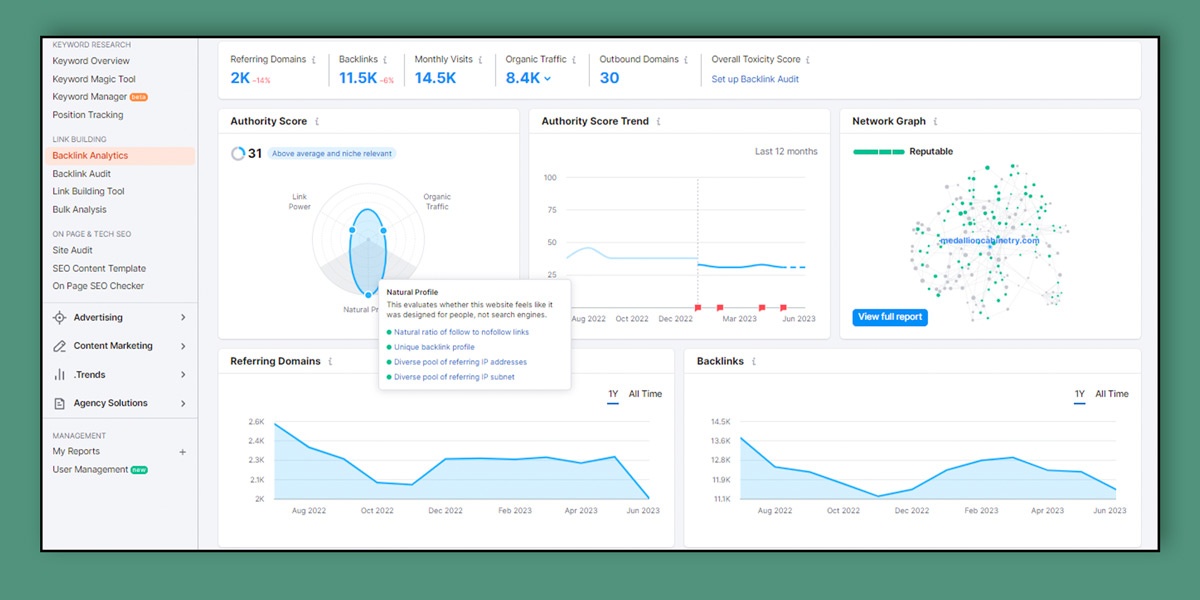 However, Digital Guider, a renowned kitchen marketing company, knows the significance of organic traffic & has command over every strategy that makes things work out for its clients. Therefore, we build brands with the most organic methods for lasting results and continued traffic flow. We acquire authoritative and relevant backlinks from reputable kitchen remodeling-related websites, increasing your website's authority and improving its search engine rankings. Most people in the industry also prefer to use black-hat SEO methods, but being a valued kitchen remodeling SEO service provider, we refrain from it. We only use and prefer white-hat SEO techniques for optimum results.
Optimize Google Near Me
When potential customers search "kitchen remodelers near me," Google will typically return several companies based on the location of the user's IP. Your aim is to have your business appear in the top 3 results, which requires optimizing your website and Google My Business profile with local SEO for kitchen designers. GMB is a free tool businesses can use to provide the search engine with basic information about your company to match you with users looking for your services within a specific geographical area. To appear in the top results, you must complete your profile as thoroughly as possible, or you can simply get local SEO services for kitchen businesses.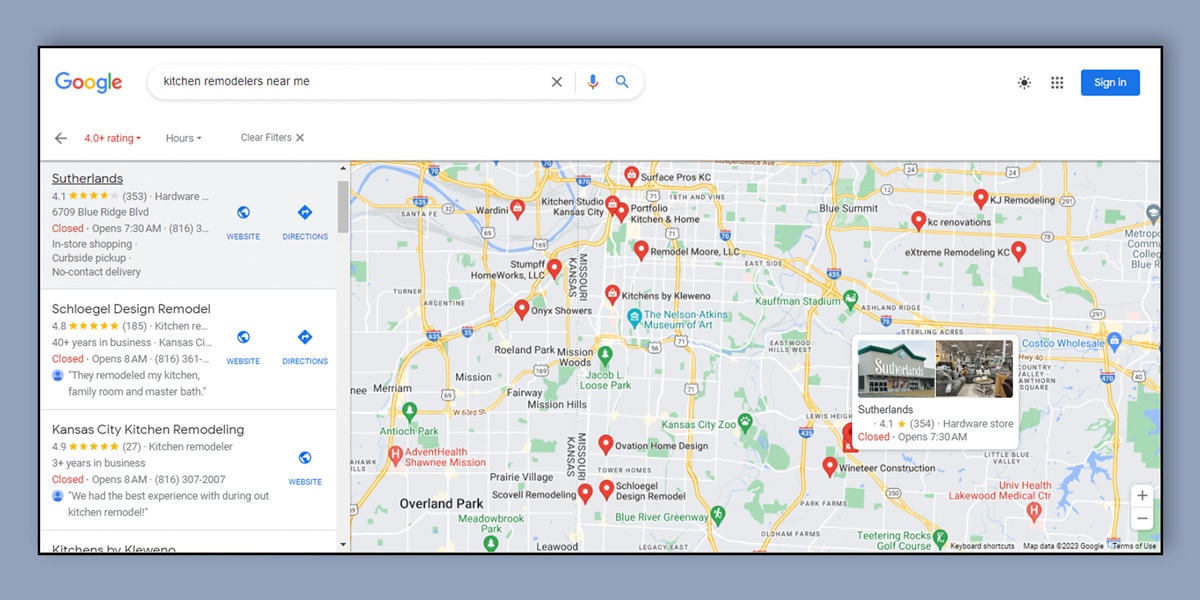 You also need to optimize your website's home or landing page, using relevant keywords in headings, titles, and links. Hence, search engines index your content correctly and associate it with kitchen remodeling in your area. Engagement is also important to success with Google My Business. Use your profile to share posts, respond to customer reviews, and give potential customers tools to contact you, request quotes, or ask questions.
Use Social Media Effectively
Social media is a great approach to reaching out to your potential customers. It's a wonderful method to interact with your audience, whether it's through comments, messages, or reviews. You can build trust with users, show your expertise, and build relationships with homeowners interested in your work. Posting relevant, engaging, and informative content on social media can capture attention and help generate leads for your remodeling company. Facebook, Pinterest, and Instagram are all visual media that allow you to show your work & inspire homeowners to update their properties.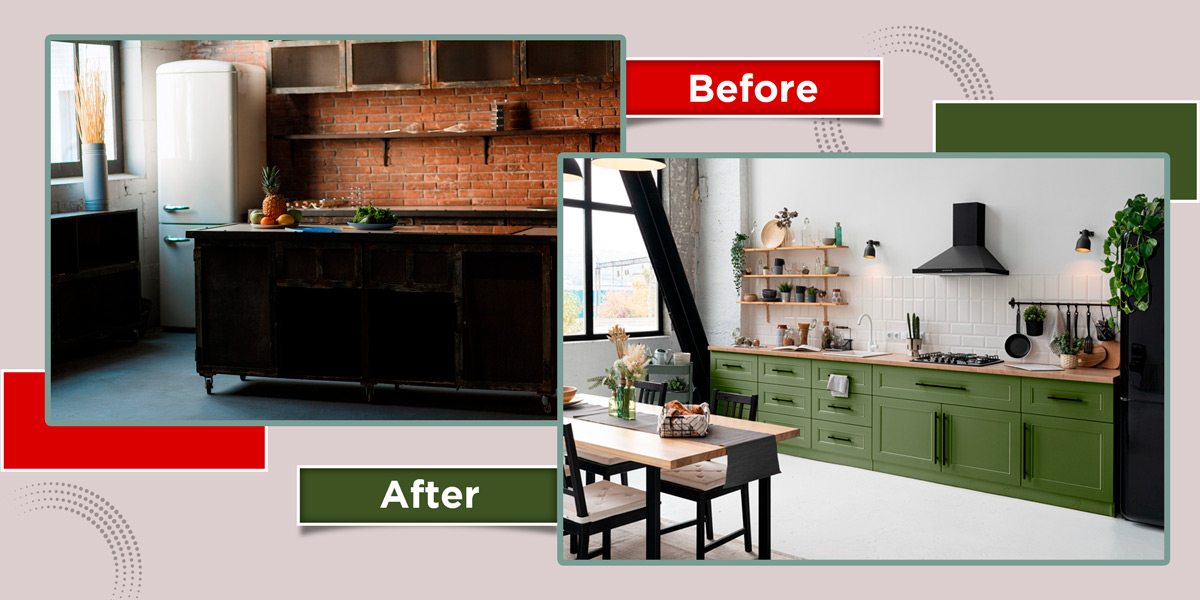 Like Google My Business, engagement is critical to success with social media marketing. Focus on starting conversations, encouraging your followers to share their thoughts and ideas, and building relationships. Make it a priority to respond to each query & acknowledge others' contributions, which helps ensure you remain in your followers' feeds. Social media can also contribute to your search engine marketing efforts. Using relevant kitchen remodeling keywords in your posts can help potential leads discover your company.
Digital Guider Kitchen Remodeling SEO Agency Is Here To Help You…
Professional kitchen SEO services are essential if you want to attract new clients, increase prospects, and grow your remodeling business. Note: Customers in your city are actively searching online for kitchen remodeling services, and you need to ensure they can find you. We provide top-notch SEO for kitchen companies that can assist you in improving your online visibility, optimizing your website thoroughly, and increasing the chances of being discovered by potential clients.
Don't miss out on the chances to connect with these potential clients who need your services- invest in kitchen remodeling SEO services today & boost your business growth. Our kitchen remodeling SEO agency experts will happily discuss your options for growing your business today. To get started, call us at +1-307-209-3608 or book a free consultation call now!
Kitchen Remodeler SEO FAQs