Home Remodeling SEO Solutions
Today, many potential customers use the internet to search for a home improvement company like yours that offers repair, maintenance, and remodeling services. Investing in home remodeling is a big investment decision; naturally, your potential client will first search online using keywords like "home remodeling services in [city]," and "home improvement services near me" before ever contacting you. You are missing a golden opportunity to attract highly qualified leads if you are not in their search results. With our customized home remodeling SEO services, you get-
More leads and call inquiries.

Feature in Local 3 pack.

Lower cost per lead acquisition.

Increased positive customer reviews and referrals.

Greater competitive advantage in the market.
Don't let your limited budget become the hurdle in your business growth, invest in an affordable home remodel SEO service now!
If you're a home remodeling business owner looking to improve your online visibility and bring more targeted traffic to your website, you've arrived at the right spot. In today's world, having a robust online presence is critical to connecting with potential customers and standing out from the competition.
There's a huge market out there and lots of competition; with a well-thought-out and well-executed SEO strategy, you can get your company in front of the most potential clients and increase your sales potential.
What is Home Remodeler SEO?
SEO for Home Remodeling focuses on improving home remodeling companies' online visibility and presence. It involves implementing various SEO techniques to improve the ranking of your home remodeling business's website in SERPs. The objective of SEO for home remodeling is to generate more targeted organic traffic and qualified leads, as well as to increase conversions of home remodeling services.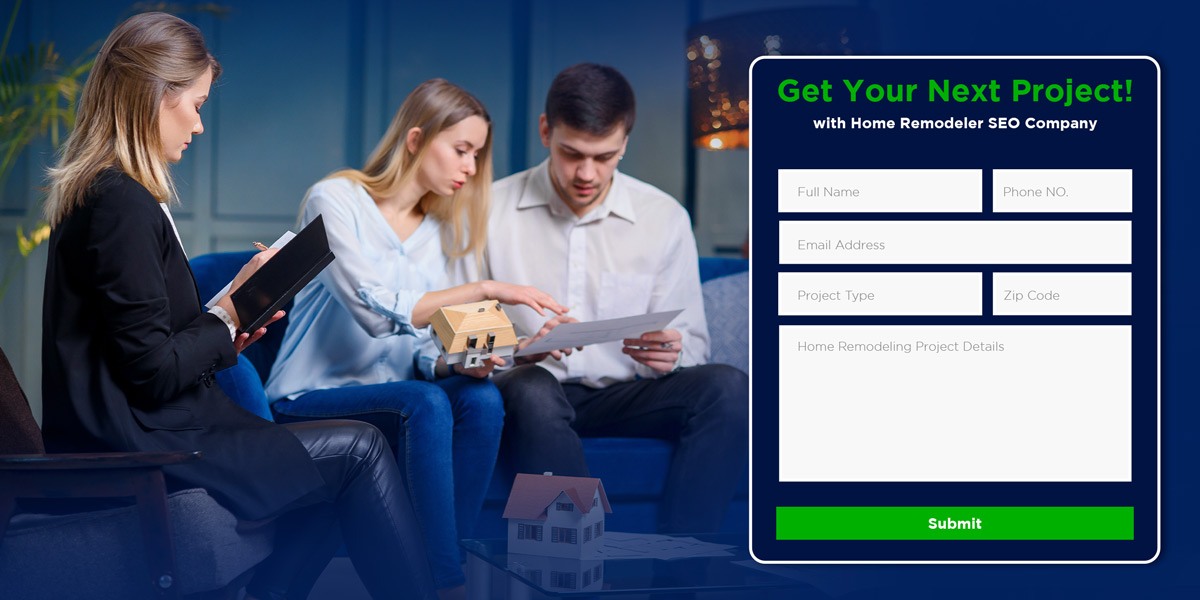 The home remodeler SEO service aims to improve a home remodeling company's online presence, boost brand awareness, and build relationships with homeowners actively looking for home remodeling services like home improvement, upgrades, and home services.
An effective SEO campaign for your home remodeling business can help you in:
Increasing Online Visibility

Home remodeler SEO helps your business stand out online by ensuring your website appears at the top. This makes your brand more visible and helps you contact more homeowners.

SEO can help you stay ahead of the competition in your local area. Using local SEO tactics will make your company more visible when people are looking for a "home remodeler near me."

You'll also get more leads from home services leads. With the right SEO strategies, your website will be a lead generation machine, bringing in a steady stream of qualified people to your business.

SEO services for home remodeling companies help you outrank your competition & see your business as a reliable and expert source in the home remodeling industry.
Top 8 SEO Strategies for Home Remodelers Companies
Home Remodeling SEO Keyword Research
Effective keyword research enables you to identify the terms & phrases that are most pertinent to your business's activities and the difficulty of ranking for each. You need to ascertain the phrases and words that your potential customers use when looking for help with home improvement.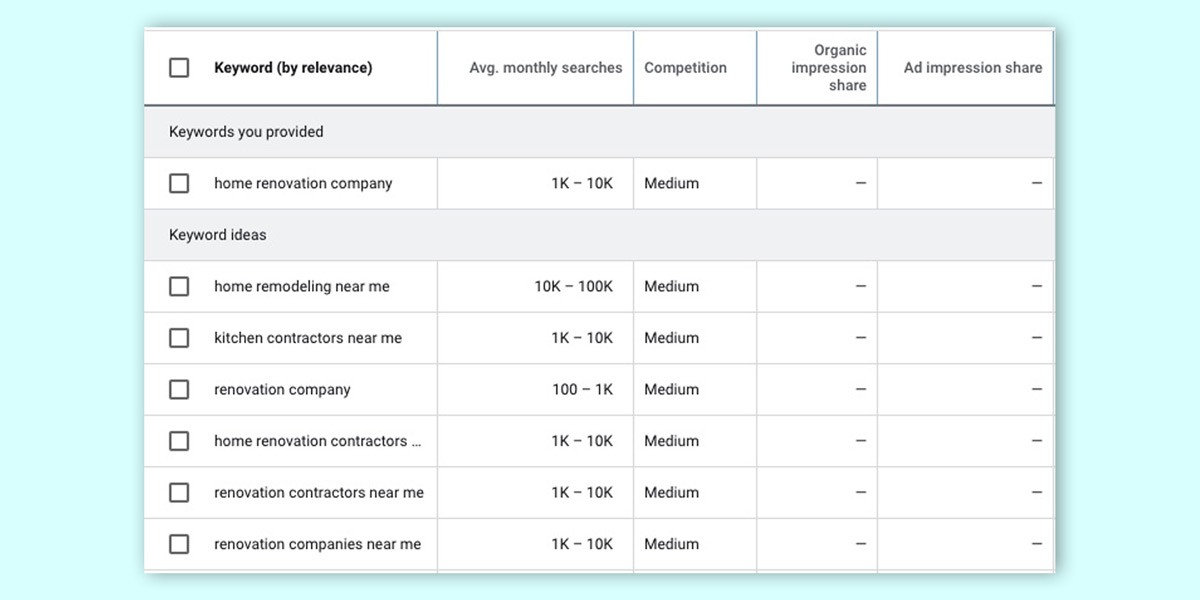 Adding local keywords to your website blogs/content improves your visibility for local searches. You can target location-specific keywords such as "home remodeling in [city/neighborhood] or "home remodeler in [city]."
On-page Optimization
Your every optimization will be wasted if your site is not indexed & crawled by Google crawlers. Let's say you wrote a business blog about remodeling your kitchen. Even though it's the most helpful guide on the internet, Google won't show up on your page if it has this code in it: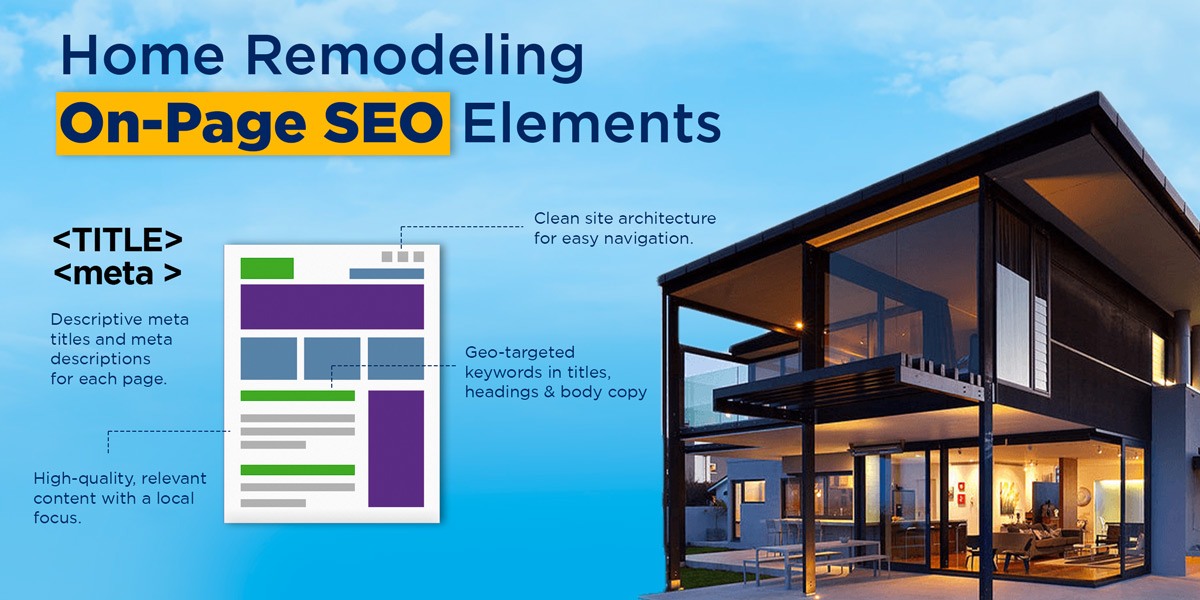 Technical detail like optimizing URL structure, title tag, meta description, header tags, internal and external links, etc., are easy to miss if you don't have SEO experience. Our SEO services for your home remodeling business will help you rank top for your target keywords.
SEO Content Writing
The content of your page also plays an essential role in SEO and ranking. Google & other search engines care about your page's value and relevance to your target keywords. Search engines want their users to be satisfied when they type in a search query and click on one of the results in search engines. This means that your page must provide value that answers user questions. When people visit your site, they'll know immediately that you're a reliable resource. Fresh content will make your website more valuable and relevant, but it takes a lot of time to make it happen. That's where our content marketing services will help you stay relevant to Google with E-E-A-T & Y-M-L optimized content.
Home Remodeling Website
Websites like business cards, sales calls, and portfolios are all rolled into one. More & more people are looking for solutions to their home remodeling problems online. All that matters when it comes to ranking in Google is how user-friendly your website or webpage is. A responsive & SEO-optimized website is a must for your business to provide a seamless and user-friendly experience across all screen sizes. Our web development team will help you improve your website's UX, ensuring homeowners can easily navigate and engage with your services.
Local SEO & GMB Optimization
When users search for a local business like a home improvement company, they typically see two search results: the regular search results and the "map pack" search results. When it comes to Local SEO, one of the most crucial things you need to do is create a Google Business Profile (GMB) page.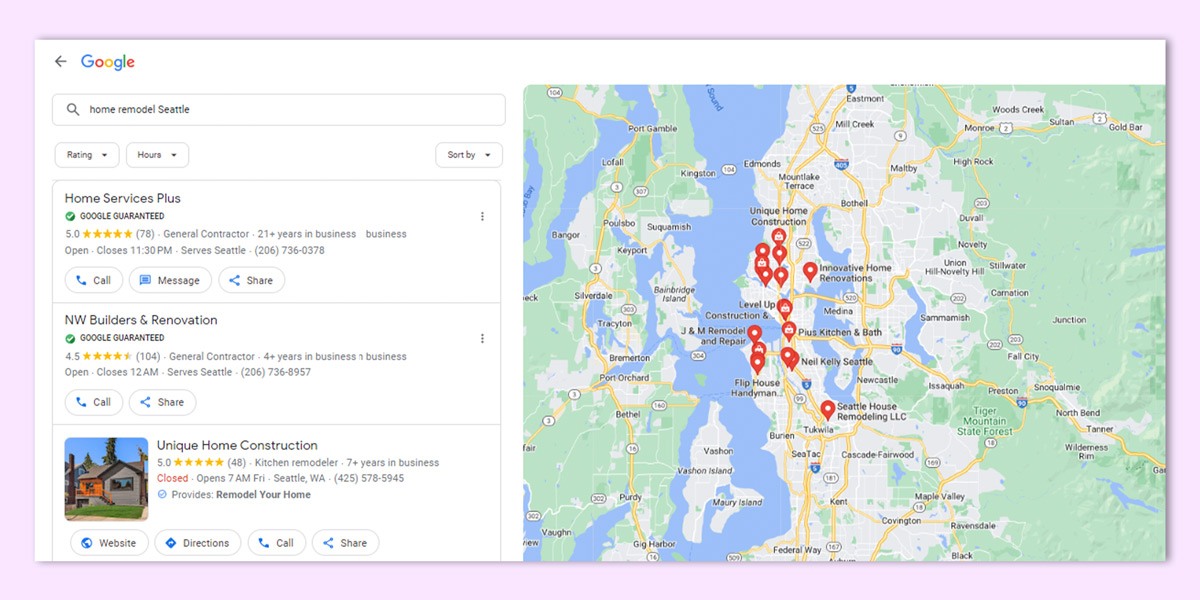 Ranking for locally targeted keywords is crucial for businesses in the home remodeling industry. You must optimize your site to rank higher in the regular organic results.
Home Remodeling Off-Page SEO
A lot of SEO work isn't done on your website. Search engines have advanced algorithms that let bots see all the links that link to your page. The more high-quality, industry-specific websites you link to, the more authoritative your page looks to search engines, and the higher your ranking will go. If you're a home improvement company, you'll want to link to local websites like:
The local chamber of commerce.
Business directories for your area.
Better Business Bureau.
Home improvement websites and forums.
Get in touch with a home remodeling SEO agency to find out more about how to build a quality link profile and get your existing link profile analyzed.
Social Media Strategies
Social media is an excellent approach to reaching out to your potential customers. It's a wonderful method to interact with your audience, whether it's through comments, messages, or reviews. You can build trust with users, show your expertise, and build relationships with homeowners interested in your work.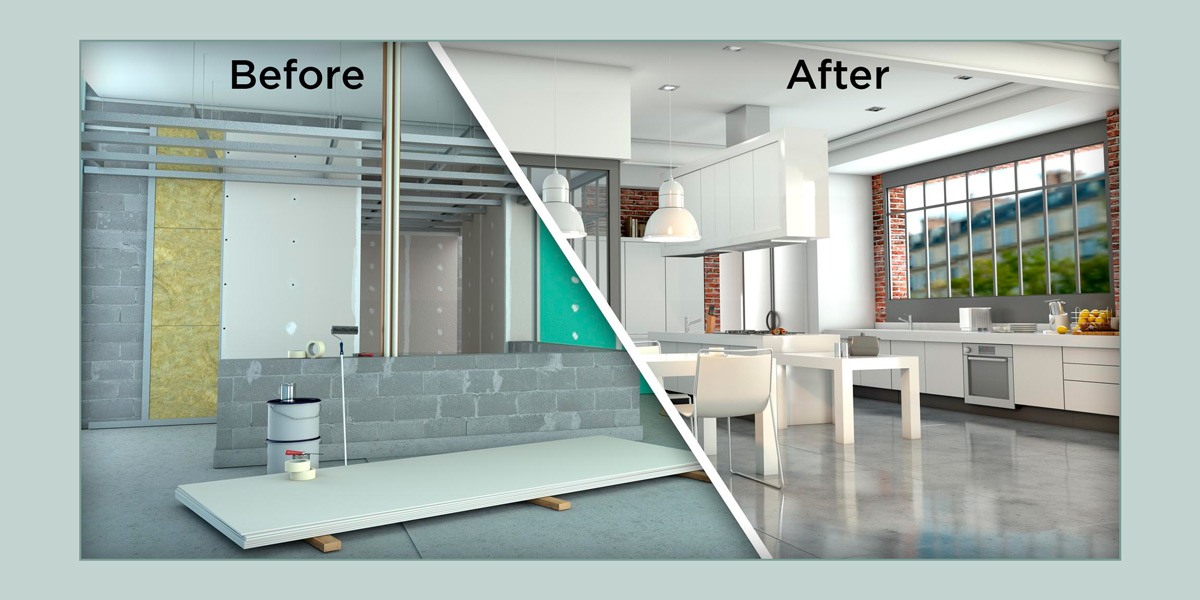 You can show off your work, post before and after pictures, and show off the unique highlights of your renovation projects. It's super important to pick the proper social media accounts based on who you're trying to reach. Popular platforms for home remodeling are Facebook and Instagram, plus Pinterest and Houzz because they're all visual and have a wide range of users.
Online Reviews
Having positive online reviews from happy customers is like social proof. It shows that your work is top-notch and that your customers are satisfied. Many homeowners do a lot of research before choosing a home remodeling company. They look at and read reviews from previous customers to understand other people's experiences. It gives them peace of mind that your company is reliable, experienced, and can deliver excellent results.
Online reviews are like word of mouth in the digital world. When people leave a good review of their remodeling project, they're basically saying yes to your business. SEO services for home remodeling businesses can help you welcome new opportunities through an optimized business listing.
Home Remodeler SEO Company- Get more Appointments!
Take your digital presence to new heights and drive more targeted customers to your home improvement business.
With our expertise in SEO, we can help you boost your online visibility and attract your target audience. We know the unique challenges and goals of home improvement businesses like yours.
Our team creates tailor-made SEO strategy that aligns with your business objectives to improve your search engine rankings, drive organic traffic, and generate more leads.
Call us at +1-307-209-3608 or book a free consultation call now.
Home Remodeler SEO FAQ