Plumbing SEO Services
Yellow pages days are gone; now, whenever a homeowner in your area faces a burst pipe or a leaky faucet, they search online for " plumbers near me. " If you are not in their search results, it's bad news for your business revenue. To increase your revenue and target your potential customer while generating consistent leads, you need a sound online business website/ listing. Our plumbing SEO solution will :
Connect you with local homeowners who need plumbing services.

Beat the competition & position your business as the top choice.

Get found easily by homeowners and be featured in local 3 pack.  

Attract enhanced credibility and trust with a positive brand image.

Convert website visitors into customers with targeted traffic.

Establish your business as a trusted choice with a positive brand image.

Get consistent leads with an affordable plumbing SEO package.   
Invest in affordable SEO solutions for plumbing businesses now!
Just having a website isn't enough. If you search on Google for 'plumbers near me' or 'plumbers in your city,' and your website is not ranking on the first page of Google, you are losing business to competing plumbers.
Let's learn what is SEO for plumbers all about.
What is Plumber SEO?
Plumbers SEO is the set of techniques that help improve the online visibility of plumbing businesses. It involves many optimization techniques like keyword research, technical SEO optimization, business listing optimization, citation creation, link-building campaigns, etc.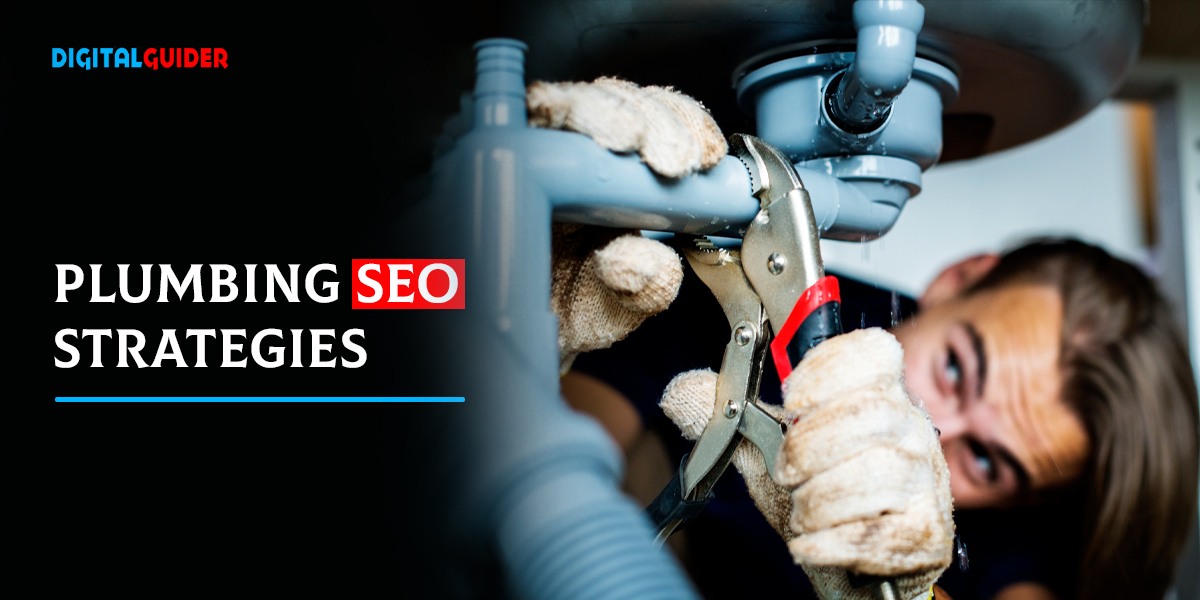 Whenever someone searches for 'plumbing service near me,' your business can become the go-to choice for any of their needs with SEO for plumbers techniques.
Why Do Plumbers Need SEO?
SEO is an essential strategy for plumbers that goes beyond mere online visibility. It plays a pivotal role in addressing several profit-draining aspects of a plumbing business. Think of your plumbing website as a well-kept pipeline network. Search engine optimization is your plumbing plumber, making it easy for potential customers to find you online.
It's like having a sign on your store window in the fast-paced city of the Internet. When someone searches for "plumbing service near me," SEO ensures your plumbing business is the first thing that pops up. That way, you're the first choice for anyone looking for plumbing help.
Let's see why SEO for plumbers is a no-brainer-
1. Customer Acquisition:
Problem: If you have a strategic SEO strategy, people can find your plumbing business online, which means you'll take advantage of some great chances.
SEO Solution: SEO ensures your website ranks higher & is visible in SERP, attracting customers actively searching for plumbing services in your servicing area.
2. Marketing Efficiency:
Problem: Traditional marketing methods can be costly and may not effectively target your ideal customer.
SEO Solution: Plumbing SEO offers a cost-effective marketing approach, enabling precise targeting of keywords and locations within your budget.
3. Employee Productivity:
Problem: Your plumbing team will be underused if you don't schedule your jobs properly.
SEO Solution: An SEO-friendly website with an easy-to-use booking system makes it easier to assign tasks, boosting employee efficiency.
4. Overheads Management:
Problem: If you have a lot of overhead costs, it can take a toll on your profits, especially if you don't have enough customers.
SEO Solution: By consistently driving traffic to your website through effective search engine optimization techniques, you can control your overhead costs better while still making money.
5. Reputation and Trust:
Problem: Negative online reviews or a lack of online presence can break customer trust in your services.
SEO Solution: Plumbing SEO gives you the power to build your online presence positively. People are more likely to trust your plumbing services when you have positive reviews and informative content.
6. Competitive Edge:
Problem: If you don't take SEO seriously, you could be left behind in a crowded plumbing market.
SEO Solution: A robust & targeted SEO strategy sets you apart and allows you to outrank your competitors by optimizing your online presence for top positions in SERPs.
7. Market Expansion:
Problem: If you're still limited to one service area, it can stop you from achieving your goals.
SEO Solution: If you want to get more customers from nearby areas, local SEO can help you do that. It can help you expand your service area and open up new ways to make money.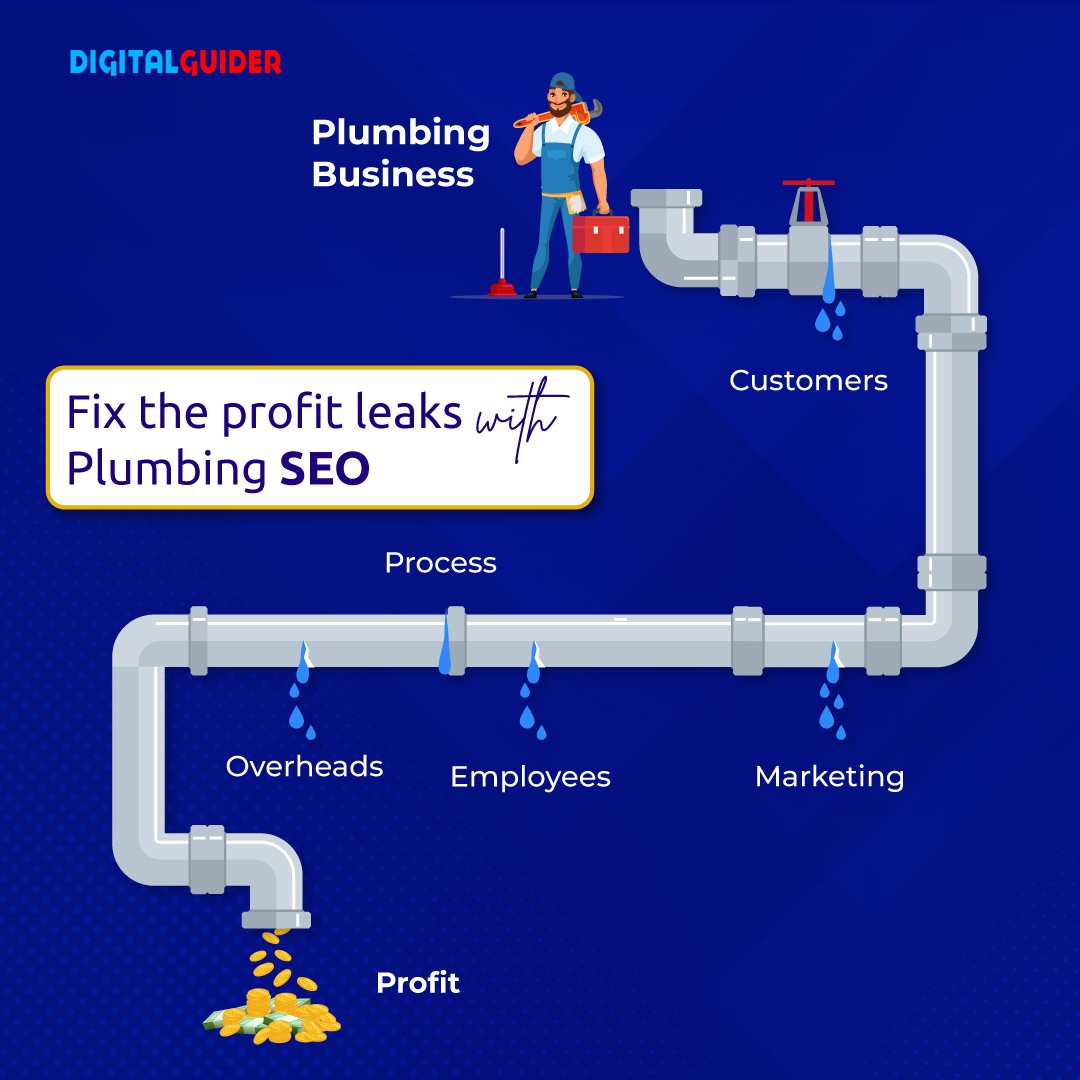 SEO for plumbing companies isn't just about getting your name out there online – it's also about making your business more profitable and efficient.
It helps you get more customers, make sure your marketing is top-notch, make sure your employees are productive, manage your overhead costs, build trust, give you an edge, and help you grow your business.
With a good SEO plan, you can ensure your plumbing business keeps making money and grows in the long run.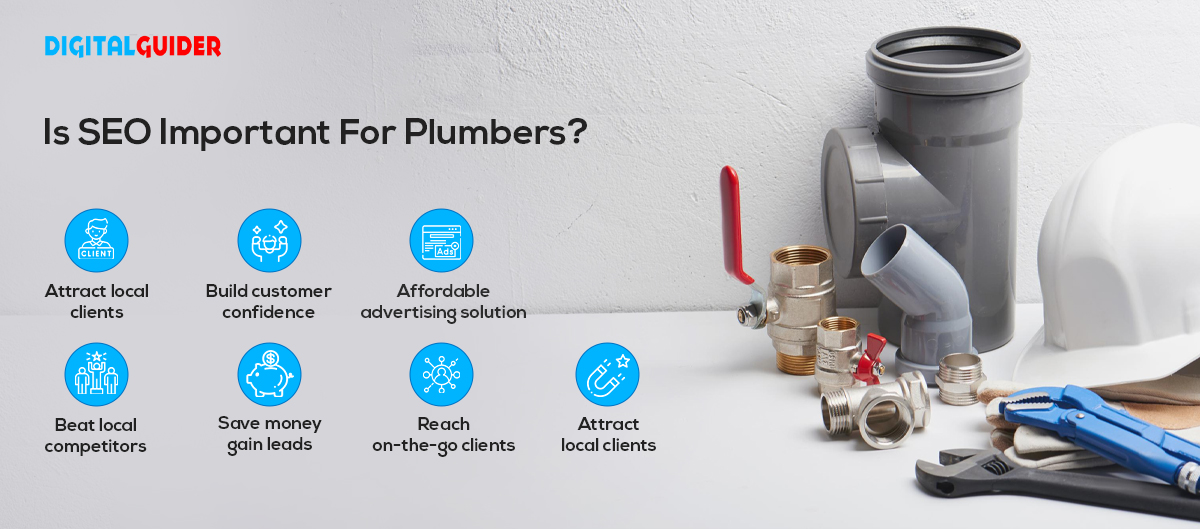 5 Plumbing SEO Strategies For More Business Profitability
1. Local SEO for Plumbers
When people are looking for local things, services, or places, they're searching with local intent, which means they only want something specific to a particular area.
Local keyword optimization is essential for local businesses like plumbing. This increases your organic visibility on the relevant SERPs and helps you generate more unpaid site traffic, foot traffic, and inquiries.
By strategically adding location-based keywords such as "emergency plumbing [Your City]" or "plumbing services [Your City] near me" in your website content and meta descriptions, as well as in your title tags, you will direct local customers to your services.
2. Create & Optimize Google My Business Listing
Google My Business is an excellent tool for plumbers who want to contact local customers. When potential customers in your area search for "plumbers," Google displays a list of local businesses, including yours. Optimizing your business listing with accurate contact information, customer reviews, and high-quality images places you squarely on the local map, making it easy for locals to find and choose your plumbing expertise.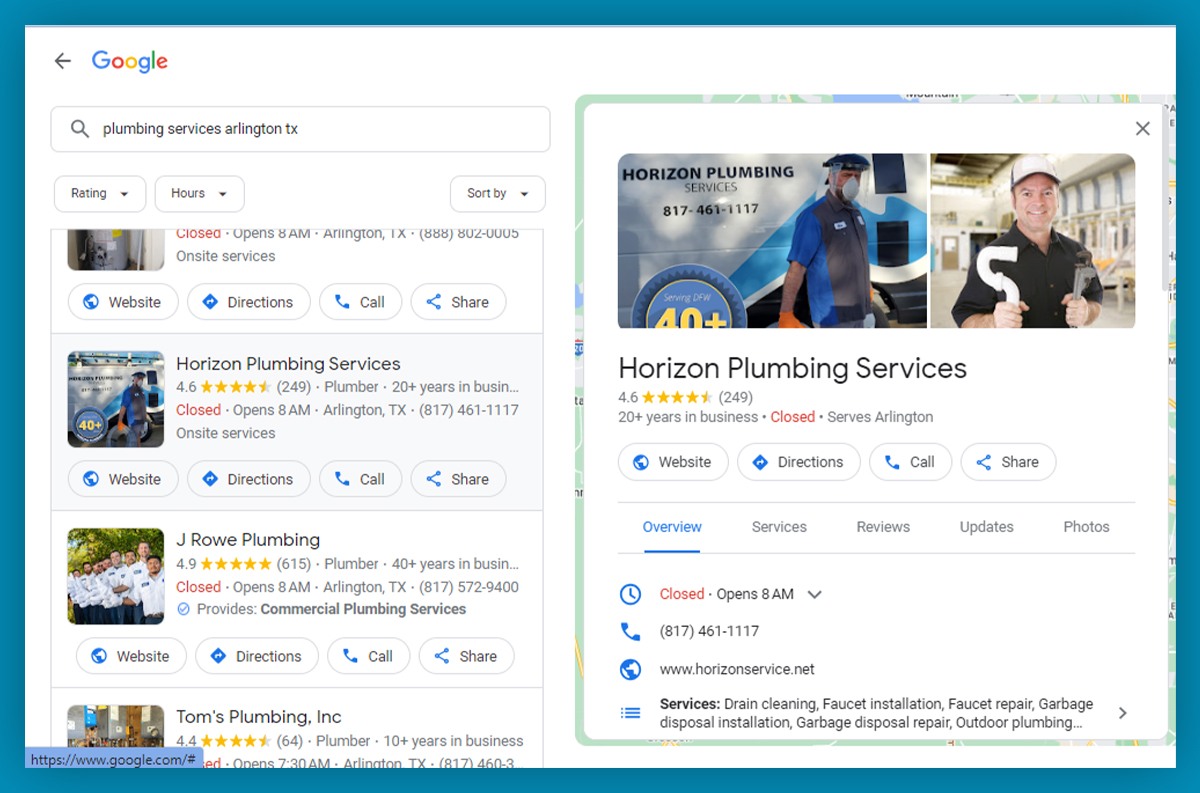 With an optimized Google Business listing, you can ensure your marketing and local presence are seen in the top search results, even for Google. You'll be able to reach a much bigger audience in a shorter amount of time and with more focus on what's important to you – your customers and clients.
3. Location-based Service Pages
Location pages are a key part of plumbers' multi-location SEO strategy, but they can be tricky. Ideally, they shouldn't give potential customers any reason to switch to another business. Creating different pages can be hard when every location sells the same thing. See below, Handy has included all the locations they serve on their website.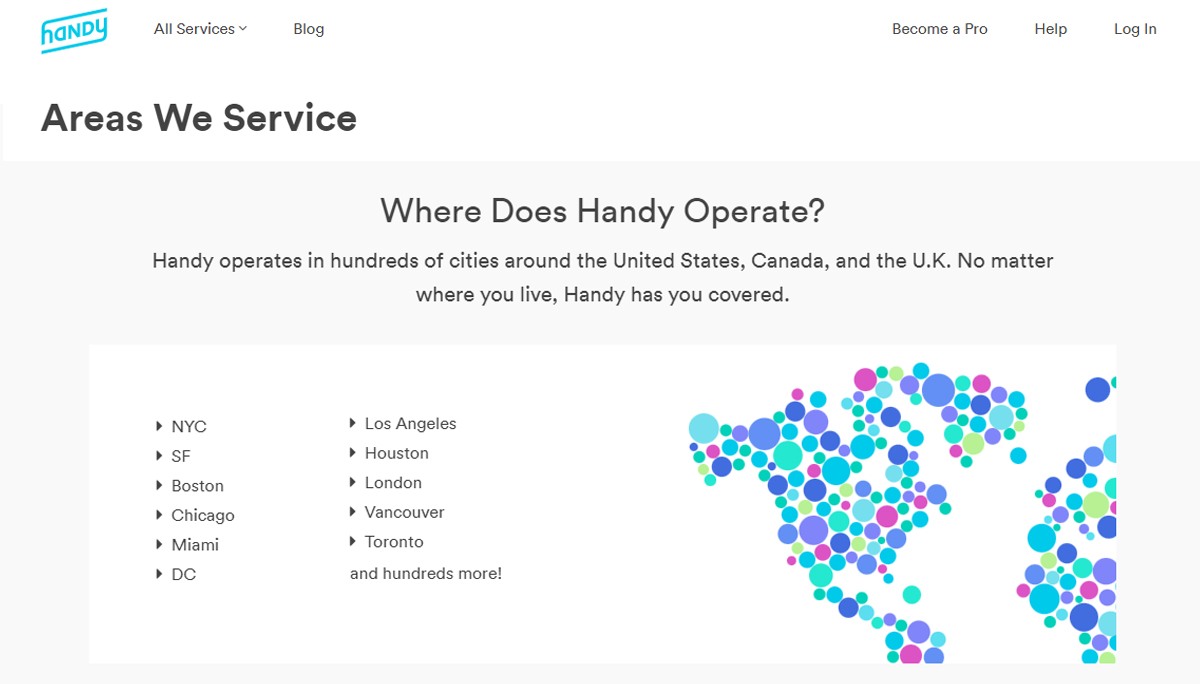 To solve this issue, you can create a dedicated service page on your website for each location you serve, with a personalized touch for each location. Highlight the unique plumbing needs of each area and mention any local landmarks. This will help the plumber's SEO strategy and make you a known name in multiple locations.
4. Get more reviews
Every review is helpful, but some can be more important than others for plumbing SEO. Make sure customers leave reviews full of details about the services they got and their experiences. See how ABC Plumbing created a separate page for showing their testimonials.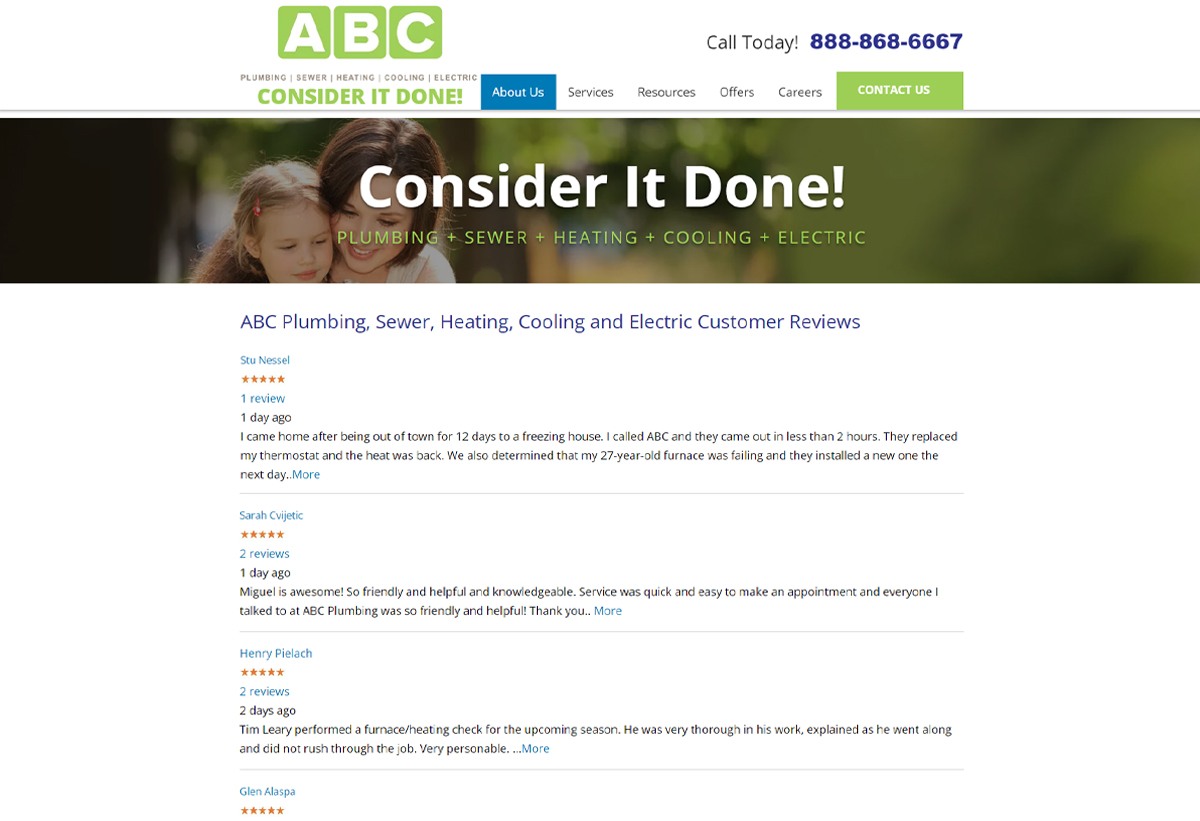 A review is helpful if customers wrote about things like the problem they had, how they interacted with your team, the service results, the name of the person they worked with, and photos of the job should all be included.
Ask for reviews from happy customers, especially after you've done an excellent job with plumbing projects. And remember to respond to all reviews quickly and professionally, showing that you care about customer satisfaction.
5. Content Marketing For Plumbers
You are not the only plumbers in their area. Other plumbers are reaching out with helpful content. Through content marketing, companies can help their customers remember who they are. Only customers who really need your services contact you, not people who know you're a plumbing business.
When homeowners visit your website and find valuable plumbing tips, DIY guides, informative blog posts, and testimonials from satisfied customers, this authoritative content and positive feedback establish your plumbing company as a trusted and credible source for all their plumbing needs.
Hire the Best Plumbing SEO Company!
Digital Guider is your one-stop shop for plumbing SEO. We're experts in SEO for plumbers, and we're here to help you make your plumbing business shine.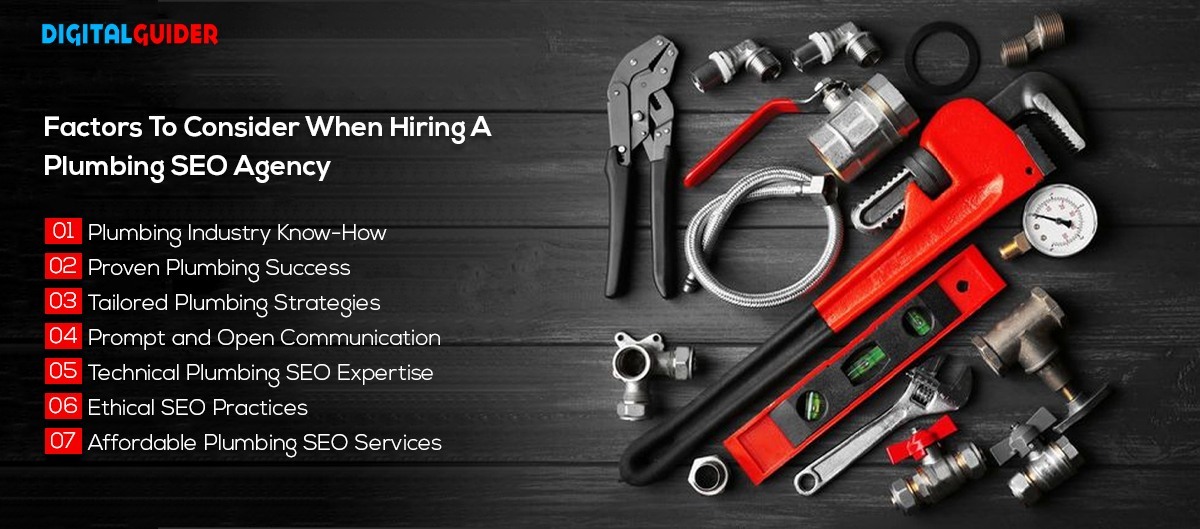 We have a track record of success and a personalized approach tailored to your specific needs. With Digital Guider, you can increase your local SEO visibility, bring in more customers, and grow your plumbing business. Let's take your plumbing business online!
Call us at +1-307-209-3608 or book a free consultation call now!
Aviation SEO Marketing FAQ