Aviation SEO Services
Land More Customers With Increased Ticket Sales
The fast-paced aviation industry is highly competitive, making it difficult for businesses to stand out digitally. Whether you are a network carrier, charter, low-cost, or cargo airline, our expert SEO professional knows what SEO strategy will help you increase your satisfied passenger quota and gain higher customer satisfaction.
With our aviation SEO services, you will-
Enjoy a positive online brand image

Gain higher Market Share

Lower Your Passenger Complaint Rate

Experience High Customer Satisfaction Rate

Increase Your Revenue Growth.
Contact us today to learn how aviation SEO services can help your aviation business.
When your aviation business website is on the top results of your potential customer search query, you unlock the potential to elevate your brand awareness, engage a wider audience, and sell more airline tickets. Like an experienced pilot who navigates an aircraft to fly above the clouds, achieving a high online presence is essential for your aviation businesses to overcome competition and grow.
But it is easier said than done if you want to increase your online presence, you need to leverage aviation SEO techniques. Continue reading to find out more about SEO for aviation.
What is Aviation SEO?
Aviation SEO refers to search engine optimization strategies and techniques customized explicitly for websites and online platforms in the aviation industry, such as airlines, airports, aircraft manufacturers, flight schools, and aviation service providers. SEO is a method of improving your website's online visibility and ranking in search engine results pages (SERPs) to increase organic (non-paid) traffic, eventually leading to more leads, revenue & ticket sales for your airlines.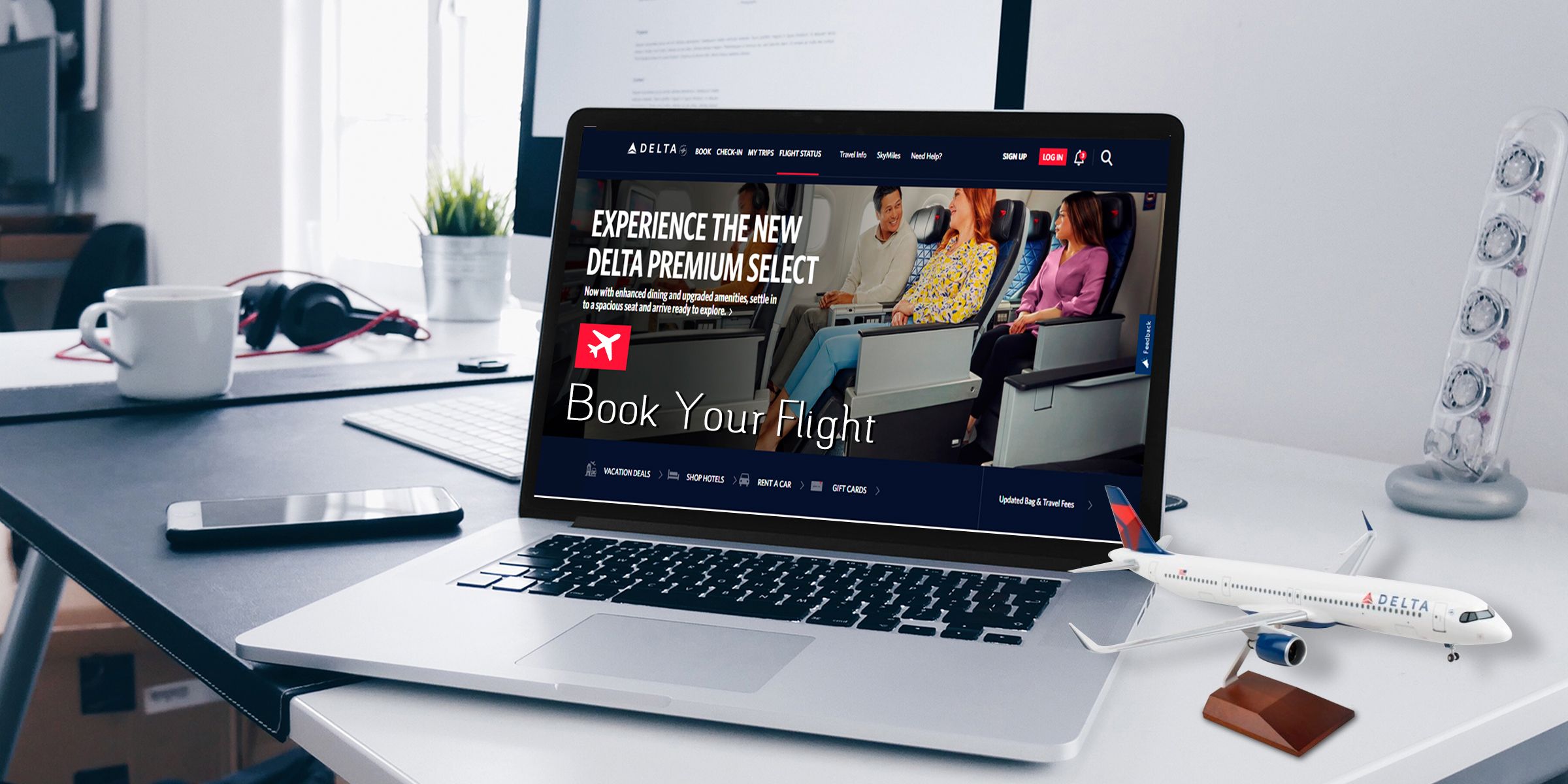 Aviation SEO may appear to be a straight forward process; however, there are several elements to consider when optimizing your web content for search engines. To have a chance of ranking, your web content must meet the requirements of Google's search algorithms.
Aviation and Aerospace SEO Strategies
Website SEO Audit
A website audit is like taking your plane on a pre-flight inspection. Our aviation SEO agency analyzes how your website works, how users interact with it, and the quality of the content. We determine what's holding you back (like slow loading or broken links). We fix those issues and ensure your website is optimized for search engines so users and search engines have a smooth experience. This helps your website with the following:
Improved website functionality and user experience

Higher search engine visibility and organic traffic.
Enhanced brand reputation and customer trust.
Keyword Research
Just as pilots rely on navigation systems, your aviation business needs a well-researched keyword strategy. Our experts at Digital Guider will map out the aviation-specific keywords and phrases your target audience searches for.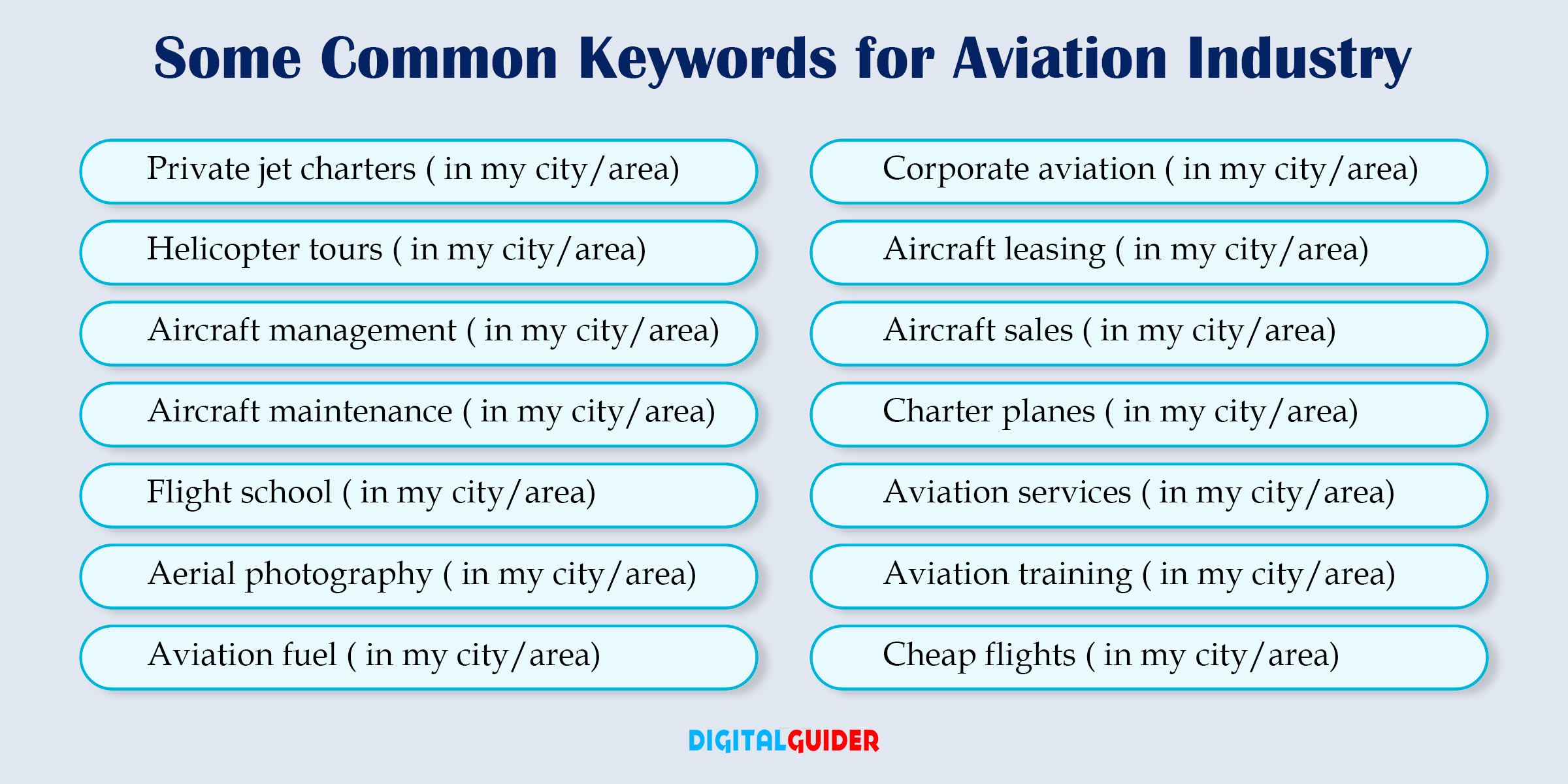 By strategically placing these keywords throughout your website's content, metadata, and headings, we optimize your pages for search engines. This increases search engine rankings and reaches the right passengers actively searching for aviation services.
Aviation SEO Optimized Website
Once the keywords have been identified, the next step is to optimize the website for those keywords. This involves including the keywords in the website's title tags, meta descriptions, and throughout the website's content. It is also vital to ensure the website's structure is easy for search engines to crawl and index.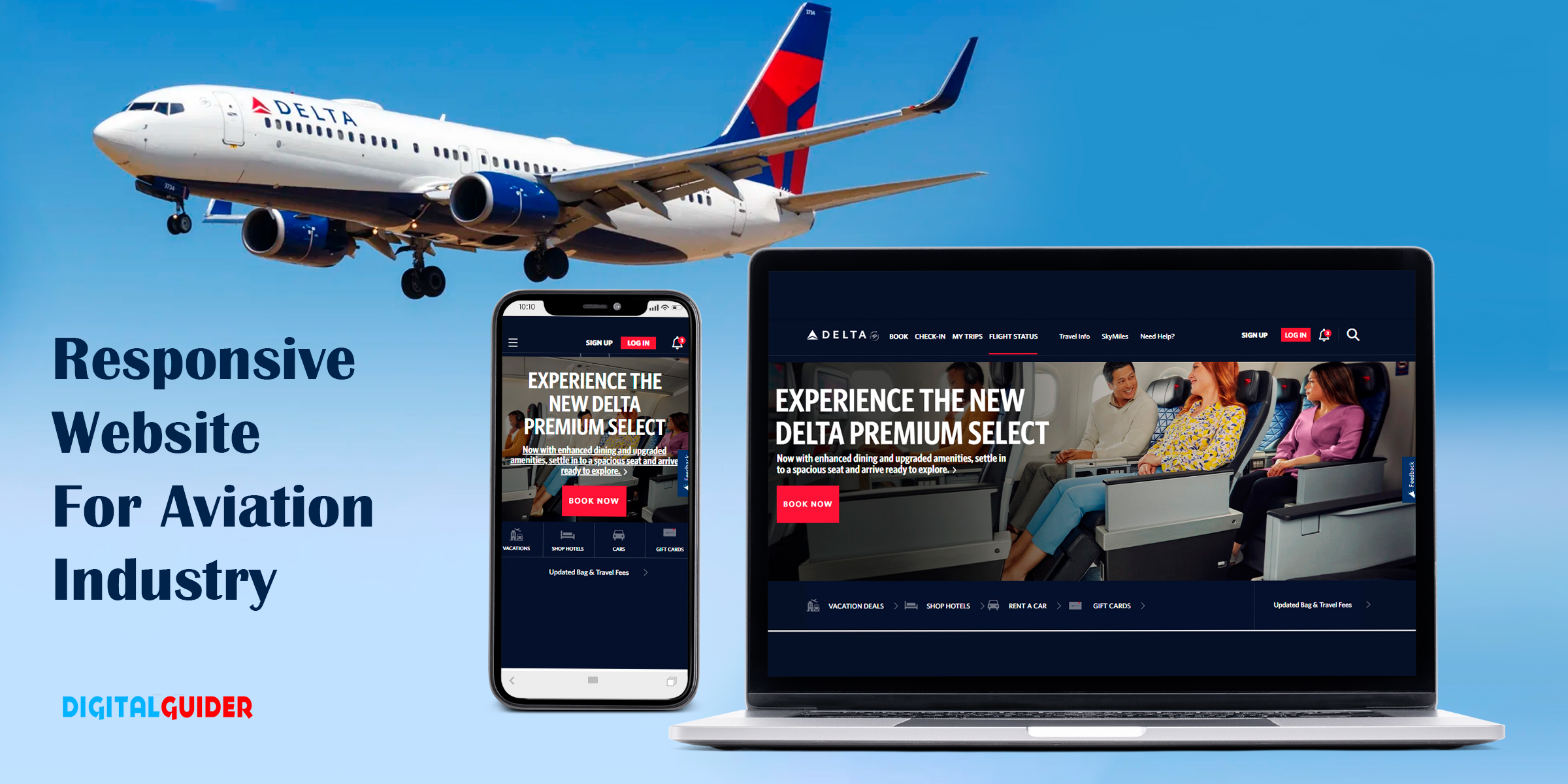 If you want to get the most out of your website, you need to make sure you're using a responsive design if you want the website to look great on both your desktop and mobile devices. Our web development team is here to help you by designing each new page on your website to be responsive & provide good UX.
SEO Content Writing
Content is like the fuel for any aviation SEO strategy. To get the most out of SEO, you must ensure your content is optimized for search engines. With our expert content marketing services, you can create content for your website & business blogs optimized for all the top SEO factors. We follow Google's E-E-A-T & Y-M-L guidelines while writing aviation industry-specific content. We incorporate internal links for better navigation, focus on user search intent, and include SEO-optimized meta title tags and meta descriptions.
Aviation Off-page SEO
As collaboration is vital in the aviation industry, link building strengthens your online presence. Backlinks are another essential part of aircraft SEO. Backlinks are when other websites in your field mention your website in their posts. When other reputable sites with high D.A. ( domain authority ) mention you, Google sees it as a vote of confidence and puts you higher in search results.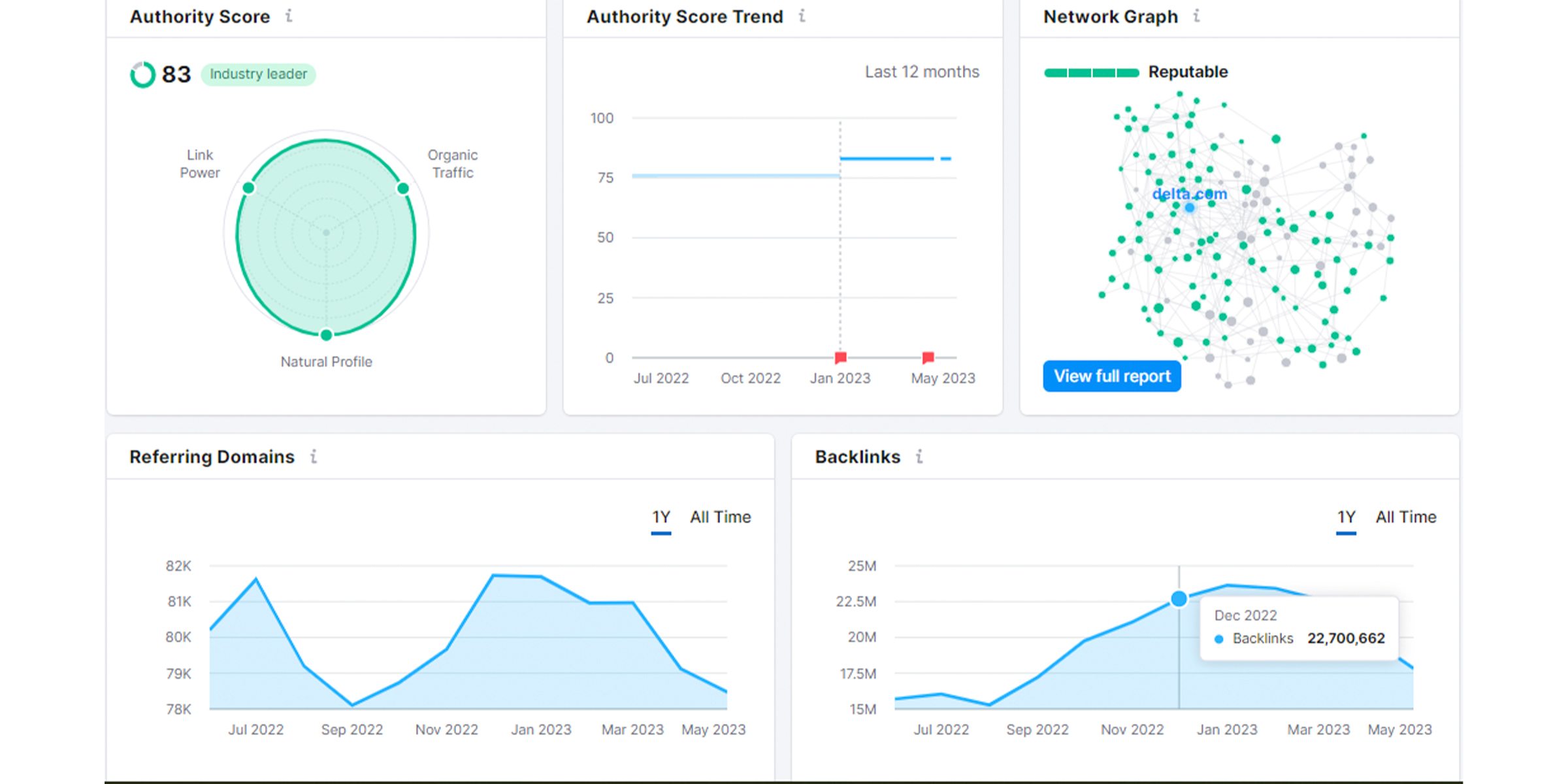 Our aviation SEO firm helps you build backlinks with more referral domains for your website authority. First, we help you find authoritative aviation websites and then help you reach those websites to build backlinks for your content.
Effective ORM
Distorted content or unprocessed real customer feedback can ruin years of hard work. No matter how big or small your brand is, it all boils down to what people say about you online. Therefore you must manage your online reputation.
With Digital Guider's Online Relationship Management services, you can easily monitor and improve your aviation business's online reputation and assess the data. Building trust with clients, boosting sales, and customizing your marketing to get positive feedback and increase your return on investment are just a few benefits a business can expect if they use ORM regularly.
Aviation local SEO
The competition for airline companies is trickier than you might realize. One audience that most airlines forget to target is the local ones, but they are just as important as the international audiences!
Since almost everyone buys plane tickets online, it's no surprise that the Internet is the go-to place for airlines to implement local SEO plans. That's where our aviation local SEO services come in. We help you reach potential customers in your targeted local area by ensuring your aviation company shows up on their search results page when someone searches for "aviation services near me."
Social Media Strategy
Like airports, social media is a busy place to be when it comes to connecting online. When people think of your airline, they should think of excellent customer service. That's why airlines need to build and maintain an excellent reputation. More and more customers are turning to airlines' social media for customer service, so it's a good idea to have a social media strategy for your airline. An effective social media strategy will help you in:
Increased brand exposure within the aviation community.

Enhanced customer engagement and loyalty.

Higher referral traffic from social media platforms.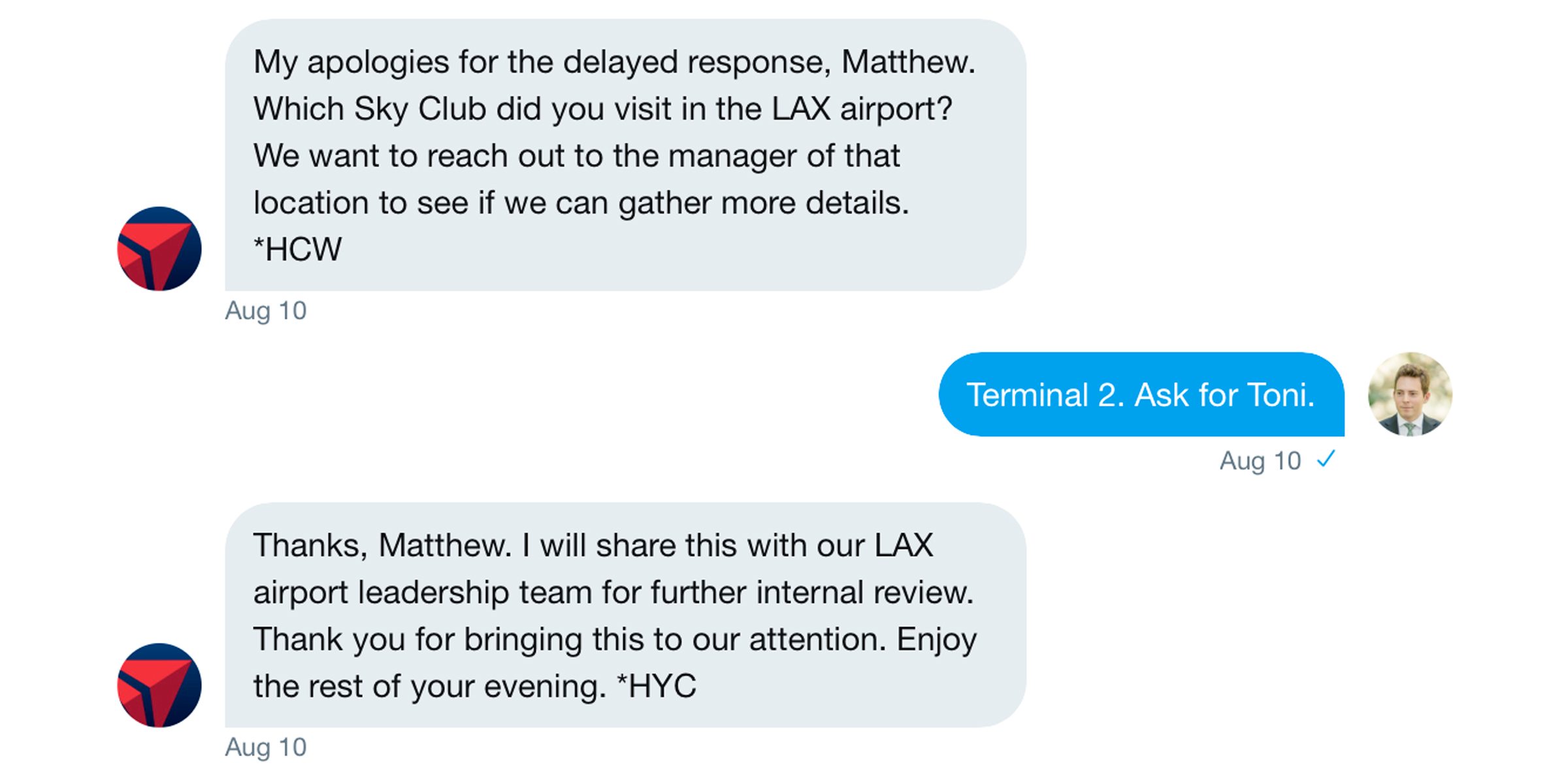 Aviation digital marketing team can help you build a positive image of your brand on social media platforms, so you can easily update customers on canceled flights, disruptions or delays, and lost luggage and explain any delays.
Aviation SEO Company – Rank higher on Search Engines!
If you're an airline looking to take your business to the next level in the digital world, we are here to help.
Digital Guider is here to help you take your business to the next level with innovative SEO solutions. We are your go-to partner for improving online visibility and driving your business forward in today's fast-paced aviation market.
With a wide range of aviation SEO solutions and a team of industry-leading professionals, we can help you increase your ranking, drive targeted traffic and grow your business sustainably.
To get started, call us at +1-307-209-3608 or book a free consultation call now!
Aviation SEO Marketing FAQ