Higher Education Marketing
SEO for higher education is crucial to ensure the right students find your school and receive the appropriate information on your website. At Digital Guider, we understand the unique challenges educational institutions face in the USA. With university marketing services, you can:
Rank for your top keywords on the top pages

Attract a large number of interested students who require your courses.

Generate more enrolment for your educational institutes.

Get your site to rank on the top 3 results of searches in your local area.
Don't wait any longer to transform your education business with our expert SEO services. Interested?
Struggling to Attract Quality Prospects in the Ever-Advancing Education Industry? Look No Further than an ROI-focused, result-driven higher education marketing agency. There have been a lot of advancements in the education industry in the past years, with institutions striving to adapt to the evolving needs of students and parents. Students have internet access worldwide, bringing about 93% of the USA's student population. Hence, putting up an ad on the digital platform will attract every student.
However, amidst this progress, many institutes require help attracting quality prospects and differentiating themselves. This is where strategic SEO comes into play, offering a targeted and ROI-focused approach to enhance online visibility, engage with the right audience, and propel institutes forward. In this era of digital dominance, harnessing the power of SEO has become essential for institutes seeking to thrive in the highly competitive education landscape. See the image below, how top US universities present their site to visitors.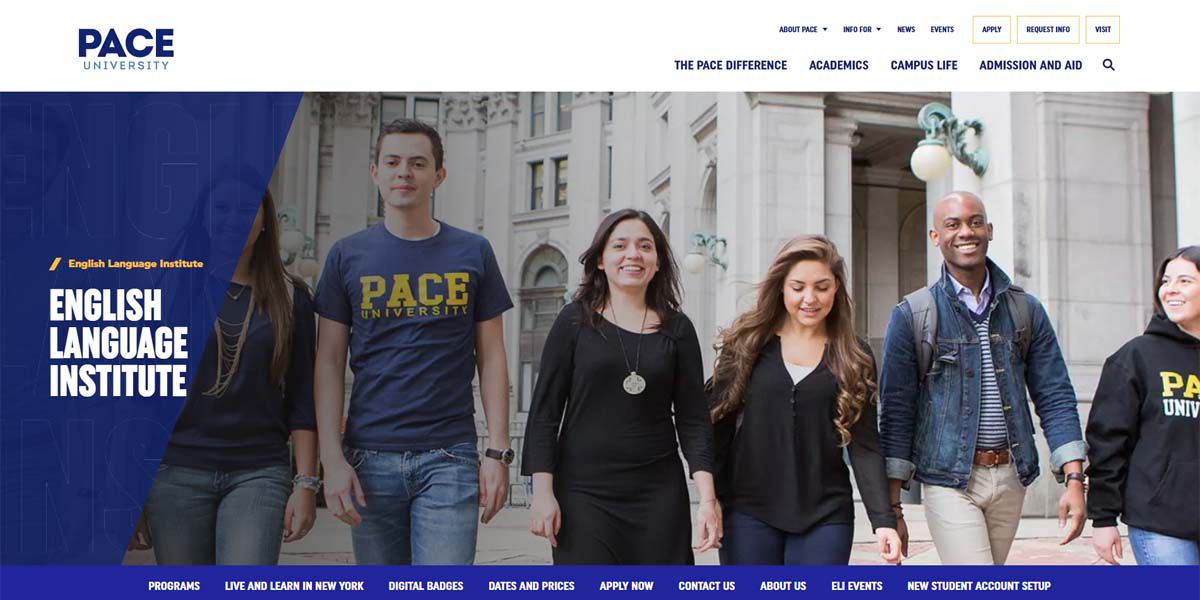 By focusing on profit & ROI, these specialized services encompass various facets, from tech on-page and off-page SEO to technical optimization, local targeting, and leveraging the influence of social media. Join us as we have a specialized team who know how university marketing can help your institute flourish, unlocking its growth potential in the digital realm.
Education Marketing: How It Can Benefit My Institution?
Aviation SEO may appear to be a straight forward process; however, there are several elements to consider when optimizing your web content for search engines. To have a chance of ranking, your web content must meet the requirements of Google's search algorithms.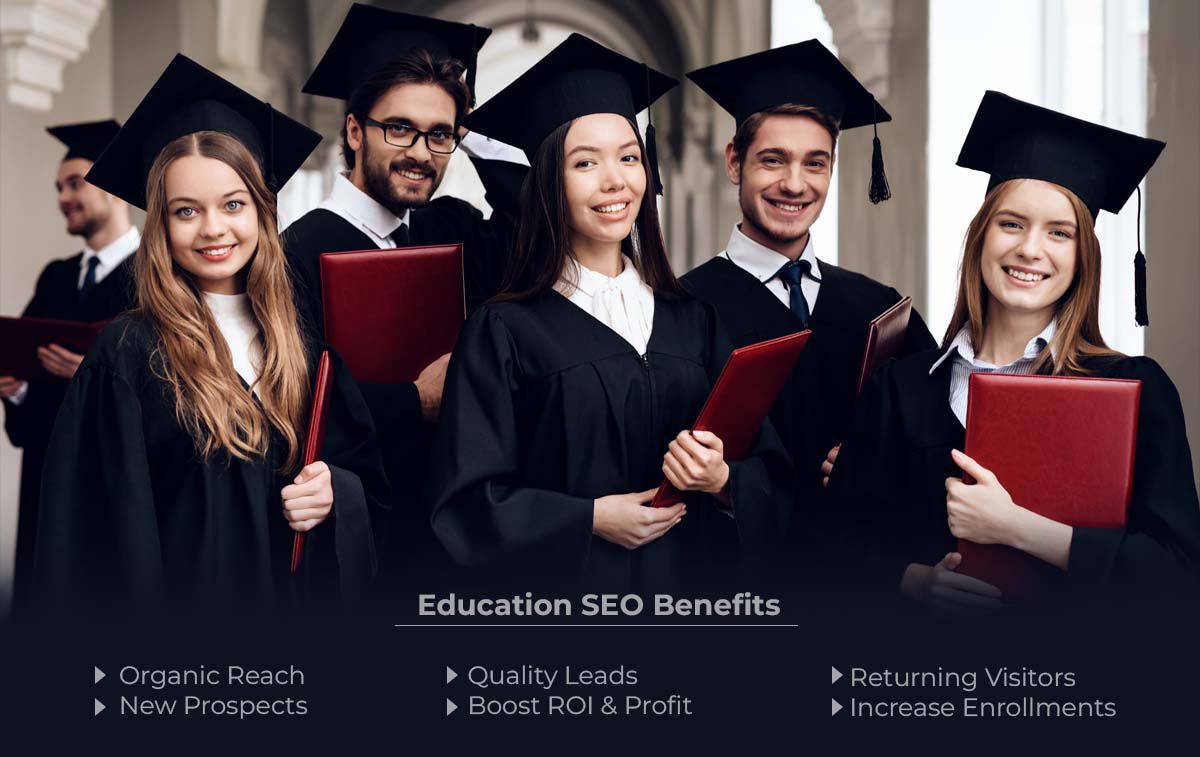 Enhance organic reach to create brand awareness:
Search engine optimization can help your education institution's website rank higher in Google's search results. By optimizing your site with the right keywords, creating high-quality content, and providing a smooth user experience, SEO strategies can significantly increase your organic reach, allowing you to build widespread brand awareness. Use strategic university marketing to increase organic reach and brand awareness. When students, parents, and educators search for educational institutions or related topics on Google, they'll find your institution much easier. Higher search results visibility helps build your brand presence and capture attention and familiarity with your target audience.
Attract new prospects and returning visitors:
SEO is a great way to draw in new students/prospective students and get them back to your school's website. You can tailor your content and website design to meet the needs and interests of your target audience. That way, you can draw in potential students actively looking for educational opportunities, courses, or info about your school's offerings. SEO techniques like speeding up your site, making it easier to use on mobile devices, and adding useful content to your website can also improve the user experience, leading to more engagement and chances of returning visitors.
Increase the number of enrollments:
One of the main objectives of any college or university is to increase enrollment, and search engine optimization (SEO) can be instrumental in achieving this goal. When a college or university website appears at the top of search results for pertinent keywords, it establishes the institution as a reliable and credible option for potential students. Strategic SEO for universities can help increase enrollment by optimizing website content and highlighting the institution's unique advantages, educational offerings, successes, and customer testimonials. SEO's visibility and trustworthiness can lead to a higher rate of potential students converting into enrolled students.
Enhance the quality of leads:
SEO can also help attract high-quality leads to your educational institution. By targeting education-specific keywords & optimizing your website for relevant search queries, you can attract individuals actively searching for educational opportunities and are more likely to convert into qualified leads. Apply strategic SEO with omnichannel marketing & multichannel marketing to improve the quality of leads. SEO allows you to reach a highly targeted audience, ensuring that the traffic you generate is from individuals genuinely interested in your institution's educational programs or courses. This leads to higher-quality leads more likely to engage with your institution and eventually become enrolled students.
Boost Return on Investment (ROI):
Implementing SEO education strategies can significantly boost the return on investment for your educational institution. Compared to traditional marketing methods, SEO is a cost-effective approach that allows you to reach a wide audience relatively cheaply. By investing in optimizing your website, creating valuable content, and continuously improving your higher education SEO efforts, you can generate long-term results and sustain a steady flow of organic traffic. The increased visibility, brand awareness, and higher conversion rates achieved through SEO ultimately translate into a higher return on investment for your institution, making it a valuable asset in your marketing strategy.
ROI-Focused SEO For Universities
Implementing Effective On-Page Strategies
On-page SEO is essential in optimizing higher education institutes' websites. By implementing effective on-page strategies, institutions can enhance online visibility, attract organic traffic, and improve user experience. Some important on-page SEO elements include:
Appropriate keywords

Meta tags optimization.

URL optimization

Internal linking.

Schema markup.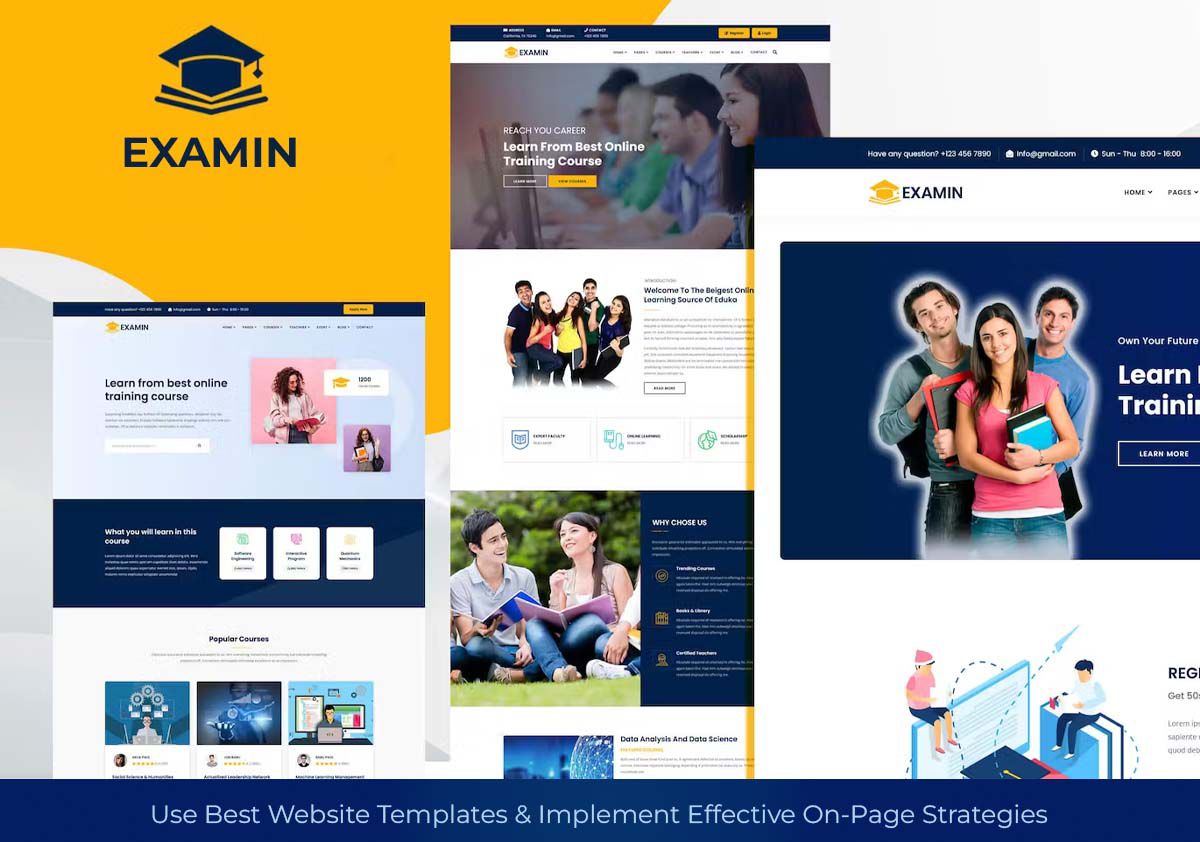 By providing valuable and relevant website content optimized with appropriate keywords, you can attract and engage your target audience effectively, increasing the chances of converting them into enrolled students. Apply strategic SEO for universities to improve & implement effective on-page strategies. Our service helps increase the number of relevant organic keywords and improve impressions and the average positive, boosting high-quality leads and revenue.
Improve University Website's Authority Through Off-Page SEO
Off-page SEO & barnacle SEO are required for colleges' and universities' websites, focusing on improving their online reputation and authority. It improves a college or university website's authority, making it more visible on SERP. By implementing effective off-page strategies, institutes can build quality backlinks, increase brand visibility, and establish credibility in the digital landscape. 
Link building from authoritative and relevant websites.

Online directories.

Guest blogging.

PR and media coverage.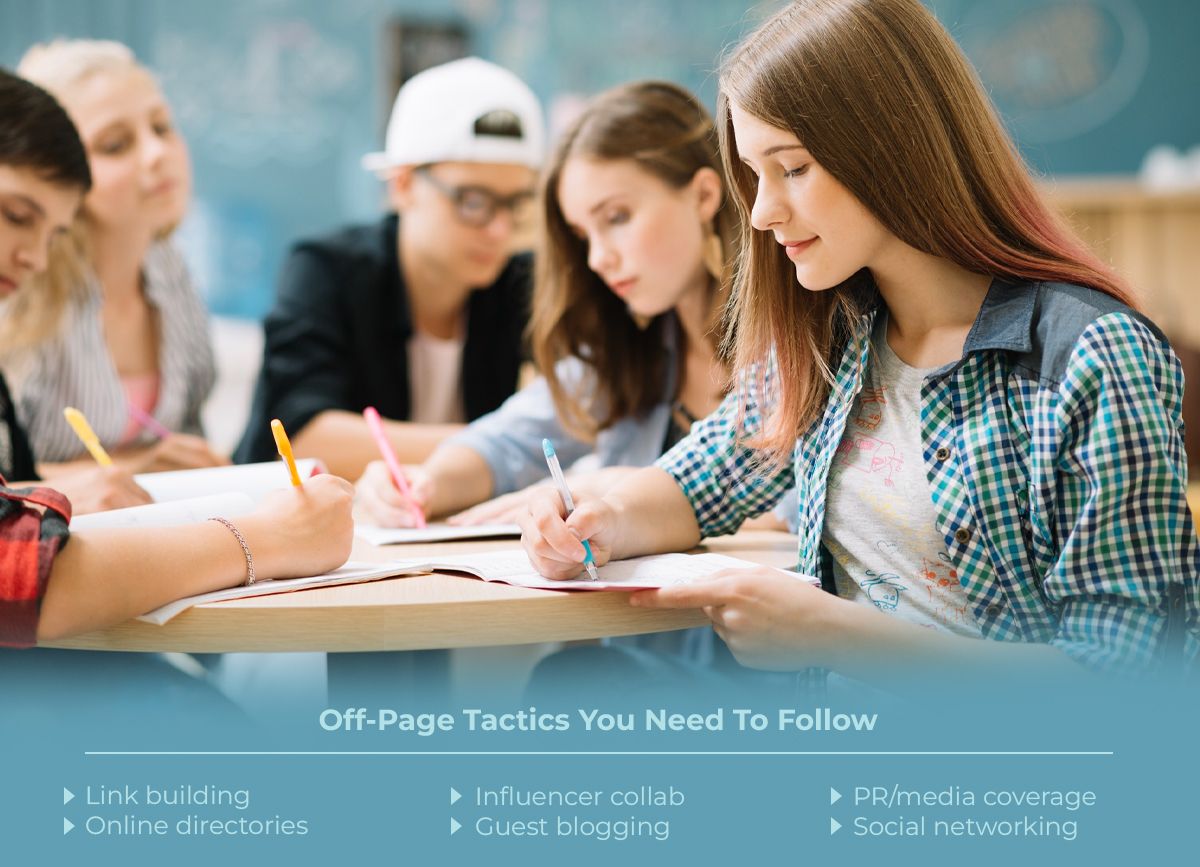 ROI-focused SEO for universities can leverage off-page optimization techniques to help your institute grow. One crucial aspect is building high-quality backlinks from authoritative and relevant websites. These backlinks act as votes of confidence for your website's credibility and can significantly improve your search engine rankings. Additionally, off-page SEO can help you establish your institute as a trusted authority in the education industry, enhancing your reputation and attracting more students.
Improve The Website's Technical Health & UX
Technical SEO service focuses on optimizing the technical aspects of their websites to improve the website's technical health, search engine visibility, and user experience. By implementing effective technical SEO strategies, institutes can ensure their websites are properly crawled, indexed, fixing index bloat pages, and accessible to search engines and users. 
Some important technical SEO elements for university marketing include:
Website structure and navigation.

Website speed optimization.

XML and human sitemap.

Robots.txt file.

Canonical tags.

Indexing your content

Website crawl ability.
By partnering with an ROI-focused higher education marketing agency, you can improve your institute's growth through technical SEO in various ways. This helps search engines like Google comprehend the hierarchy and relevance of your web pages, increasing the likelihood of your institute's website appearing in relevant search results. You can improve your website's visibility, user experience, and overall growth potential by implementing effective technical SEO practices.
Target Specific Geographic Locations With Local SEO
Local SEO services are critical for higher education institutes as they allow them to target a specific geographic region or location. It helps colleges and universities to improve their visibility in local search results and connect with prospective students in their local area. This includes optimizing your institute's website for location-specific keywords, such as "best schools in [city]" or "top colleges in [region]." By ranking higher for these local search queries, your institute can attract more students specifically looking for educational options in your area.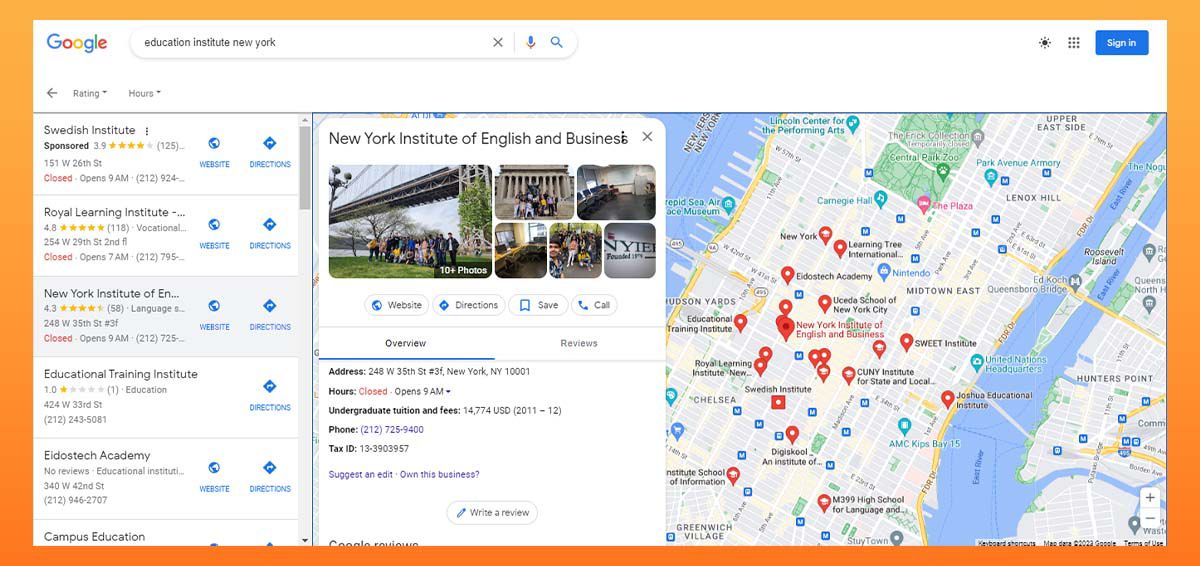 Some critical aspects of local SEO include:
Local keyword targeting.

Local directories.

Local content creation.

Local backlinks.

Review platforms
This helps your institute appear in local map packs and improves your online reputation. By actively managing & responding to reviews and ratings, you can build trust and credibility, increasing enrolment and growth for your institute within the local community.
Engage With Your Target Audience Through Social Media:
In today's digital age, social media is essential to any successful marketing strategy, including higher education SEO services. Social media platforms allow your institute to engage with your target audience, share valuable content, and establish a strong online presence. Using ROI-focused SEO, you can leverage social media to grow your institute.
Social media platforms like Facebook (post example shown in the image below), Instagram, and LinkedIn allow you to showcase your institute's achievements, programs, faculty, and student success stories. Creating compelling and shareable content can increase brand awareness and attract a larger audience to your institute.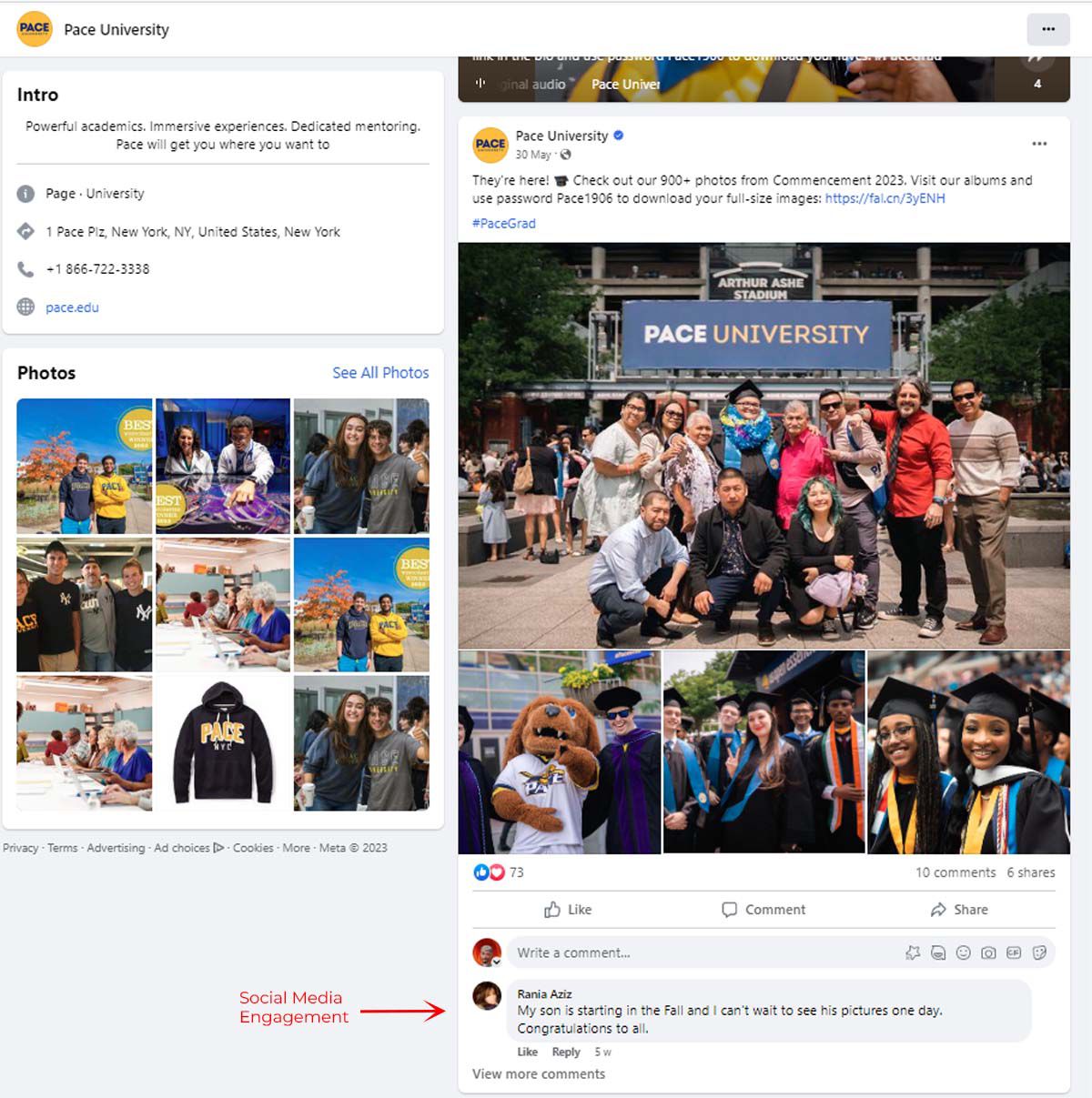 Additionally, social media provides a platform for direct communication with prospective students and parents. You can respond to inquiries, address concerns, and provide personalized assistance, building a strong rapport and fostering trust. This interaction can increase enrollment and referrals, contributing to your institute's growth.
Moreover, social media platforms offer targeted advertising options like Instagram and Facebook, allowing you to reach specific demographics and tailor your marketing campaigns accordingly. By leveraging the power of social media advertising, you can effectively promote your institute to potential students who fit your desired criteria, maximizing the return on your marketing investment.
Furthermore, social media platforms provide valuable insights and analytics to help you understand your audience's preferences, interests, and behaviors. This data can inform your marketing strategies and enable you to create more targeted and impactful campaigns. By continuously analyzing and optimizing your social media efforts, you can drive significant growth for your institute.
Need Help With SEO For Higher Education— Digital Guider Is Here To Help You
By partnering with an ROI-focused higher education marketing agency can considerably contribute to the growth of your institute. By optimizing your on-page content, building quality backlinks, ensuring technical excellence, targeting local searches, and leveraging the power of social media, you can enhance your online visibility, attract more prospective students, and ultimately achieve your growth objectives.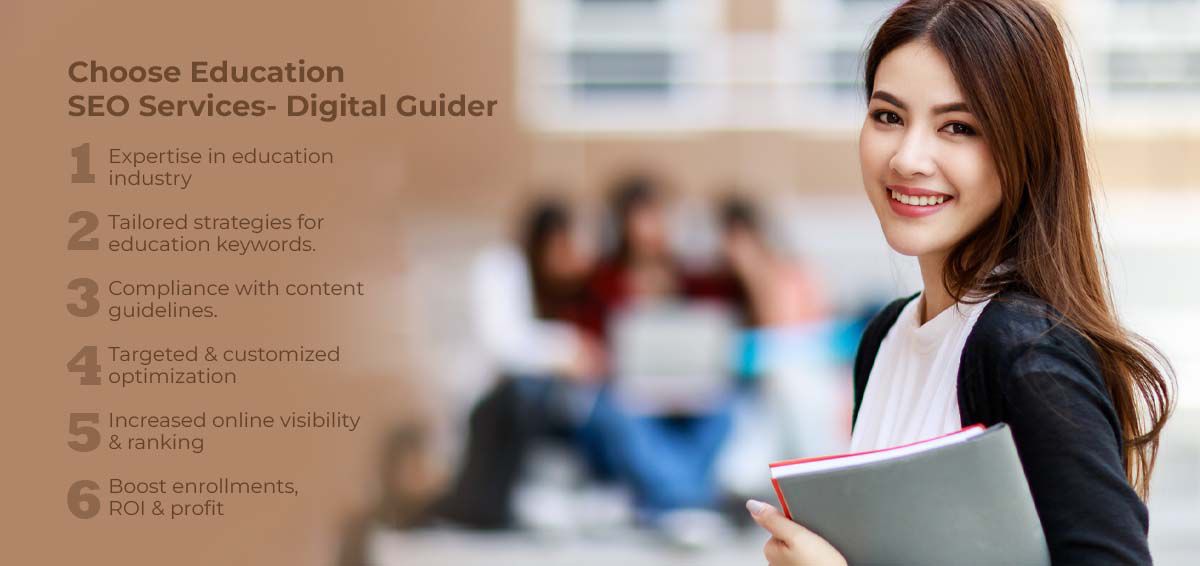 An effective SEO for higher education can help you rank higher when potential patients search for terms like" dentist near me." A result-focused SEO campaign will help you improve your website structure and update helpful content as per Google's E-A-T & YMYL guidelines on your business website will help your brand gain more visibility and traffic. With an experienced SEO team to launch and oversee your SEO campaign, you are all set to be known as a well-known education institute in your targeted area.
Investing in the services of a reputable education SEO agency can unlock your education business's full potential, reach a broader audience, establish a strong online presence, and ultimately drive growth and success in the ever-evolving world of the online education industry. Our knowledge and experience in strategic SEO can help the practice save time and effort while maximizing its online visibility and patient acquisition potential. If you have any questions, call us @ +1-307-209-3608 or write us at info@digitalguider.com to learn more about our SEO services.