Logistic SEO Services
Fulfill freight transportation needs online
As more & more people are shopping online, opportunities for scaling are particularly abundant for contract logistics and parcel companies. Whether you are a logistics company, a passenger transportation service provider, or a freight forwarder, we will increase your rankings on search engines and be seen by your potential consumers and B2B/B2C customers. With our Logistic SEO service, you will :
Deliver full truckload with increased lead queries.

Increase your order fill rate with a higher customer satisfaction rate.

Improve your ROI with increased online visibility.

Ship worldwide with higher rankings for your targeted keywords. 
Contact us to avail our affordable SEO services for your logistics company.
As the ecommerce world grows, supply chain managers are looking for a new logistics company to partner with, and Google is the first place they'll turn to. Your logistics company needs to be in its top search results if you want to grow your business. People first see your website when they search for your business. Therefore, a customized logistics SEO strategy helps your potential customer know more about your company & services. Let's first get to know what it means by logistics SEO.
What Is Logistics SEO?
Logistics SEO is the practice of optimizing a website or online presence of a logistics company to improve its ranking in search engines. It involves implementing SEO strategies and techniques specifically designed for the logistics industry to generate targeted organic traffic and qualified leads and improve the company's online reputation by covering topics related to shipping, trucking, transportation management, international logistics, etc.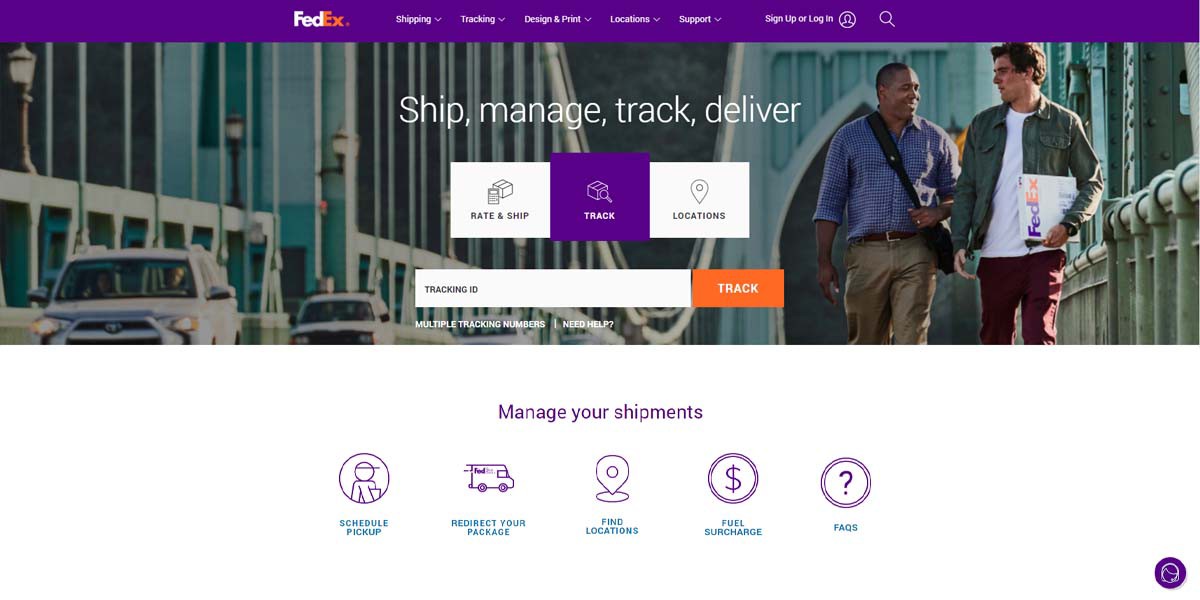 Why Is SEO Important For Transportation & Logistics Companies?
According to Google, "logistics companies near me" searches have increased 85% over the past two years. The logistics industry is experiencing a significant increase in online searches as businesses and consumers rely more on e-commerce and global supply chains. This shows the growing demand for logistics services and the need for businesses to have a strong online presence through effective logistics SEO strategies.
Building Trust & Credibility
Your clients trust you with their valuable products and supply chain processes. Therefore building and maintaining that trust is crucial for your logistics company. A well-planned SEO strategy that understands your target audience's requirements will establish you as the most trusted brand worldwide.
Increasing E-commerce Demand
Logistics businesses must adjust their SEO strategies to keep up with the fast-growing e-commerce market. Logistics businesses have huge growth potential, hence the need for an efficient SEO strategy to keep up with online shoppers.
Focus on keywords and phrases that are relevant to logistics services so you can draw in the right people to your site. By ensuring your content matches what your target audience is looking for, you can get qualified leads that are looking for what you have to offer.
Top Logistics SEO Strategies For Trucking & Logistics Companies
1. Logistics SEO Keyword Research
Keyword research forms the basis of any effective SEO approach. Identify the keywords potential customers search for when seeking logistics services & optimize a website accordingly. Let's say keywords like "customs clearance services Los Angeles" had a significant search volume and moderate competition and are also relevant for your business. Then you need to optimize your website with this targeted keyword and see a noticeable increase in organic traffic and inquiries.
Some relevant keywords examples for logistics business –
| Logistics Company Melbourne | Best Logistics And Transport | Commercial Furniture Removals | Logistics Companies Near Me |
| --- | --- | --- | --- |
| Delivery Services Bulky Items | Fragile Removals & Storage | Freight Truck Companies | Global Transport |
| International Logistics | Amazon Delivery Partner | Walmart Logistics | Last Mile Delivery Companies |
2. User-Friendly Logistics Website
It's super important to ensure your website is easy to use and has a logical structure. A website that loads fast, is responsive to mobile devices, and has easy-to-use navigation will make your visitors more engaged and help your website increase in search engine results.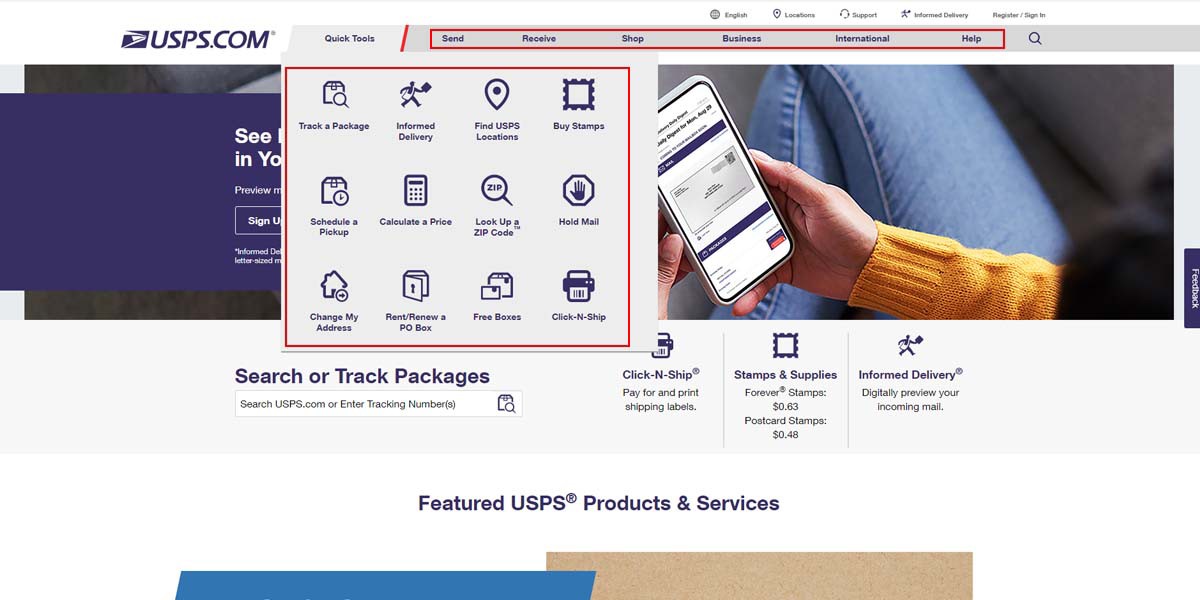 Plus, it'll make your visitors more satisfied, reduce bounce rates, and show search engines how valuable your content is, which will help you get higher rankings.
3. Keep An Active Social Media
If you're looking to grow your transportation business, social media can be a great way to do it. It can help you in- 
Getting more leads.

Connecting with more potential customers.

Boosting your online presence.

Building your brand.

Showing off your expertise.

Staying ahead of the competition by connecting with customers, potential employees, & business associates.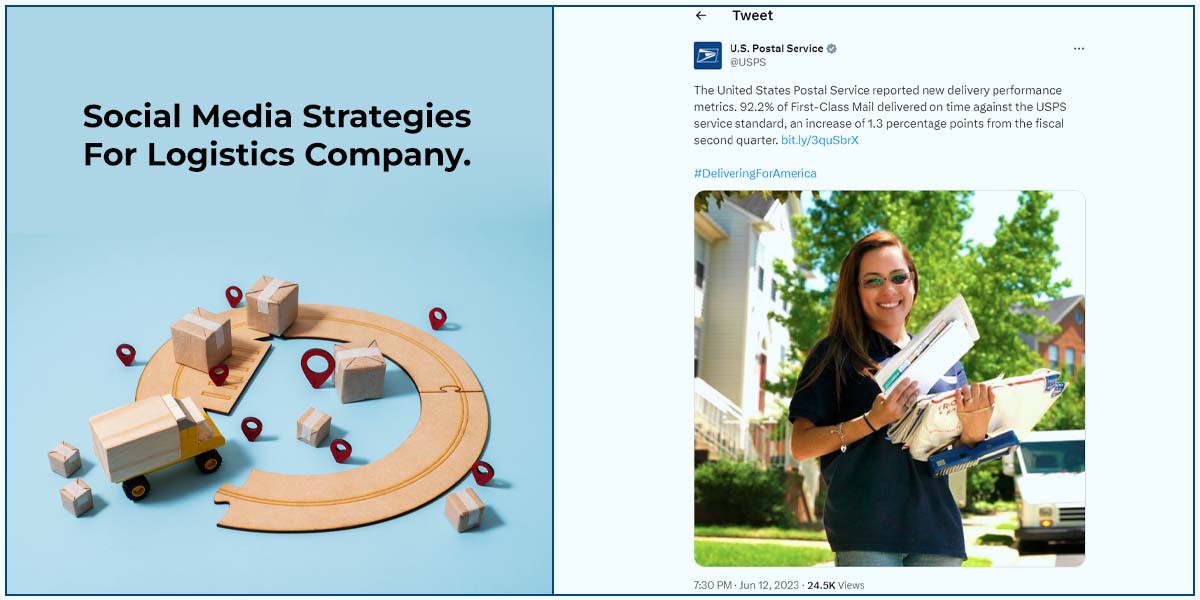 Setting some goals is a good idea if you want to be successful on social media. This will help you figure out what you want your content to say and help you come up with creative ideas. You should set goals for awareness, education, engagement, and getting people to take action.
4. On-Page Optimization For Logistics Companies
If you want your logistics website to appear higher in search results, you need to do some on-page optimization. On-page optimization ensures your website is optimized for the keywords search engines seek. Ensure your website has the right meta tags and headers and the correct URL structure and content that match what people are searching for. This will help Google's crawlers determine if your page offers what users are looking for.
5. Content Marketing For Logistics Companies
Content marketing and SEO may seem like two different things, but they actually go hand-in-hand because each piece of content helps your site rank higher. High-quality content makes your website more visible to search engines like Google and others. Post interesting articles and blogs so your website ranks higher in search engine results.
Coming up with fresh topics for your regular posts can take a lot of time, especially when managing your business on top of it. To make it easier, take a few minutes at the start of every quarter to set up a content calendar or hire a content marketing company to help you stay relevant in the industry.
6. Link Building Campaigns
Link building is the practice of building links back to your site from other websites. This increases your chance of ranking higher in SERPs. The most popular form of link-building for transportation and logistics companies is guest blogging. If you are an international shipping company, you could blog about how your service can benefit businesses that want to expand into other countries while keeping costs low. This way, you can establish yourself as an authority in your field and drive traffic back to your site by mentioning your service at least once in every post. Here are some websites which can help your link-building campaign effort-
Bloomberg.

Supply Chain Digital.

Inbound Logistics.

Logistics Management.

Material Handling & Logistics.

Global Trade Magazine.

Supply Chain Brain.

American Shipper.

Journal of Commerce.

Transport Topics.
By targeting these sites for link building, you can increase your online visibility, build trust, and drive relevant traffic toward your logistics business. Don't forget to review their content guidelines and requirements for content contributions or backlinks to ensure your link-building strategy works.
7. Logistics Local SEO
Location is everything when it comes to transportation. Where you're headed and where you will make a huge impact. Focusing on local keywords is important if you're just running a local business. That way, you'll be seen by the people in your local area. Use keywords like, "logistics services in [City]" or "freight forwarding company near [Location]."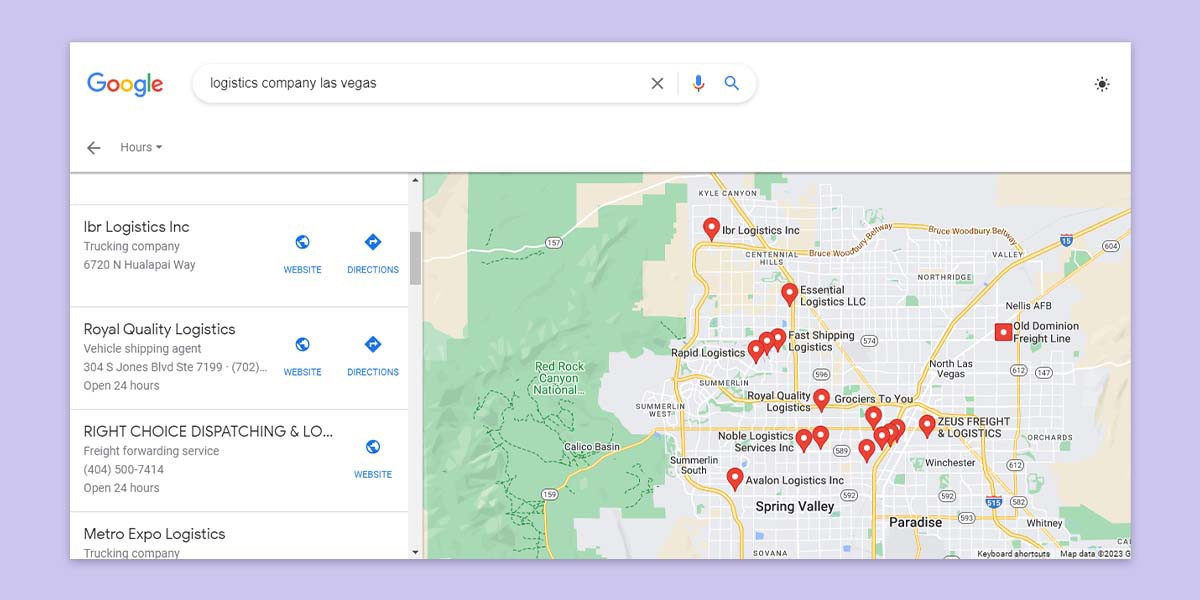 Make a page on your website specifically for each location you serve. Use local keywords, content that's unique to that location, and your NAP info. Show off testimonials, case studies, etc.
8. Reach out to the global audience
To grow, you must have a footprint worldwide. This means you must optimize your website for multiple languages to attract your target audience. Multilingual website optimization can be seen as a bridge between your business and a potential client who is using a language other than your own for search. Create multiple pages for different services and global locations.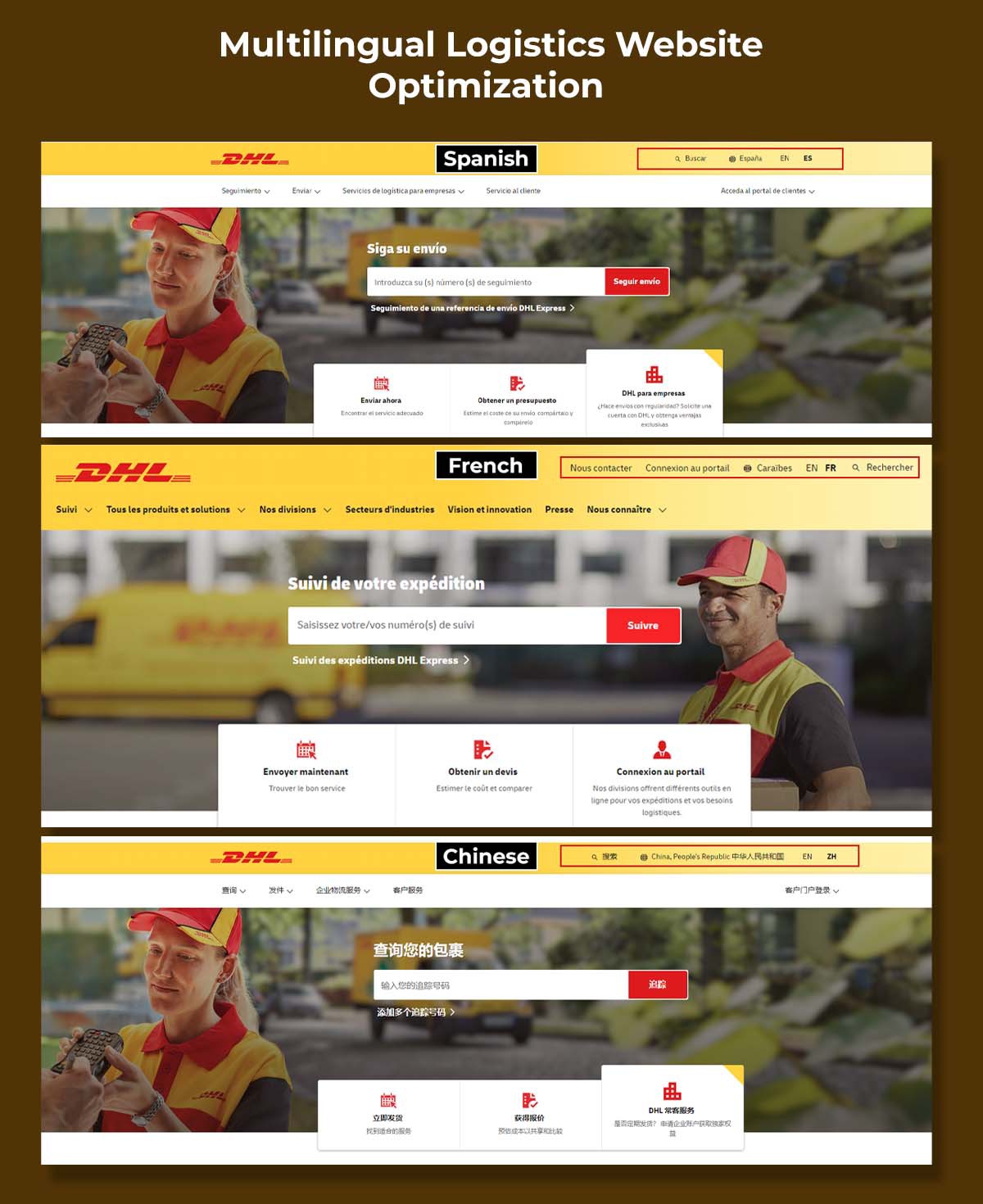 International SEO encompasses everything from implementing Hreflang to telling Google what page to serve each user to complex keyword mapping for content optimization across multiple languages. Transport and logistics websites must be optimized for specific search engines like Baidu and Yandex, which operate differently from Google.
Expand Your Business Reach With Logistics SEO Company!
If you're a logistics company looking to succeed in the digital world, you must ensure you use the right SEO for logistics strategies. Optimizing your website, targeting the right keywords, building quality backlinks, and connecting with your audience are all great ways to increase your online visibility, get qualified leads, and build a great online reputation. But SEO can be tricky, especially for companies that are just trying to run their day-to-day operations.
That's why Digital Guider is here to help. We specialize in SEO for logistics companies and can give you tailored strategies and advice to help your business grow its revenue and online reputation. Contact us today and see how we can help you take your business to the next level!
Logistics SEO Services FAQs