Construction SEO Services
Start Earning More Contracts
Customers search for construction companies locally online. They no longer rely on Yellowpages to find you, nor should you. Now customers search for "construction company" or "construction services in my city" online. And you will lose business to your competition if your construction business is not appearing in the top three results. If you don't want the same, you must invest in trusted construction SEO services. With our affordable construction SEO services, you get these benefits-
More project inquiries with an improved online presence

Feature in Google's Local 3 pack.

Retain more customers by adding good reviews & portfolios.

Increase average revenue/hour worked with more leads.
Yield an impressive ROI using SEO for your construction company.
People's way of finding construction companies is changing. While referrals are still a big part, almost 86% of people find local construction companies online. Building an online presence is an excellent way for your company to get new customers.
If you want your construction company to succeed, you must know how to reach your target audience online. Construction SEO marketing is the key to attracting new clients and driving conversions. With an effective SEO strategy, people who look for "construction companies near me" will quickly find your company and hire you instead of your competitor!
What Is Construction SEO?
Construction SEO is the process of improving a construction company's online presence and search engine rankings (SERPs) by enhancing the website's content, structure, and other elements.
The main goals of SEO for construction companies are to improve a company's online presence in the construction industry, attract targeted traffic to the site, and generate potential clients' leads or inquiries.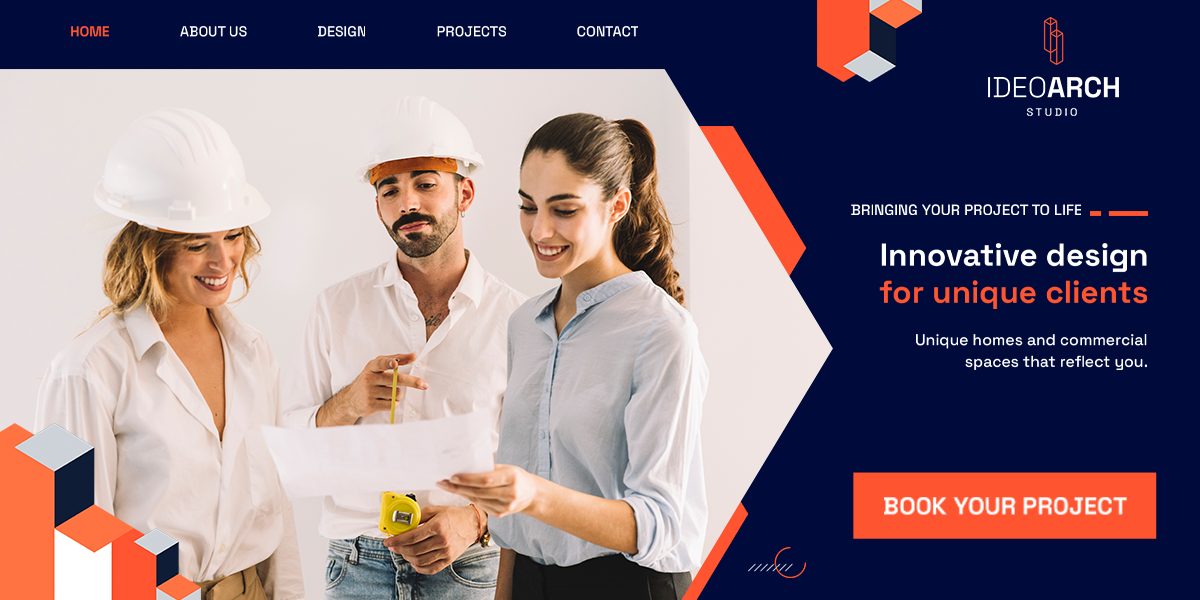 Construction SEO services
The best SEO for construction strategy can help you in:
Enhance its online presence.

Outrank competitors in search results.

Making it easier for potential clients looking for construction services to find you.
Best Construction SEO Strategies to Help You Get More Projects
1. Optimize Local Keywords for Construction SEO
It's essential to pick and use the right keywords for your services and area. To do this, you'll need to do some keyword research. This will help you figure out the most popular words and phrases people are searching for about your topic, and then you'll need to incorporate those into your website and content. Focusing on local keywords specific to your location is important when trying to reach your target audience. You'll want to focus on keywords like like "construction company in [your city]," "residential builders in [your area]," or "best construction services near [your location]."
These local keywords will naturally occur throughout your website's content, from titles to headings to meta descriptions, so you'll have a better chance of appearing in local search results.
2. Create Valuable Content to Establish Authority
Creating high-quality, detailed content that makes you stand out from the competition, helps people learn more about your company and explains what services you offer is essential for your construction SEO plan. Whether it's a blog post, an article, a video, or a guide, you want to ensure your company is seen as a source of information in the industry.

Ask the right questions, give helpful advice, and share your knowledge on construction-related issues. Incorporate keywords into your content to boost its SEO value and increase organic traffic.
3. Construction SEO On-Page Elements
On-page SEO is all about ensuring your website is optimized for search engines. That means ensuring your keywords are in the right places on your website's primary pages, in the meta descriptions and titles of the page, in the URLs, and in the image alt text. Pay attention to optimizing your page titles, meta descriptions, and header tags (H1, H2, etc.) by including relevant keywords related to construction services.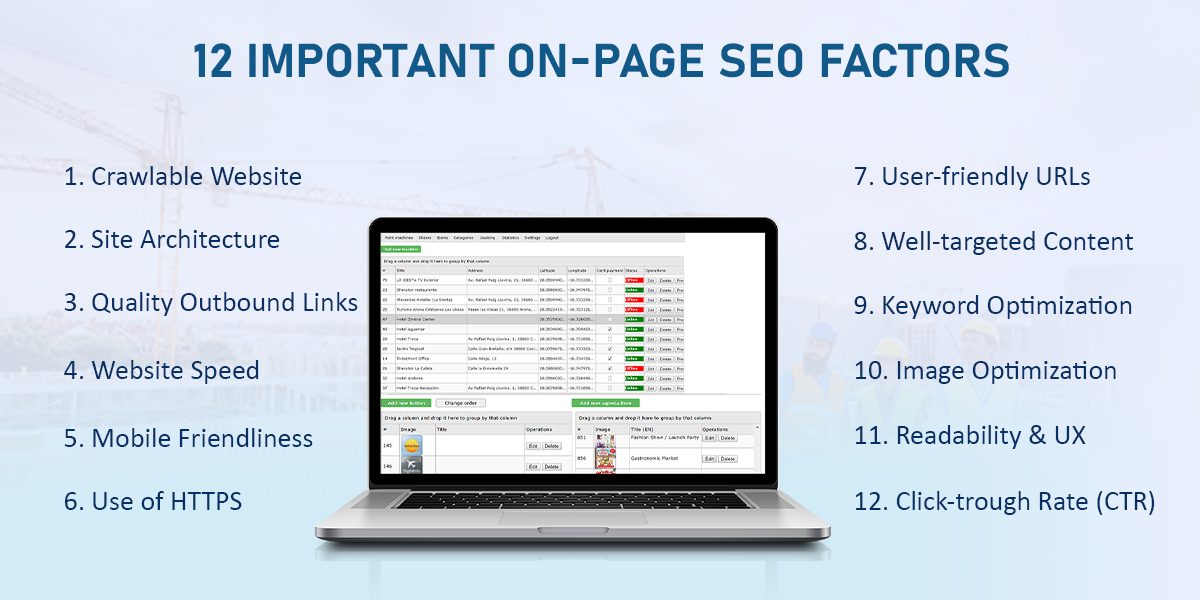 Construction on-page SEO factors
Additionally, ensure your website's URLs are clean and descriptive, incorporating keywords where appropriate. Optimize your images by using descriptive alt tags that include relevant industry-related keywords. This will surely help your construction SEO campaign.
4. Construction Local SEO Plan
Local SEO is crucial for construction businesses that serve a particular geographic area. If you're looking to attract local customers, you'll want to make sure you're listed in popular online directories like Google My Business (GMB), Yelp (YELP), and Bing Places (Bing Places).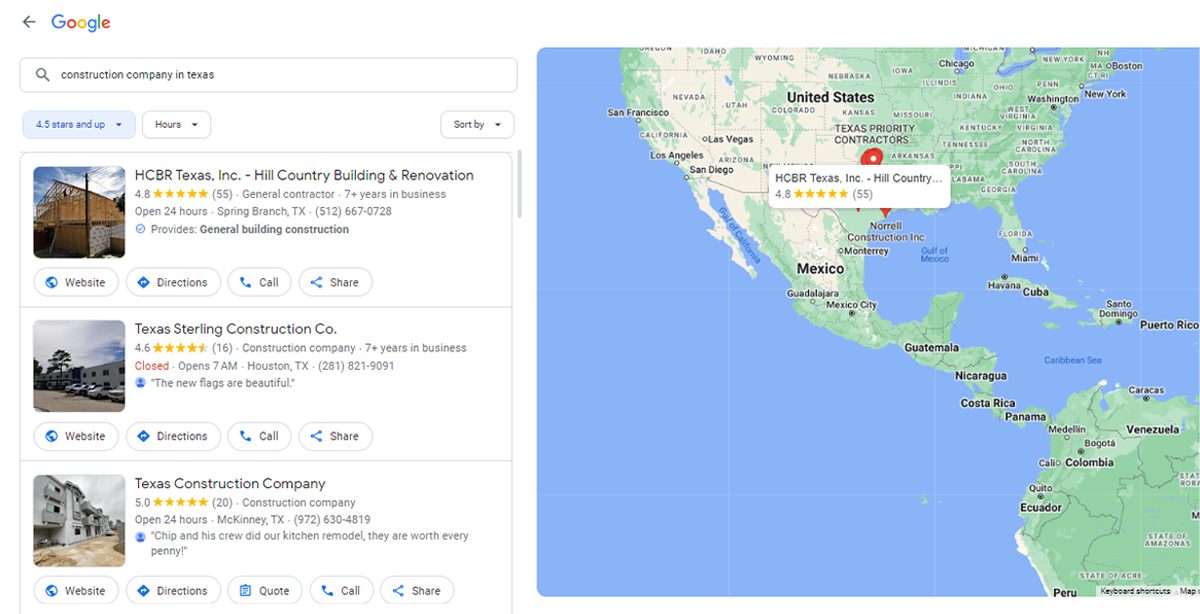 Construction Local SEO
Ensure your business profiles are up-to-date with the latest contact info, hours, and positive customer reviews you've received. The number of satisfied customers who leave a review can affect local search rankings. By ensuring your online presence is optimized for local search, you're increasing your chances of showing up in local listings and drawing in nearby customers. Some helpful strategies for local SEO campaigns:
Do a local SEO audit.

Optimize your Google Business Profile.

Stay active on social media, and post on Google My Business.

Ensure your name, address, and phone number ( NAP ) are consistent.

Optimize online directories and citations.

Improve your internal linking structure so you get inbound links.

And don't forget to get involved in your local community!
5. Responsive Construction Website
A responsive website that shows off your past work and lets potential clients know what services you offer and how much you charge is a great way to get more business and make more money. Google puts a lot of emphasis on mobile-friendly websites, and having a responsive website means it can easily adjust to different screens and devices. A website that loads quickly and has an excellent mobile interface will help boost your search rankings and make it easier for people to find your construction services on their phones.
6. Optimize for Voice Search
It's no secret that voice searches are rising, so ensuring your construction website is optimized for them is important. People tend to use more natural language and longer keywords when doing voice searches, so make sure your content is relevant to what they're looking for.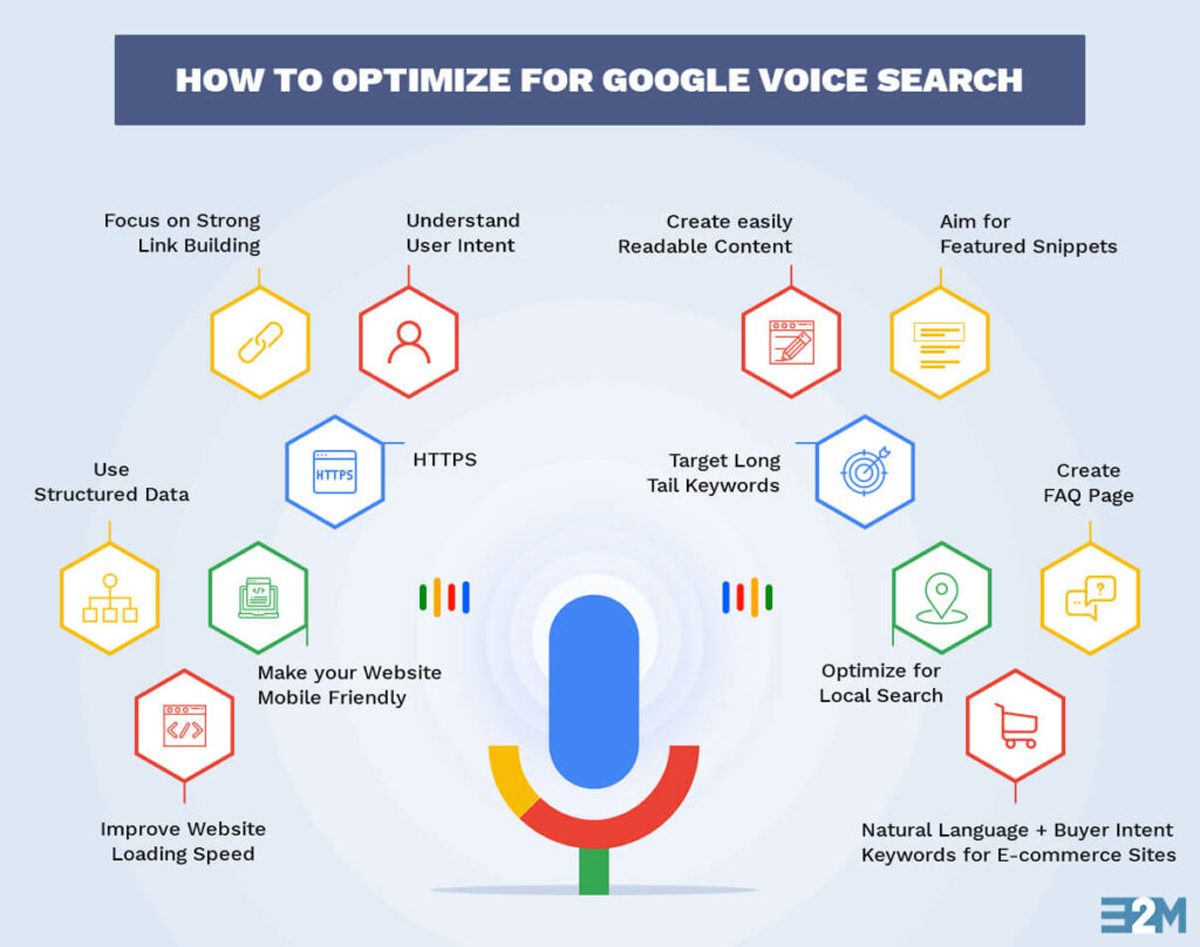 Construction SEO- voice search optimization tips
Image Source: E2M
For instance, if they're looking for construction services, they might ask questions like "Which construction company near me offers the best services?" or "Can I find a reputable construction company near me?" By tailoring your content to these voice search questions, you'll give your website a better chance of appearing in the search results.
7. Quality Backlinks for Construction SEO
Backlinks from authoritative and relevant websites can significantly impact your construction company's SEO. Find ways to get backlinks by contacting industry partners, suppliers, or local organizations. You could guest post on industry blogs or attend local community events to build relationships and gain valuable backlinks.

Construction SEO link building
When building backlinks, it's best to focus on quality over quantity. A few high-quality backlinks from authoritative websites will make a much more significant difference to your SEO.
8. Make The Most Of Social Media
There's a myth that people don't care about a construction project when they see it on Facebook. Well, for a lot of construction companies, that's not true. Social media marketing is just another tool in your inbound marketing toolbox. You can use it to grow your business and even get qualified leads.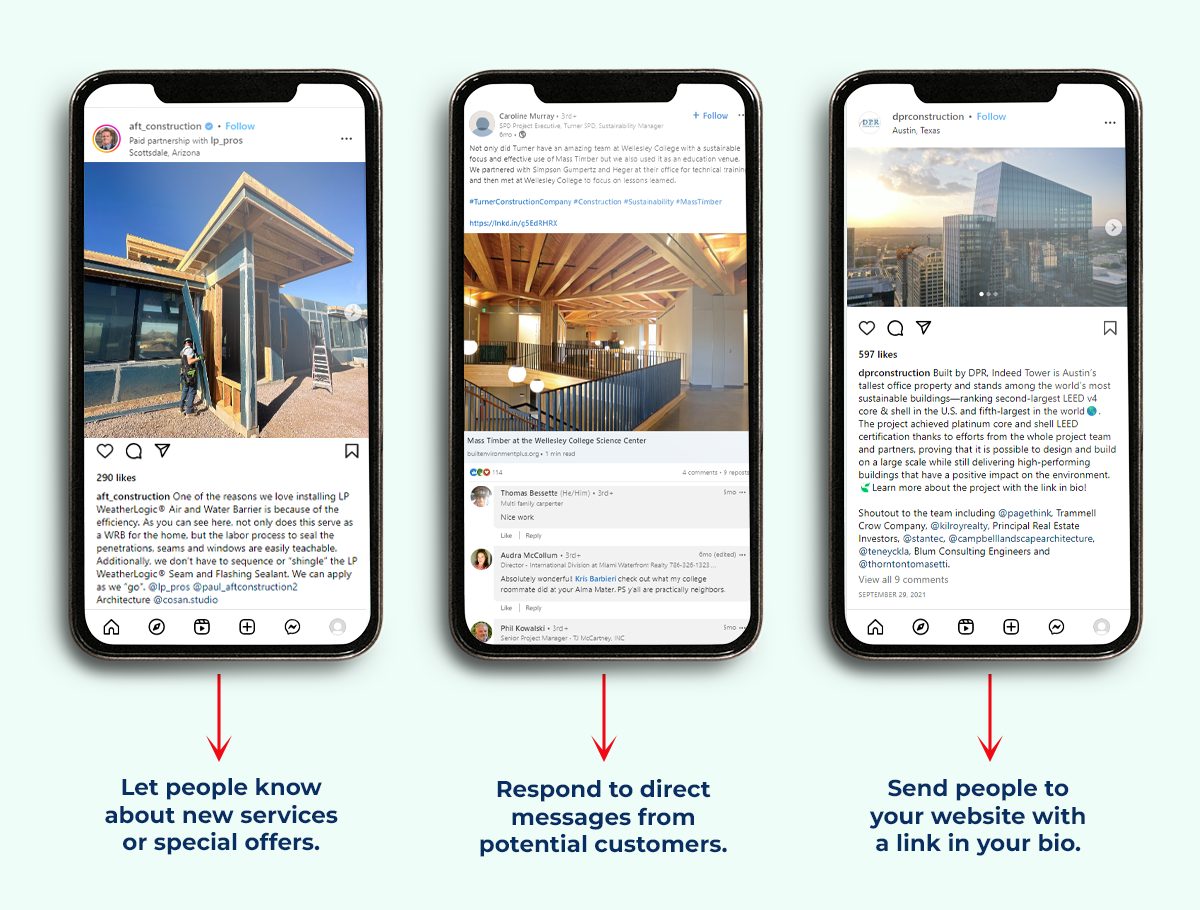 Social media for construction industry
Even if you're just a brick-and-mortar construction company, it's important to remember that all the companies you work with are made up of people. Most people have at least one social media presence if not more than one. So be relevant & start engaging!
Social media strategies you can follow:
Tailor content for social media platforms like Facebook, Instagram, LinkedIn, and YouTube.

 Share high-quality images and videos of your completed construction projects.

Provide construction-related informative articles, blog posts, or videos.

Actively engage with your audience by responding to comments, messages, and inquiries.

Use hashtags like, #construction, #remodeling, #homedesign, or location-specific tags such as #NYCconstruction or #HoustonBuilders.

 Encourage engagement and attract new followers by running social media contests or giveaways.

Showcase positive testimonials or success stories from satisfied clients.
Grow Your Business With Construction Company SEO Services!
This is the way to go if you want to get into the Construction SEO game and make money from the millions of projects from search engine results pages.
This overview has given you a better understanding of the importance of Search Engine Optimization (SEO) for construction companies. It may seem like an overwhelming task, to begin with, but it's essential to take the first steps.
We at Digital Guider understand the challenges construction businesses face regarding SEO, especially when time is of the essence. That's why we are experts in SEO services for construction companies. We understand your main focus is your business operation, so let us save you time and hassle. Let our experienced team do it for you so you don't have to spend valuable time learning the ins and outs.
Construction SEO Services FAQs