🤔💭Did you ever wish to converse with ChatGPT? Well, your wish is now a reality. Now, you can talk with ChatGPT & it will speak back to you. 
Microsoft-backed company OpenAI announced ChatGPT new features for its generative AI-based chatbot on September 25, 2023, in a post on the microblogging site X. The chatbot now has voice and image capabilities, allowing users to get answers from ChatGPT and responses to the images they submit.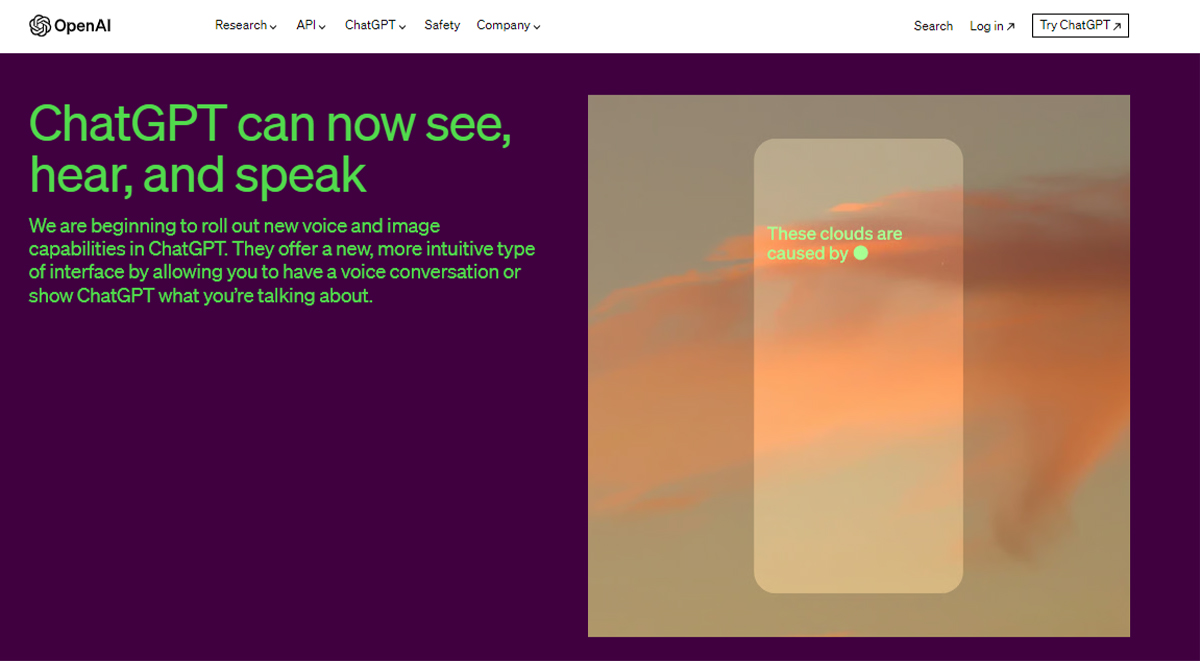 Image Source: OpenAI
You can also access five different voices of ChatGPT. The new features are launched to make the app more user-friendly and interactive than ever before. But here's the question you might wonder: how to talk to ChatGPT & how ChatGPT new features can help me, or how to use ChatGPT voice conversation effectively? This blog about how to speak to ChatGPT and how to use it will delve into each detail about this new feature you need to know.
Overview Of ChatGPT Voice Conversation 
In a post on X (formerly Twitter) announcing the new features of the viral chatbot, OpenAI said, "ChatGPT can now see, hear, and speak. Users will be able to have voice conversations with ChatGPT new features (iOS & Android) back-and-forth". Users can "speak with it on the go, request a bedtime story for your family, or settle a dinner table debate." The company's surprise hit, ChatGPT new features, looks more like a consumer app competing with voice communication apps like Apple's Siri or Amazon's Alexa. 
Use your voice to engage in a back-and-forth conversation with ChatGPT. Speak with it on the go, request a bedtime story, or settle a dinner table debate.

Sound on 🔊 pic.twitter.com/3tuWzX0wtS

— OpenAI (@OpenAI) September 25, 2023
The new version of the ChatGPT app has a headphones icon in the upper right and a photo or camera icon in an expanding menu in the lower left. These voice and visual features work by converting the input information to text, using image or speech recognition so the chatbot can generate a response. 
The image feature through which the user can click or upload a picture can get you a response about the image's in-depth description, offering further context. This new feature is similar to Google's Lens app. From the perspective of development trajectory, ChatGPT is moving towards a super assistant like "Jarvis," and perhaps shortly, a customized "Jarvis" will become a reality. Read this comprehensive blog on how to speak to ChatGPT to learn each detail you need to know.
Recommended Blog: What is ChatGPT, Tips To Use It Effectively- DG
The Technology Behind ChatGPT Voice Conversation
If you are interested in the more technical aspects of how voice works with ChatGPT, this section will help you to know. Its new voice capability is powered by an all-new OpenAI text-to-speech model that generates human-like audio from just text and a few seconds of sample speech, thanks to some fancy tech and help from professional voice actors. 
The app listens to you and turns your words into text using an AI model called Whisper, the company's open-source speech recognition system, to transcribe spoken words into text. ChatGPT new feature will allow users to ask questions using their voice and get human-like responses.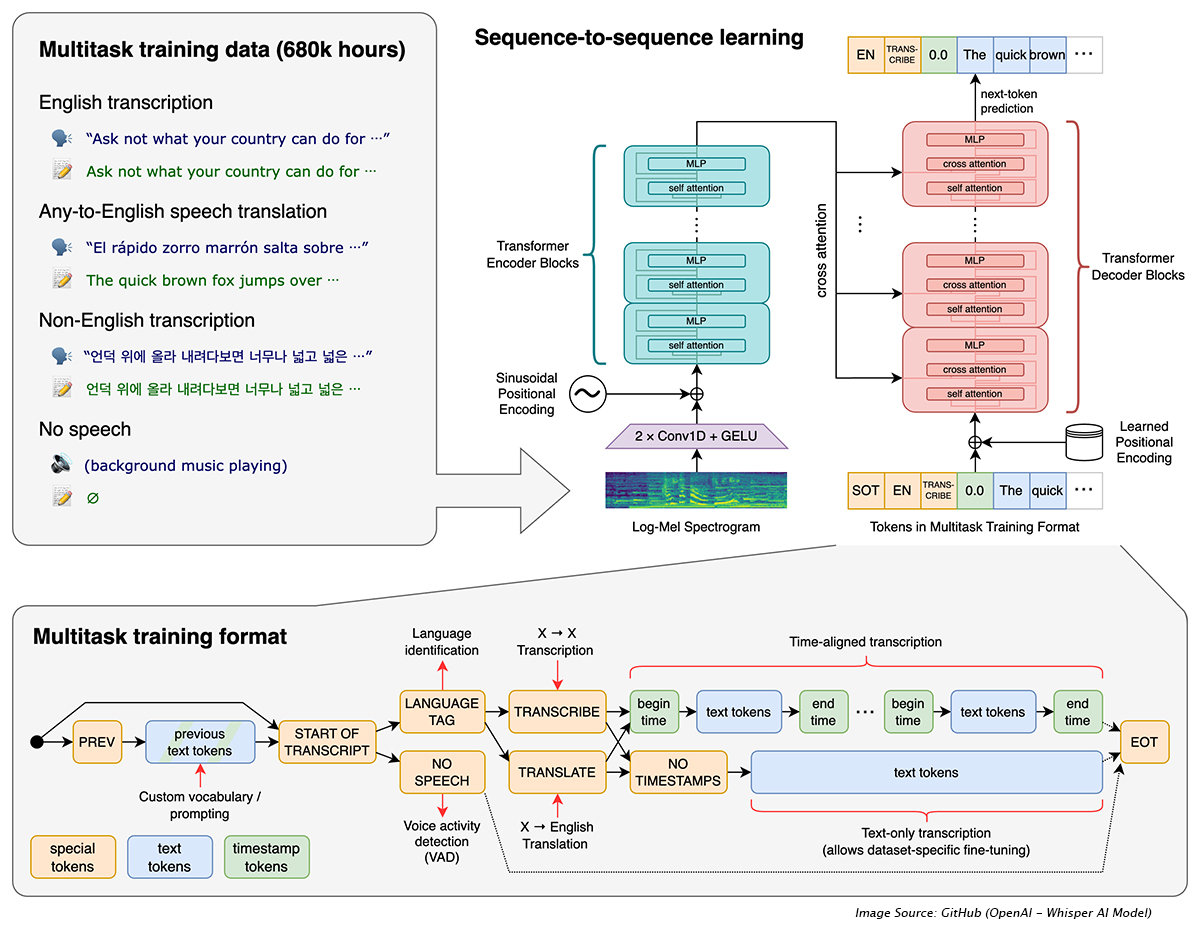 Image Source: GitHub (OpenAI – Whisper AI Model, open-source speech recognition system)
Making the ChatGPT new features more enticing could help OpenAI in its race against other AI companies, like Google AI, Anthropic, InflectionAI, and Midjourney, by providing a richer feed of data from users to help train its powerful AI engines. Feeding audio and visual data into the machine learning models behind ChatGPT may also help OpenAI's long-term vision of creating more human-like intelligence.
OpenAI's tools are also being used by other tech giants, like Spotify, which announced on September 25, 2023, a new feature for translations of podcasts. OpenAI said it will collaborate with Spotify" to pilot their Voice Translation feature." This feature will help podcasters expand their reach by "translating podcasts into additional languages in their voices." 
The company said the Spotify-developed tool uses the "latest innovations," including OpenAI's voice generation technology, to translate a speaker's voice, maintaining their style and tone. Keep reading this complete blog on how ChatGPT new features can help me effectively & details you need to know.
How can ChatGPT voice conversation feature help?
OpenAI said the ChatGPT new features can be used for various use cases, and a few of them are mentioned below:
You can now use your voice to engage in a back-and-forth conversation with ChatGPT. 

Snap a picture of a landmark while traveling and discuss it live.

Take pictures of math problems, and ChatGPT will help you with hints.

Speak with ChatGPT on the go and request a bedtime story.

Analyze a complex graph for work-related data.

Show ChatGPT any images, like troubleshooting queries & get a response.

Snap a photo of the inside of the refrigerator to get step-by-step meal recipe suggestions.

Ask any question you used to ask in ChatGPT as text & start engaging in conversation.
Also Read: What Is AutoGPT & How to Use It Effectively? The Ultimate Guide
How to Talk to ChatGPT? Steps You Need to Follow
Want to speak to ChatGPT? Easy! 
Open the ChatGPT app.

Head over to the 'Settings' 

Choose 'New Features.' 

Enable voice conversation option.

Tap the headphone icon (top-right corner) on the home screen

Pick the preferred voice from five different voices

Note: This feature is only available to premium users till now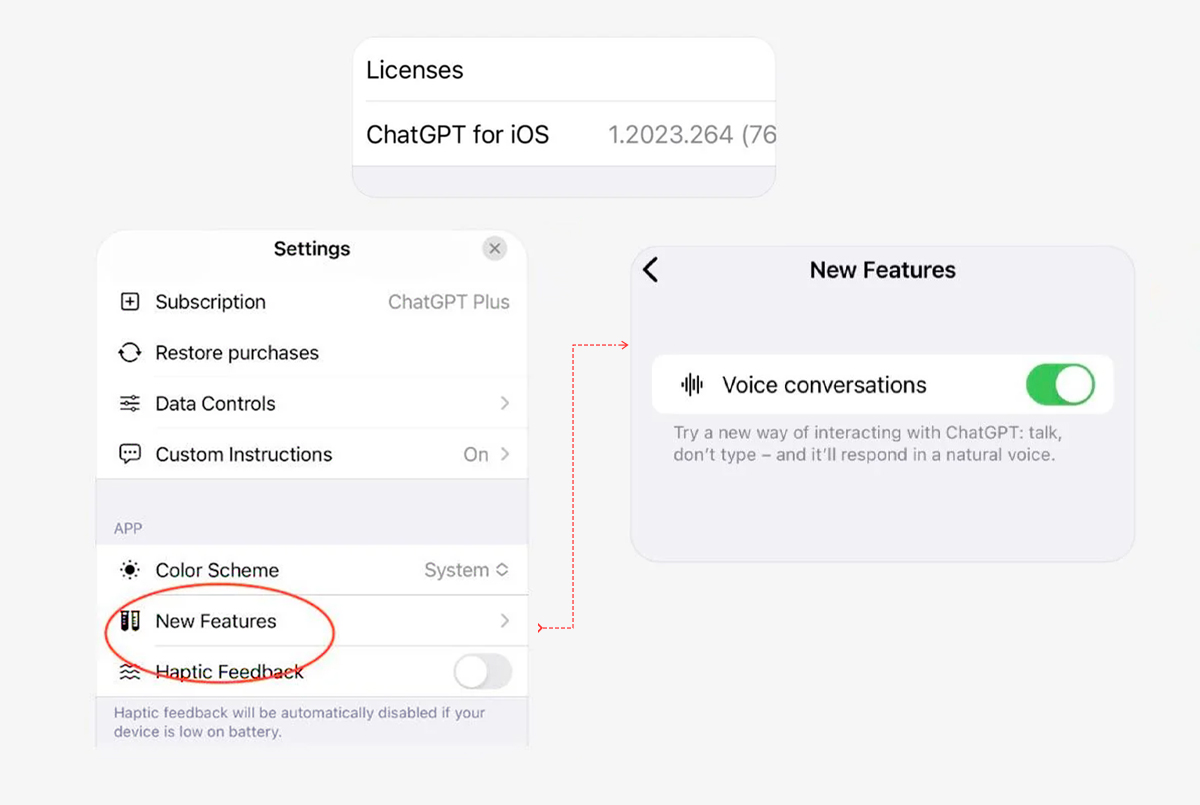 While accessing two-way ChatGPT voice conversation, you can select from five different voices, a mix of male and female with American accents: 
Juniper

Sky

Cove

Ember

& Breeze
Below, you can see how you can change from one voice to another and test the text or paragraphs, such as story, recipe, speech, poem, and explanation. This new voice feature from OpenAI carries similarities to those currently offered by Amazon's Alexa or Apple's Siri voice assistants.
Let's say I'm selecting a recipe from the other five text options and selecting the voice as Cove; you can listen to the whole recipe in a male's voice with some emotion and required stoppages as we humans do.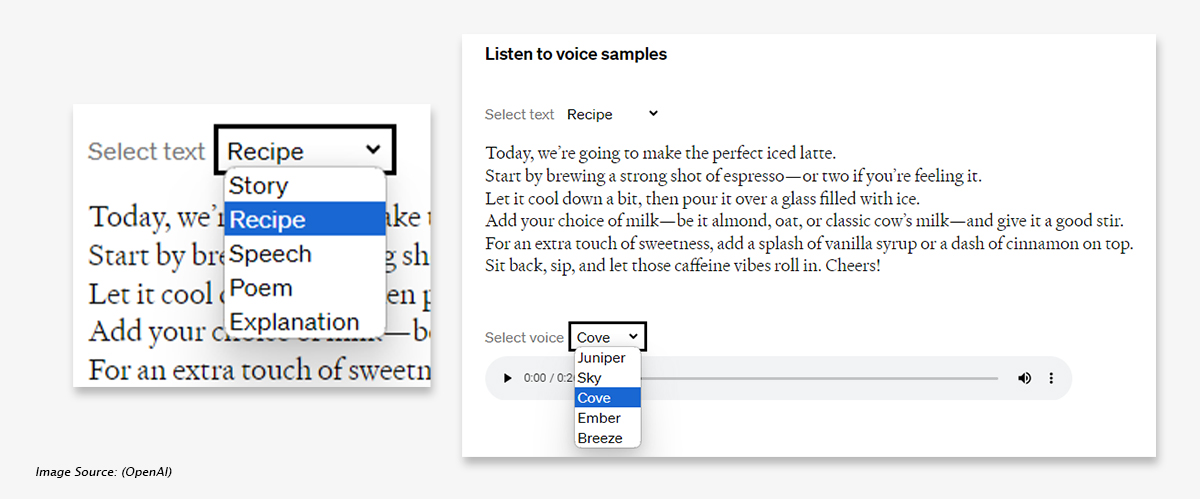 OpenAI suggests the voices could be used for everything from reading a story to your children to settling a conversation in the friends' group. CEO Sam Altman of OpenAI has spoken about the need to regulate AI due to its potential dangers to humanity. Still, despite some calls for a pause, his company appears to be pressing ahead with developments. Read this comprehensive blog about how to use ChatGPT voice conversation & learn each detail to use it effectively.
Also Read: Google Search Generative Experience- Personalized SERP & Effects On SEO
Who can access ChatGPT voice conversation features?
Over the next two weeks, voice capabilities will only be available for paying subscribers to ChatGPT's Plus and Enterprise services. (Subscriptions to the Plus service are $20 monthly, and its Enterprise service is currently only offered to business clients), followed by developers. 
Here, you can see the screenshot below; GPT 3.5 is a lower-end model & is accessible to everyone. On the other hand, GPT-4 is a new model with numerous other tech facilities, including multi-modality hearing and vision abilities. That's the reason why free users can't access this feature.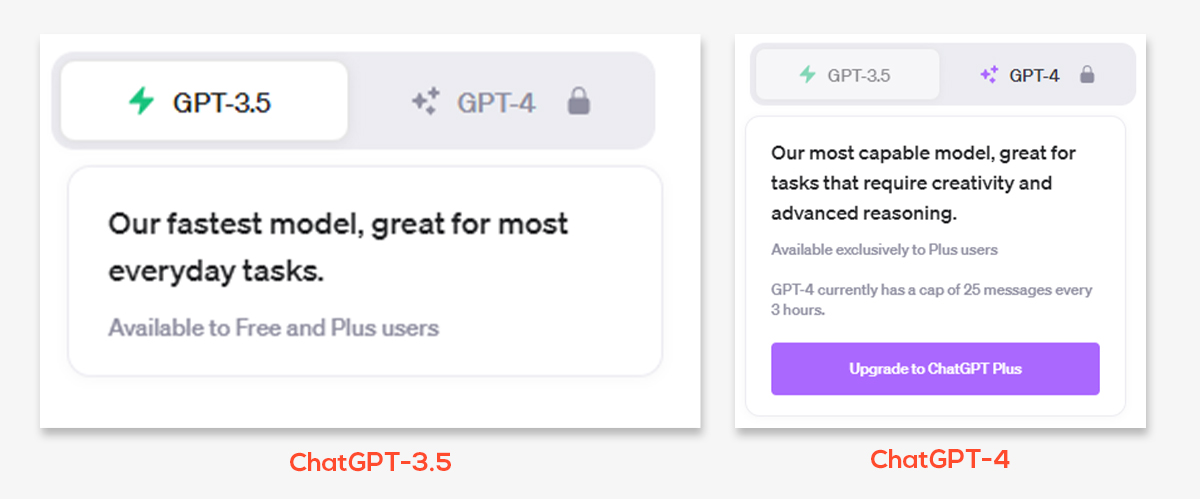 The voice communication feature will currently be available on iOS and Android to ChatGPT app users on an opt-in beta basis. However, Image search will be turned on by default on all platforms, said OpenAI. 
Wrapping Up: Leverage The Power Of ChatGPT New Feature
OpenAI has been constantly adding quality-of-life features to its AI-powered ChatGPT chatbot. These new features make ChatGPT more valuable and fun. They've been added carefully to make sure they're safe. However, these advances raise privacy concerns. Voice chats and image analysis can collect data and risk your privacy. Be cautious with sharing sensitive info and images as data security gains more importance in Al. Your feedback will help make them even better. So, if you are a premium user, go ahead, talk, and show pictures to ChatGPT, and explore this new way of chatting with AI.