Google has just released some excellent new features that let you know when prices are at their lowest and when you should book early to save the most money. Before you could just see if the price on a flight was normal, low, or high, but now you can get even more details. 
Read this blog to learn more about Google Flights, its features & how it can be a great opportunity for travel & hospitality companies. 
What is Google Flights?
Google Flights is a flight booking search engine and an excellent travel planning tool. It lets users find and compare flights from more than 300 airline and online travel agency partners. When you look for flight options on Google Flights, you get the most competitive prices for your destination and flight dates. 
With Google flights, you can – 
Explore and book one-way, round-trip, and multi-city tickets.

Find the best fares with an interactive calendar and price graph.

Your flight search can be filtered based on the cabin type, the airline, and the number of stops.
Google Flights is neither an online travel agency (OTA) like Expedia or Orbitz nor a travel website like TripAdvisor or Kayak. Google is just showing you what's available through its search engine for flights. Once you've found the flight you like, you "click through" to book it. You can book directly with an airline or through a third-party online travel agent (OTA), but not directly with Google itself. You can also select to view only low emissions options or organize flights by how many carry-on bags are allowed. 
Some flights aren't included in Google Flights. 
To display its offers, Google Flights works with more than 300 partners, such as airlines, online travel agents, and aggregators. Not all airlines and available flights are included because a partnership is required with Google. Most of them provide Google with all the prices and flight options they would display on their websites or third-party websites. 
This way, you get a comprehensive view of all the flights and prices related to your search without having to search prices on multiple websites. Some flights may not appear when:
The flight is sold out or unavailable

The carrier still needs to be added to Google Flights.
Craig Ewer from Google said the tool will let you know when you can expect the lowest airfares for booking your dates and destination. 
For example, if you book a flight from NY to Paris this December, you can expect to pay $288 cheaper, with a typical range of $600–1,200.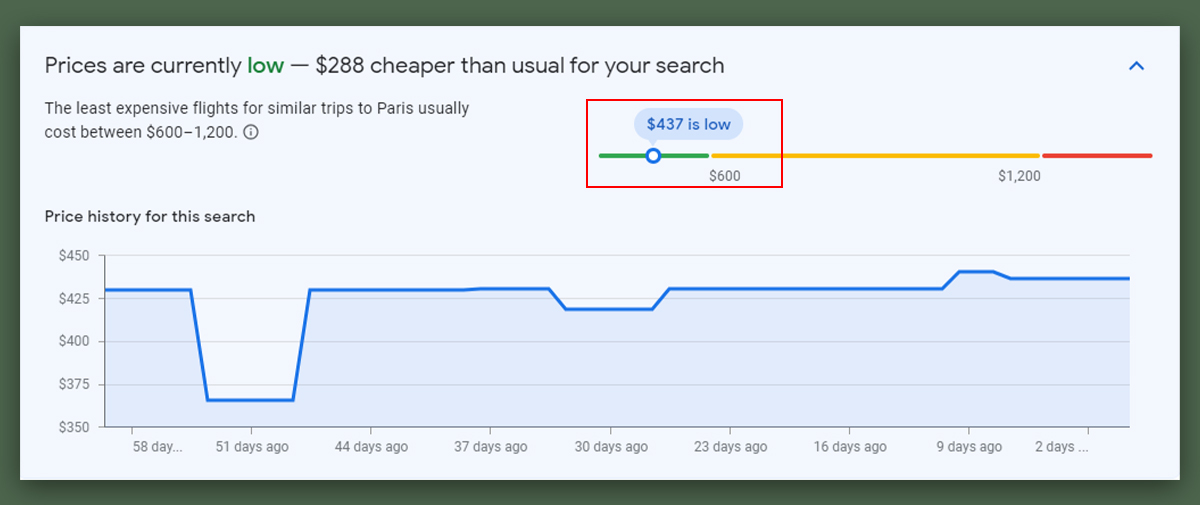 The basics of Google Flights 
You can access Google Flights by visiting the website (https://www.google.com/flights/) or by simply typing "Google Flights" into the Google search bar.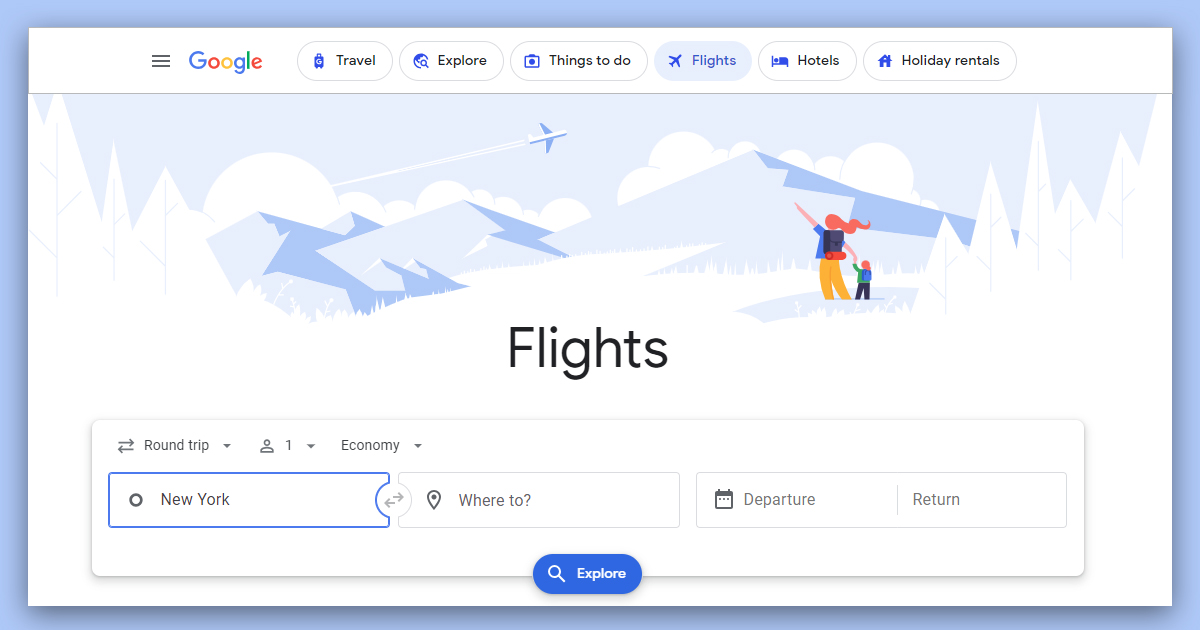 The toolbar also has a few other trip-related options, such as:
Things to do

Hotels

Vacation rentals

A shortcut to an exciting tool called "Explore."
But for now, we'll use the tool to book flights.
Enter Your Travel Details
Once you're on the homepage, type in the departure city, destination city, or airport, and select the date you plan to depart. If your trip is round-trip, select the return date. 

Leave this field blank for one-way trips and specify the number of adults, children, and infants traveling. Then click the "Search" button to find flights matching your criteria.
Suppose you're looking for an affordable trip anywhere in America, for example. In that case, you might put as your destination 'JFK, LAX, ORD, DFW, ATL, SFO, DEN' to see where the cheapest flight is from Chicago to either New York (JFK), Los Angeles (LAX), Chicago (ORD), Dallas (DFW), Atlanta (ATL), San Francisco (SFO), or Denver (DEN).
Remember that some cities with multiple airports have city codes. These include NYC (New York City) or WAS (Washington DC), which count for 3 each because NYC includes JFK, LGA, and EWR, while WAS includes DCA, IAD, and BWI.
Google Flights displays a list of available flights based on your search parameters. You can see information like airline, departure and arrival times, duration, and prices.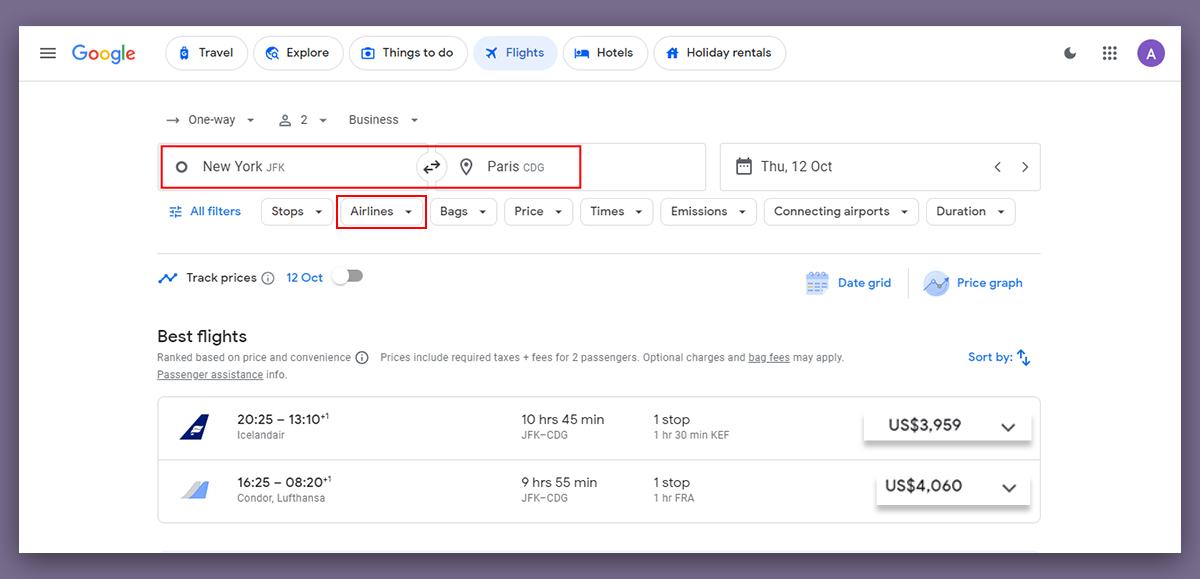 You can also use filters to narrow down your choices on the left-hand side. You can filter by airline, number of stops, flight duration, etc. You can also sort the results by criteria such as price, duration, and departure time.
Please note that Google ranks the best flights based on several factors, including price, ease of routing, number of stops, and travel time. These may only sometimes be the best options for you. 
There are thousands of choices to pick from.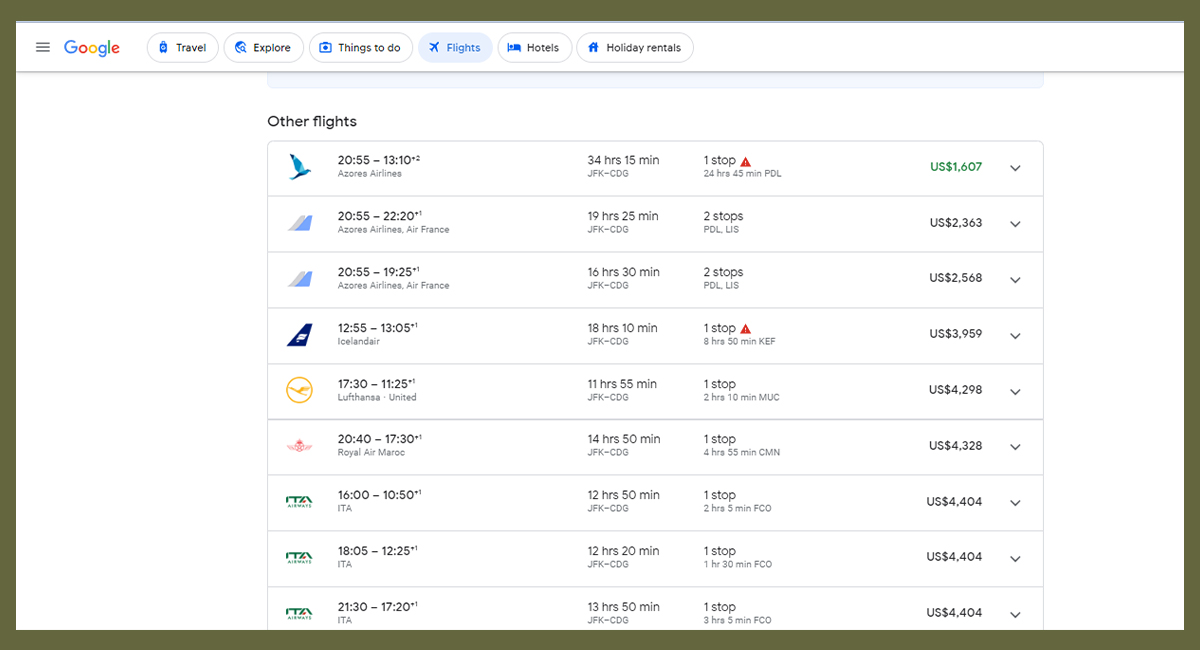 Click on the flight option for more details, including the full itinerary, baggage fees, and layovers. Once you've decided on a flight, click "Select" to proceed with booking.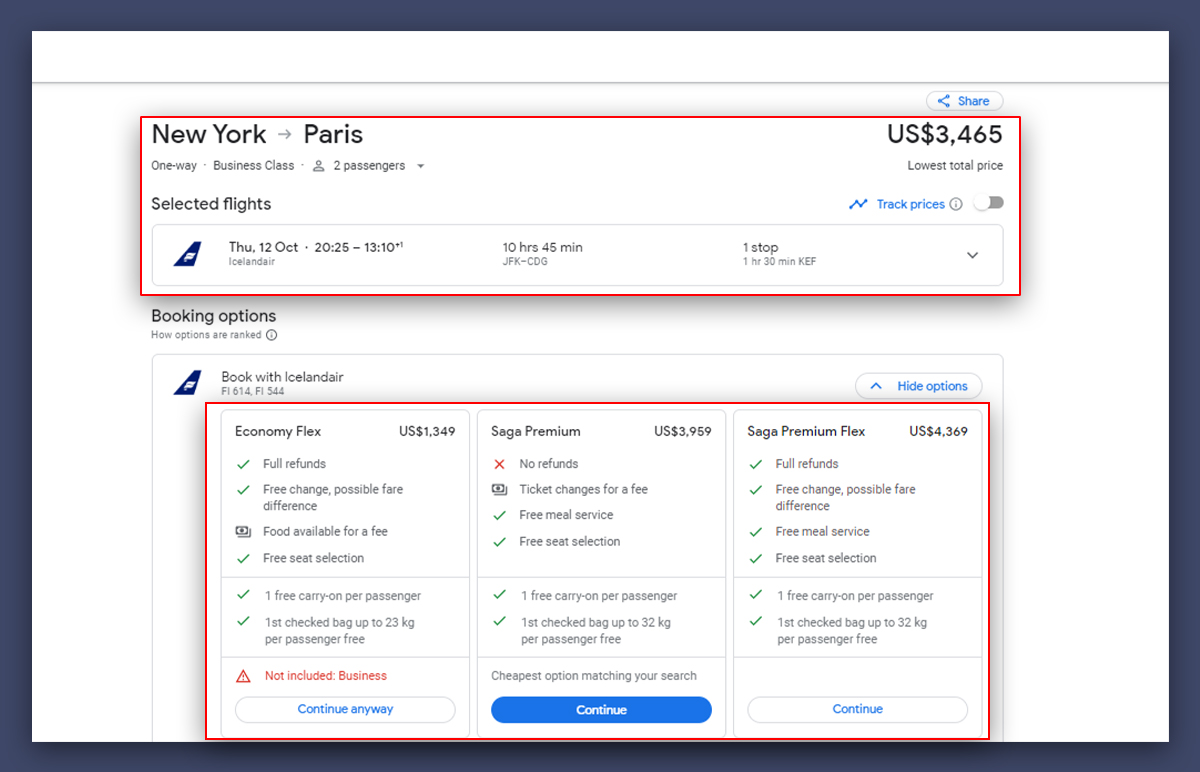 Google Flight's Explore Feature 
The most exciting & rewarding feature for any travel & hotel stay is the ' Explore feature.' It displays a map with many popular travel destinations worldwide and how much a trip would cost you.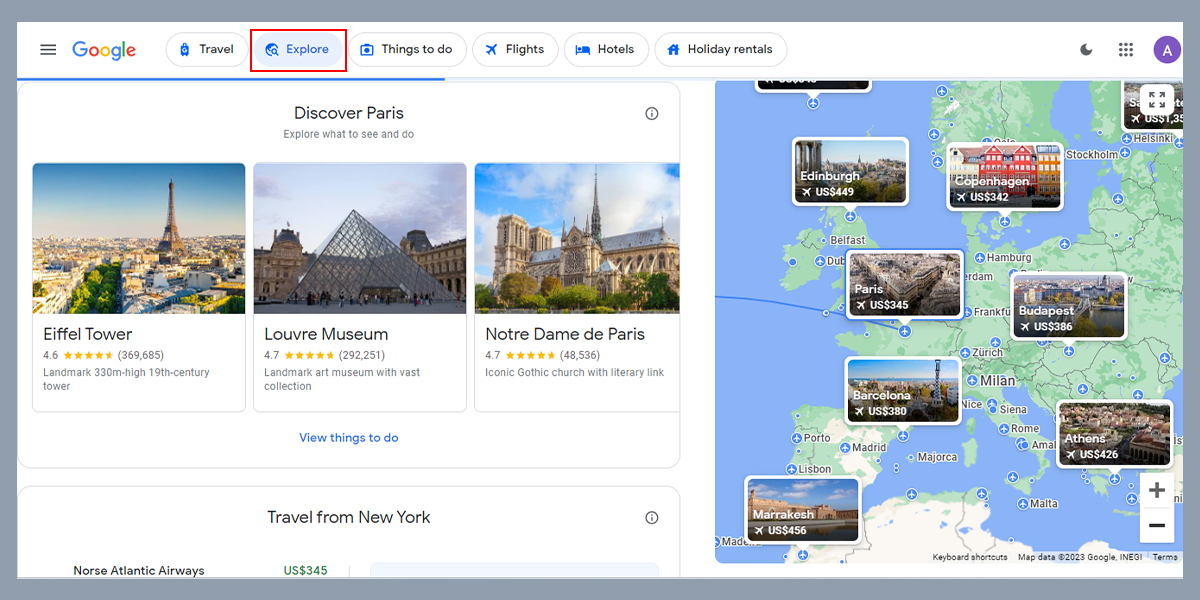 It's a fun way for travelers to find and explore places within their budget with things-to-do options. The more you zoom into the map, the more specific the flight destinations get. It also has filters for customized explorations. 
It also shows the best deals for hotel stays and flights.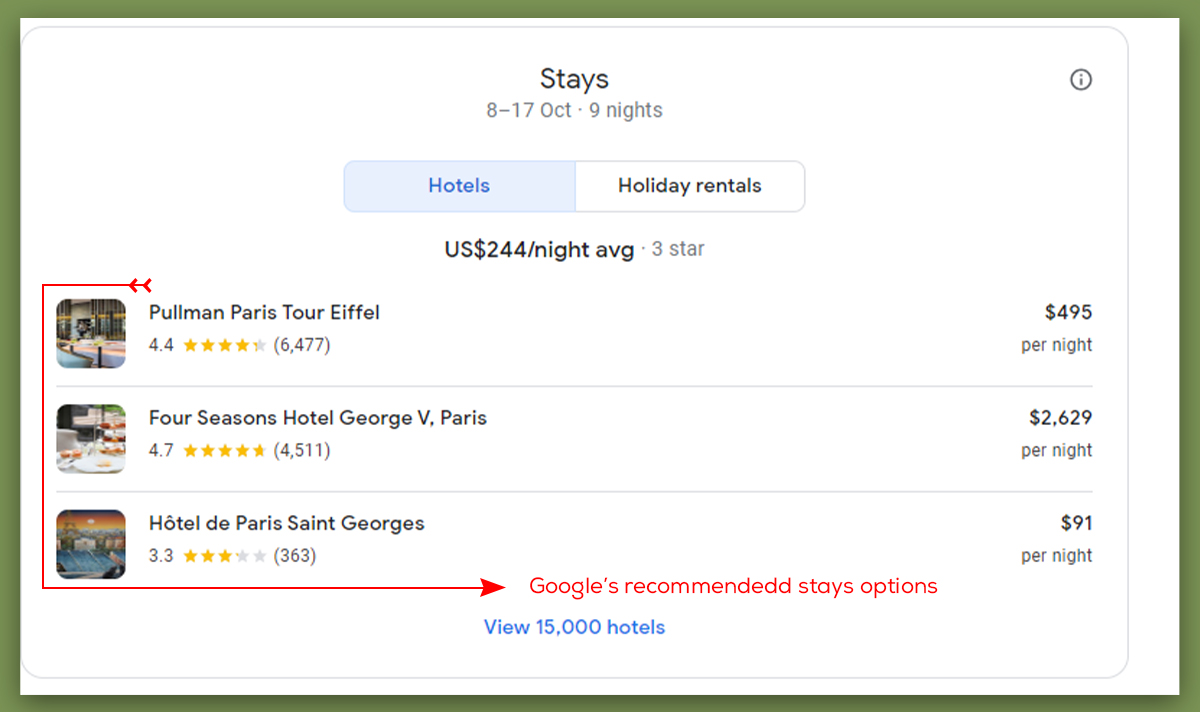 Opportunity For Travel Agents (OTA)
Google Flights makes excellent bookings directly. When you select a flight, it will typically redirect you to the airline's website or a third-party booking site to complete your reservation.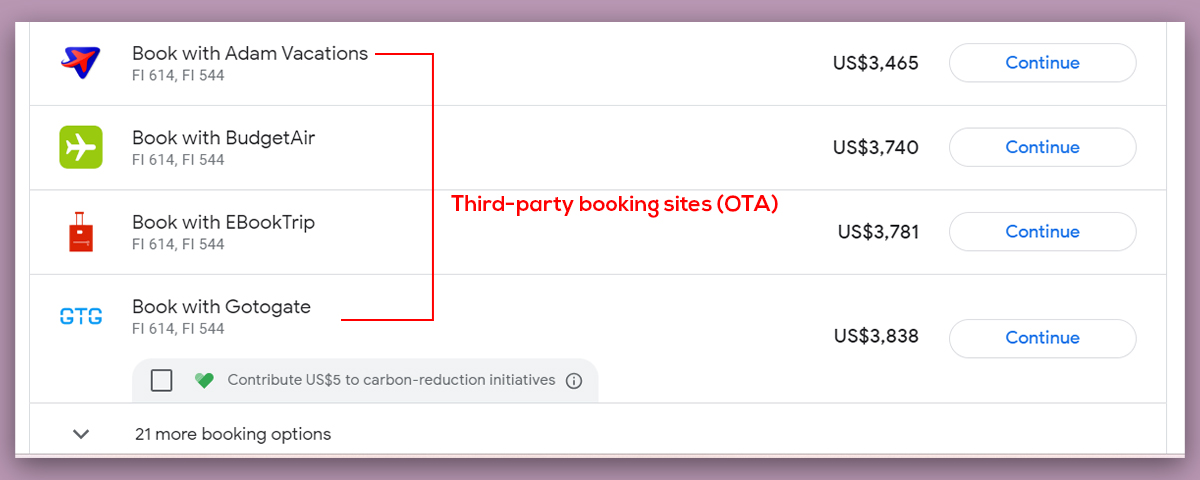 This means it's an opportunity for online travel agents to get more bookings. Google Flights is a great way for OTA's & hotels to capture leads. 
Google Flights isn't a sponsored listing anymore. These changes mean that all search results will be ranked based on their relevance to the end user.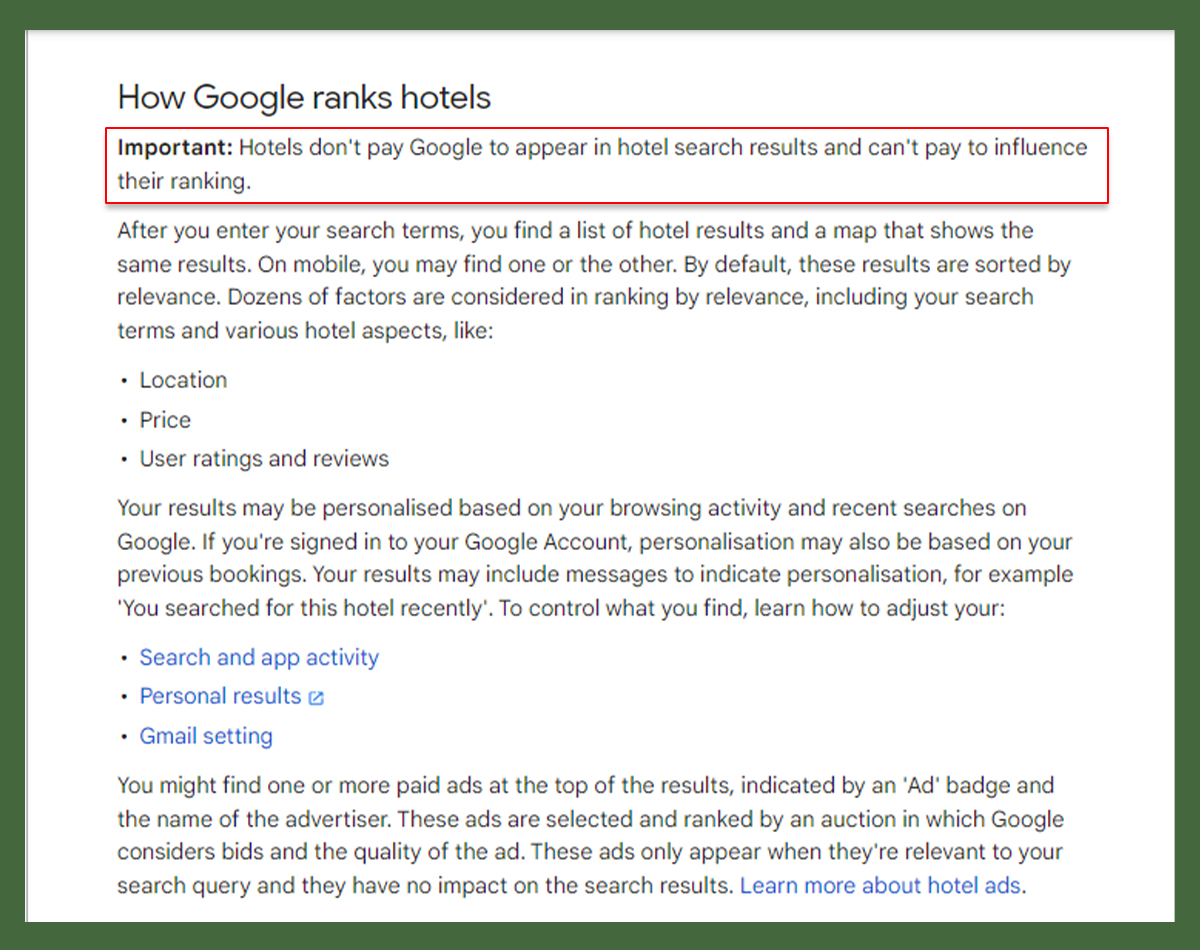 If you want to get ahead of Google Flights or the Hotel module, you can use the best travel SEO techniques to get your website to the top of the search engine results page (SERP).
If you want to attract more clients, use SEO best practices to ensure your content is up-to-date, your page is optimized for usability, and you're strategic about your targeting. 
As the size of the flight pack continues to grow, organic listings that appear below the pack tend to rank higher in search engine results pages (SERPs).
Here are some more ways Google Flights could help travel companies. 
Increased Visibility with Competitive Pricing
If you're an OTA, Google Flights is a great way to get your flight offers. When people search for flights, they see what airlines and OTAs have to offer, which can help you attract more customers.
Must Read: 15 Ways to Optimize Your Google Business Profile (GMB) to Rank Locally
A traveler is looking for a summer vacation flight from New York City to Paris. He is searching on Google Flights for flights from New York City (JFK). You see many airline options and an OTA called "TravelBargains".com.
The OTA's fare is $100 less than the airline's fare on the same route. So, you click on the TravelBargains offer, and that click-through means more traffic to the OTA and more bookings.
Google Flights allows you to plan a multi-city itinerary as well as a complex itinerary. As an OTA, you can help plan a more extensive trip by offering custom travel packages, including flights to several destinations.
For example, let's say someone is looking to travel to Europe. As an OTA, you've created a package for your travelers, including flights between Europe's major cities, accommodations, and even guided tours.
NOTE: Google Flights analyzes offers from more than 300 travel partners, such as airlines, online travel agents, and travel aggregators. The results may include only some available suggestions.
Travel partners do not pay Google to appear on the list of flights. Google's relationships with these partners do not affect the list order.
Also Read: Google Maps Marketing – How To Use Google Maps For More Sales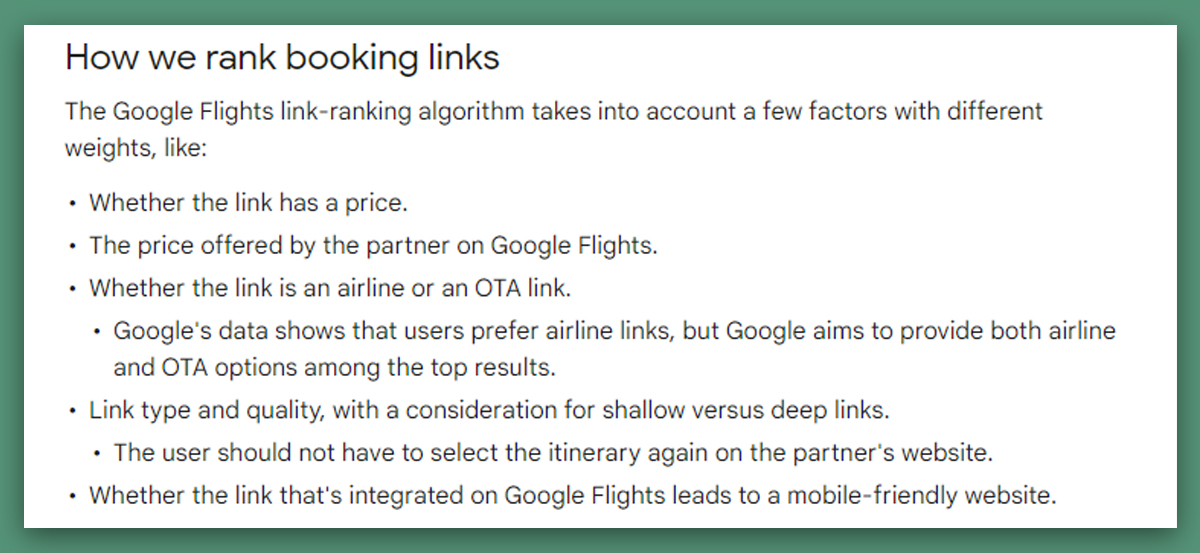 Wrapping up, 
Google Flights isn't just an excellent tool for travelers – it's also a great way for travel businesses! 
It's easy to use, has a great interface, and has many search options to help you plan your trip. Plus, it makes comparing prices and routes across different airlines and booking sites accessible, so you don't have to worry about wasting time or money. 
It's a great way to expand your business and reach more potential customers. So, if you're looking to plan your next trip or run a travel business, you should check out Google Flights. 
It's a powerful tool to help you take your travel & hospitality business to the next level.