Backlinks vs referring domains: Do you know the difference? If not, then guide is for you…
With over 1.9 billion sites online today, the question is, how can you get on the first Google page?
In digital marketing, competition is unbendable, and understanding the difference between backlinks and referring domains is important to ensure you rank your page on Google. 
Getting SERP ranked is not hard, but being on the first page is challenging, and as the adage goes, "If something is not on the first page of Google, it doesn't exist!"
For those of you who are not familiar with these terms, backlinks are links that point to a specific page on a website from another website, while referring domains are the number of unique websites that link to a particular website.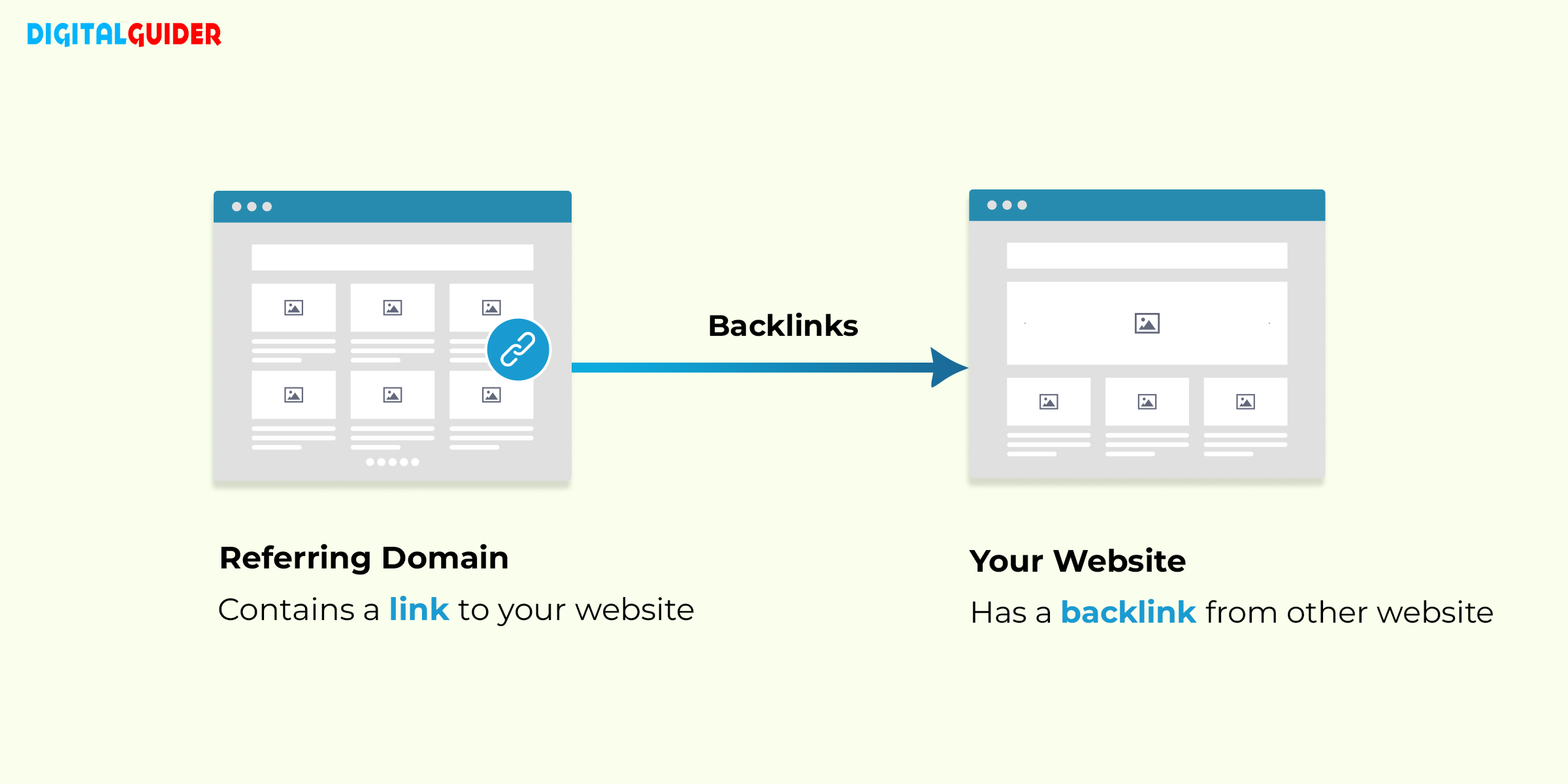 When it comes to SEO, backlinks and referring domains are two of the most significant factors to consider. To make this crucial task easier, partner with a renowned SEO agency who can rank your site higher on SERPs. 
But what's the difference between them? And which one should you focus on for better search rankings? In this blog, we'll dive into the world of backlinks and referring domains, explaining what they are, how they work, and which one is more important.
What are Backlinks?
Backlinks are links from other websites that lead to your website. These are only links to your website made on another website (referred domain). They are also referred to as incoming or inbound linkages. Backlinks are a solid vote of confidence from other websites. It means that they would rate your content to be at a high level. 
Backlinks are essential to SEO since they encourage search engines to see that the site is valuable and relevant. Search engines will rank your website higher the more backlinks it has. This is so that Google will recognize that the website is well-known and reliable if reliable websites are linked. 
Example of backlinks in SEO
Let's say you have a business blog about healthy eating and write an article about the benefits of green tea. A backlink is simply a link from another website that points to your blog. In this case, a well-known nutritionist reads your article and decides to share it on their own blog, including a link to your article. This backlink tells search engines that your article is valuable and relevant, and it can help improve your search rankings for the keyword "green tea benefits."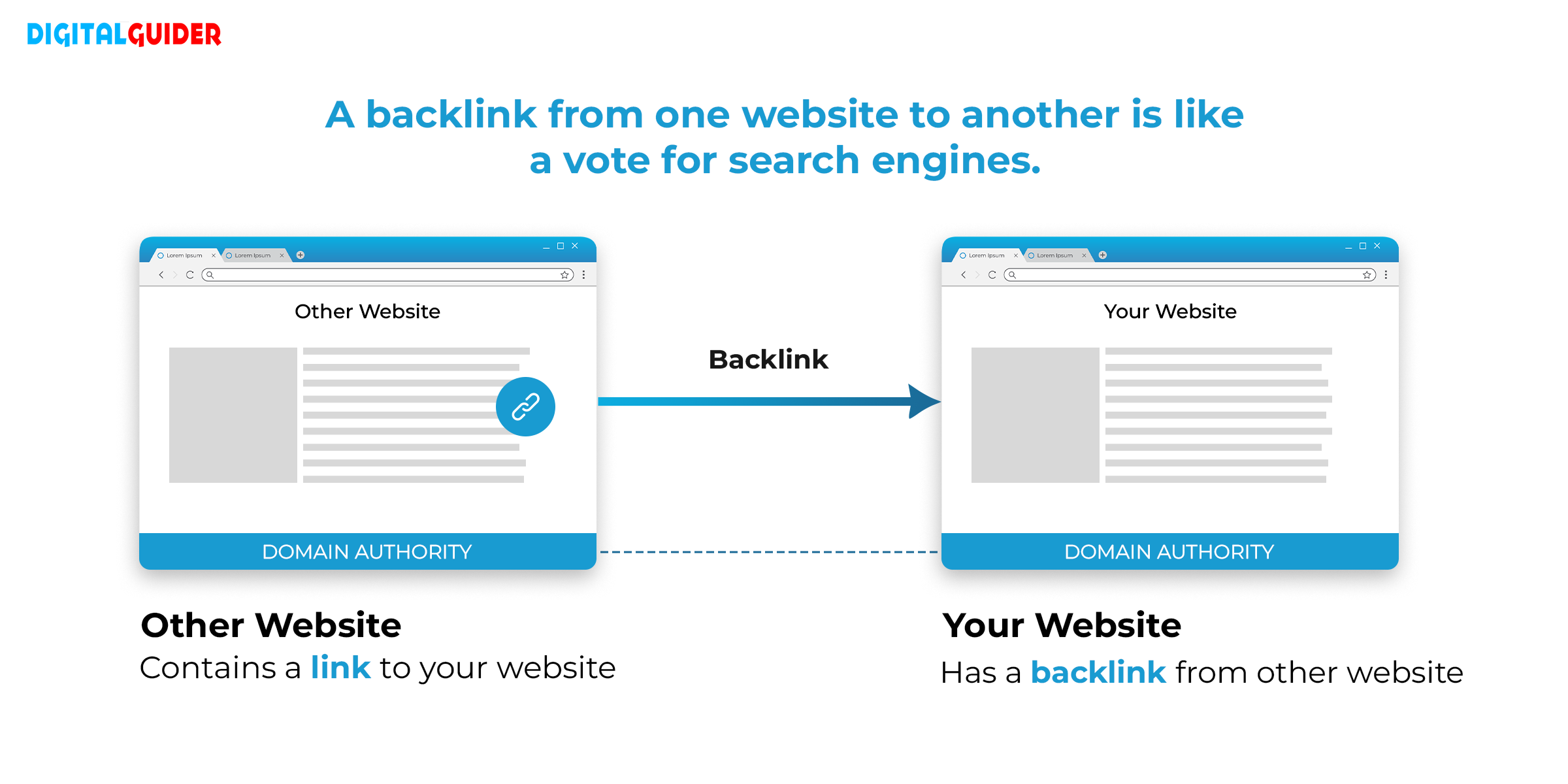 A backlink is helpful if it:
Comes from an authoritative source

Leads people to your website

Points to a crucial service or page
In simple terms, a backlink would mean that a different website from yours has deemed your content of such high-quality. It means they would like their readers to refer back to your content. And read the desired article or whatever you have posted.
What are Referring Domains?
Now let's consider referring domains. Referring domains are the number of unique domains linking to your website. Referring domains and backlinks are often confused. You can understand backlinks as physical links from another page to your site. Referring domain mentions that the domain linking to your site refers to your domain as another great place for content. 
Example of referring domains in SEO: 
In this case, let's say you have another article on your blog about healthy smoothie recipes, and it's been shared by multiple nutrition bloggers. Each of these bloggers has its own website, considered a referring domain. The more linked domains you have, the more credible and trustworthy your website appears to search engines. The higher your search rankings are likely for various keywords related to healthy eating.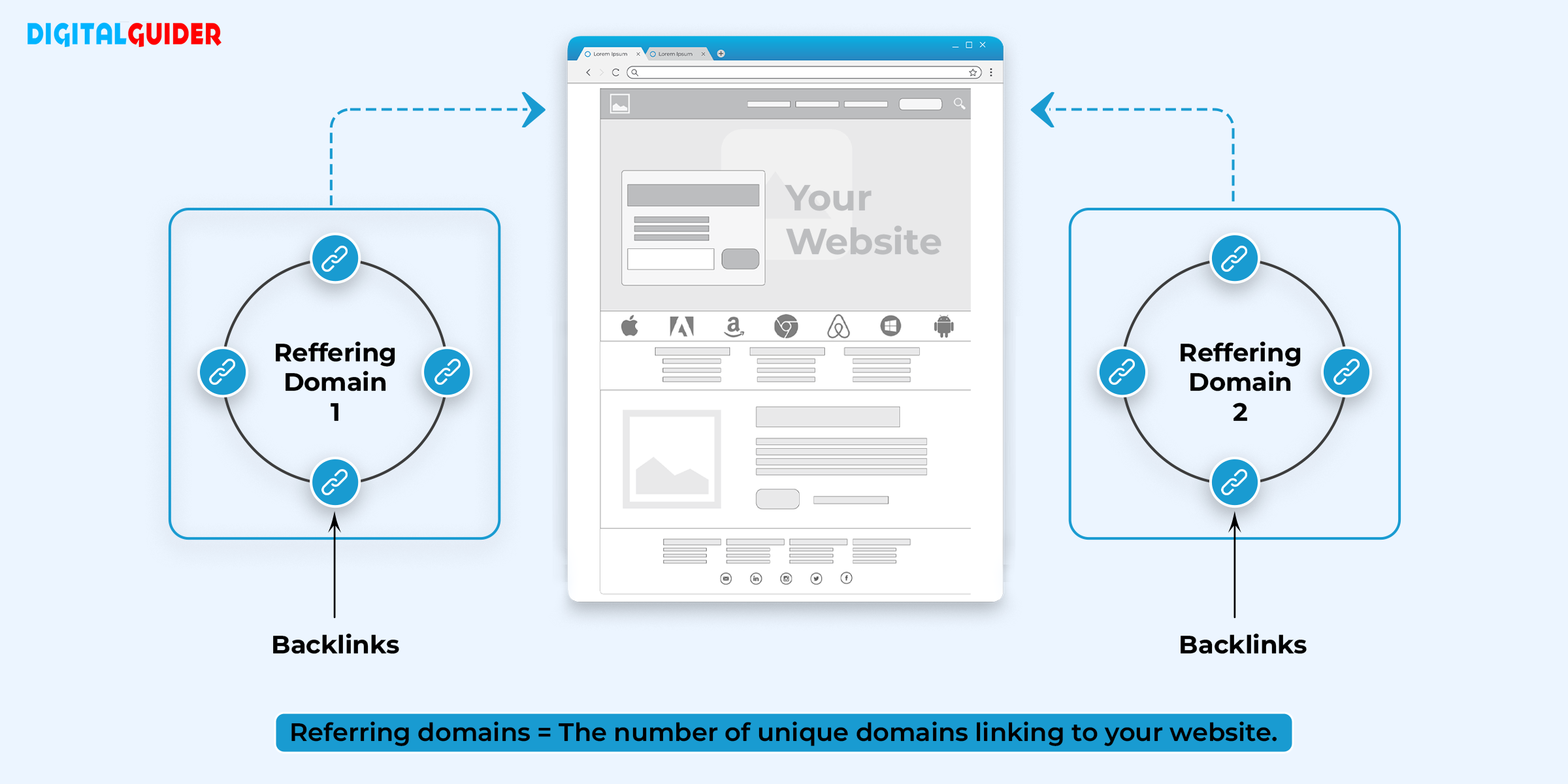 Understanding the Major Difference Between Backlinks and Referring Domains
Backlinks and referring domains are two critical metrics for SEO. Understanding these two concepts' differences is essential for any successful SEO strategy as they help search engines determine the relevance and quality of a website.
Backlinks can be created in many ways, such as by writing guest posts or getting featured on other websites. On the other hand, referring domains measure a website's domain authority, which is determined by how many high-quality backlinks it has. Domain authority is an essential metric for search engine rankings, indicating a website launch success, trustworthiness, and popularity.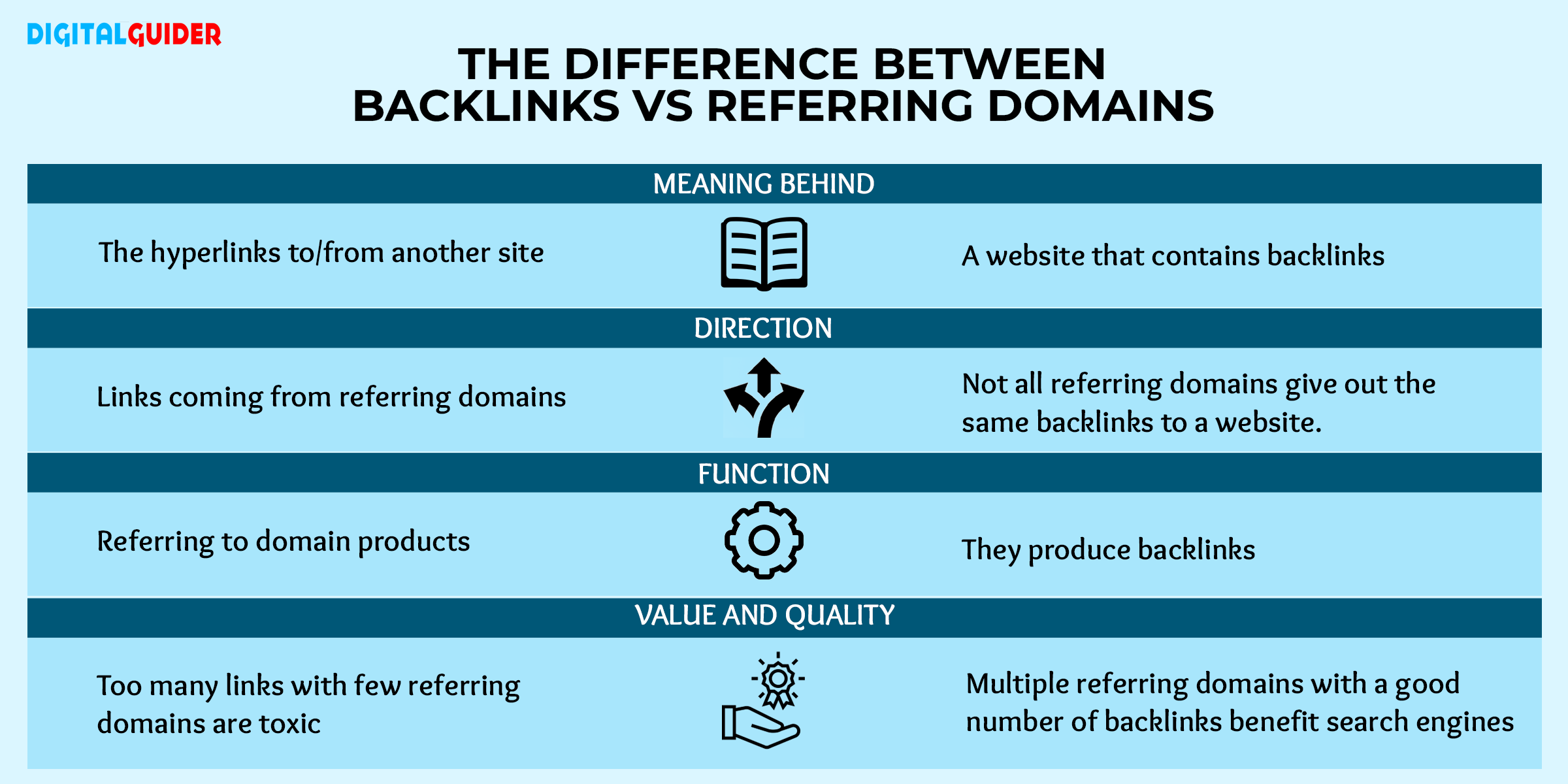 Backlinks can give you an advantage in search engine rankings while referring domains can help you build relationships with other websites and increase your visibility online. 
Understanding how backlinks and referring/linked domains work together will help you create a more effective SEO strategy and improve your ranking on search engines like Google. 
Referring Domains vs Backlinks: How Do They Impact SEO Ranking?
The eternal question in SEO: Which has more value, backlinks or referring domains? 
Like most things in SEO, the answer is "it depends." Let's break it down! 
A backlink is a link from one site to another. So, if site A links to site B, that's a backlink. A referring domain is the number of unique domains linking to your site. 
So, if sites A and B link to site C, that's two referring domains. 
Now, which is more valuable? That depends on the quality of the links. 
A high-quality backlink from a well-respected site will carry more weight than a low-quality backlink from a less well-known site. However, many low-quality backlinks can also hurt your SEO efforts. As always, it's essential to focus on quality over quantity.
Note: Increasing your backlinks isn't enough — having multiple backlinks from various referring domains is best.
With authoritative referring domains and numerous backlinks, you can enjoy the following SEO improvements: 
A)  Increased traffic: 
People can find your site in more locations than search results. Backlinks allow other audiences to discover your website, increasing traffic, social media engagements, and possible conversions. 
B)  Improved credibility: 
When multiple authoritative sites link to your pages, users (and Google) will notice that your site is a source of information. Google will likely point to your site when pulling search query answers.
C)  Higher rankings: 
Overall, backlinks from quality domains can help your site rank higher in search engine results pages (SERPs). As Google notices your connections with other sites, it will rank you above sites with fewer or low-quality backlinks.
Best Practices For Building Referring Domains And Quality Backlinks
1-  Make producing pertinent material a priority:
Making relevant content a priority is one of the finest strategies to obtain free, high-quality backlinks. When you post content your target audience finds interesting, other websites will probably link to it. Additionally, you can contact websites you believe would've been interested in referring to your material and request a backlink from them. When the links are to useful and pertinent content, numerous website owners are delighted to share them. 
2-  Publish informative infographics:
It's time to put the new knowledge to use now that you understand how to get referring domains & free backlinks for your website. Infographics are yet another excellent technique to communicate things visually attractively and acquire high-quality backlinks.
3-  High-Quality Sites Guest Posts:
Guest posting on top websites is a terrific approach to obtaining high-quality backlinks for nothing. You may improve your SEO and increase traffic to your website by including a link to it in your author bio when you guest post. To maximize the benefits of guest posting efforts, you must find high-quality websites pertinent to your niche. These websites will likely publish your writing and link back to you.
4-  Repurposing your content:
Repurposing your content is one of the best strategies to improve your content's reach, increase engagement, and gain free backlinks to your website. Simply put, this refers to utilizing previously developed content differently. For instance, you might convert a blog post into a podcast, infographic, or video. This not only increases the visibility of your material but also improves the SEO of your website. The more backlinks your website has, the better it will appear in search engine rankings. 
Conclusion: Leverage the Power of Both Backlinks & Referring Domains for Improved SEO Results
For SEO, referring domains and backlinks are both crucial. When planning a strategy to raise your search rankings, keep both elements in mind. Referring domains focus on your website's overall authority and credibility, while backlinks concentrate more on specific links. 
You can create a thorough SEO strategy that raises the ranking of your website in the SERPs by comprehending the distinctions between these two factors. Partner with a renowned SEO agency USA to boost your site's authority, visibility, and sales. Get a free consultation now.
Frequently Asked Questions: Everything You Need To Know
Ques-  What are backlinks and referring domains?
Ans-  Backlinks are links pointing to your website from other websites. The total number of sites linking to your website is known as the "referring domains" metric. The better, the more referring domains you have. A website's backlink profile, both in terms of quantity and quality, is one of the main ranking variables used by Google.
Ques-  Why are backlinks and referring domains important for SEO?
Ans-  Backlinks and referring domains are important as they help search engines understand the authority & relevance of your website. Websites with high-quality backlinks from authoritative and relevant domains rank higher in SERPs.
Ques-  What is the difference between a backlink and a referring domain?
Ans-  A backlink is a single link that points to your website, while a referring domain is a unique domain or website that links to your site. One referring domain may have multiple backlinks pointing to your site. The better, the more referring/linking domains you have. 
Ques-  Can I have multiple backlinks from the same referring domain?
Ans-  Yes, having multiple backlinks from the same referring domain is possible. However, linking your website with a diverse range of referring domains is generally considered more beneficial for SEO.
Ques-  How do I check my website's backlinks and referring domains?
Ans-  You can use various SEO tools like Ahrefs, Moz, or Semrush Backlinks Gap Tool, SE Ranking, Sitechecker, OpenLinkProfiler, RankSignals, BuzzSumo, RankActive, Coupler.io & more to check your website's backlinks and referring domains. Don't have these pro tools and SEO expertise? We are here to help you. Contact our expert SEO marketing agency now, or visit our site to know more.
Ques-  What is the difference between a dofollow and nofollow backlink?
Ans-  A dofollow backlink passes link equity, authority, or PageRank signals (some refer to this as link juice) from the referring website to the linked website. In contrast, a nofollow backlink does not pass link equity. The "rel" attribute in the code specifies that the link is a nofollow link, which means it doesn't pass along any link juice. 
Ques-  Are dofollow or nofollow backlinks better for SEO?
Ans-  Dofollow links are generally better than nofollow links in SEO terms. They are considered more valuable for SEO because they pass link equity. However, a nofollow link from a high-authority site in your niche benefits your SEO strategy more than a dofollow link from a low-authority site. Moreover, a mix of dofollow and nofollow backlinks are natural and can benefit link profile diversity.
Ques-  Can backlinks from low-quality websites hurt my SEO?
Ans-  Yes, backlinks from low-quality or spammy websites can potentially harm your SEO and lead to penalties from search engines. The best thing you can do to avoid toxic backlinks is to add regular auditing to your ongoing SEO to-do list. It's essential to focus on building high-quality and relevant backlinks. For best results, run a quick audit twice a month or partner with an expert SEO agency US. Call now @ +1-307-209-3608
Ques-  How can I get high-quality backlinks and referring domains?
Ans-  You can get high-quality backlinks and referring domains by creating high-quality informative content, doing guest posts on quality sites, promoting your content, reaching out to websites for link opportunities, and building relationships with other website owners and influencers in your industry. Moreover, a reputable SEO agency can provide quality link-building services to improve your website's visibility and authority in search engine results. Get a free consultation call now @ +1-307-209-3608