In the early days of SEO, exact match domains (EMDs) were a hot topic. Many marketers believed having a domain that perfectly matched their target keyword was the key to ranking high on search engine results pages. 
However, as Google's algorithms have evolved, the effectiveness of EMDs has come into question. The SEO community has many discussions about the importance and benefits of using an EMD. 
While an EMD domain has been an effective way to deliver great rankings and traffic in the past, do exact match domains still work? Let's find out. In this blog, we'll learn what are exact match domains, when and how to use an EMD, it is essential, how Google treats them, and how it can influence your SEO campaign and strategy.
What are Exact Match Domains?
A domain name that includes words from the search terms requested by web search engines is referred to as an exact match domain. An exact match domain can also have multiple keywords with high search volume in the domain name. Exact match domains involve branding elements in queries for ranking purposes.
The domain name alone tells you exactly what the website is about, which can be a powerful signal for both search engines and users. Using an EMD domain matching their target keyword, the website gained visibility on search engine results pages (SERPs). It attracted many visitors looking for information and reviews.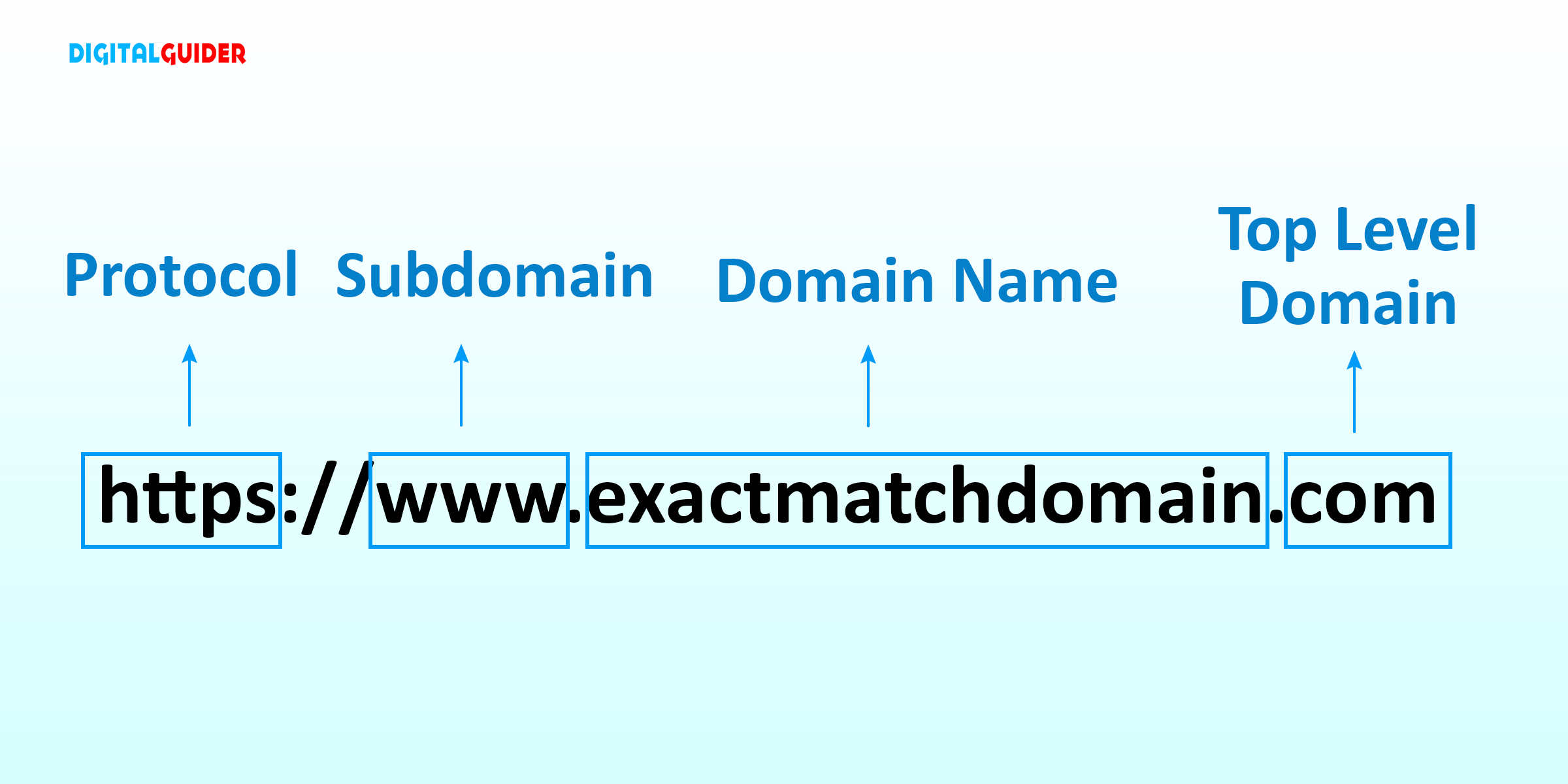 However, it's important to note that the website's success is not solely due to its domain name. The site also provides high-quality content that helps users make informed purchasing decisions, ultimately keeping visitors returning and driving sales. Additionally, an EMD can be helpful for successful local businesses that want to rank for location-specific keywords. See the exact match domain example below…
 Exact Match Domain Example:
Let us give you a real example of Google exact match domains; suppose there is a meditation and yoga studio in Denver; here, a website owner using an exact match domain like "DenverMeditation.org." to attract more organic traffic & increase SERP rankings. This domain name includes your target keywords and clearly communicates the location and nature of your business to potential customers.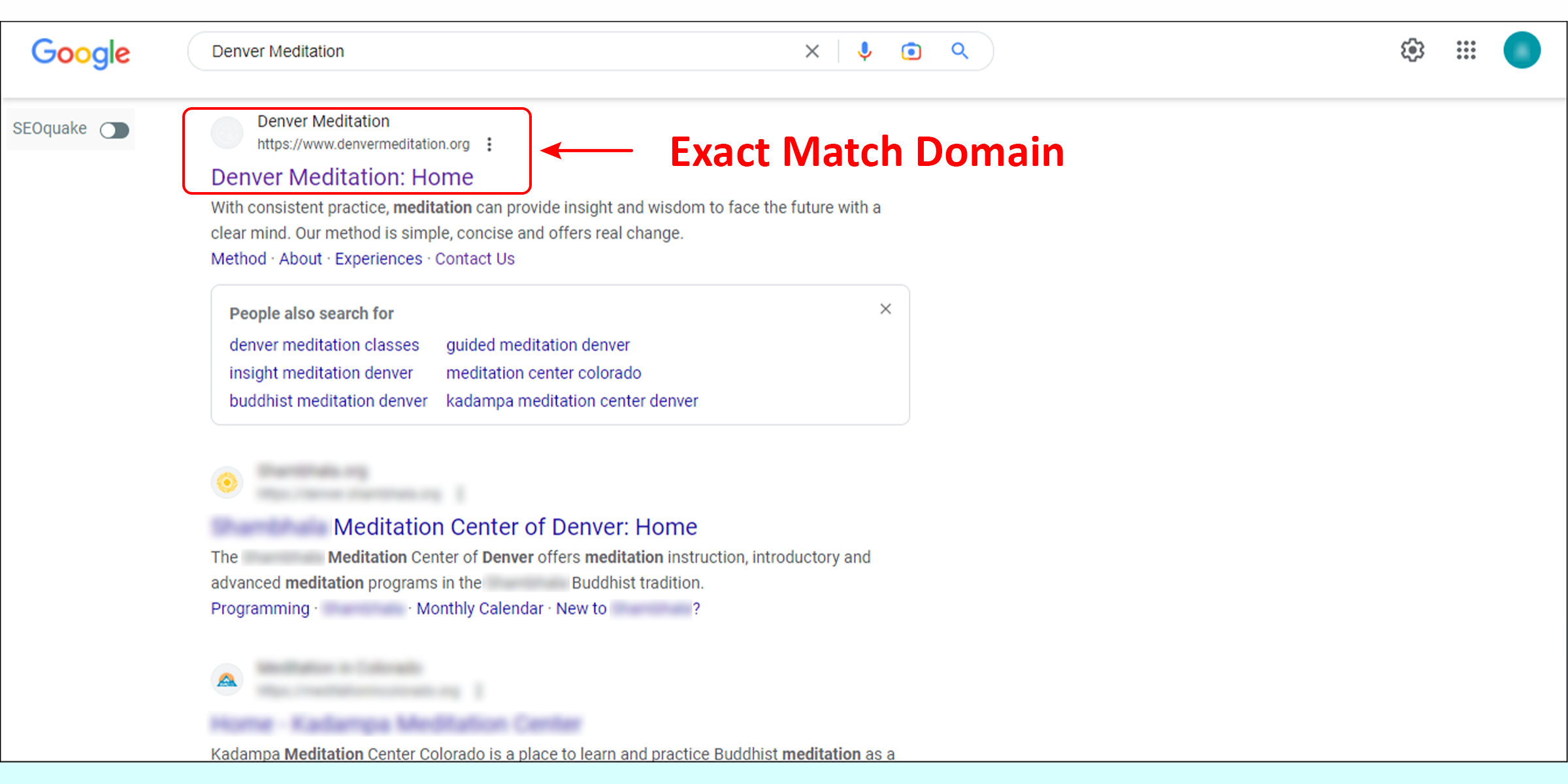 By using an exact match domain that matches your target keyword, they can increase the relevance of a website to users searching for meditation and yoga services in Denver. 
Some other exact match domain examples of using an EMD name include a web design company choosing a domain name:
bestwebdesign.com

webdesigning.com

webdesignsnearme.com
Another exact match domain example, where a plumber business targeting competitive keywords in a local area might look like this:
plumberinsydney.com.au

denverplumbingservices.com.au

localplumbernearme.com.au
EMD domain can help attract more organic traffic and improve the site's search engine rankings but only when you focus on providing value to your customers.
What is a Partial Match Domain?
A partial match domain ("PMD") is similar to an exact match domain; however, it contains only part of the keyword phrase features that a brand wants to target or feature. For example, suppose you cannot get the domain name "onlineseotools.com" as an exact match.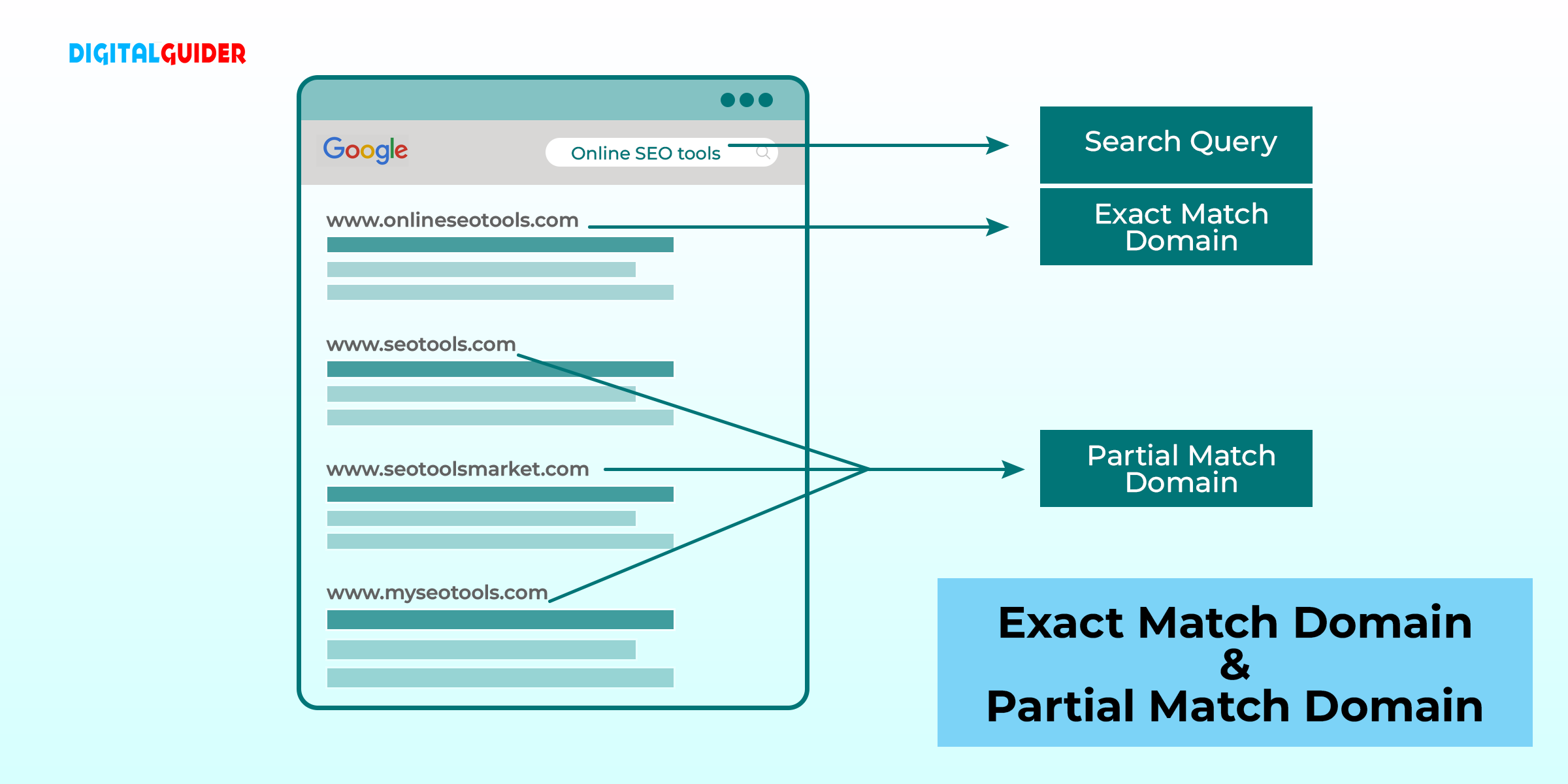 In that case, you might consider a domain name such as "seotools.com," "seotoolsmarket.com," or "myseotools.com," etc. Partial match domains like these can also have significant ranking power when a proper SEO strategy is implemented. 
Some other partial match domain examples might be –
VisualWebDesign.com

Timswebdesigning.com

kingofwebdesign.com
We typically advise avoiding a hyphenated compromise like "seo-tools.com" – it looks spammy and difficult to market in other print media, radio, TV, etc. 
Do Exact Match Domains Still Work? What Google Says…
Google has become more sophisticated in its understanding of user language and intent. In 2012, Matt Cutts announced an algorithm change to reduce the amount of low-quality Google exact match domains in search results.
This algorithm update aimed not to exclusively target exact match domain names but to penalize sites with the following spammy tactics: exact match domains + poor quality sites + thin content + poor SEO. 
These websites' main flaw was that SEOs would purchase domains with exact match keyword phrases and build out a site, but the content would be incredibly thin and of little to no value. But Google's algorithms have evolved to prioritize high-quality, relevant content over Google exact match domains.
Before the update happened, Google's Matt Cutts warned the industry that this would be a focus of a future update. A tweet from Google's head of web spam spells trouble for webmasters who have relied on keywords in their domain name to rank. 
Cutts announced the EMD update on Twitter on September 28, 2012, & also tweeted, "New exact-match domain (EMD) algo affects 0.6% of English-US queries to a noticeable degree. Unrelated to Panda/Penguin."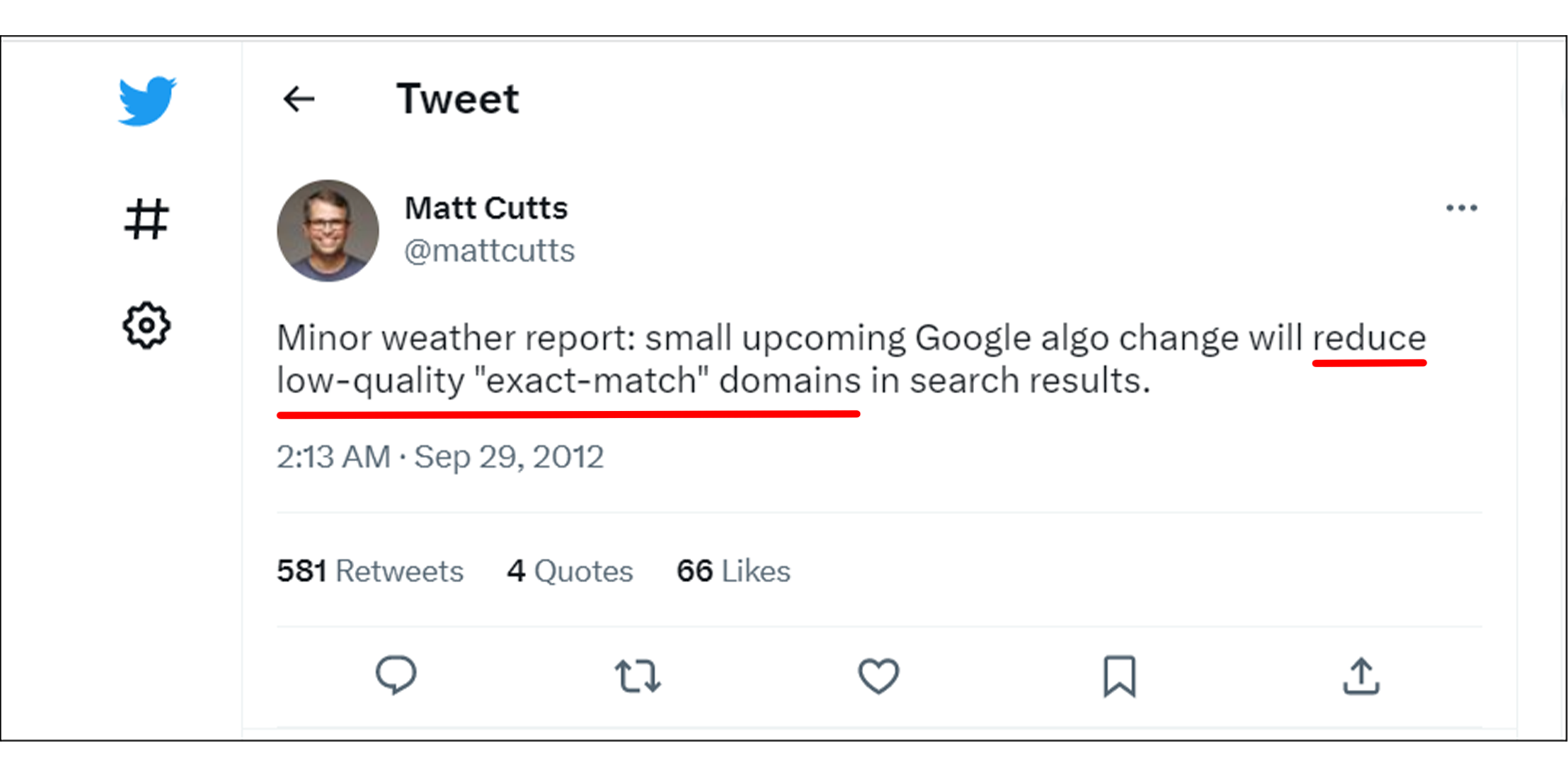 EMD domain can play a part in getting you better rankings, but it's iffy. When it comes to EMD SEO, there's the good and the bad truth about it.
Does Google Like Exact Match Domains? Tactics To Keep In Mind…
Google like EMDs as long as they are not spammy. Many examples of EMDs staying high on the SERPs without fear of exact match domain penalty like– (cheapflights.com), (hotel.com) are high-profile examples. 
These EMD domains are a great signal of user intent for those searching for hotels & cheap flights. 
If you are stuck with an exact-match domain, there is hope your site will be visible on Google again. Ensure your site has multiple pages with rich content; Google can easily pick up when your site has 1 page full of the same keyword. 
Remember: These domains can't rank for local listings because they don't own the hotels & flights. Google initially used the EMD update to regulate spam and clean up the SERPs. For local audience reach, you must optimize your Google Business Profile (GMB) for local SEO optimization.
But Google realized some valuable exact-match domain holders also had been penalized because of having a catchy EMD. After that, they released an algorithm update that raised the value of these domains and penalized the low-quality EMD sites.
So, if you want an exact match domain, be prepared to do extensive research to find a good one that is readily available. Getting an EMD can satisfy user intent and help your brand grow, as people will easily get to know what your site should be about before they go to it.
What Are The Benefits Of Exact Match Domains For SEO?
Exact Match Domains (EMDs) were once considered a valuable tool in the SEO arsenal, allowing website owners to match their domain name to their target keyword. 
This made it easier for search engines to understand what the website was about and could potentially result in higher rankings on search engine results pages (SERPs). 
However, in recent years, the effectiveness of EMDs in SEO has been questioned. It thoroughly depends on the site context. EMDs can still be effective in certain situations, but they are no longer the "silver bullet" they once were.
 Important SEO Practices To Support Your EMD Domain Strategy
In fact, using an EMD without considering other important SEO factors like creating & amplify high-quality relevant content, user experience, user-friendly website, and other SEO optimization tactics can harm a website's SERPs rankings. Following the major elements in the table below can definitely boost your ranking, quality traffic & conversions.
Target Low-Competition Keywords

Update Existing Content

Write Quality Original Content

Aim for Featured Snippets

Optimize Images

Get Backlinks from Authority Sites

Make Your Site Mobile-Friendly

Work on

Business Blogging

Decrease Load Times

Optimize Title and Meta Description

Use Internal Linking

Improve Local SEO

/GMB listings

Conduct Regular Site Audits

Track Metrics with Google Analytics
Some effective practices you should avoid engaging in include:
Adding low-quality links

Adding spammy links

Excessive reciprocal linking

Avoid keyword stuffing

Having unnatural links to and from your website

Pure spam

User-generated spam
While these are just a few examples of what can bring your rankings down and penalize your website, there are several other things to avoid. 
If you decide to use an EMD domain as part of your SEO strategy, there are some important considerations to remember. Most of all, preventing practicing black hat SEO tactics and engaging only in white hat SEO is essential. 
You must create high-quality, relevant content that matches your target keyword. Don't rely solely on your EMD to boost your rankings. Ensure your site's content is natural and valuable to users. Finally, use SEO tactics, such as building high-quality backlinks, to support your EMD domain ranking. 
Conclusion: Is Investing in an EMD Worth It, or Should You Look Elsewhere?
In conclusion, the effectiveness of EMDs in SEO has changed over time. While they were once considered a surefire way to rank highly on search engines, Google's algorithms have evolved to prioritize high-quality, relevant content over exact match domains. 
However, using an EMD domain can still be a viable strategy in some cases, especially for niche websites with a specific focus market, location, or local businesses. Focus on providing high-quality, valuable content that matches your target keyword, regardless of whether or not you use an EMD. 
Remember that while exact match domain names are still prevalent and a great way to rank up, you must apply other effective SEO tactics. An E-commerce/SEO agency can undoubtedly help with better alternative strategies. 
We offer result-driven digital marketing services, including SEO marketing, social media marketing such as Facebook, LinkedIn, etc., and website design to help your business succeed online fast. Don't hesitate to contact our expert SEO team for advice on domains, website optimization, or other SEO services. Get a free consultation call now @ +1-307-209-3608
EMD FAQ