If you're wondering what a toxic link is and if it's the same as a spammy link, this blog will help you. It's important to know that toxic links can hurt your site's ranking, so it's worth considering if you should file a disavow.
Backlinks are essential to building a website's reputation in search engines. Backlinks determine your ranking on search engine results pages (SERPs). But what if you have toxic or spammy links also? How can you get rid of them to build your site authority? 
Also read: Backlinks vs Referring Domains: Everything You Need to Know
What Does Disavowed Mean In SEO?
A disavow file allows you to request Google to remove any association it has with the originator of a poor backlink. It removes your site's association with bad, unsanctioned, low-quality backlinks.
When it comes to SEO, disavow is a sign that you don't want to have any unwanted links pointing to your website. Low-quality links can hurt your SEO, so you want to ensure search engines don't consider them when looking at your website. 
It's a signal, not a rule, so Google might not consider your advice, and the links will stay.
So then, why should you even be doing it? 
What Is Recognized As A 'Bad' Or 'Toxic' Backlink?
Before understanding how to disavow a backlink, we must know what a bad one is. A bad backlink is any link that has been created to manipulate a website's PageRank or ranking. Google wants you to focus on creating high-quality content that is naturally linked.
If you've deliberately participated in any link-building campaigns, then there's a good chance that you've got bad backlinks; some examples of bad links :
Sites that are set up for the sole purpose of linking out;

From sites and content that is not topically relevant;

Websites that Google does not index;

Links being forced into

business blog

comments;

Hidden links in the footer of a website;

Being present on every page of your website;

Using '

exact match

anchoring text' (the use of commercial 'money' terms as the link text)

Followed links that are marked as sponsored.
You've probably scanned your backlinks across various tools and seen a lot of spammy-looking backlinks that you'd like to delete, but you don't have to. Google will understand spam links to a certain extent and will ignore them.
Also read: What is Cross-Linking in SEO & How It Improves Your Ranking?
When Do You Need To Disavow Backlinks?
Building and earning backlinks to your site can be a great way to boost your SEO and increase your site's credibility & traffic. However, irrelevant backlinks can also be just as damaging to your site. You may get spammy links from competitors trying to take you down, or they may get those links using black hat techniques.

Google has stated that the disavow tool should only be used when:
Google has a manual spam penalty;

Google has a link-building penalty; or

Google knowingly took part in a link-building practice that could harm your site.
In 2019, John Mueller, Google's senior Webmaster Trends Analyst, discussed the disavow tool at Google Webmaster Central during office hours. "I think for most websites, the disavow tool doesn't need to be used," Mueller said. 
"That's why we keep the disavow tool separate from the search console so that you don't get tempted to use it because it looks like it should be a standard part of the search console. The disavow tool is a tool that should only be used in the most extreme cases."
How to disavow backlinks with the Google Disavow tool? 
Google disavow tool is created to assist website owners in informing Google that they wish to have specific backlinks disregarded when evaluating the ranking of their website. It should be used cautiously only when low-quality and spam backlinks cannot be manually removed.
It's important to note that Disavow should only be used as a last resort and only when it's necessary. Using the tool too often or using it in the wrong way could damage your website's ranking. In most cases, it's best to try manually removing or disavowing backlinks before using the tool.
Let's see how we can disavow backlinks using Google disavow tool. 
Step 1: Create A List Of Backlinks To Disavow
Identify which URLs or domains you want to remove backlinks from. It's essential to have a detailed list to ensure you don't miss any backlinks. Put all the links into a simple .txt file to upload this to Google Search Console.
To create your disavow list/ file, create a separate line for each page or domain you'd like to disavow.
Keep in mind that you can't disavow whole subpaths, e.g., digitalguider.com/en/

Use "domain:" to start a new line for each domain or subdomain.

Add any comments you have to your disavow list by starting a new line with the "#" symbol. Google will ignore these lines. Here's the format you can use: 
 # Comments start with a hash symbol
domain:example.com
http://spammylink1.com
https://spammylink2.com/page.html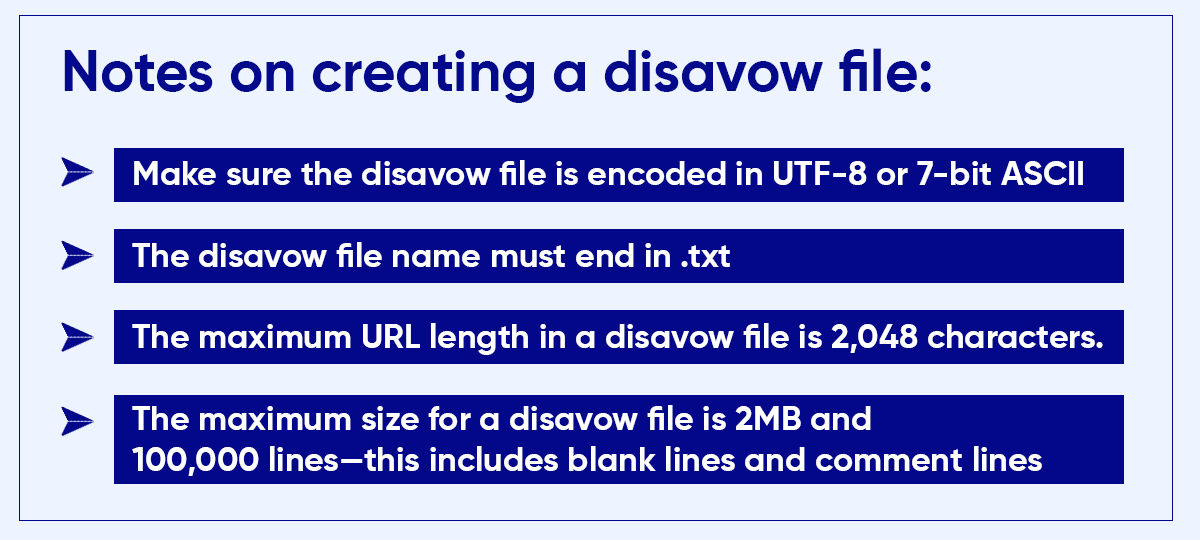 Step 2: Upload The Disavow File

 
Use the disavow link tool to Google Search Console ( https://search.google.com/search-console/disavow-links ). Pick your website ("property" in the tool) and upload your disavow backlink file from the last step.
The links should pop up in the tool, and you're good to go. If you've already disavowed any links for your site, upload a new list, and it'll replace the old one.
Step 3: Submit the disavow file
Once you've chosen your disavow file, hit the "Submit" button to upload and send it to Google. Please note that it may take a few minutes for Google to process your disavow file. The results may take time to be visible.
Step 4:  Monitor the results
It is essential to monitor the backlink profile of your website and its rankings over a while. Google may attempt to ignore disavowed backlinking. However, it is vital to continue to monitor the performance of your website and take the necessary steps to improve its backlink profile.
Mistakes To Avoid While Disavowing Links

 
If you're using Google Disavow to disavow backlinks, be careful not to make any mistakes that could hurt your website's ranking. Here are some of the most common mistakes to watch out for.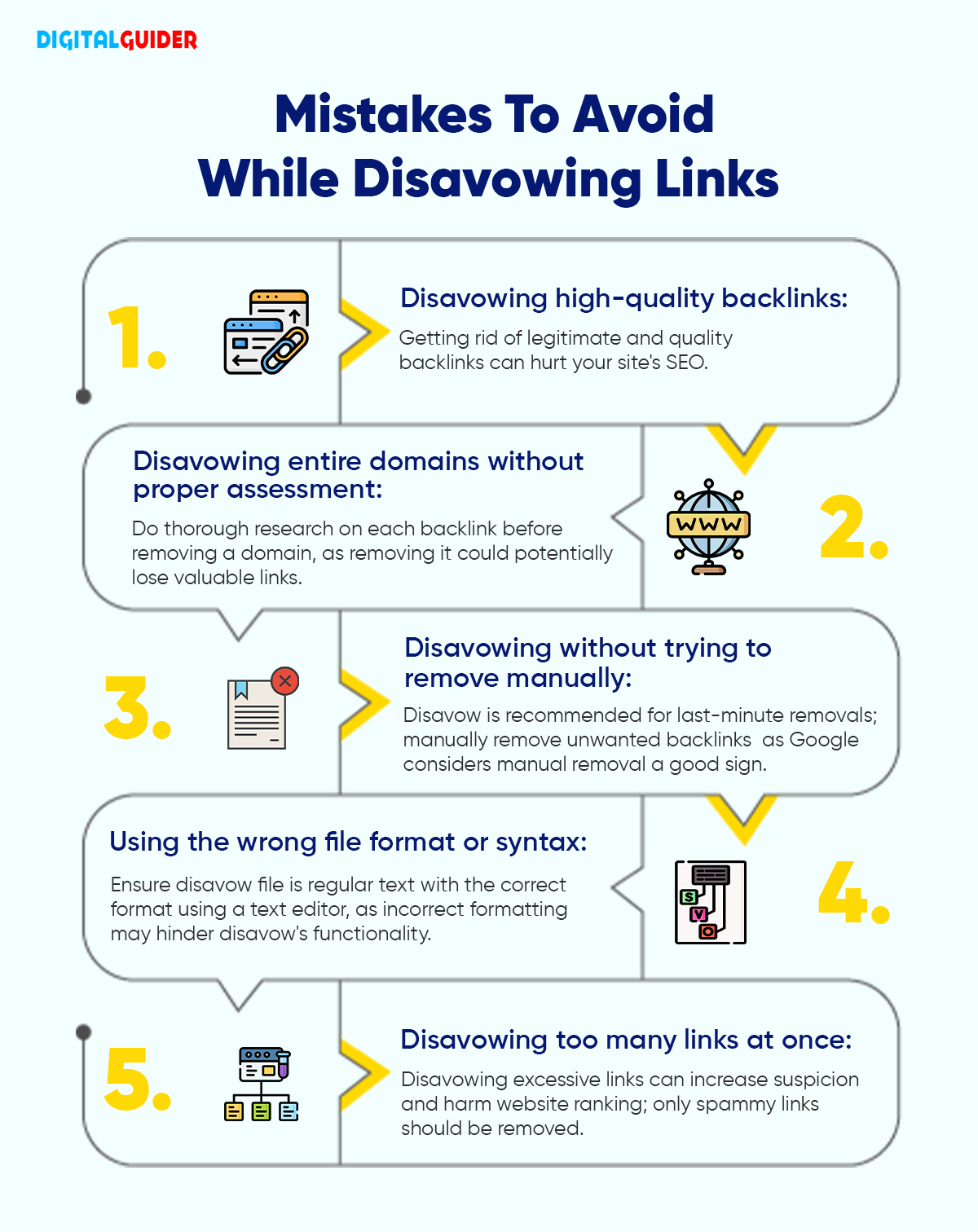 Disavowing high-quality backlinks:
One of the biggest mistakes people make is disavowing backlinks that help your site. Before getting rid of any link, ensure it's legit and relevant. Getting rid of legitimate and quality backlinks can hurt your site's SEO.
Disavowing entire domains without proper assessment:
You don't have to eliminate a whole domain just because of a few bad backlinks. Do your due diligence on each link in that domain before deciding. If you get rid of the entire domain, you could lose a lot of valuable links.
Disavowing without trying to remove manually:
Only use Disavow if it's the last thing you want to do. Before you start disavowing, try to remove unwanted backlinks manually or ask for them to be removed. Google takes manual removal as a good sign. Only use Disavow for links you can't remove manually.
Using the wrong file format or syntax:
Ensure the disavow file is a regular text file with the correct format. Use your text editor to make the file and make sure it follows the right syntax. Disavow might not recognize or work with the file if you don't use the proper format.
Disavowing too many links at once:
Disavowing a significant number of links can increase suspicion and potentially damage your website's ranking. Generally, links should be disavowed in a sequential and disciplined manner. Only those links that are actually spammy should be disavowed.
Conclusion: 
It's essential to disavow toxic backlinks to keep your website healthy and authoritative. By following the proper steps and avoiding common mistakes, you can protect your site from the harmful effects of spammy or bad links. Suppose you have engaged in practices that Google disapproves of. In that case, using the disavow tool may assist Google in determining the quality of your link profile, thus making it more difficult for you to expand if Google deems the link profile unsuitable.
Digital Guider knows how important backlink management is, and we offer a range of services to help you manage your SEO and backlink profile. We know how to identify and remove toxic backlinks so that you can stay in good shape with search engines. We can help you with backlink audits, link removal outreach, and using Google Disavow. We'll work with you to find the best solution for your needs, so you can focus on growing your website while we take care of the technical stuff. Don't let bad backlinks stop you from achieving your goals – contact Digital Guider today!