Suppose you're thinking about opening a lemonade stand on a busy street. Instead of setting it up from scratch, you share space with the popular retail shop next to you. Many people already go to that retail store, so you "attach" your lemonade to their customers. That's kind of like what Barnacle SEO does online. It means leveraging the popularity & authority of top-ranking websites to boost your own. 
Indeed, using the right keywords is important for your business, but you can't rank for every keyword until you put in huge efforts & required time to it, and if you are a small or starting business, it's even more challenging to beat the competition. That's where Barnacle SEO comes to help. In this blog, we'll delve into what is barnacle SEO, where this barnacle term came from, how barnacle SEO works & what strategies to follow to help your website get noticed without all the extra effort. 
What is Barnacle SEO?
Barnacle SEO is a technique that leverages the authority of top-ranking sites for highly competitive keywords to promote your brand, content, or products quickly. The business can earn traffic and potentially increase organic ranking by associating yourself with a reputable site. It supplements your other classic SEO marketing strategies, especially when looking to rank for incredibly competitive & short-tail keywords.
The Term Barnacle SEO Came From:
Barnacles (tiny arthropods no bigger than an inch in diameter) create a symbiosis with whales 🐳 to gather nutrients from the current. Barnacles leverage the power & respect of the whales in the ocean. Similar to this relationship, search influencer Will Scott coined the term "barnacle SEO" in 2008 & described the process of how smaller businesses can attach their names to established & high-authority domains to benefit from their brand.

Using established websites that rank for the most competitive intent keywords can help small or new businesses rank higher without doing the same tedious work necessary for traditional or classic SEO.
It includes many strategic activities like:
Guest Blogging (most popular strategy)

Local Listing Profile Optimization

Writing for Publishing Platforms

Leveraging Review Sites

Target niche-specific daily-use websites

Participation In Roundup Posts

Press Releases

Brand Mentions

Produce A Wikipedia Page

Consider Affiliate Marketing, to name a few
But..but..but… that doesn't mean you will parasitize someone else's brand success. The barnacle and whale relationship is a commensal one. The barnacle does not hurt the whale nor help it. However, to make the most of using barnacle SEO technique, you have to act more like a partner with big websites and less like a parasite is crucial. Barnacles serves as armor for the whales🐳, and your content should also enhance the quality & SERP ranking of the website you plan to target. 
Example Of Barnacle SEO
Let's say, your restaurant business may be unable to compete for the search volume keyword "Italian restaurant New York." After the organic map results, the first page contains directory listings and review sites, not homepages of different Italian restaurants.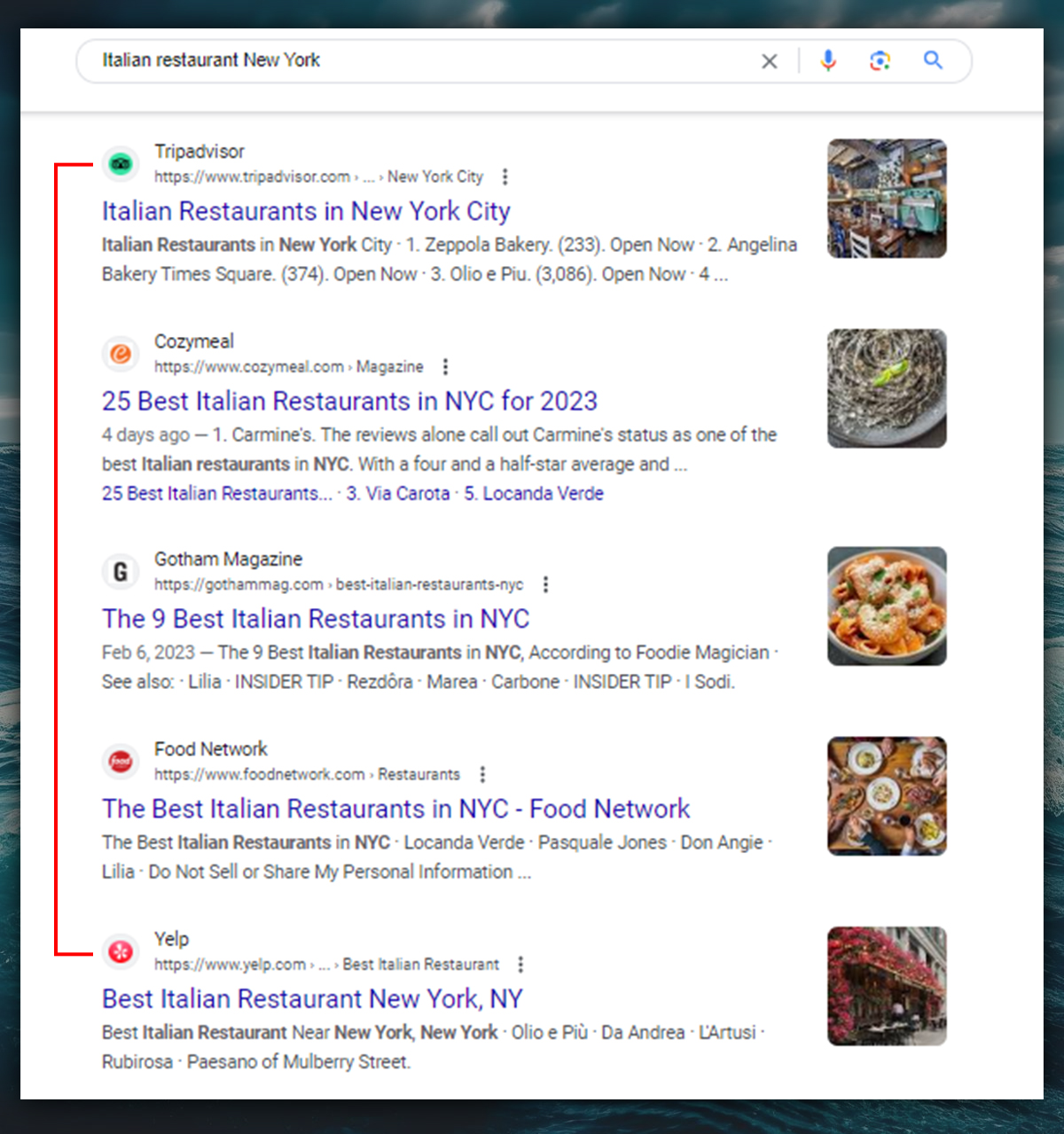 You ought to use this to your advantage and try to rank in these sites and allow them to bring you conversions and traffic. In short, you can use the barnacle SEO strategy by: 
Getting listed on

Google My Business

Adding a photo of your anniversary catering event on social media platforms

Guest blogging for a Top 10 anniversary meals round-up 

& running anniversary catering campaigns through

Instagram marketing

or other
These are just a few ways that your business can get listed or linked on top search results, even if you can't compete directly for the competitive keyword. Getting attached this way can do wonders for your ranking and brand reputation. For small business owners, using Barnacle SEO strategy is mainly on third-party local listing websites. A common example of a local business listing service in many industries would be Yelp. It's a win-win situation. Below are the top Barnacle SEO approaches you can follow to boost your site visibility and authority in the eyes of Google and your audiences.
11 Barnacle SEO Strategies to Leverage Other Sites' Authority, Ranking & Traffic
1–   Leveraging Review Sites
To get started, create a business profile on review sites that are relevant to your industry. Some popular review sites include TripAdvisor, Trustpilot, Yelp,  Angie's List, Foursquare and Facebook.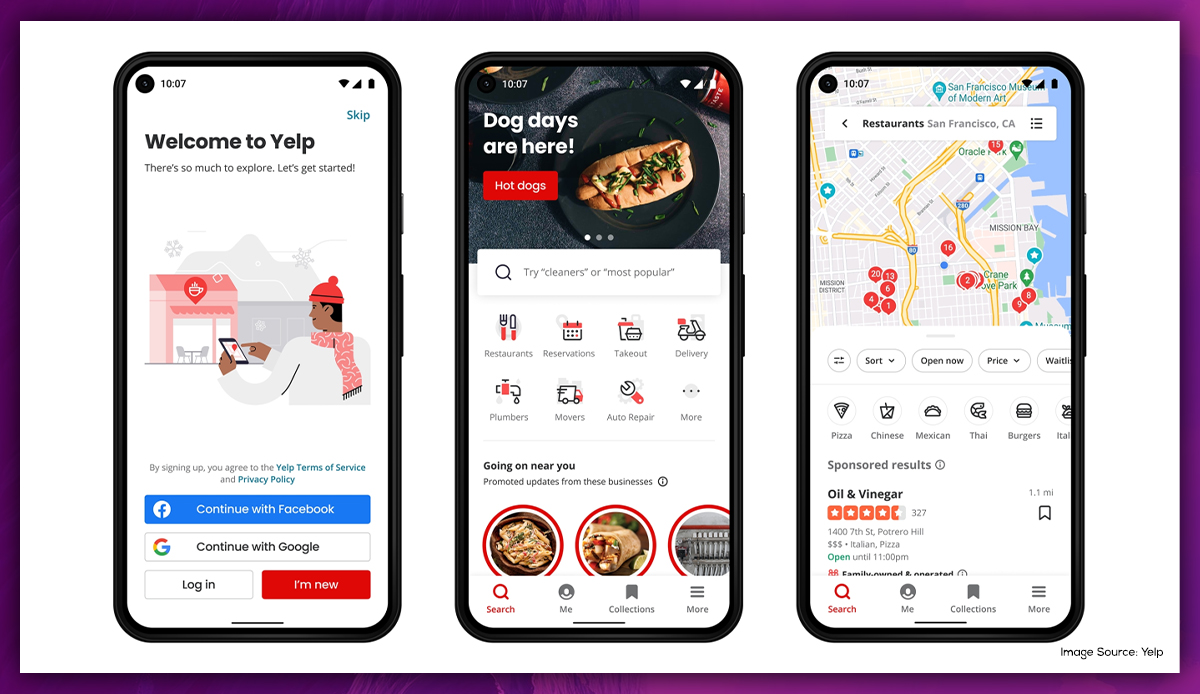 Image Source: Yelp
If you're in the software industry, other review sites may include Clutch, Capterra, G2 Crowd, Trustpilot, SoftwareAdvice. or Get App. See the image below showing how Clutch presents the top US brand listings with reviews. You can also leverage the power of these sites using barnacle SEO strategy. Filling out these profiles completely and including links to your website can increase your site's online visibility and organic traffic. These online directories typically rank higher on SERPs, so appearing on them can also help to improve your website's ranking.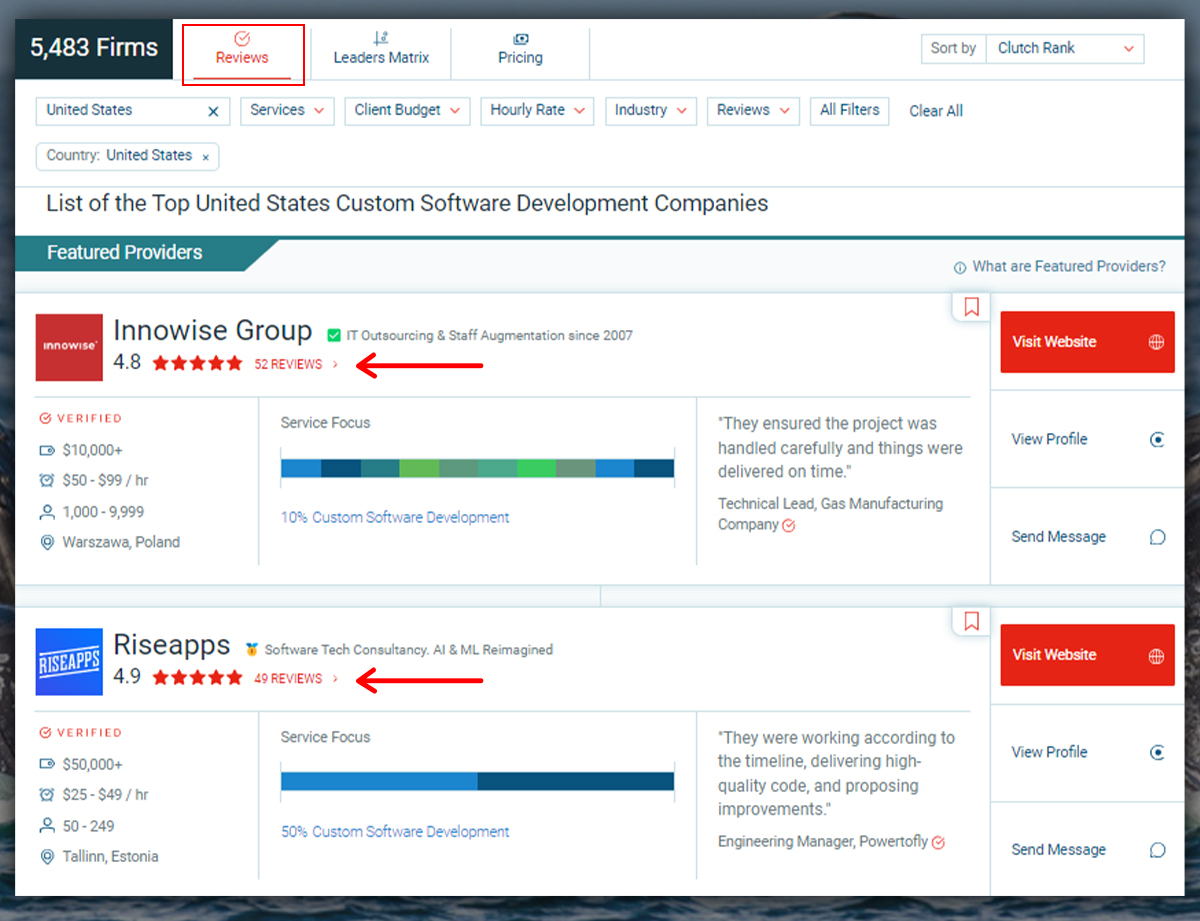 Make sure to keep all information up-to-date on each review site. It is also essential to complete a profile and include all the information that potential customers will need, like the business location, hours, and services. Moreover, you must enhance the user experience by providing better website navigation.
2–   Guest Blogging 
The basic idea is to find high-traffic websites in your niche and contribute articles to them with high-competition keywords in the mix. Look at the content trending in your niche and pick topics you can write as guest posts. Find top-performing blogs you can write for, pitch your content idea to them, and get your guest post featured. This here would be your barnacle. Using Google, type in phrases like:
"[Insert Niche] blog + guest post" 

"[Insert Niche] blog + write for us" 

"[Insert Niche] blog + submit a guest post"
Let's say you want to boost your travel brand website. See the screenshot below; this method can help you find 100s of relevant travel-related guest posting opportunities.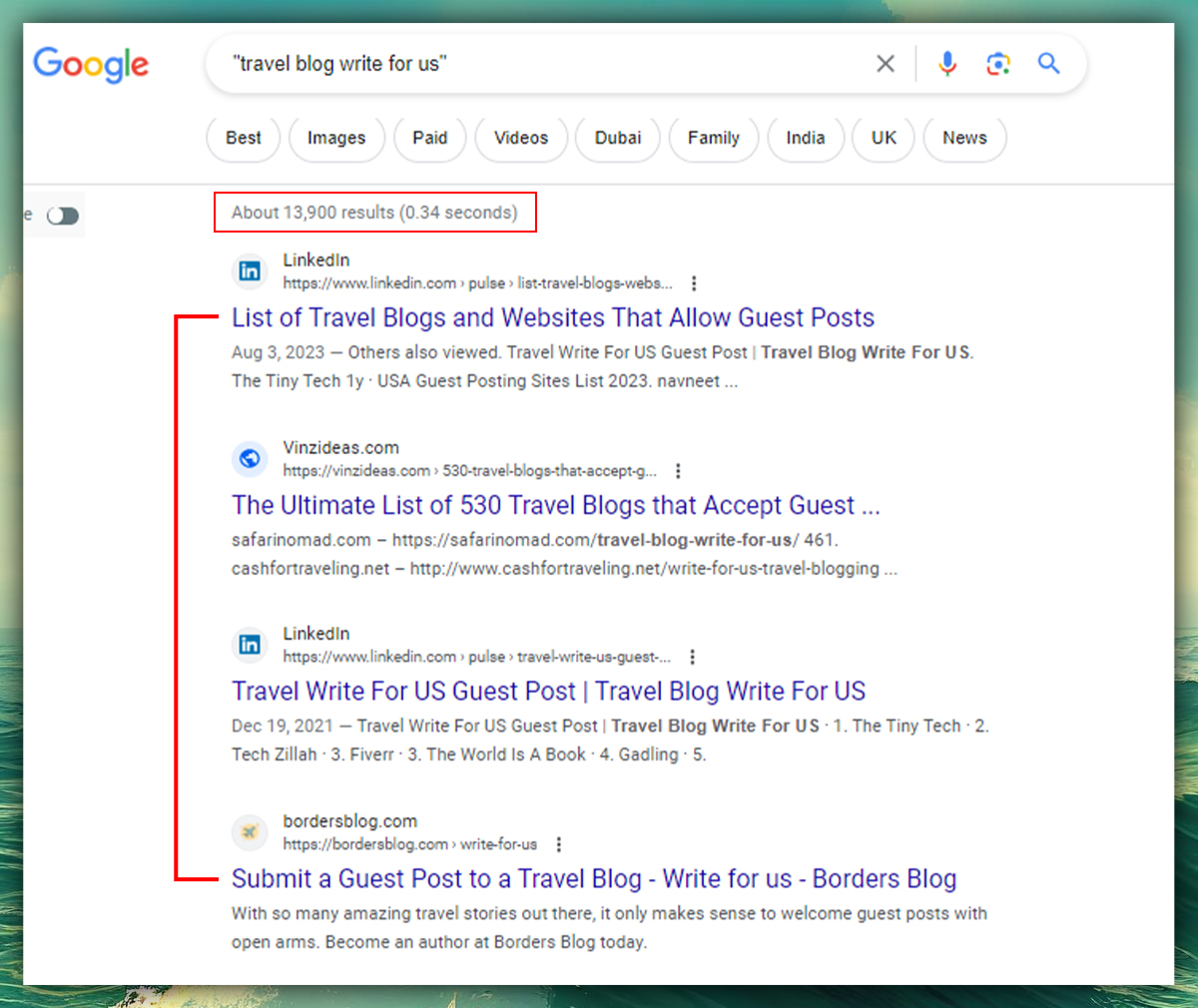 Guest blogging about a Barnacle strategy can effectively build your brand and generate new leads, but it's important to approach it cautiously. Spammy guest blogging can result in penalization from Google, so it's important to only contribute guest articles to reputable websites with a strict editorial policy. 
Quick tip: Read our content amplification guide for great tips on how to optimize & promote your content. 
3–   Roundup blog posts
A roundup blog is a collection of quality content i.e. quotes & interviews by influential people in a particular area or industry. This is a fantastic way to reach more online readers. Roundup posts are popular when using barnacle SEO strategy as they contain credible yet short pieces of info by industry experts. Both the participants & readers often share them on social media. This barnacle will improve your online visibility and expand your business network.
4–   Brand Mentions 
This involves mentioning your brand on top-ranking websites, often in the context of a review or roundup article. There are a few different ways to go about this. This involves mentioning your brand in articles or blog posts by popular bloggers or influencers. This can help to increase your brand's visibility and build relationships with industry leaders. But only you have to ensure that your mentions are relevant and add value to the discussion. See what John Mueller discusses about brand mention (44:10 Minute Mark). 
To keep this short, John Mueller mentions that brand mentions are only useful for building awareness or helping to get the word out about a site, which is about building popularity among the right audience. You can use Google Alerts also to monitor where your brand is mentioned without a link. You can then reach out to the website owner and ask them to add a link. This is a more automated approach that can still be quite effective.
5–   Claim Google My Business profile
Google My Business profile plays a crucial role in local SEO. You must claim your GMB profile or create a new one if it doesn't exist. Update your brand profile info, add the address and opening hours, upload brand photos, motivate customers to leave a review, and respond to them. Your priority should be your best to appear in the top 3 local results. See how Digital Guider shows the example of optimized & unoptimized Google My Business profiles of two businesses in the same field.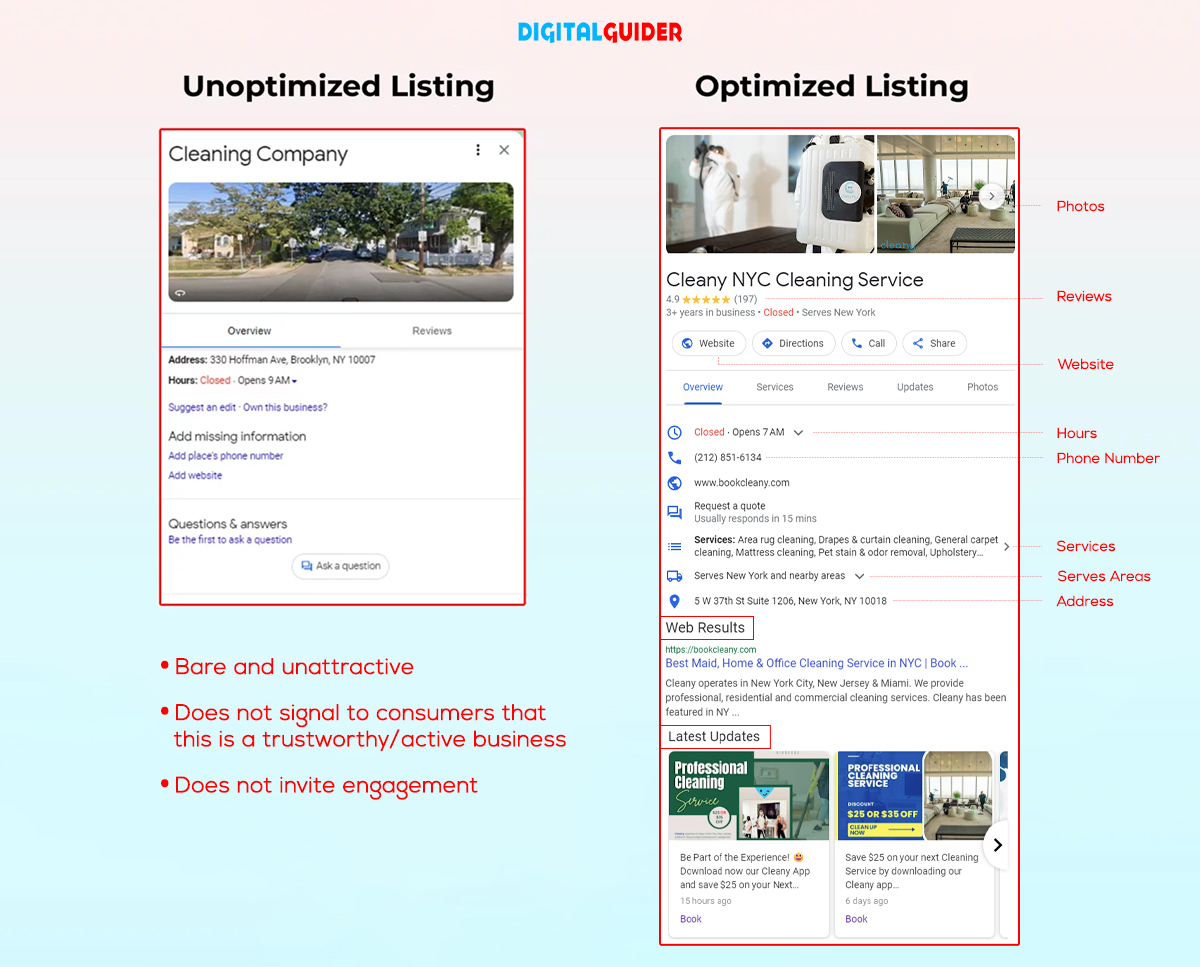 Optimizing your GMB profile is a must if you want to rank locally & attract more local customers to your business. Check out 15 best practices for Google My Business optimization, such as adding accurate information, posting regularly, and optimizing for local SEO to improve your business's online visibility and get a place in a prominent local 3-pack. 
6–   Consider Affiliate Marketing
Affiliate marketing is about getting backlinks and website visitors highly interested in purchasing. Go for the affiliate program that is very easy to join, and eventually, it will become a revenue source for you. When you link from a higher authority site to your site, they will piggyback the authority of the larger site to increase the ranking for the target keyword. 
Craft content that seamlessly integrates these affiliate products or services within the context of your chosen barnacles. Ensure your content gives the audience real value while highlighting the affiliate offerings. 
Also Read: Backlinks vs Referring Domains: Everything You Need to Know
7–   Create A Wikipedia Page
Another excellent way to create a meaningful barnacle is to create a Wikipedia page for your company. Wikipedia is a popular authority in internet searches. Many people read and edit these articles. Wikipedia has millions of pages, thousands of which are company pages. There are a few common characteristics the best Wikipedia pages share. They all:
Keep a neutral point of view.

Cite reputable, independent sources.

Properly describe the company.
See how Asana (an American software company based in San Francisco) presents their brand through its Wikipedia page. In their case, the company and their software have the same name. They've dealt with the situation very cleverly, though, explicitly stating that in the second sentence.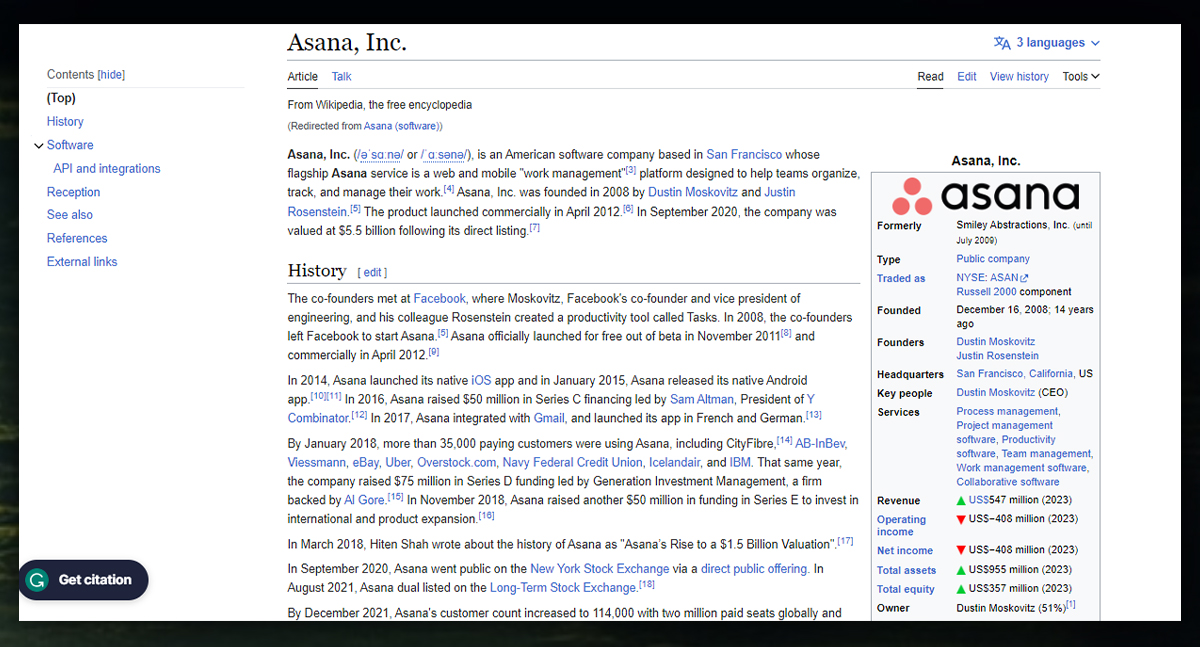 A Wikipedia page for your business can enhance your visibility, credibility, and reputation. Plus, it is cost-free. You can use Wikipedia not only as a source of information but also as a way to boost your business's online visibility and grab another place in the SERPs.
8–   Press Releases
This involves publishing an article about a company on a news website or in another business newspaper and distributing a news release that is written about something current and essential. 
| | |
| --- | --- |
| Dos of linking in Press Releases | Don'ts of linking in Press Releases |
| Use descriptive, keyword-based anchor text for your links. | Using transactional or promotional language for anchor text and surrounding context. |
| Limiting the number of links in your press release. | Featuring the same link multiple times in your press release. |
| Following the linking guidelines of the press release directories | Linking to irrelevant or low-quality pages or resources |
Get your business featured on a news site or other industry publications. Write a press release related to something relevant and topical & distribute it to a PR distribution site. To make this happen, ensure you have some solid and sturdy content.
9–   Write for Publishing Platforms
Medium is one of the largest publishing platforms. It ranks first on the first page with featured snippets or Google knowledge graphs for keywords ranging from lifestyle advice to business articles for any industry.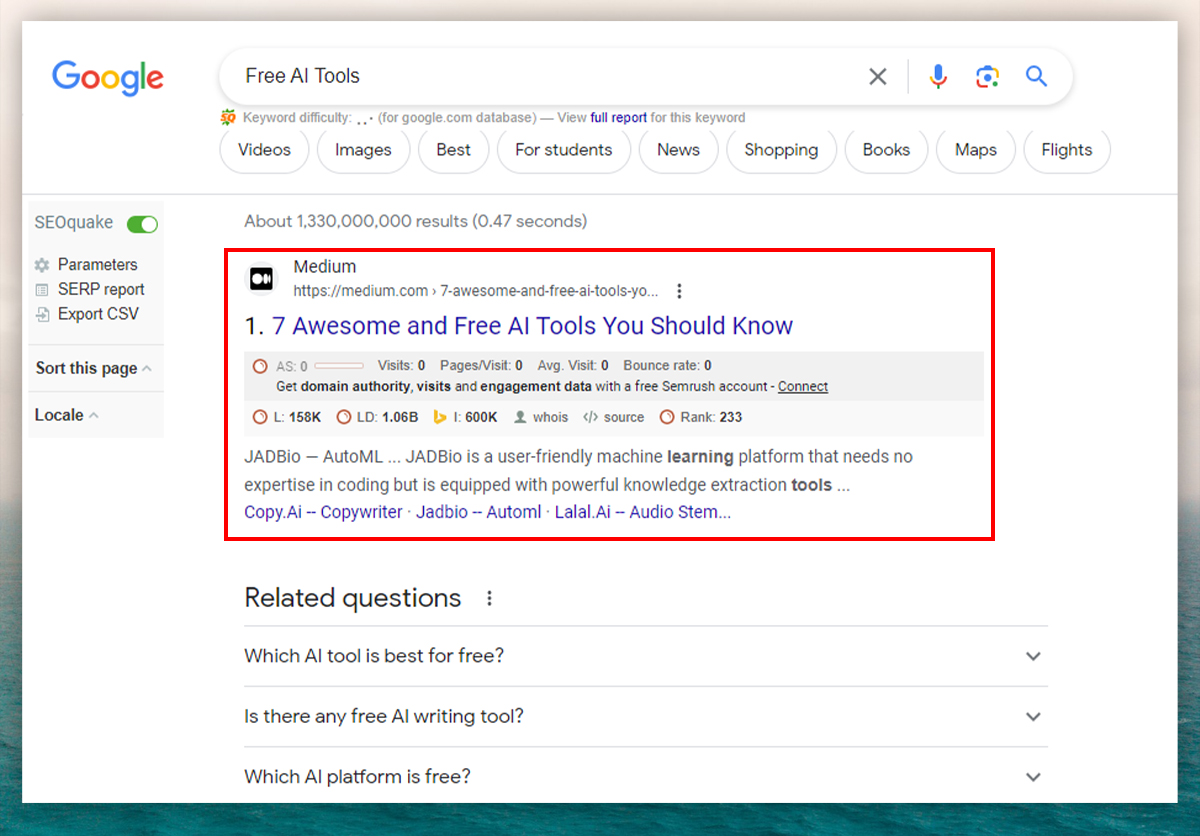 See how potential short-tail keywords are ranking here. Whatever your business is, Medium or other popular publishing sites allow you to publish your article on their website with Domain Authority (Moz) 95 & spam score of 1%. 
Publishing on Medium is pretty straightforward. Targeting an industry's most competitive vital terms is acceptable when using Barnacle SEO. Here is an overview of the process:
Do keyword research correctly

Identify the user search intent

Optimize content to align with the target keyword

Use subheadings bullet points & include keywords naturally

Add creatives, such as images, infographics, and video
Look for more top publishing sites with good DA PA so you can use their authority better. Ensure you follow Google's EEAT guidelines if your content is related to the YMYL category. 
10–   Sponsored Content
Sponsored content is native advertising where you have to pay an online publishing platform to feature your article on their website with your company's branding. Even though you'll have to spend on this, you're sure to bag a good barnacle this way.
11–   Social Media Platforms 
Social media platforms like Pinterest, Instagram, Facebook, YouTube, etc., are a great way to boost your brand authority and build an extensive network of potential customers. The more you put effort into social media platforms, the better benefits you get out of it. Your brand can boost your search result visibility and drive more traffic by creating & optimizing social media profiles.
For example, look at how Texas Auto Center's Facebook page ranks in a branded keyword search. You can also see the ratings of the page and some snippets of the reviews.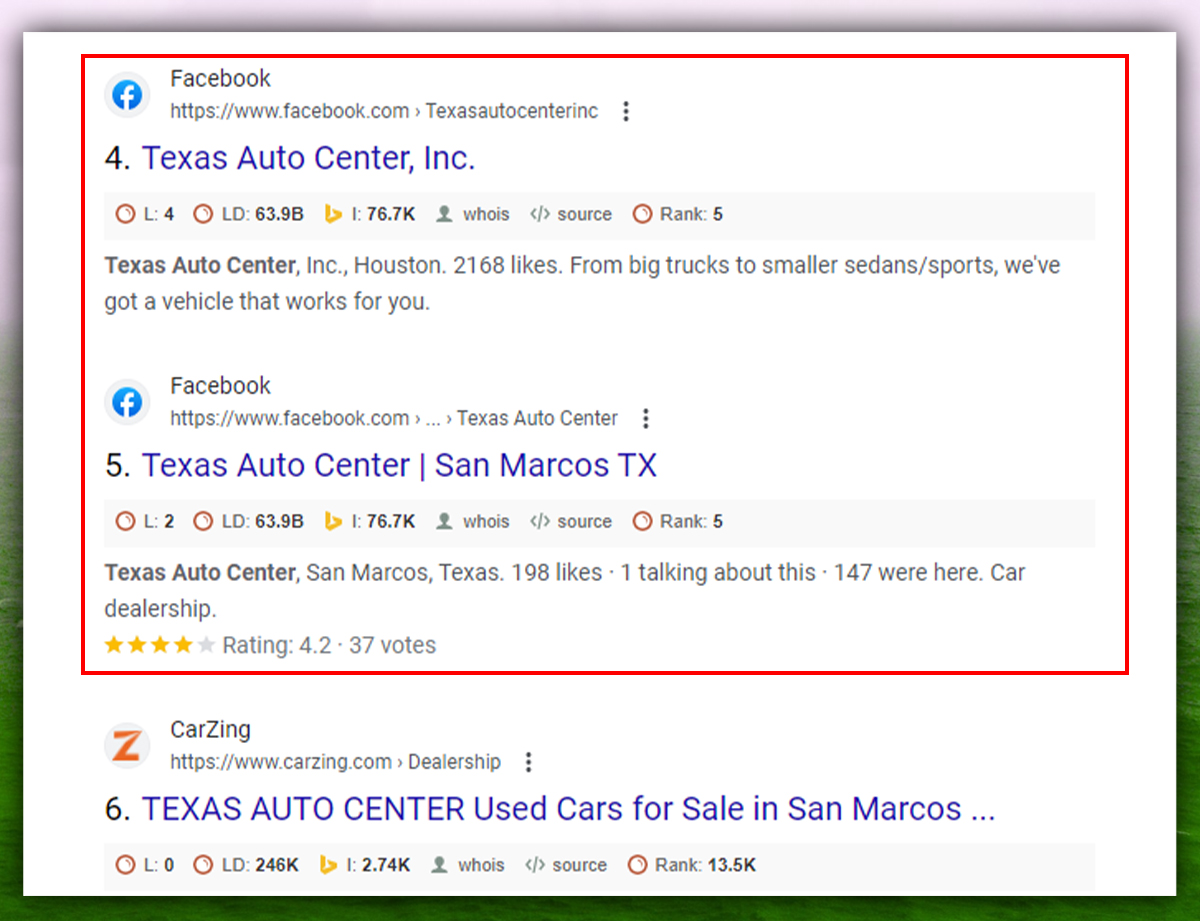 Note: Social media doesn't directly affect how search engines rank content. However, sharing links across social media sites boosts your brand's visibility and helps with SEO. Plus, social media can indirectly help boost search results and organic rankings by giving you social indicators and signals.
Conclusion: Leverage The Power Of Using Barnacle SEO 
Barnacle SEO is a great way to have a well-kempt internet presence for your small business. As Will Scott said, "With generous use of Barnacle SEO, even the smallest budgets could affect small business website promotion." You may up your business rankings on SERPs by implementing several of the abovementioned hacks. It helps you get more exposure and backlinks, which enables you to rank in SERP. Moreover, if you have any doubts about this, consider getting assistance from professional SEO experts who are known to rank small & new businesses with customized SEO strategies. Check out the affordable SEO packages with a detailed list of expert services now!