🏠🏢 The real estate industry is totally unpredictable. You will be lucky if you have a steady lead flow to grow your real estate business amid high inflation and interest rates.
But if you are a newly-licensed agent, you might need more of a contact base to start with. Generating qualified real estate leads online can be challenging for many agents who may need help knowing where to begin, just like you.
When it comes to finding quality leads & bringing in new business, advanced online technologies can be a remarkable tool for you.
🤔Wondering how to generate real estate leads to increased sales, improve brand authority, and grow your business? 
Don't worry; You're in the right spot…..
This guide is for you as it'll save you from time-consuming outdated strategies. This comprehensive guide includes a mix of traditional and modern approaches and ranges from tried and true best practices to innovative new platforms. Follow these 16 Top real estate lead generation ideas and grow your business fast.
🚀Now, without further ado, let's dive right in…..
16 Proven & Best Real Estate Lead Generation Ideas:
1.

Network Your Way To New Clients
Purposeful networking can open up new opportunities for your business. It's an exciting way to generate real estate leads, and it's compelling because it goes hand in hand with building your SOI. 
Next time, make sure you must go when your client invites you to a housewarming party. 
It's the ideal place to network with potential customers who might be interested in the home you helped their friends buy.
Go To Concerts

Join A Committee At Your Children's School

Art Shows, Social Events & Virtual Events

Other Places Where People Gather. 

Volunteer With A Local Charity

Become Active With Your Alumni Associations

Attend Fundraisers & more
Before attending an event, make sure to review market data and trends because any conversation about real estate will eventually turn to topics like "How's the market?" Use this chance to demonstrate your knowledge by answering these questions.
2. Host an Open House
Another effective way to network is by hosting an open house. An open house is an informal event that any realtor can use to invite potential clients for a tour of an "open for sale" property.
When a real estate agent opens a property to the public for a specific time, Prospective buyers can visit the open house without making an appointment. Everyone who walks in the door is more or less a potential client. Leave a sign-in sheet & a pen at the door, so your future clients can fill out their contact details. 
However, you need to do more than just place a sign-in sheet and a pen by the door if you purposefully want to generate leads from an open house event. 
Basic sign-in sheets for open houses should be titled with the property's address and the "Sign-in Sheet" so open house visitors can easily find and complete the form.
How to create a sign-in sheet with a detailed questionnaire?
Questionnaires include questions about their prequalification status, agent representation, and properties they're interested in, to name a few. Most importantly, ask for essential contact information like the attendee's name, phone number, and email address. Other qualifying questions on an open house sign-in sheet may include the following:
How did you find out about the open house?

What real estate sites do you use to look for properties?

What is your budget?

What is your ideal property layout and location?

How long have they been a homeowner?

Are you pre-approved for a loan?

What is your preferred method of contact?

Any property feedback?
An open house can be the best way to generate real estate leads and grow your network. Attending as many of these events as possible is a good networking tip, so make it a goal to go out at least once a week.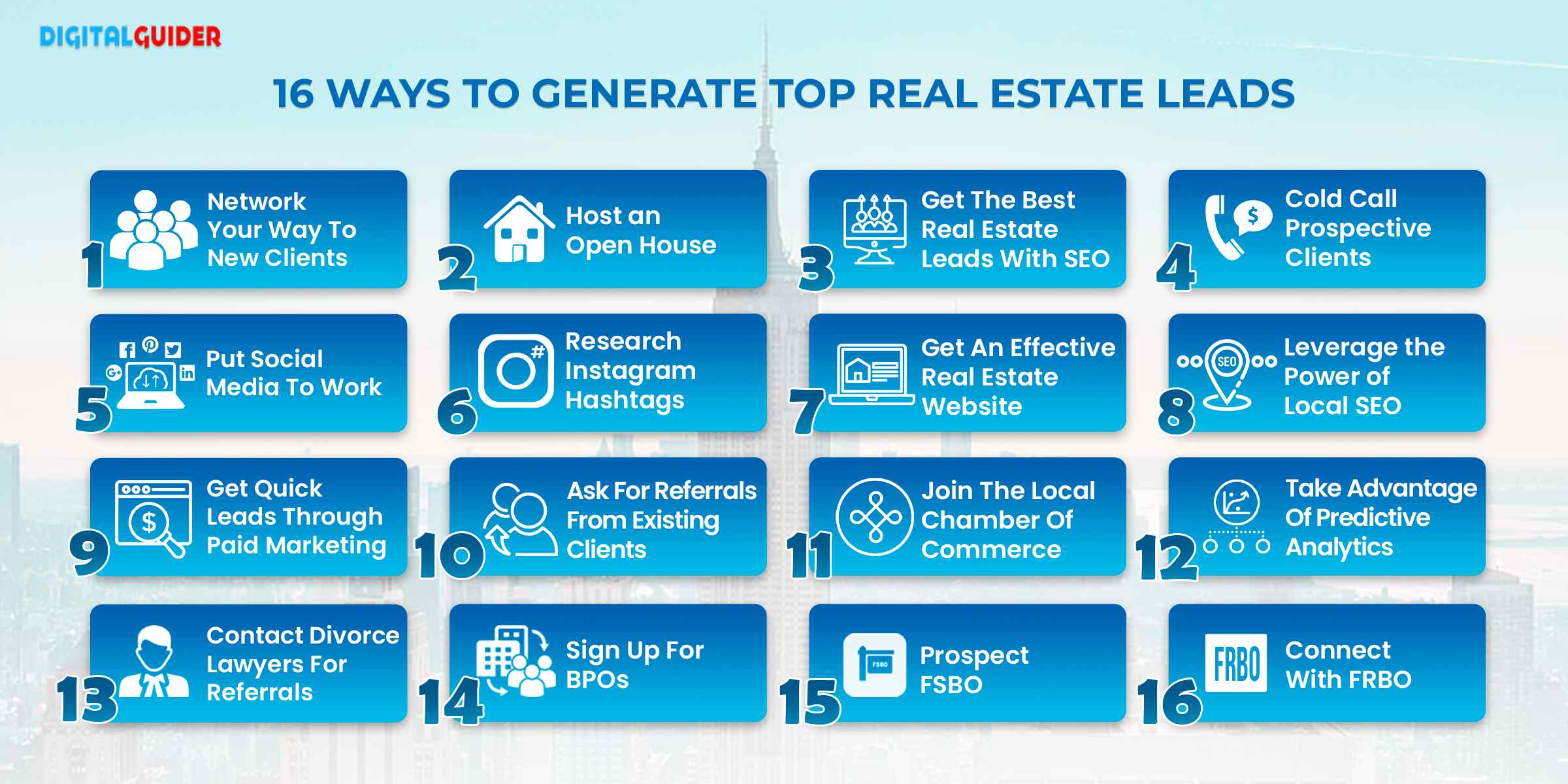 3. Get The Best Real Estate Leads With SEO
Search engine optimization (SEO) is the best strategy for generating leads for a real estate business, as your property listings will rank higher in search results & people who are looking for a property in your area can easily contact you. Optimizing your website for search engines can increase your visibility and attract more potential clients. 
Ensure your website is optimized for local search by including your city and state in your page titles, meta descriptions, and H1 tags. 
Research the rich keywords your potential clients use to find properties in your area. Use your business blog to provide valuable & expert information to potential clients, such as local market trends, tips for buying or selling a home, and information about the neighborhoods you serve.
SEO is a long-term strategy that can consistently bring new and highly targeted leads without ongoing time & effort. It can be challenging if you don't have any prior experience with SEO. Hiring a real estate SEO company is best, as they are more qualified and have relevant experience. Digital Guider would love to help you generate organic real estate leads. Book a free consultation call now.
4. Cold Call Prospective Clients
Cold calling is a traditional method but is still famous for generating the best real estate leads. You should reach out to potential clients to introduce yourself and your services and to gauge their interest in buying or selling property.
For successful cold calling, it is vital to have a clear elevator pitch script that you can use to guide your conversation. Your cold calling script should include information about yourself and your company and a brief overview of your services.
It is essential to be prepared with a list of potential leads, including their contact information and any relevant details about their property. Once you have connected with a potential client,  follow up with them to build a relationship and update them on any new listings or properties that may interest them. With persistence and patience, cold calling can be a highly effective way to generate real estate leads.
5.

Put Social Media To Work
Social media has become essential for real estate businesses looking to generate leads. Platforms like Facebook, Instagram, LinkedIn, and Twitter allow agents to reach a broad audience, build relationships with potential buyers and sellers, and showcase their listings visually appealingly. 
Real estate professionals can increase their visibility and reach new audiences by creating engaging content, running targeted ads, and utilizing features like Instagram Stories and Facebook Live.
Again, connecting with other professionals in your sector is essential to staying on top of city-specific trends and learning the ins and outs of the market. Join real estate groups or pages on social media and engage in discussions with other members. Some great places to start include:
Facebook pages: If the page is private, you must request access.

LinkedIn groups – A quick search of your city on LinkedIn generates a number of good options.

MeetUp groups are typically used for in-person networking events.

Quora – Answering questions on Quora can help you show off your knowledge.

Slack communities: Participate in larger, citywide tech or business communities.
Additionally, social media allows real estate agents to connect with past clients and referrals, which can help drive repeat business and generate real estate leads. 
Finally, measure and track your social media efforts to see what works for you and isn't. Tracking will help you optimize your strategy over time and generate more leads. Talk to our Social Media Management team to see how you can connect with potential buyers and showcase your listings in a visually engaging way.
Speaking of social media, Instagram can be an untapped source of lead potential, especially when it comes to millennials. Though there aren't specific pages or groups like other social platforms, Instagram allows you to conduct robust hashtag research to find qualified leads. 
Here are some of the most popular hashtags for real estate you can use:
#apartment

#newhome

#househounting

#apartmentsforrent

#apartmentliving

#property

#broker

#listing

#Realestate

#Realty

#Realtor

#Realestateagent

#Homeforsale

#Newhome

#Househunting

#Broker

#Newhome

#Newhouse

#Forsale

#Property

#Properties

#Listing

#Renovation
You can also pair these with city-specific hashtags and location tags to narrow your search.
To find the best hashtags, use the Instagram search bar to search for a relevant keyword. For Real Estate accounts, try searching for "#newhome," "#properties,"  "#realty," and other related terms.
7. 

Get An Effective Real Estate Website
A website can be a powerful tool for generating leads in the real estate business. By creating a user-friendly and visually appealing website, potential clients can easily browse listings, learn about real estate agents, and contact them for more information. 
Moreover, incorporating features such as property search and virtual tours can make finding a property even more efficient for potential clients.
An SEO-friendly website can help you attract more as it'll increase the chances of getting quality high DA PA backlinks for your website, which signals Google algorithms that your site is relevant to audiences looking for properties.
Furthermore, using Google Analytics & Google Search Console, you can better understand the behavior of your website visitors and tailor your marketing efforts to target specific groups of people more effectively.
Overall, a well-designed, SEO-friendly website can be the best way to get real estate leads. Check out Digital Guider's affordable website development package or better connect us at info@digitalguider.com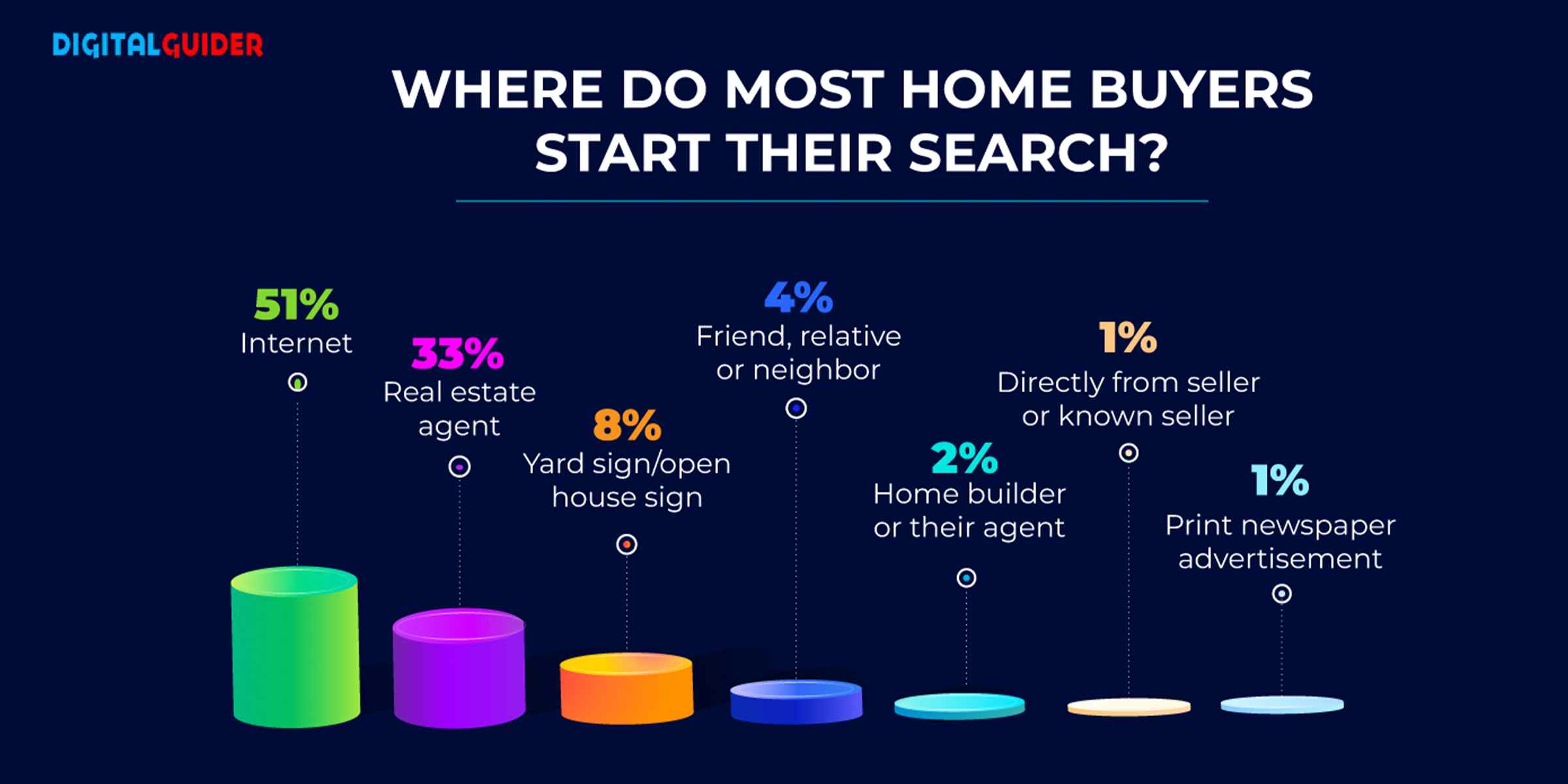 8. Leverage the Power of Local SEO
At the beginning of the home-buying process, 9 out of 10 buyers search online. 
Specifically, they're looking for help with buying or selling property. And local SEO plays a tremendous role in determining which realtors or real estate companies appear at the top of the search results.
Inbound leads, where the prospects themselves look you up, are way more powerful than outbound prospects you are trying to woo.
Get listed on local and real-estate-based online real-estate directories such as below
Zillow

Realtor.com

Trulia

LoopNet

HotPads

Homes.com

Movoto

LandWatch

Landflip

Homes and Land

Foursquare

Yellowpages

Bing Places for Business

Yahoo Homes

Redfin

HomeSnap

Neighborhood Scout

Zoocasa

Local.com

Yelp
You should list your business in as many places as possible, with your name, address, and phone number consistent across all of them. Get genuine 5-star reviews on Google My Business, Yelp, and other directory listings. 
A top-notch local SEO strategy will help you more than any digital strategy. Want to stand out from the local competition & lead the market? Our Local SEO experts can help you grow your clients, profits & revenue fast with practical, proven real estate approaches. Call our Local SEO experts now at +1-307-209-3608 or get a free consultation.
9.

Get Quick Leads Through Paid Marketing
One of the most intelligent and effective ways to generate leads through paid advertising is using Google AdWords. AdWords allows you to create targeted ads for people searching for keywords related to your business. 
Another popular paid advertising platform is Facebook Ads, which will enable you to target specific demographics and interests. In addition, you can use LinkedIn Ads to target specific job titles and industries. 
Websites like Zillow offer advertising options for realtors. You can also leverage paid ads to get quality leads.
Overall, paid to advertise can effectively generate the best real estate leads, but it requires a significant investment of time and resources. 
Here are some of the top-paid methods to promote yourself as a real estate agent:
Run Facebook ads

Run LinkedIn ads

Answer real estate questions on Quora

Run Google ads

A blog for local or national real estate websites
To be successful, you will need to clearly understand your target audience and create engaging ads that will drive them to take action. With the right PPC agency for real estate businesses, paid advertising can be a powerful tool for growing your business and increasing your revenue.
10.

Ask For Referrals From Existing Clients
One positive review or referral from a satisfied client can help you gain 4-5 new clients. Approximately 40% of buyers prefer real estate agents who are referred to them by a friend, family, or neighbor. Establish a strong network of contacts in the real estate industry, like agents, mortgage brokers, home inspectors, and other professionals. Once you have established a strong network, you can seek referrals from your contacts. 
One effective strategy is to offer incentives or rewards to your contacts for every referral they provide. This could be a cash bonus, a gift card, or a vacation package. Excellent customer service to your clients can also generate free real estate leads. By exceeding their expectations and providing a positive experience, your clients are more likely to recommend you to their friends and family. You can also ask satisfied clients to leave a review on social media or online.
Also Read : How Do Influencers Make Money
11.

Join The Local Chamber Of Commerce
The Chamber of commerce can be an excellent way to generate real estate leads. 
By becoming a local chamber member, you can network with other business owners and professionals in your community. This can help you to build relationships and establish yourself as a trusted and reputable real estate agent. 
Additionally, many chambers offer a variety of marketing and advertising opportunities, such as sponsored events and networking mixers, which can help you to reach potential clients and increase your visibility in the community.
Many chambers offer opportunities to sponsor events, such as golf tournaments or business expos, which can provide valuable exposure for your business. Also, you can use the Chamber's website and social media platforms to promote your services and connect with potential clients. 
By building relationships, participating in events, and taking advantage of marketing opportunities, you can increase your visibility and establish yourself as a trusted and reputable agent in your community.
12. Take Advantage Of Predictive Analytics
Predictive analytics is a powerful means for generating real estate leads. 
The process involves analyzing data from various sources, including past sales, property listings, and demographic data, to identify patterns and trends. Using this information, real estate professionals can predict which properties are likely to sell and target their marketing efforts in those areas.
Targeting specific neighborhoods or areas with a high likelihood of selling can be the best way to generate real estate leads. This could include areas with a high population density or areas with a lot of recent activity in the real estate market. 
You can also use PA to identify potential buyers, such as first-time home buyers or people looking to move to a new area. By understanding the needs and preferences of these groups, you can craft marketing campaigns tailored to their specific needs.
13.

Contact Divorce Lawyers For Referrals
It is pretty uncomfortable to think about, but people who are going through divorces are your best real estate leads. 
As no one is looking for a home more quickly than they are. One way to generate leads is by networking with local divorce attorneys, who may be able to refer clients to you. You can also advertise your services in local publications targeting people going through a divorce.
You can use social media and online classifieds to reach out to potential clients who may be looking to purchase a new home due to their divorce. Create a specific landing page or website that targets the divorcee and their particular needs in your area. You can target divorce and real estate keywords and ensure that your website is optimized for search engines.
However, it is essential to be sensitive and respectful of the client's situation, as they may have a difficult time. It's vital to be patient, understanding, and professional in your approach. Building trust and being a good listener and advisor will help you establish a good relationship with your potential clients and increase the chances of closing a deal.
14.

Sign Up For BPOs (Broker Price Opinions)

 
Generating real estate leads can be challenging even for top real estate lead generation companies. One effective way to generate leads is by signing up for a BPO or Broker Price Opinion. 
A BPO is a report that estimates a property's value. By signing up for a BPO, you can gain access to a database of properties that need an estimate. This can be a great idea to generate free real estate leads, as you can see properties currently on the market that still need to be listed.
Additionally, by providing accurate and detailed BPOs, you can establish yourself as a reliable and knowledgeable agent or investor. This can help you to build trust with potential clients and increase your chances of closing a deal. 
To get started, research different BPO providers and select one that is reputable and has an extensive database of properties. Then, sign up for their service and start generating leads. Please keep track of your leads and follow up with them regularly.
15.

Prospect FSBO (For Sale By Owner)

 
Generating real estate leads through For Sale By Owner (FSBO) properties can be a great way to grow your real estate business and find potential clients.
FSBOs, or for sale by the owner, are homes that the owner is trying to sell on their own without the help of an agent. Property owners who list their homes without an agent usually do so for one reason: the chance to save money.
Create a targeted marketing campaign for FSBO properties in your area. This can include sending out direct mail to homeowners who have recently listed their property as FSBO and reaching out to them through online platforms such as social media and classified websites. 
Additionally, you can offer services such as home staging, professional photography, and open house events to help FSBO sellers showcase their property in the best light possible. 
Another strategy is to network with local real estate professionals who may have clients looking to sell their property without using a realtor. You may gain access to potential leads and referral opportunities by building relationships with these professionals. 
Overall, generating real estate leads through FSBO properties requires a mix of targeted marketing, networking, and added value services to help sellers showcase their property in the best way possible.
16.

Connect With FRBO (For Rent By Owner)

 
FRBO (For Rent By Owner) can be a great way to find potential clients for your business. Reach out to landowners who are looking to rent out their properties. 
Encourage them to create a comprehensive listing of their properties. This should include detailed information about the property, such as its location, size, amenities, and rental rate. 
Ask them to have high-quality photos and videos to showcase the property to potential renters. Once the listing is complete, you can start advertising it on various online platforms, such as real estate websites, social media, and classifieds. 
You can also reach out to potential renters through email marketing campaigns and direct mail. You can extend your chances of finding the right renters for your properties by targeting specific demographics and areas. 
Remember to follow up with leads and be responsive to their inquiries. Consistency and persistence are key to generating real estate lead through FRBO (For Rent By Owner).
17. Building Out the Perfect Real Estate Lead Generation Funnel
Your lead generation funnel for real estate is a system that will guide visitors through their buying journey. This typically starts with them visiting a digital asset (your website or landing page). It turns visitors into leads, helps you nurture them into legitimate prospects, and eventually makes them your clients.
Stage 1 – Awareness
Create awareness of your real estate brand or available listings through organic social media posts, hyperlocal blogs & paid ads.
Stage 2 – Interest & Lead Capture
Interested people will land on your website. A percentage of visitors will share their email ID, call you, or even walk in. Those who don't convert, retarget them through Facebook and Gmail ads.
Stage 3 – Qualifying your Leads
The most crucial step is to qualify your real estate leads. Discover if both of you are a snug fit for each other!
Stage 4 – Funnel Qualified Leads
Qualified real estate leads will be put through a call-back funnel and an Email Marketing sequence.
Stage 5 – Closing the deal
Service your prospects with properties matching their requirements. Get in close alignment with buyers' or sellers objections & pain points and close the deal.
Conclusion: Apply The Top Lead Generation Ideas Now
Building a successful real estate business requires learning to generate leads, whether you focus on organic methods, buy leads, or develop one-on-one relationships.
Lead generation for real estate is definitely a competitive space. But with the correct approach and the right use of digital marketing technology, you can ensure maximum ROI (Return on Investment) on your efforts. 
If you want fast & effective results, then reach out to our real estate digital marketing experts, who provide affordable result-oriented services to level up your brand to the next level.🚀 
Need more tips & information for your business ranking, branding, and marketing? Visit our blog section now. There you'll find a lot of useful tried & tested advice and insights into different areas of the online world – from SEO to e-commerce to web design & more. Check out our blogs, or get in touch for expert advice and support in launching your own new website.