Have you ever searched for a restaurant or a store near you using Google? Your results include a map with location markers and, under each marker, the store or restaurant name, address, and rating. It is called the Local 3-Pack and is generated by Google Business Profile, also known as Google My Business (GMB). Here is an example to showcase the same.
What is Google Business Profile (GBP or GMB)?
Google My Business is an easy-to-use, free platform that businesses can use to manage their online presence across Google's ecosystem of products and services. It includes Search, Maps, and Google+.
A verified GMB listing indicates to Google that your business is legitimate, which also increases your chance to appear in Local 3-Pack.
Local 3-Pack is the name given to the top 3 businesses with colorful map listings, along with their critical information such as name, address, phone number, and rating.
GMB also provides valuable insights into how customers find and interact with your business online.
A Google My Business Listing can include,
Business name
Address
Phone number
Hours of operation
Website URL
Photos and videos
Customer reviews and ratings
Google Maps
What Does Local SEO Mean?
Local SEO optimizes your online presence to rank higher in local search results.  When people search for any businesses or services generally in their area. They are more likely to visit businesses that appear at the top of the search results.
Local SEO differs from traditional SEO, focusing on ranking higher in organic search results for generic keywords. With local SEO, your main goal is to rank higher in the search results for keywords that include your city or region.
Why is Local SEO important?
There are several reasons why local SEO is essential. Here are some statistics to highlight the importance of Local SEO.
About 95% of consumers use the internet to find local businesses (Source: BrightLocal).
Almost half of all Google searches are looking for local information (Source: Google)
Over 75% of local mobile searches lead to an offline purchase (Source: SEOmoz)
Local SEO is essential if you want your target customers to find a business online quickly. For instance, let us assume that you are visiting Pasadena and you are in search of an excellent Italian restaurant. You may search for "Italian restaurants in Pasadena." In this case, the search results would show a map with Italian restaurants in Pasadena, followed by a list of restaurants. (Below is a screenshot of the search.) The businesses that appear on the map are those that have claimed and optimized their GMB listing.
How Does Google Affect Local Ranking?
Experts state that Google uses over 200 factors in its algorithm to rank websites, but they have not revealed all of them. However, we know that Google considers the following factors when ranking local businesses.
The proximity of a business to the person performing the search: Businesses closer to the searcher will rank higher than those further away.
Relevance of the business to the query asked: Businesses that are relevant to what the searcher is looking for will rank higher. For instance, if someone is searching for "vegan restaurants," a business that is not vegan will not rank as high as a business that offers vegan options on its menu.
The prominence of the business: Businesses that are well-known or have a lot of online reviews and citations will rank higher than those that do not.
How Can You Optimize Local SEO?
There are multiple approaches to optimizing Local SEO. Here are a few of these methods.
Create and optimize your GMB listing
Optimize your website for local keywords
Add your business to online directories
Collect customer reviews
Encourage customers to check in on social media
The first and foremost approach to optimizing local SEO is to create and optimize your business's GMB listing.
How to Get Started with GMB?
Creating a GMB listing is simple and only takes a few minutes. You can either create a listing from scratch or claim an existing one.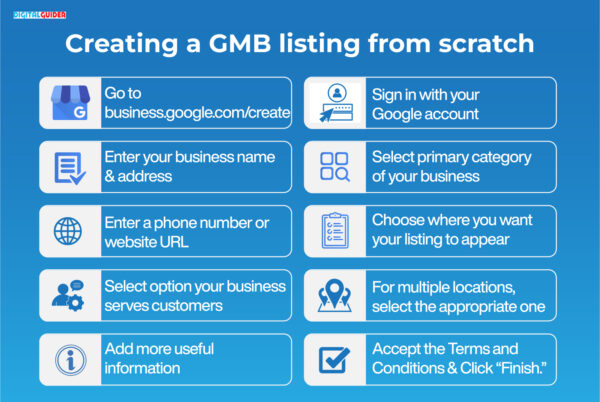 Creating a GMB listing from scratch
Go to business.google.com/create and sign in with your Google account, or create one if you do not have one.
Enter your business name and address.
Select the primary category for your business. The categories are based on what you do and your products or services.
Enter a phone number or website URL where customers can reach you.
Choose whether you want your listing to appear on Google Maps, Search, and Google+.
Choose whether your business serves customers at their locations or if customers come to your location.
If you have multiple locations, select the appropriate option.
Enter any additional information that you think would be useful for potential
Accept the Terms and Conditions.
Click "Finish."
Claiming an existing GMB listing
Go to business.google.com and sign in with your Google account, or create one if you do not have one.
Enter your business name and address.
If your business already has a GMB listing, it appears in the search results.
Click on the listing to claim it.
Google will ask to verify your listing via phone or postcard.
Once you have verified your listing, you can edit it by adding photos, business hours, and categories.
Click on "Finish" to complete your listing.
How to Leverage Your Google My Business Listing?
Now that you have claimed or created your GMB listing, it is essential to optimize it to make sure that it is ranking as high as possible. Here are some tips on how to do so.
Add photos
GMB listings with photos are more likely to rank higher than the others. Add a profile photo, cover photo, and additional photos of your business and products/services.
Define your category accurately
Choose relevant categories for your business to help you rank for the right keywords. You may choose to add more than one category if relevant.
Complete all fields
Write a detailed and keyword-rich description of your business. Include relevant information such as what you do, your products/services, your target market, etc. Make sure to complete all fields in your GMB listing, such as hours of operation, website, description, etc. The more information you give away, the better your chances to rank higher.
Optimize for keywords
Use relevant keywords in your GMB listing, such as your business name, address, and descriptions. Keywords help you rank higher for those keywords. For example, if you are a plumbing company in Los Angeles, you would want to include "plumber Los Angeles," "Los Angeles plumbing," etc., in your GMB listing.
Get reviews
Customer reviews are an essential ranking factor in Local SEO. Encourage your customers to leave reviews on your GMB listing. The greater your review ratings, the better your chances are of getting a good rank. Respond to every review, including the negative ones.
Check-ins
Social media check-ins (FaceBook, Instagram, etc.) are a ranking factor in Local SEO. Encourage your customers to check in on social media when they visit your business.
Citations
Online directories are also a ranking factor in Local SEO. Add your business to relevant online directories like Yelp.
Add videos and virtual tours
Videos and virtual tours help give potential customers a better idea of your business and can help you rank higher in Local SEO. Add videos and virtual tours to your GMB listing to improve your ranking.
Optimize for location
Include your city, state, and zip code in your GMB listing to help you rank for those keywords. If you are a restaurant offering home delivery or a retailer willing to home delivery products, mention your service areas in the listing.
Add posts
GMB posts are a fantastic way to keep your listing relevant and up-to-date. You can use GMB posts to promote events, products, services, etc. The post will last for seven days, after which you can delete it or add a new one.
Key Benefits of GMB Listings
In addition to helping with Local SEO, GMB listings also have other vital benefits.
Increased visibility
GMB listings help increase the visibility of your business online. When customers search particularly for your business on Google, your listing will appear with all relevant information such as your address, hours, website, etc.
Improved click-through rates
GMB listings also help improve click-through rates to your website. Customers who see your listing in the search results are more likely to click on it and visit your website.
More customer reviews
GMB listings also allow customers to leave reviews about your business efficiently. These reviews are social proof to potential customers.
Insights
GMB listings also come with Insights, a tool that shows how customers find your listing and interact with it. This data can help optimize your listing for better results.
Q&A
GMB listings also have a Q&A feature, which allows customers to ask questions about your business. It is a great way to engage with potential customers and provide them with the information they want.
Posts
Posts about your business, such as special offers, events, and news, has a broader reach. These posts increase your visibility and drive traffic to your website.
Messaging
GMB listings also come with the messaging feature, which allows customers to contact you directly from your listing. Customers can have their queries answered quickly and easily, improving customer satisfaction.
Appointments
GMB listings also allow you to add appointment links to your listing. The facility is straightforward and is likely to encourage customers to book appointments with you.
Local inventory
GMB listings also allow you to showcase your local inventory. It lets customers know what products you have in stock and drives traffic to your store.
Calls to action
GMB listings also allow you to add call-to-action buttons, such as "Call now" or "Get directions." It is a great way to increase conversions and drive results.
Conclusion –
Google My Business is an essential tool for Local SEO. Businesses must create and optimize their GMB listings to rank higher in the search results. However, it has to work with other SEO practices such as keyword optimization, website optimization, and link building.
It is also important to remember that GMB listings are not a "set it and forget it" solution. They must be regularly updated and monitored to ensure they are accurate and up-to-date.