Are you looking best website builder for SEO so that it can rank high on search engines like Google and Bing?
Today, we're diving into the age-old debate of Wix vs. WordPress and which platform is best in the SEO world.
Picture this: you've just created a beautiful website for your business, but when you search for it on Google, it's nowhere to be found. What gives? This is where SEO comes in. 
Why SEO Is Important While Building a Website

?
SEO, or search engine optimization, is the technique of optimizing a website to rank higher on search engine results pages (SERPs). In simpler terms, it's the practice of making your website more visible to potential customers. 
And let's be honest, in a world where there are over 1.7 billion websites, standing out from the crowd is crucial. 
Think about it: when did you last go to the 2nd page of Google search results? If your website isn't ranking on the first page, chances are, it's not getting seen. If your website is launched properly, it's will bring in traffic and, ultimately, drive conversions and online sales. 
But it's about more than just ranking high on search engines. SEO is also about providing a better user experience for your website visitors through responsive websites. When your website is optimized for SEO, it's easier for users to navigate and discover the information they're looking for. This, in turn, leads to a higher chance of them sticking around and eventually converting into customers.
Now, you might be thinking, "Okay, SEO is important, but what does that have to do with Wix SEO vs WordPress SEO? " Well, the website-building platform you choose can significantly impact your website's SEO.
But which platform is better for SEO? That's the million-dollar question. Should you go with the popular Wix or the tried-and-true WordPress? 
The truth is both platforms have their strengths and weaknesses regarding SEO. Choosing the right platform ultimately comes down to your individual needs and goals.
So, sit tight and join us as we explore the ins and outs of Wix and WordPress SEO. 
By the end of this blog, you'll better understand which platform best suits your SEO needs. Let's get started!
WordPress vs Wix: An Overview
The first thing to remember is that Wix is a website builder. In contrast, WordPress is a content management system (CMS) that can manage a wide range of content as business blogs, including email lists, subscriptions, video links, and more.
Wix is a popular website builder platform with over 180 million registered users. It has a user-friendly drag-and-drop interface allows even the least tech-savvy individuals to create a website.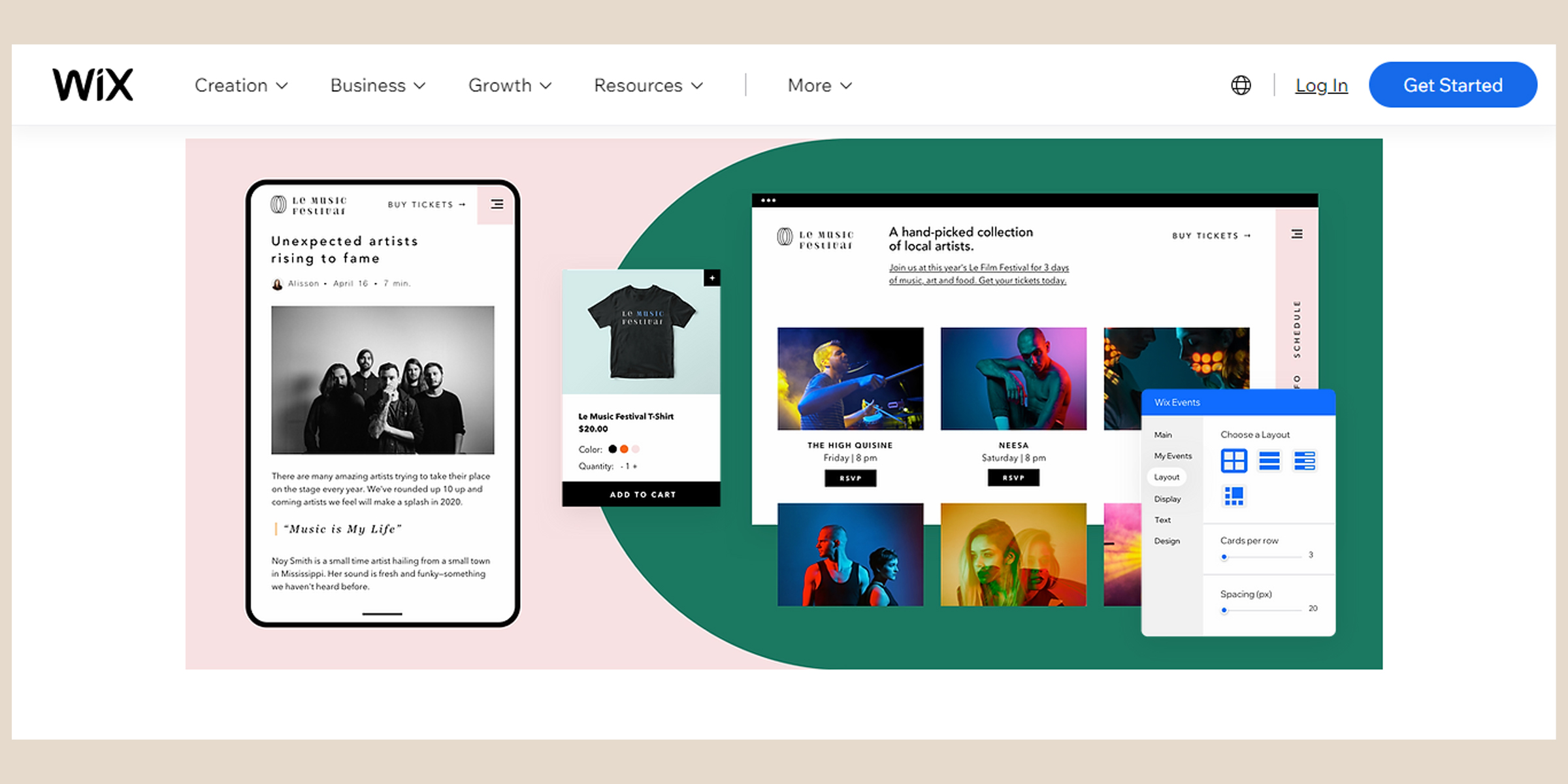 It has built-in tools and features, which can be accessed and used directly from the Wix.com website. There is a basic free plan, but it contains on-page advertisements. Paid plans start at around $14/month.
On the other hand, WordPress is an open-source platform and is favored by developers for its flexibility and customization options.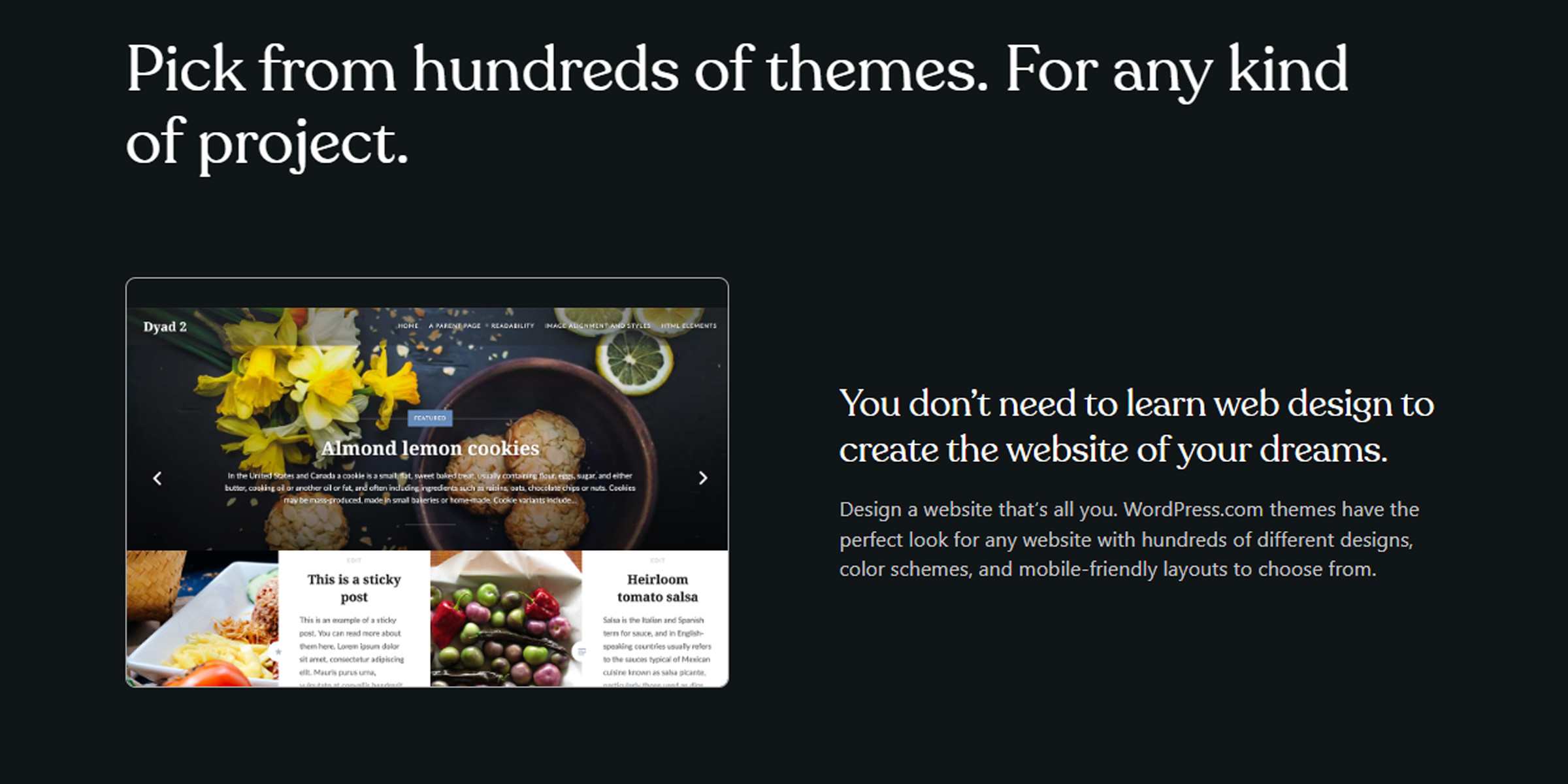 WordPress, compared to Wix, is a free, open-source software program you can download and install on your web host. The WordPress software is free, but you'll need to pay for a domain and hosting. With thousands of themes and over 50,000 plugins, WordPress is incredibly adaptable and can be customized to meet almost every need.
WordPress also has two associated domains that are important to mention:
WordPress.com

is a website-building domain that requires a subscription. You have to create and use an account to build and host your website.

WordPress.org

gives you complete control. You are responsible for hosting your site and can use all of its open-source software. This includes a variety of themes, plugins, and other tools to help you improve your website.
Wix's SEO Performance 
The best feature of Wix is that it's the most straightforward drag-and-drop website builder available.
You don't require any technical training or coding expertise. Drag the elements into place after having a simple design in mind and your content prepared. Literally, it only takes a few minutes to launch a stunning website.
Wix SEO Features 
Wix has a tool they call the Wix SEO Wiz  (in short for wizard) for off-page SEO. It is a planning wizard that walks you through each step of creating SEO plans for your Wix website. 
It guides your keyword selection process and connects you to Google Analytics and Google Search Console.
The Wix dashboard includes additional SEO functionality under the "Get Found on Google" option.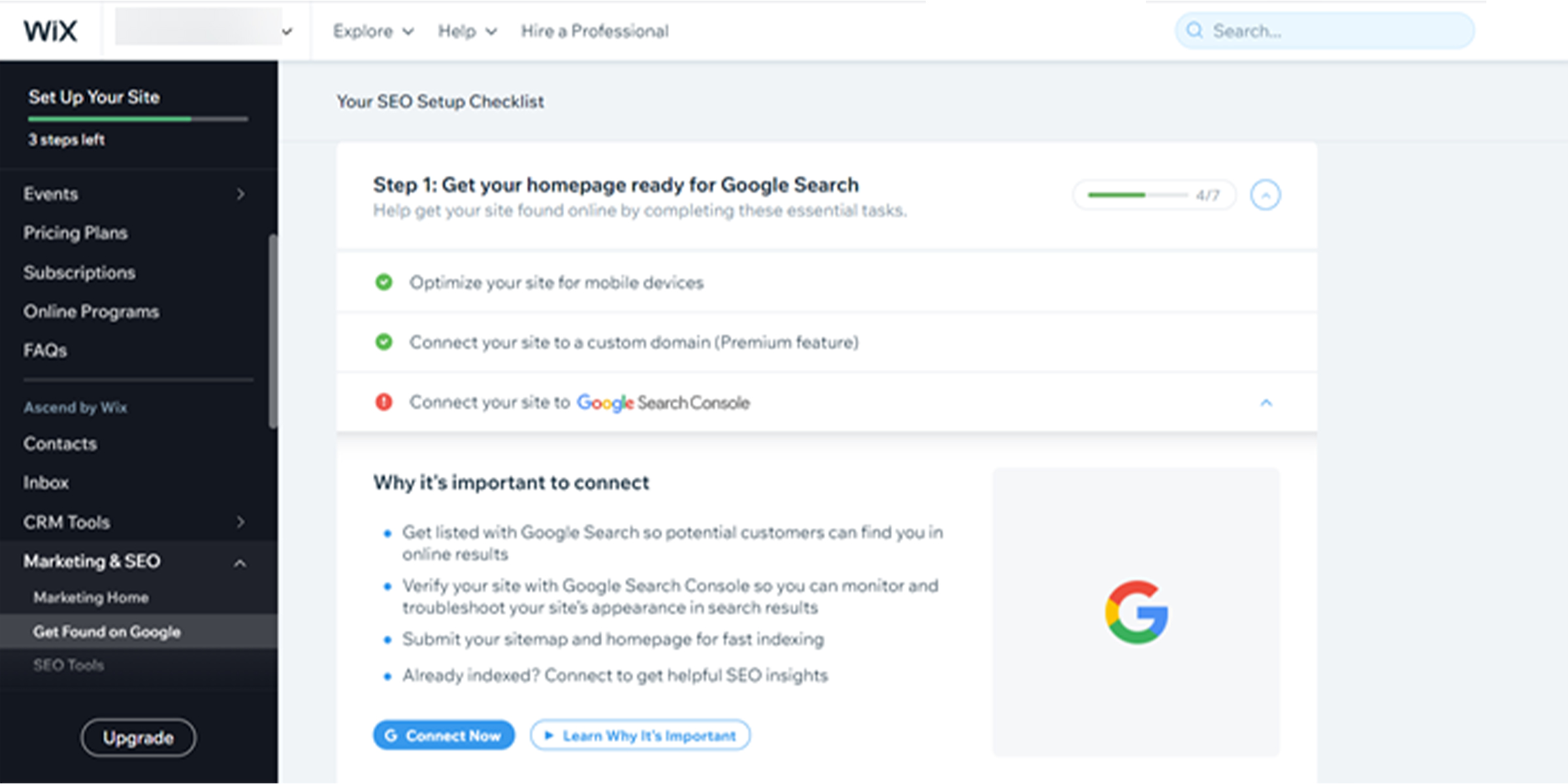 With Wix, you can easily include Meta titles, Meta descriptions, Image alt text, and headings. It also allows social media integration options, 301 redirects, and Canonical tags, much more. 
The feature to "hide" specific pages from search engines, integration with Google Analytics and Search Console, SSL encryption (search engines rank sites with higher encryption), and more are additional beneficial SEO features. 
Websites that are mobile-optimized are favored by search engines. Wix's drag-and-drop functionality, therefore, enables you to edit to enhance the appearance of your mobile layout.
Through the Wix App Market, Wix also offers paid and free SEO apps that can be integrated. Additionally, they offer a service called "Site Booster" that assists in getting your company listed in local directories and on search engines like Google, Yelp, Bing, and Yahoo.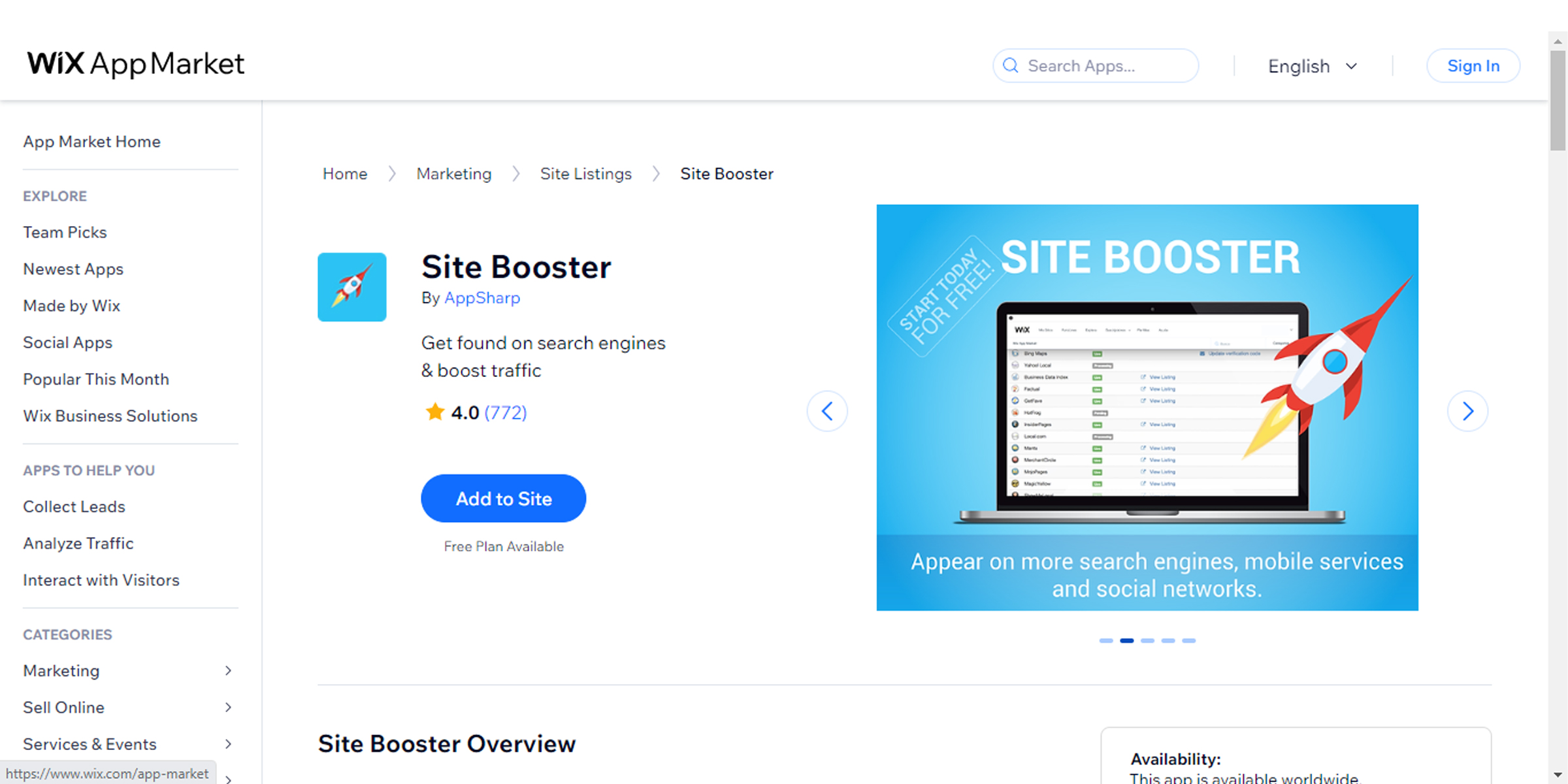 However, Wix Has Some Technical Drawbacks –
Wix.com's link structure is strange. Every Wix.com site URL contains a # or "hashbang," served via javascript and thus unreadable by search engines. This makes Wix sites extremely difficult for Google to crawl (read: they will not rank highly). This is a significant disadvantage.

Wix is great for basic SEO but not so much for advanced SEO. Regarding search results, the margins can be razor-thin, and Wix doesn't do well beyond the bare minimum.

Although the speed of Wix's pages was generally fast, their servers responded more slowly than their major rivals.

The failure to add custom or modify existing code is another significant drawback of Wix. Although Wix has an HTML Code element, more experienced users may find it restrictive. 
While Wix offers visually stunning websites, it falls short in the domain of SEO performance. The platform's limitations in terms of customization and technical SEO features can hamper a website's visibility on search engines. While Wix has improved its SEO capabilities, it is essential to consider these limitations when creating a website on the platform. Ultimately, weighing the drawbacks of limited SEO benefits against a visually appealing website is crucial. 
WordPress's SEO Performance
WordPress was originally created as a blogging platform, but as soon as people realized its potential, they started making plug-ins, add-ons, and themes in greater and greater numbers. WordPress is now used for more than just blogging.
It is used for e-commerce, business websites, web applications, and pretty much anything web-based. WordPress is available for free. Anyone who has some programming knowledge can use the WordPress platform easily. 
WordPress SEO Features
WordPress is an open-source software, so no one is holding down your data. You own all your files and can upload them to any hosting company that uses WordPress. 
WordPress is excessively open-handed when granting users the freedom to create websites. For starters, free themes are available, but if you want more features and functions, you may pick from over 5,000 premium third-party themes.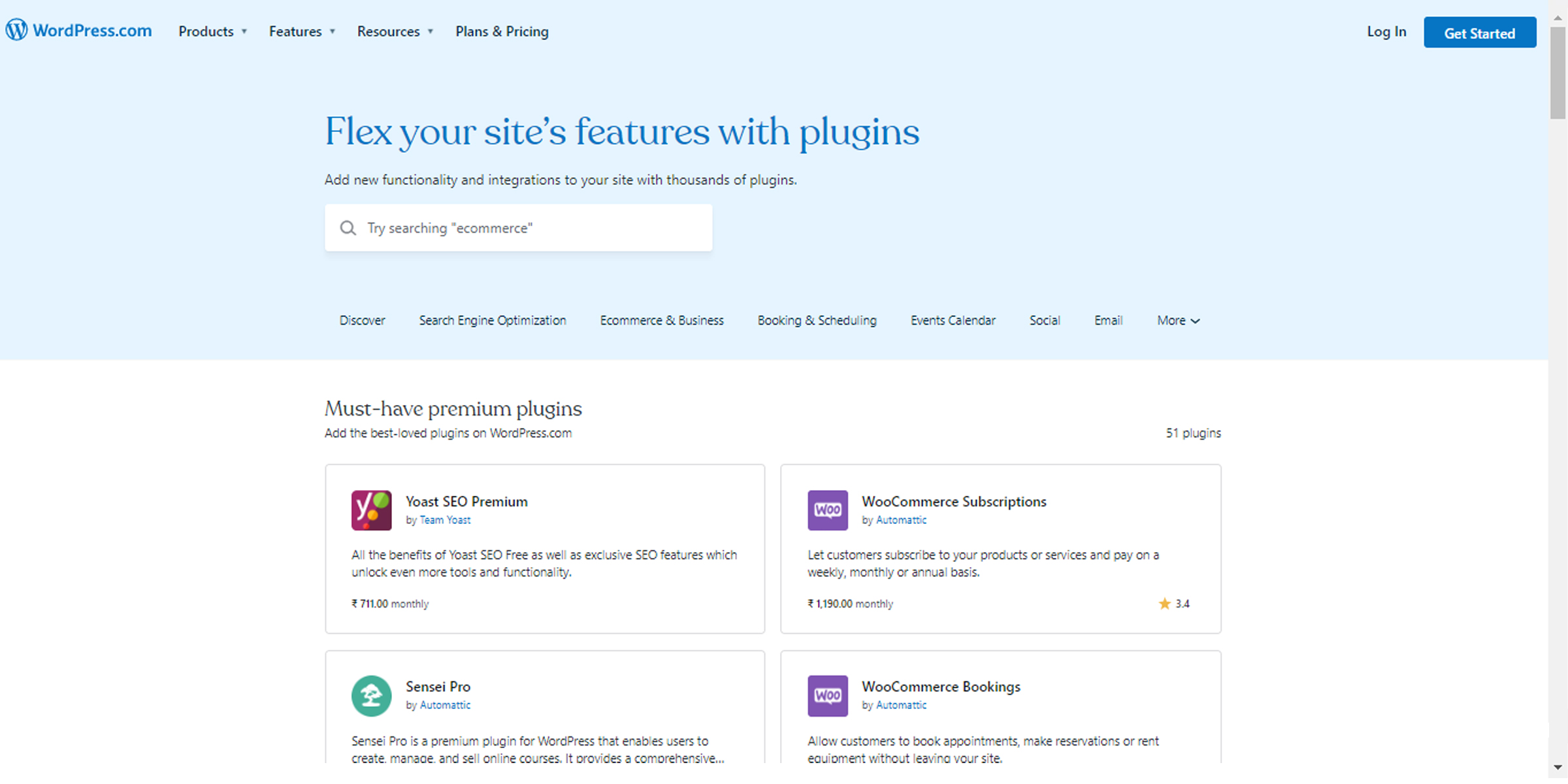 WordPress provides excellent flexibility with its default settings. if you are a programmer or someone who knows how to code, you can modify WordPress's underlying codes to build a website exactly how you visualize it.  
WordPress enables you to modify your site in ways that Wix does not, including changing templates after the website goes live, enhancing site security, and adding forms to blog posts.
WordPress outperforms Wix in terms of the number of plugins available to improve the functionality of your website. There is always a plugin that will meet your needs, whether you want to add a table, collect your visitors' emails, or build a landing page.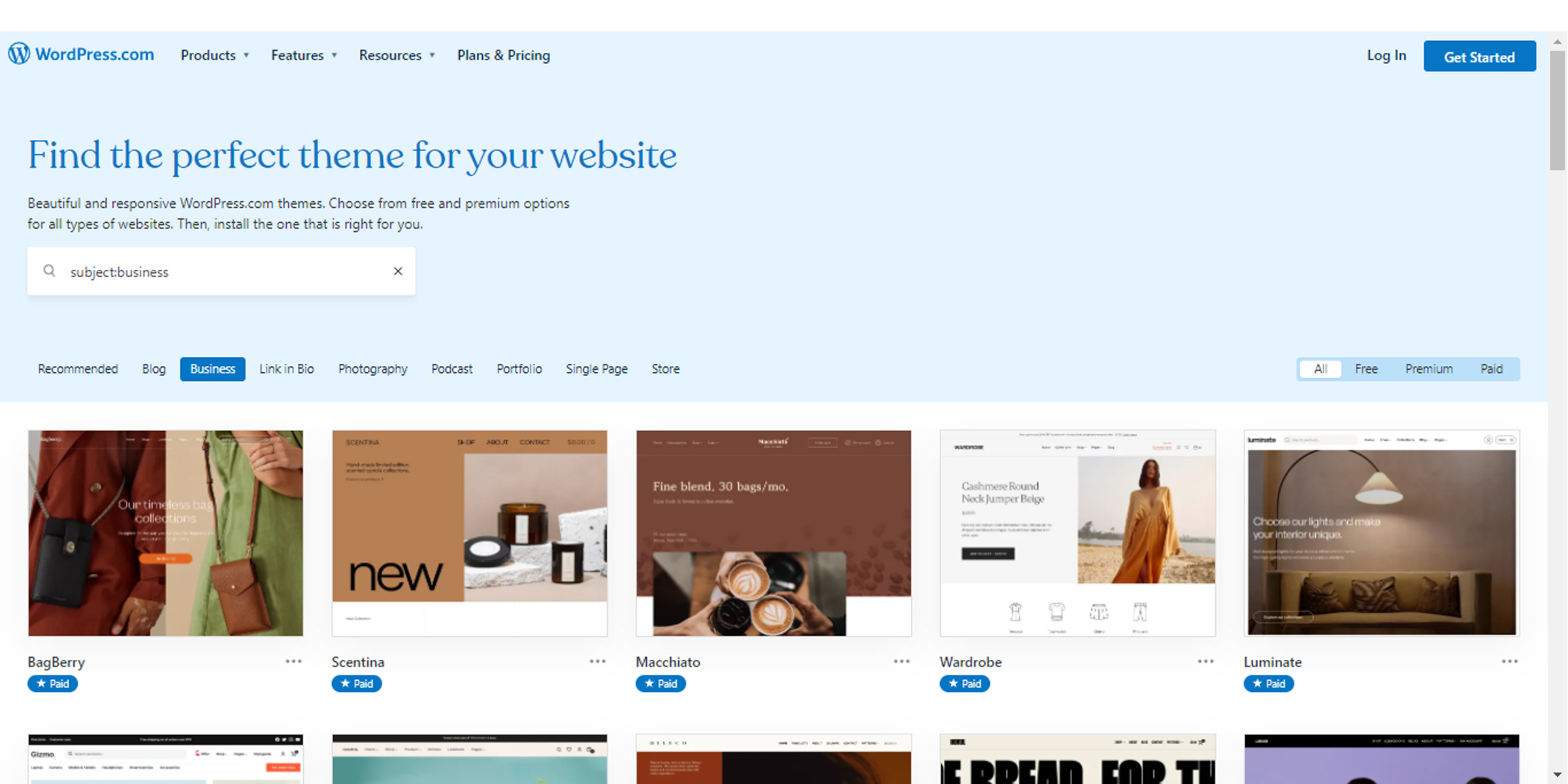 There are over 55,000 free and premium plugins to pick from, making it simple to improve your website without touching any code. 
Thanks to WordPress's increased control level, your website has a higher chance of ranking on SERP. Is your website loading slowly? Utilizing strategies that increase speed will help your site perform better.  Yoast, the most popular SEO plugin in the world, is also installable by WordPress users. 
Over five million websites use this tool to enhance how their content appears in search results, add internal links, and reroute old pages to new ones, all of which help improve their rankings over time.
Areas in which WordPress Lacks
When it comes to support, WordPress is a lot less personal. Because it is open source, phone support is much less helpful. A global volunteer community supports WordPress. As a result, there is no customer service hotline to which you can turn if you encounter technical difficulties.

Downloading WordPress is costless. But since it can't support itself, you must first buy a domain name and a hosting package to launch a website. Premium themes and plugins can cost up to $200 per year.

WordPress is a little complex because it lacks official guidance and a what-you-see-is-what-you-get (WYSIWYG) framework. Wix's drag-and-drop editor is more user-friendly than WordPress's Gutenberg editor, but it requires previewing the page to see how it will appear after publication.

In WordPress, the template you select limits your choices. If your template has three-page options, each page on your website must look like one of those three options.
If you have difficulty customizing your WordPress theme, you can hire someone to help you. Digital Guider's WordPress developers will be more than happy to help you. 
SEO Factors to Consider When Choosing a Website Building Platform 
When building a website, choosing the right platform is crucial for optimizing your site for search engines. Here are some essential factors to consider when deciding which website-building platform to use for SEO:
Ease of Use: Choose a platform that is easy to use, especially if you're a beginner. A user-friendly platform will help you create an SEO-friendly website without needing technical expertise.
Customization Options: Customization options allow you to tailor your website's design and functionality to your needs. A platform with extensive customization options will help you optimize your website for SEO.
Mobile Optimization: With mobile devices accounting for most internet traffic, having a responsive website is essential for SEO. A mobile optimization platform will ensure your website is responsive and easily accessible on all devices.
Page Speed: A fast-loading website is critical for user experience and SEO. Choose a platform that prioritizes page speed to enhance your website's search engine rankings.
SEO Features: Look for a platform that offers built-in SEO tools such as meta tags, sitemaps, and keyword research tools. These features will help you optimize your website's content for search engines.
Security: Website security is essential for user trust and search engine rankings. Choose a platform with secure hosting, SSL certificates, and other security features to protect your website from cyber threats.
Scalability: As your website grows, you will need a platform that can scale with your business. Choose a platform that allows you to easily add new pages, features, and functionalities to your website.
Support: Choose a platform that offers reliable customer support to help you with any technical issues that may arise. This will help you maintain your website's SEO performance and avoid negative impacts on your search engine rankings.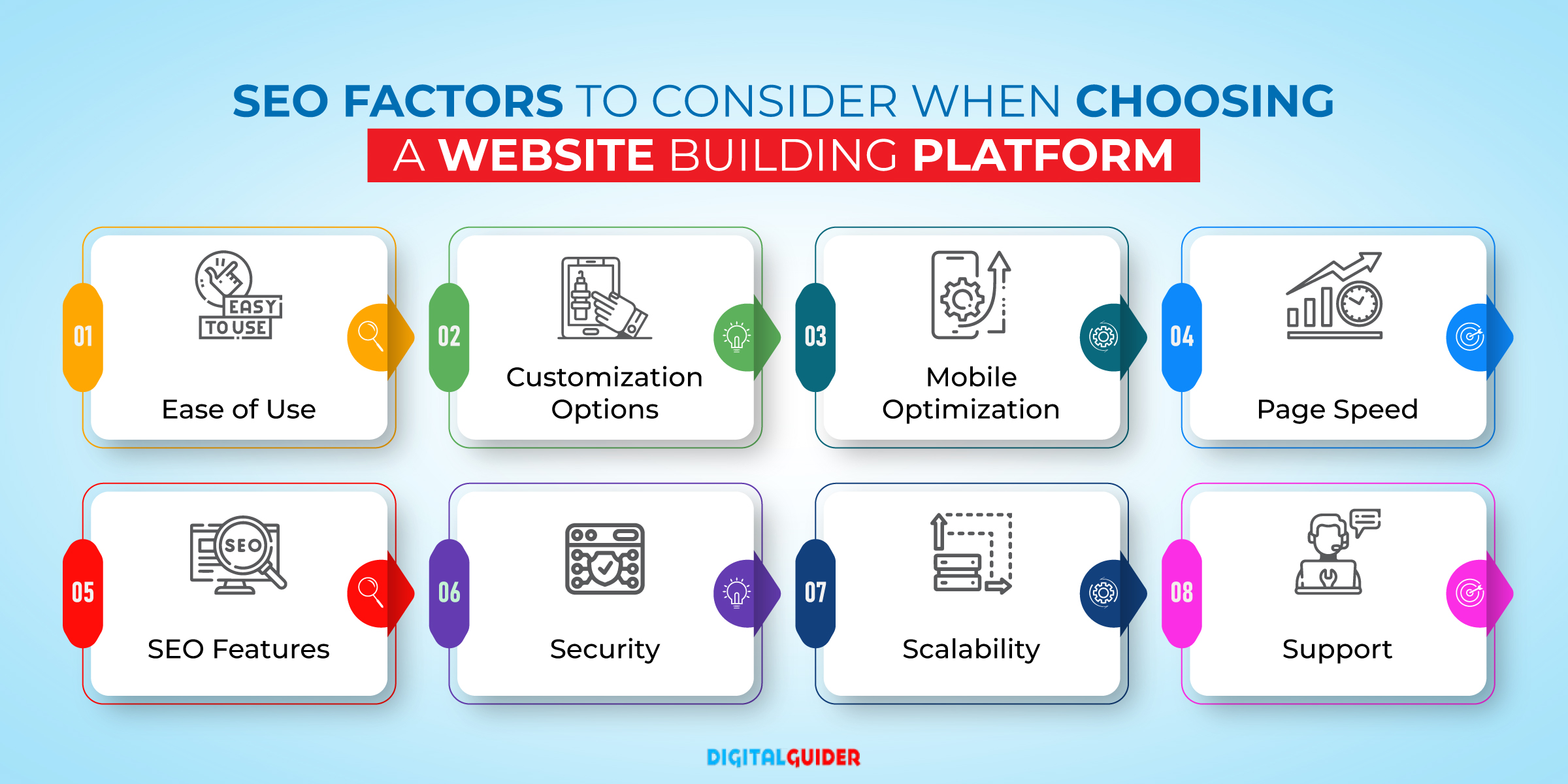 Wix SEO vs WordPress SEO – Conclusion
Choosing the right platform for your website is crucial for search engine optimization (SEO). We have seen how both Wix and WordPress offer a range of SEO features that can help boost your website's visibility on search engines.
While Wix is an excellent choice for beginners with its user-friendly interface, drag-and-drop website builder, and built-in SEO tools, WordPress offers more advanced customization options, SEO plugins, and a large community of developers and users.
To answer who wins Wix SEO vs WordPress SEO, it ultimately comes down to your specific needs and preferences for choosing a website builder.
 If you're looking for a simple solution, Wix may be the way to go.
But if you want more control and flexibility over your website's SEO, WordPress might be the better option.
Before deciding on an SEO website builder, we encourage you to evaluate your goals and budget and choose the platform that aligns with your needs. You can improve your website's SEO and attract more organic traffic with the right approach and tools.
FAQ For Wix SWO vs WordPress SEO