Insurance SEO Services
It's much harder to sell optional insurance, like life and disability insurance, through traditional ways. Your potential customers search for your services on search engines using insurance-related keywords. Whether you are a commercial insurance company, a self-employed agent selling commercial insurance in your local area, or a certified agent for a national firm, we have a solution for you. With our affordable Insurance SEO services, you get-
Increased online brand awareness & m

ore insurance leads.

Competitive advantage by feature in Local 3 pack.

Lower CAC (cost per lead acquisition).

Increased insurance premium revenue.
Invest in our affordable & customizable SEO service to cover your business with the risk of online damage.
Today's market is all about online searches. People are looking for the best rates online, so if your website isn't in the top two, your competition is. That's where an insurance SEO strategy can help get your website to the top and get your business seen by potential customers. Your insurance companies need a one-of-a-kind SEO strategy. Being part of the Your Money, Your Life (YMYL) industry, it should be your top priority to deliver value, transparency, and relevance to your clients to earn their trust and loyalty.
Let's see how to get more clients with SEO for insurance companies.
What Is Insurance SEO?
Insurance SEO is the process of optimizing insurance websites for search engines. It includes SEO strategies and techniques to improve insurance website rankings and online visibility. SEO is a great way to generate leads online if you're an insurance agency looking to stay ahead of the game. It aims to drive organic traffic to your insurance website, increasing online visibility and attracting potential customers.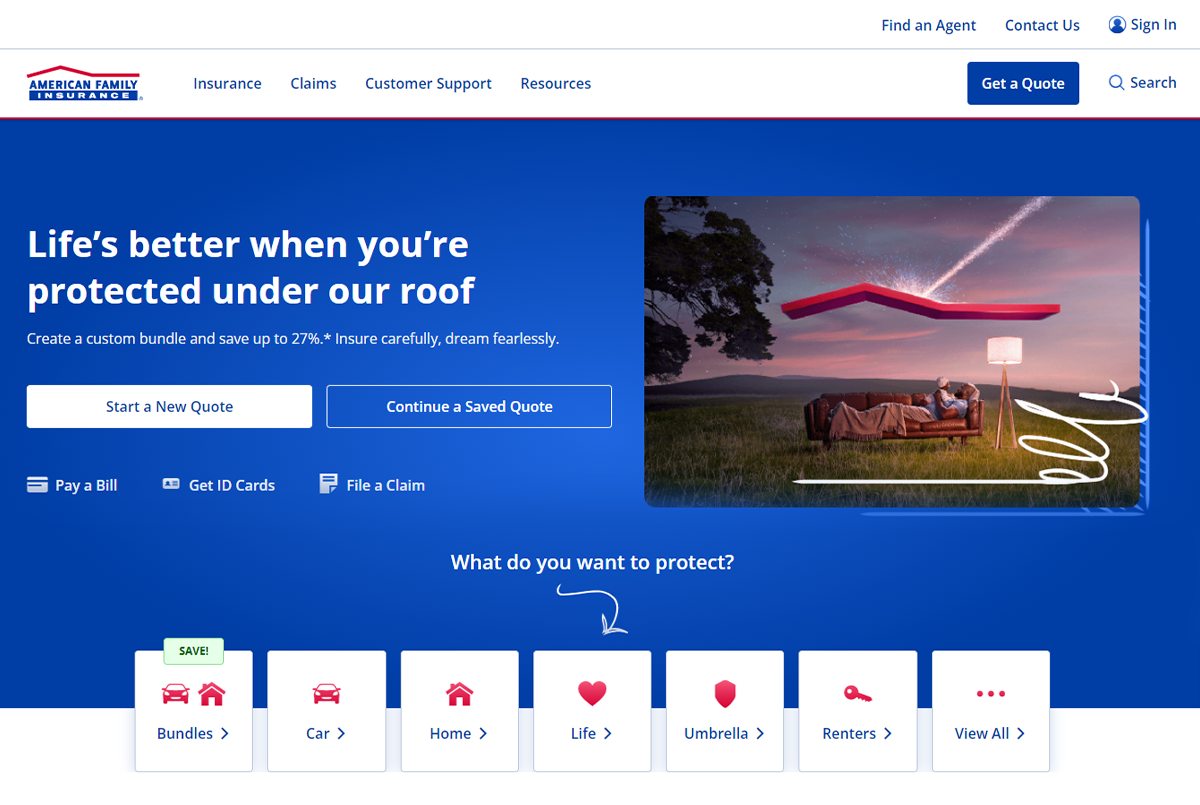 4 Reasons You Need To Invest in Insurance SEO Strategy
| Reputed Online Reputation | Sell More Insurance |
| --- | --- |
| When people see your website at the top of search results, it gives them a sense of confidence and trust. A good online reputation will help you stand out and attract more customers. | When your website appears higher on search engine results for the right insurance keywords, you get targeted organic traffic and are better equipped to sell more insurance policies. |
| Be Industry Leader | Higher Quality Leads |
| The more visitors to your site, the more chances you have to promote your insurance products and position your brand as a leader in the industry. | With Insurance SEO, you attract visitors who are already interested in insurance products; therefore, you have a higher chance of attracting long-term, valuable customers. |
7 SEO Techniques For Insurance Agents & Insurance Companies
1. Insurance SEO Keyword Research
When someone searches for an insurance-related keyword like " insurance agencies near me," your brand's URL must be at the top of the search results. Your goal should be to rank among the top five search engine results. Start by coming up with a list of terms related to insurance, and use tools like Google keyword planner, SEMrush, or Moz keyword explorer to make your list bigger.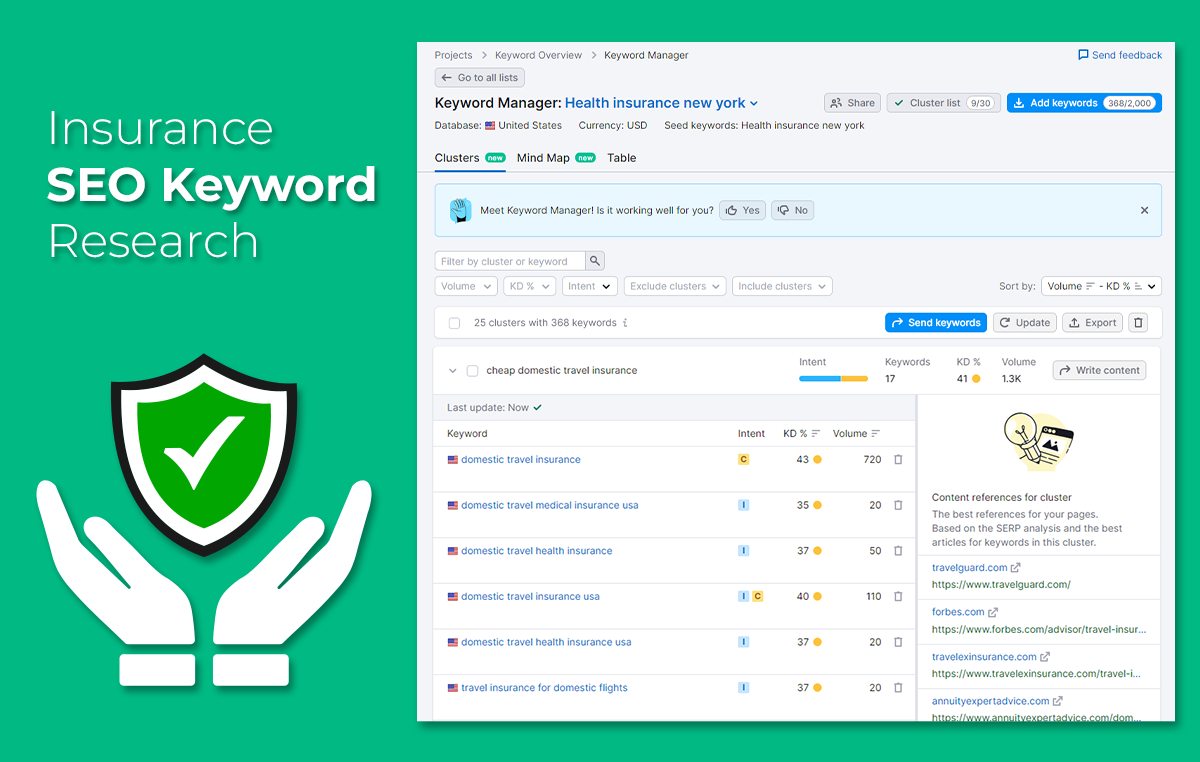 Look for keywords that have a good mix of search activity and competition. You might also want to think about long-tail words with more specific meanings and higher intent, like 'affordable auto for young drivers' or 'term life quotes for seniors.'
2. On-page SEO Optimization
On-page SEO helps you rank higher in search results, get more people to visit your website, and get more conversions. It takes time to see the results, but on-page SEO can boost your online rankings and sales once you start.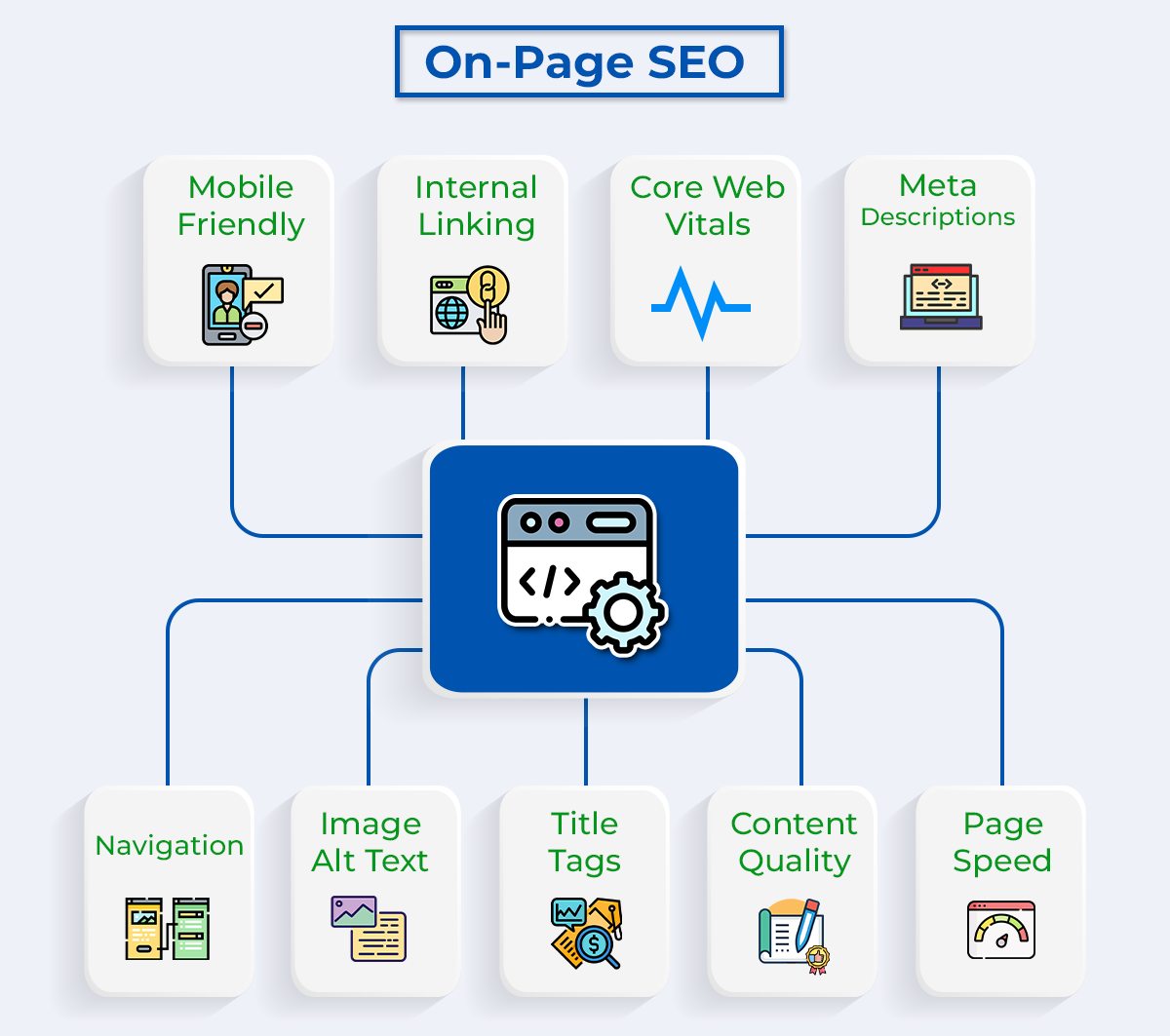 On-page elements are essential for search engines to understand your insurance website's relevance and quality. Some helpful on-page optimization tips:
Include relevant keywords in page titles and ensure they're short and sweet.

Write captivating meta descriptions summarizing your content and making users want to click.

Utilize header tags to organize your content and naturally include target keywords.

Make sure your URLs are SEO-friendly, descriptive, and contain relevant keywords.

Use internal linking to make your website easier to navigate and assist search engines in understanding your content structure.
These on-page improvements for insurance SEO will improve your website's visibility and help you rank higher in search results.
3. Navigational & Responsive Website Structure
The user experience of your website depends on the impact of the design. Ensure the site structure is clear and flows well before writing the website's content. It won't matter how much excellent content you have if it's difficult to navigate: Your visitors and potential clients will become irritated and perhaps turn to your competitors. Page load time is an essential factor of SEO for insurance agencies and the UX of your prospective customers. Google prioritizes sites with faster page load speeds if it improves the user experience. It is also important that your website is responsive so it is accessible on all devices. Digital Guider's web development team can help you optimize your website speed and UX for users and Google's crawlers.
4. Insurance SEO Content Optimization
Creating high-quality content is key to making your website appear higher and more often on search engine results pages (SERPs). When you have good content, people are likelier to link to and share it on their social media accounts, which helps your SEO. To ensure people stick around, your content should be relevant, informative, and optimized for the search engines so they can easily index it. You can use many content marketing strategies to improve SEO for insurance brokers, like
Create comprehensive, well-researched, and original content.

Develop a content strategy that covers various insurance topics, including guides, tutorials, FAQs, case studies, and industry news.

Incorporate target keywords naturally within your content, including headings, subheadings, and body text.

Include visually appealing images, infographics, and videos to enhance user experience and engagement.

Regularly update and refresh your content to keep it relevant and up-to-date.
5. Local SEO Marketing For Insurance Agents
As more and more customers search for insurance online, ensuring your business is visible online is essential. Optimize your Google My Business listing and prioritize local Google searches. Highlight your business's photographs, client reviews, and any recent blog content published on your website.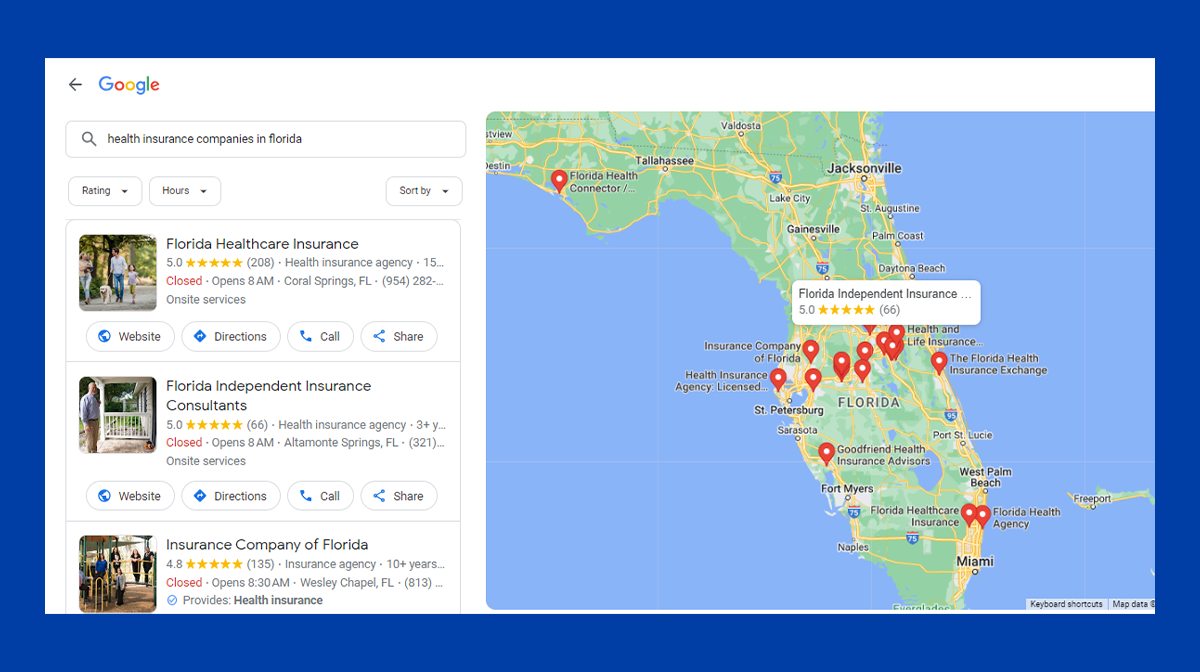 In addition to optimizing your GMB listing, optimizing your website for local searches is also important. Incorporate localized keywords throughout your website. For example, instead of optimizing a single keyword phrase such as "life insurance" to capture local interest, include the city and region in the keyword, like" best health insurance companies in (your city)" or " cheap car insurance near me. "
6. Collect Reviews
Encourage customers to provide honest reviews on your insurance website, Yelp, Google My Business, and other review websites. This is one method to improve your online reputation. A wonderful technique for convincing and inspiring clients to want to leave you a favorable review is by providing a modest reward or a future service discount. Prospective clients frequently look to reviews from past clients to decide whether to pick a specific insurance agent. Potential new clients will trust you more as you accumulate more local reviews.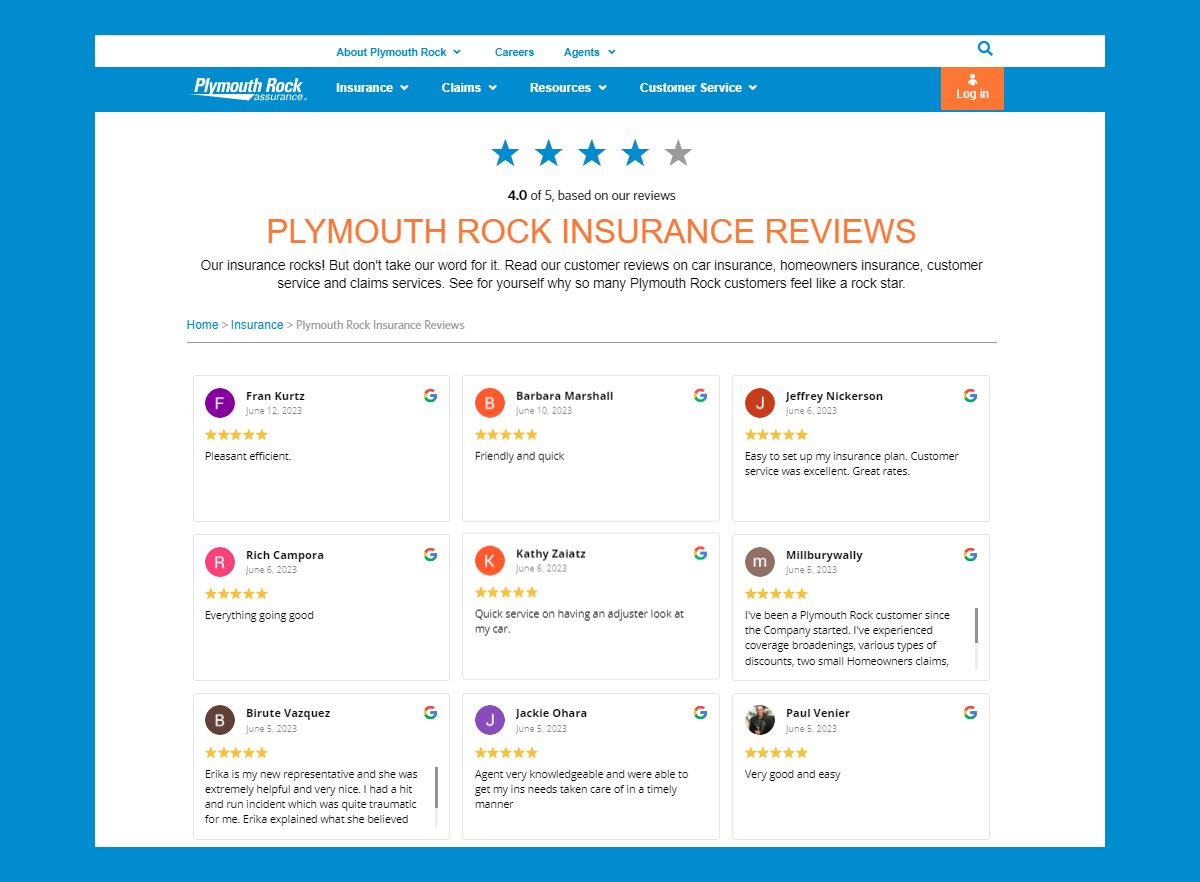 Additionally, good customer reviews make wonderful marketing tools! Because potential customers can see how you interact with your brand, testimonials are also helpful for SEO. It is more likely that your website or Google My Business page will be promoted to the top of the search results the more engagement you receive. Digital Guider's online reputation management will help you get reviews, collect client feedback, and protect your online reputation.
7. Off-page SEO For Insurance Brokers
By acquiring backlinks, you can increase your website's domain authority while working on off-page SEO. These backlinks tell search engines that your website is credible and relevant when it appears with a link on another well-known, high-traffic website. The number of methods that individuals can find your agency's services is increased by this tactic as well. The latter results in more traffic, which is another algorithmic relevance indicator.
You can also use regional company directories/ websites like-
Yelp.

Yellow Pages.

Better Business Bureau (BBB).

Best's Insurance Directory.

Chamber of Commerce (local or regional).

HealthCare.gov (for health insurance providers).

HealthInsurance.org (for health insurance providers).

Angie's List.

Yahoo Local.

Bing Places for Business.

Insurance Agents Directory.

InsuranceSplash.com

InsuranceLevel.com

AgencyEquity.com

LocalInsuranceAgents.com

FindLocalInsurance.com

HomeInsurance.com

LifeInsurance.net
You can contact these sites and offer to do guest posts or write articles for them. Or, you could do some outreach stuff to get links from other websites that are related to yours.
Sell More Policies With Insurance SEO Services!
Trusted reputation is the cornerstone of a successful insurance company. Your business will be healthier the better ties you have with your clients. However, getting individuals into your office can occasionally be the most difficult part of growing your business.
If you're an insurance broker, agent, or company, Digital Guider is here to help you get the most out of your SEO strategy. We'll work with you to create custom SEO solutions to help your website get more traffic, rank higher in search engines, and show off your brand. Plus, our content marketing team will ensure your content is relatable to the insurance industry audience, and our customer service team will be there for you at every step.
Call us now at – +1-307-209-3608 or book a free consultation call to get started with your growth journey!
Insurance SEO Services- FAQs